December 04, 2018
Situational awareness: The markets got smoked today. The Dow was down 3%, and the NASDAQ nearly 4%.
1 big thing: Trump's uncertain China truce
President Trump dubbed himself a "Tariff Man" today, but the people he listens to are increasingly concerned the China trade war might not have his desired result.
Driving the news: Hawkish former Pentagon official Mike Pillsbury is worried Trump's negotiations with China are unraveling, telling Axios' Jonathan Swan that "there's a risk the deal will come undone."
"I have advised the president's team that for the past 40 years the American side avoids disclosing Chinese concessions before the final agreed written statement is released," Pillsbury told Swan in a phone interview today.
Why it matters: Trump has called Pillsbury "probably the leading authority on China" and the two reportedly huddled in the Oval Office the day before the president left for his G20 meeting with President Xi.
Between the lines: Pillsbury told Swan he's "getting warnings from knowledgable Chinese about the American claims of concessions" that the Chinese have said they never made.
The bottom line: It's never easy dealing with the Chinese. They routinely abuse trade laws and steal from U.S. businesses, and Trump is right that his predecessors failed to adequately confront Beijing.
U.S.-China negotiations typically devolve into phony promises and gobbledygook.
But that's what appears to be happening now. The Trump team's public handling of the economic negotiations — so far — makes even senior officials doubt that this omnishambles will change any time soon.
Bonus: Pic du jour
Former Senator Bob Dole, 95, stands up and salutes the casket of the late former President George H.W. Bush. (Video).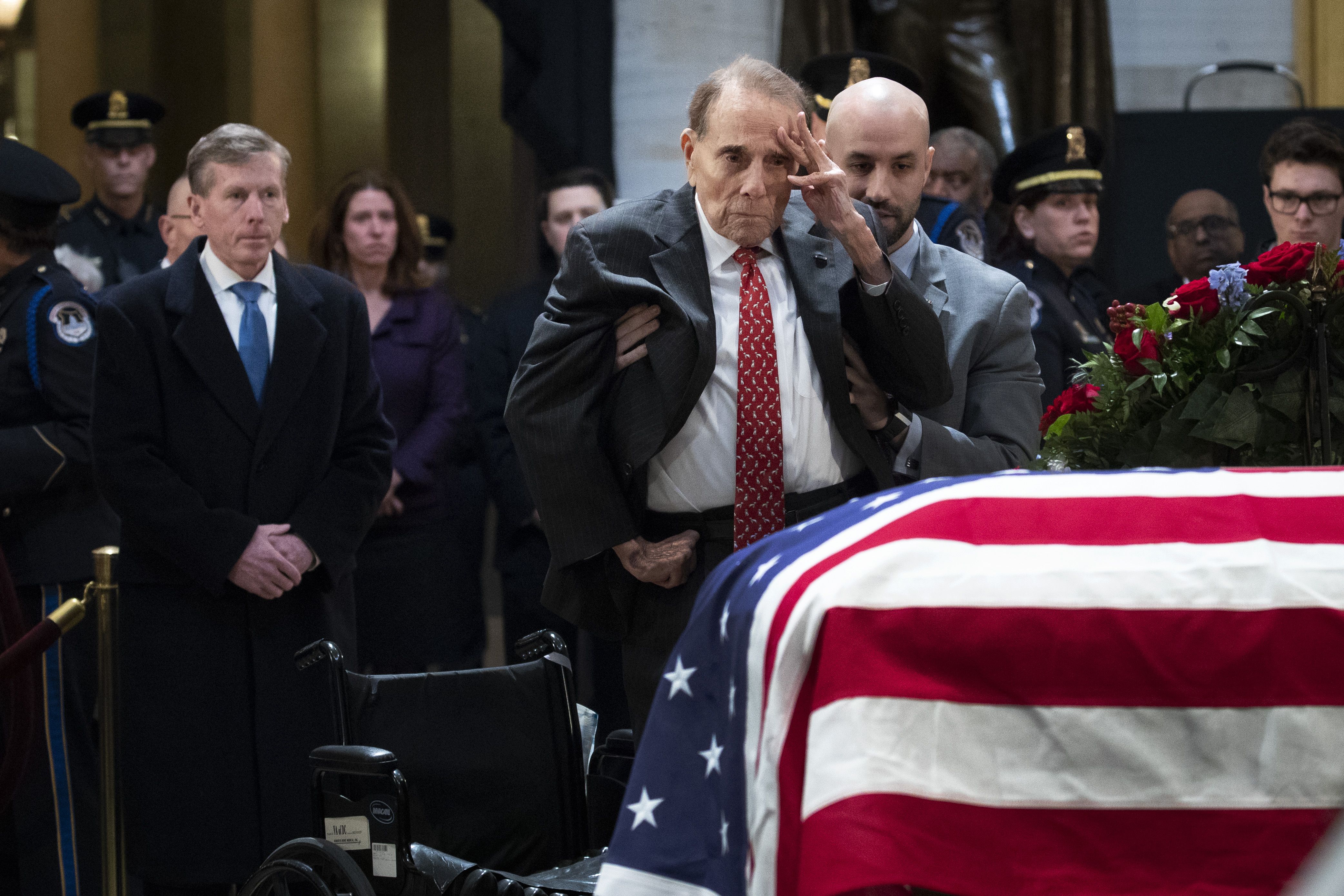 3. 1 Christmas thing
Deck the halls with decorators: "Tired of time getting tangled in holiday lights, some are hiring pros to deck their walls," USA Today reports.
"For those who can afford it, hiring an expert is worth the extra cost, according to Michelle Simkiss Dunk, a 43-year-old owner of two businesses and mother of two teenage girls. "
"The holiday decorating industry is ripe with around-the-clock experts and design enthusiasts who can do everything from install lights on third-story rooftops to hand-make 6-foot-tall wreaths. "
Be smart: "While [decorator Kim Scribner] charges between $100 to $175 per hour depending on the task, she said you can get the expert decorated look without paying a premium by using Google Images and Pinterest."