https://www.axios.com/newsletters/axios-pm-6c17c12d-8b9b-4d8f-a5ff-2bdbed8d7ef5.html?chunk=0#story0
1 big thing: Trump tears up Obama's Iran deal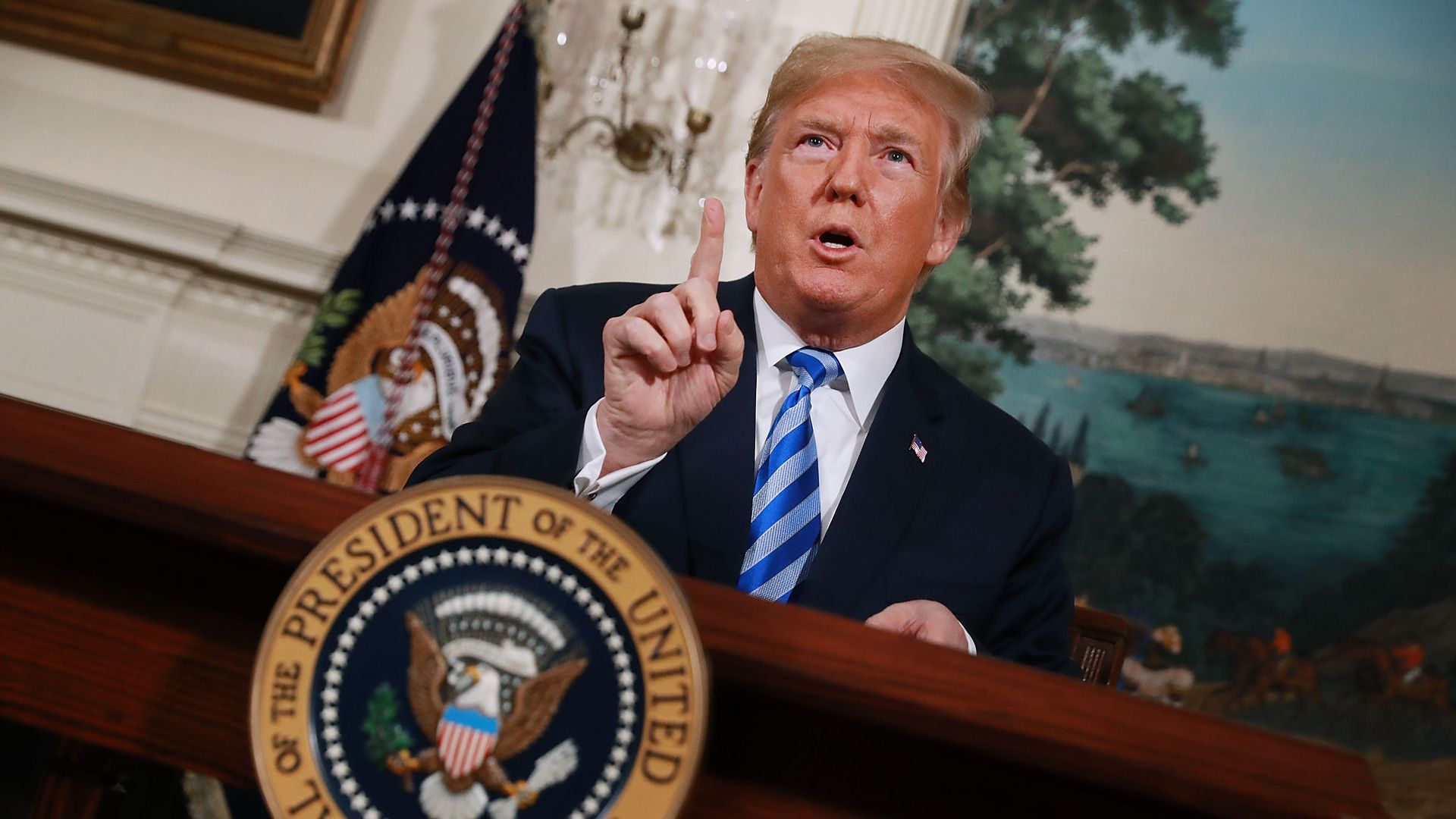 Barack Obama's signature foreign policy achievement is dead after only three years, the result of President Trump's decision this afternoon to pull the U.S. from the Iran nuclear deal.
The instant reactions abroad...
Israeli Prime Minister Benjamin Netanyahu: "Israel fully supports President Trump's bold decision today..."
Saudi Arabia: "The Kingdom of Saudi Arabia fully supports the measures taken by [the president] with regards to the JCPOA."
Iran Foreign Minister Javad Zarif: "In response to US persistent violations & unlawful withdrawal from the nuclear deal, as instructed by President Rouhani, I'll spearhead a diplomatic effort to examine whether remaining JCPOA participants can ensure its full benefits for Iran. Outcome will determine our response."
The prime ministers of France, Germany and the U.K.: "[We] will remain parties to the [Iran deal]. Our governments remain committed to ensuring the agreement is upheld..."
And at home...
Barack Obama: "Walking away from the JCPOA turns our back on America's closest allies... the consistent flouting of agreements that our country is a party to risks eroding America's credibility, and puts us at odds with the world's major powers."
Nancy Pelosi: Trump's decision "endangers global security and defies comprehension."
Paul Ryan: "I have always believed the best course of action is to fix the deficiencies in the agreement. It is unfortunate that we could not reach an understanding with our European partners on a way to do that."
The big picture, from the N.Y. Times' David Sanger:
"Trump and his Middle East allies are betting they can cut Iran's economic lifeline and thus 'break the regime' by dismantling the deal, as one senior European official described the effort."
"In theory, America's withdrawal could free Iran to produce as much nuclear material as it wants — what it was doing five years ago, when the world feared it was headed toward a bomb."
"But Mr. Trump's team dismisses that risk: Tehran doesn't have the economic strength to confront the United States, Israel and the Saudis."
"And Iran knows that any move toward 'breakout' to produce a weapon would only provide Israel and the United States with a rationale for taking military action."
Be smart: Trump has never wavered on the Iran deal, Axios' Jonathan Swan writes. He was convinced from the campaign that it was a "disaster" and "weak" — a poorly-negotiated contract by poor negotiators.
The real question: What does Trump do next? It's not clear what the administration's plan is for the day after exiting the Iran deal, and in some ways Trump is internally incoherent. Members of his national security team have been frustrated about Trump's desire to withdraw US troops from Syria. They point out the contradiction: how can you want to be "tougher" on Iran when you appear willing to cede Syria to Iran?
Go deeper: Iran's options, along with what Europe wants
https://www.axios.com/newsletters/axios-pm-6c17c12d-8b9b-4d8f-a5ff-2bdbed8d7ef5.html?chunk=1#story1
https://www.axios.com/newsletters/axios-pm-6c17c12d-8b9b-4d8f-a5ff-2bdbed8d7ef5.html?chunk=2#story2
3. 1 race to watch tonight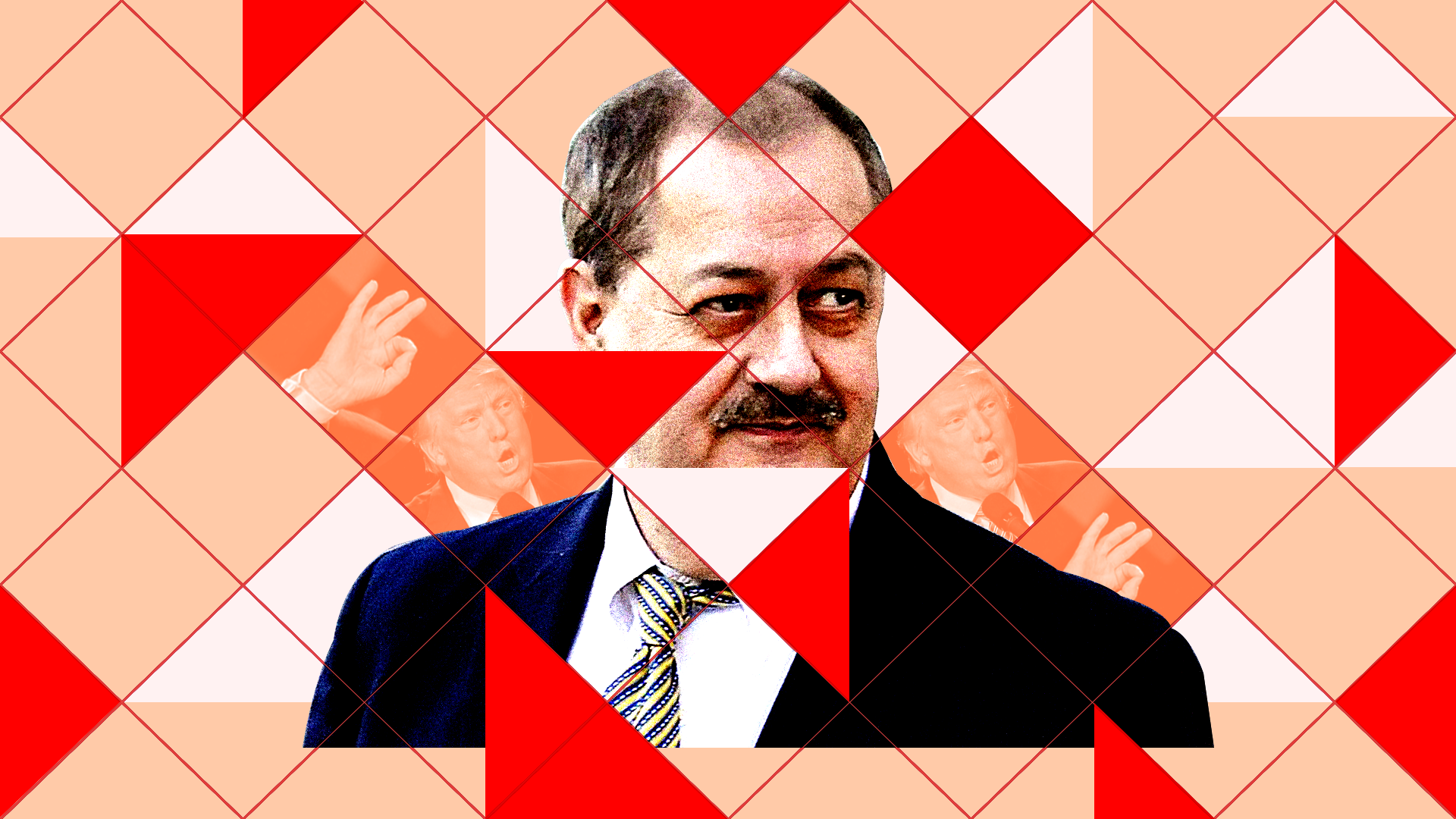 Republican Senate candidates in West Virginia, Indiana and Ohio are trying to out-Trump Trump — but it's the West Virginia race that everyone will be watching, Axios' Alexi McCammond writes.
The big picture: These Senate races are a good example of what the Republican Party looks like in the Trump era. If Don Blankenship — who claims to be "Trumpier than Trump" but is being compared to Roy Moore — prevails in the GOP Senate primary, it'll be a sign that the party can't convince its voters to avoid the least electable candidates.