May 03, 2019
1 big thing: The great American economy
Happy Friday: If you were born in 1970 or later, the U.S. unemployment rate has never been this low, and the economy added 263,000 jobs last month.
The big picture: "Payrolls have now risen for 104 quarters in a row, and the economy has created more than 20 million jobs since the Great Recession ended in 2009," the NYT notes.
Between the lines: "As good as the dip in the unemployment rate looks, the factors behind it aren't as hopeful as the headline number itself."
"There was a big drop in the number of people who said they were looking for work. The labor-force participation rate, which measures the share of people 16 and older who are employed or seeking a job, fell to 62.8 percent, from 63 percent in March."
Bloomberg: "While some analysts labeled it a 'Goldilocks' report for being neither too hot nor too cold, traders maintained bets the Fed will lower rates by mid-2020, and White House economic adviser Larry Kudlow said he thinks the central bank will eventually make a reduction."
The bottom line, from economist Justin Wolfers: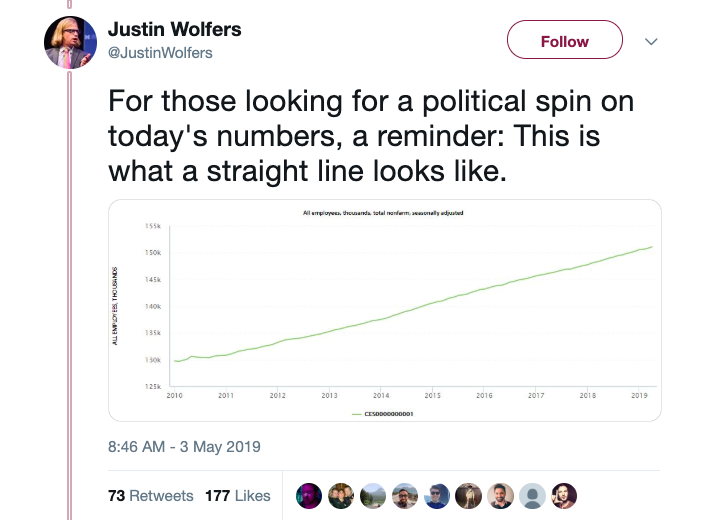 Bonus: Pic du jour
A newborn flamingo at Rome Bioparco in Rome, Italy.
Five baby flamingos have been born in recent days, and several eggs still have to hatch.
3. 1 "Stiff" stat
A Pennsylvania man named Jarrett Stiff dodged 2,264 tolls on the Pennsylvania Turnpike over 5 years, the Philadelphia Inquirer reports, and now he's facing the music.
Via the AP:
"The 36-year-old from suburban Philadelphia racked up nearly $128,000 in unpaid tolls and subsequent fines."
"In a deal with prosecutors, he pleaded guilty in April to theft of services, was ordered to pay over $11,500 and was sentenced to five years' probation."