Axios Philadelphia
March 24, 2023
TGIF!
📍 Programming note: It's National Cheesesteak Day!
What else could we do besides bring you a steak-over — an edition devoted to our city's most beloved sandwich.
Today's newsletter is 995 words, a 4-minute read.
1 big thing: 🎤 Meet the Samboners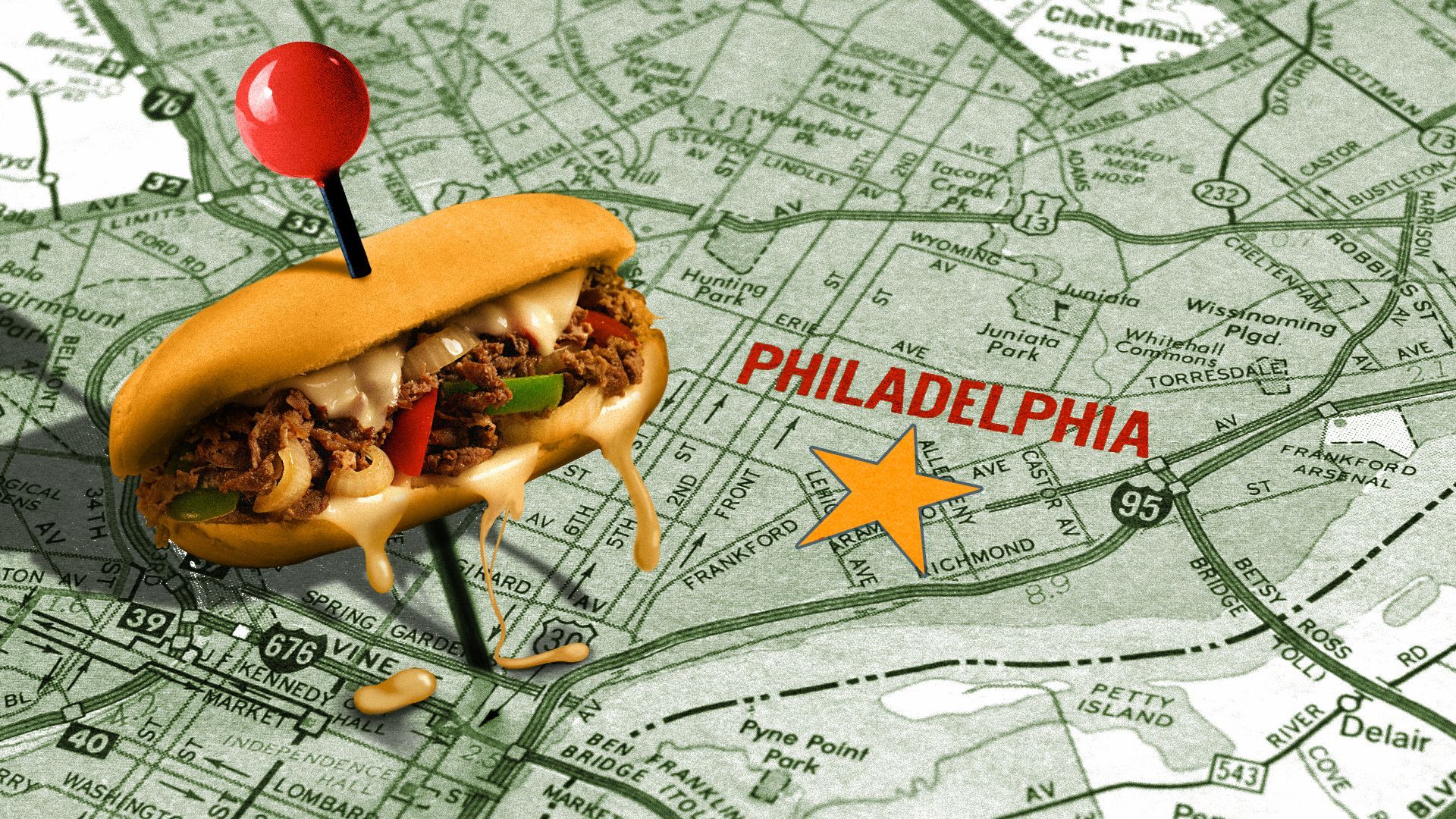 Stumble over to Gaul & Co. Malt House today and you'll find yourself in a total sambone-a-thon.
What's happening: Mickey McKenzie, co-host of "The Samboner Show" with Temple alum and former NFL player Colin Thompson, are live-taping their podcast about cheesesteaks and other sammies. And it's a four-hour special.
For the uninitiated: "Sambo" is Irish slang for a sandwich. "Samboning" is a term McKenzie and his buddies coined for delightfully wolfing down sandwiches while hamming it up for the camera.
A "samboner" is a sammie fanatic, the kind of person who, as the show says, will "talk for hours on end about slab vs. chopped cheesesteaks, Wiz vs. American vs Cooper Sharp, broccoli rabe vs. creamed spinach in a roast pork sambo," and well, you get the idea.
Why it matters: There are a lot of Samboners out there, it turns out. Maybe you're a Samboner, too.
The backstory: McKenzie, a married father of three, had a corporate job in sales but was more interested in his long-running "bro chat" about cheesesteaks among lifelong friends. He and Thompson launched the near-weekly pod last November and now have thousands of listeners tuning in for their dish about Philly's obsessive sandwich and sports cultures.
It reminds you of drive-time radio, with a big serving of sayings unsuitable for print — and a patented Philly accent thicker than a ribeye.
"I struggle to work for the man," McKenzie tells Axios. The corporate job is no more.
The upsides: It's way more fun to be at a Phillies game and stumble into "Samboner Show" fans.
The drawbacks: McKenzie and his friends started developing "triple chins" in their early days of sandwich scouting when they chowed down on as many as 70 sammies in a single month.
What they're saying: "We're like the misfits for foodies," McKenzie said.
How to listen: Today's show at Gaul & Co. Malt House in Port Richmond tapes from 3-7pm. Maybe eat the malt house's "Wit-or-Witowski" Kielbasa Cheesesteak while you're there.
2. 🍞 Juicy cheesesteak history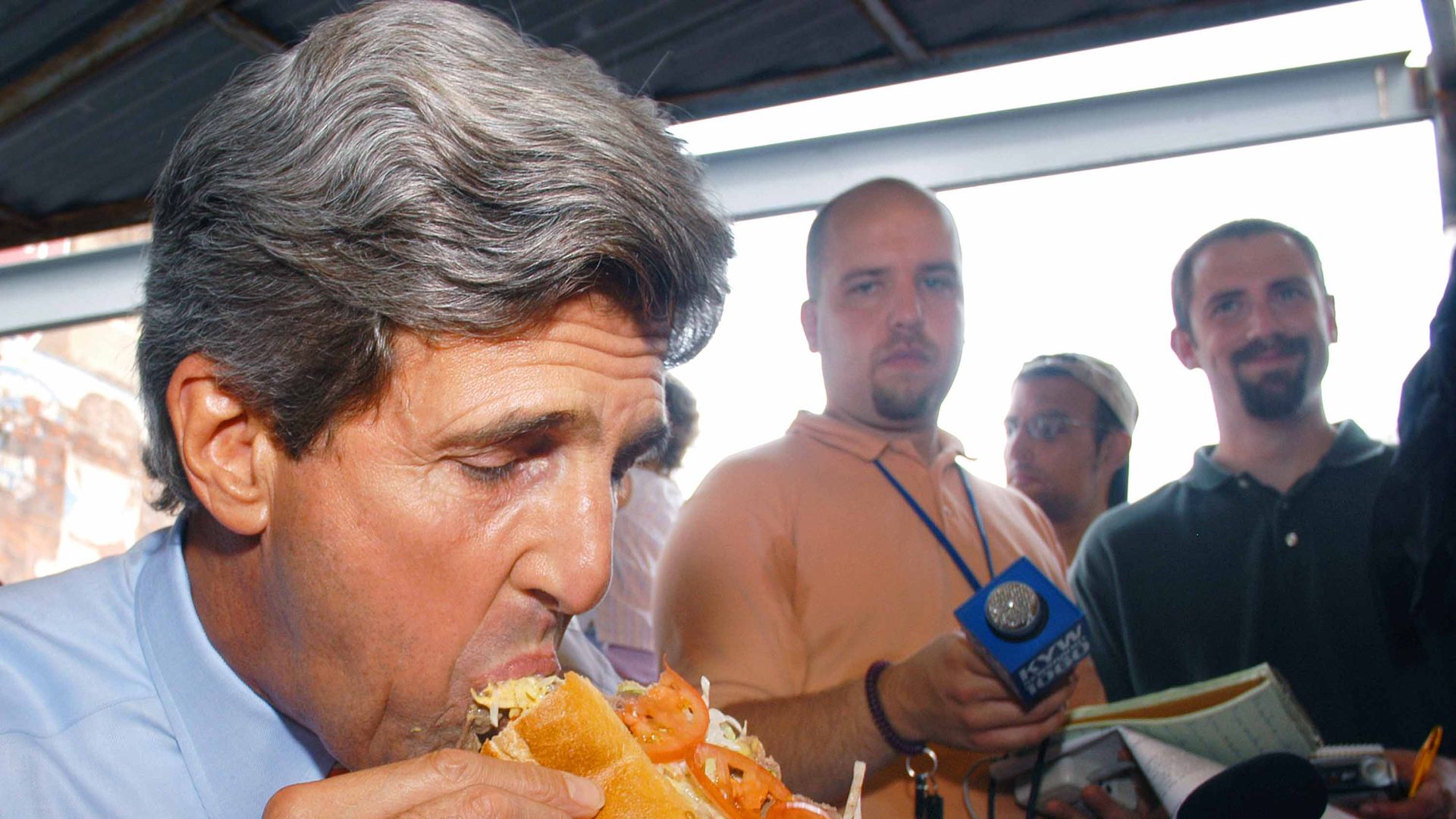 We steak-ed out some of the most memorable moments in Philly cheesesteak culture. Gee whiz, the list is a doozy.
🧀 Steak-gate: Then-presidential candidate John Kerry was torched for ordering his sammy with Swiss during a visit to Pat's King of Steaks in 2003.
🧑🏽‍⚖️ High-Steaks Legal Drama: It was big news when the founder of the original Tony Luke's in South Philly — now known as Tony and Nick's — Anthony "Papa Luke" Lucidonio Sr. and one of his sons, Nicholas, pled guilty last year to tax fraud for hiding $8 million from Uncle Sam.
The case came about through a long-running family feud, with one of Papa Luke's other sons, Tony Luke Jr.. Tony Luke Jr.'s sons helped the feds go after their grandfather and uncle.
"Papa Luke" and Nicholas await sentencing next month, according to court records, while Tony Luke Jr. runs his own cheesesteak empire.
❤️‍🩹 A Magical Philly Cheesesteak Moment: A few years ago, customers broke into a capella rendition of Boyz II Men's "Your Love" while waiting in line inside a packed Jim's Steaks.
3. 🏆 Pro sammies
Jim Pappas has eaten at 1,091 cheesesteak establishments over the past five years — and counting.
The intrigue: Before embarking on his great "Philadelphia Cheesesteak Adventure," Pappas, who lives in Wilmington, spent more than two decades working in financial services.
His kids were grown, his marriage was ending, he was finally in remission from leukemia — why not stuff his face with Cheese Whiz?
By the numbers:
218 sammies consumed a year
3 states covered (Pennsylvania, Delaware, New Jersey)
28 rejection letters for a memoir
1 attempt to make the "Guinness Book of World Records" (He never heard back.)
What's happening: We obviously had to ask Pappas what cheesesteaks not to miss.
His top picks:
Cafe Carmela in Northeast Philly
Lillo's Tomato Pies in Hainesport, New Jersey
Johnny Paisano's in Springfield, Pennsylvania
The sleepers: Centrella's Deli and Italian Market in Havertown, Mix Bar and Grill on Chestnut Street and Cook and Shaker in Fishtown.
Between the buns: Pappas always grades for the tenderness of the meat, the quantity of the cheese, the mouthfeel of the bread, but really, the sandwich sabbatical taught him that a great cheesesteak makes for a memory.
"People don't start talking about rolls, meat and cheese," Pappas says. "They talk about where they went on their first date, the time after the big game, the [owner] who sponsored the Little League team."
4. News market: Schools fiasco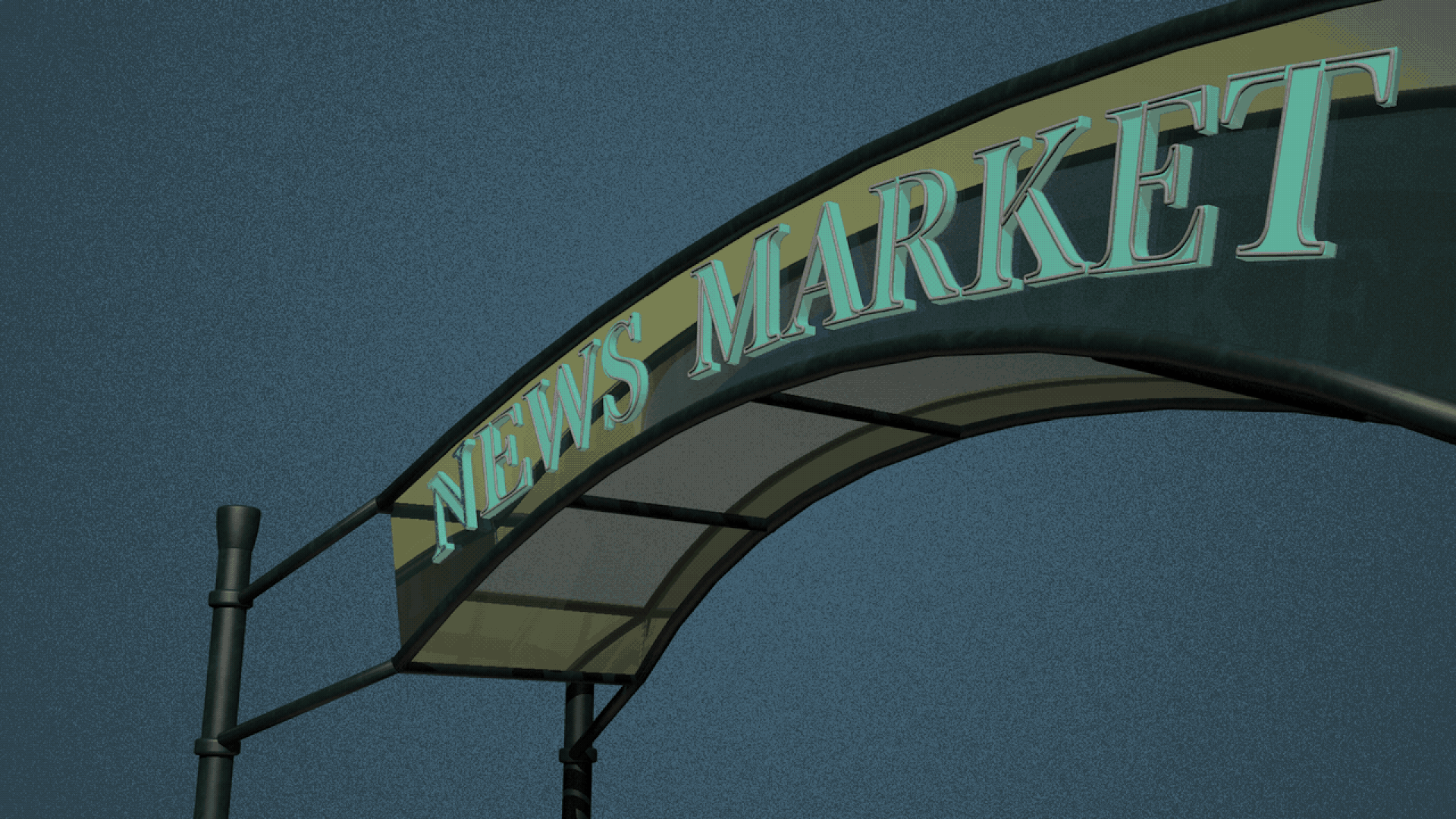 🏫 Superintendent Tony B. Watlington said the city's public school district will reopen enrollment at 12 under-enrolled magnet schools after more than 100 students walked out of school yesterday in protest. (Inquirer)
⛔ City Council overrode Mayor Jim Kenney's veto of a bill to create a public safety director. The position requires a change in the city's charter and Kenney felt the process was moving too fast. Voters will now get to decide whether to change the charter. (WHYY)
🚨Three teens were wounded in a shooting ambush at 4pm on Monday in the 1500 block of N. Frazier St. Police said surveillance showed four males opening fire on two 16-year-olds and a 13-year-old more than 60 times. (6ABC)
5. One last cheesesteak to go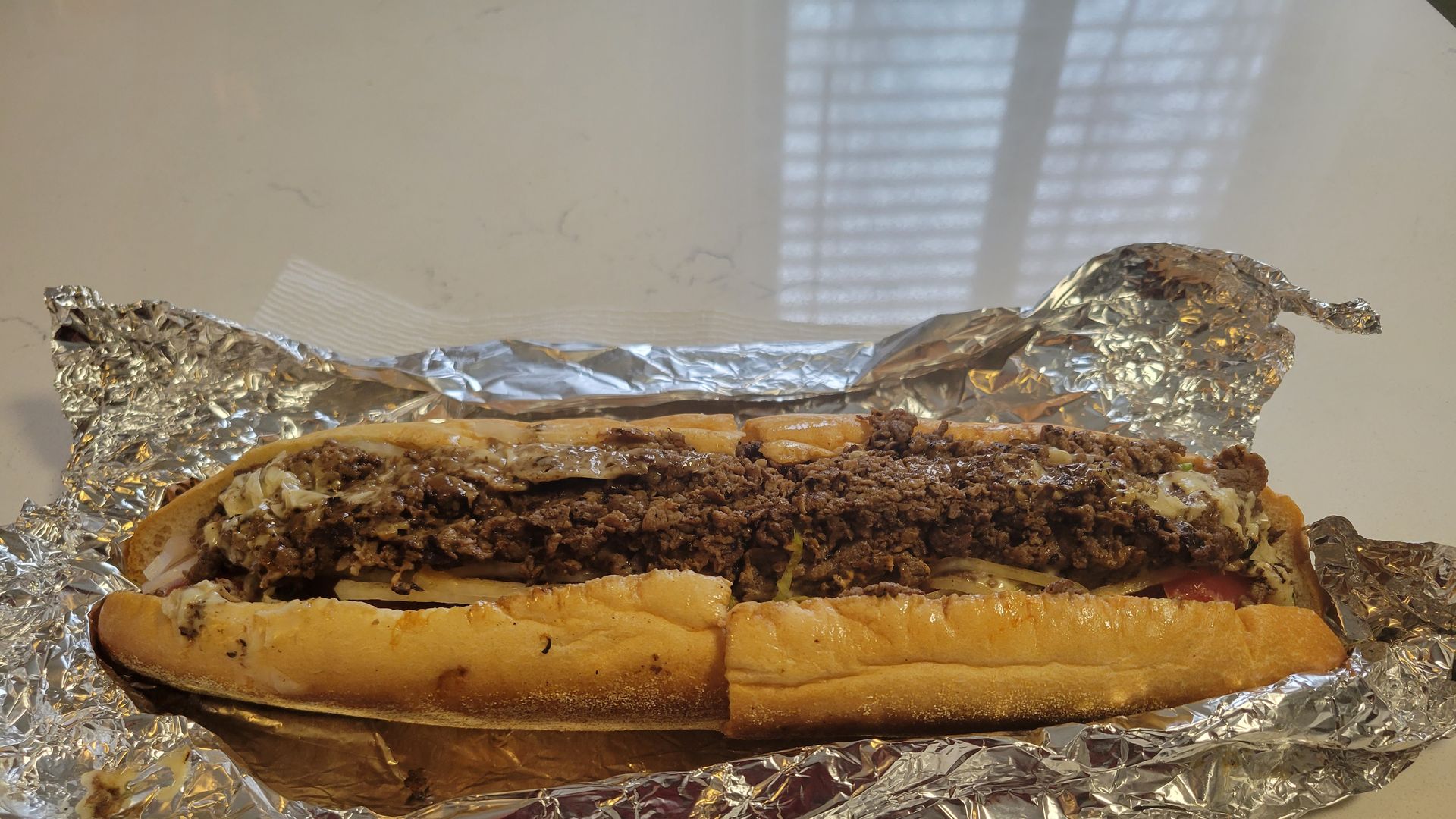 👋 Isaac here.
The cheesesteak craze got me, so I went hunting for a good one in the 'burbs. Happened upon this place in Abington called Riviera D'Italia that does things a touch different.
🌶️ The intrigue: It looked like a regular ol' cheesesteak until I bit into it and tasted the tongue-tickling kick of chipotle-infused mayonnaise.
The bottom line: 9.5/10, outside-the-bun thinking.
🏀 Isaac is riding comfortably on that Kansas State bandwagon after yesterday's win, baby!
⛱️ Mike is OOO.
Editor's note: Yesterday's newsletter incorrectly called Alex Morey's group the Foundation for Individual Rights in Education. It is the Foundation for Individual Rights and Expression.
Today's newsletter was edited by Kristen Hinman.