November 30, 2022
Hey, there. ICYMI, today is Wednesday.
☀️ Sunny with highs in the mid-40s.
📺 Situational awareness: A 12-seat Learjet crashed in Batesville last night arounf 8:40pm. The flight originated from Fayetteville Tuesday morning and flew to Batesville and then Waterloo, Iowa, before returning to Batesville. The aircraft was scheduled to return to Fayetteville before the crash.
This is a developing story. Information about the status of passengers and crew wasn't immediately available.
Today's newsletter is 823 words — a 3-minute read.
1 big thing: Clintons elevate women's voices
Former U.S. Secretary of State Hillary Clinton and vice chair of the Clinton Foundation Chelsea Clinton are hosting a "Women's Voices Summit" in Little Rock on Friday.
What's happening: Organizers say conversations at the full-day event will explore women's equality by addressing the maternal health crisis and reproductive rights, the power of young women voters, and the rights of Iranian women and girls.
State of play: Performing an abortion in Arkansas became a felony within hours of the U.S. Supreme Court's opinion overturning the landmark 1973 Roe v. Wade ruling this summer.
Zoom out: Women's rights are under attack globally. In Iran, 22-year-old Mahsa Amini died in custody of Iranian police for allegedly violating a religious law requiring women to wear headscarves, Axios' Ivana Saric writes.
Details: Scheduled panel discussions at the Little Rock event will cover voting rights, health care, economic and global issues.
An in-depth conversation between former Australian Prime Minister Julia Gillard and former Liberian President Ellen Johnson Sirleaf will be moderated by Hillary Clinton at the end of the day.
How to watch: The summit will be streamed live, beginning at 8:30am Friday.
2. Defense takes turn in federal transgender youth trial
A trial to decide the fate of Arkansas' 2021 law banning gender-affirming medical care for minors resumed Monday.
At issue is whether to uphold or permanently block a law Gov. Asa Hutchinson refused to sign.
Why it matters: The inability to access gender-affirming care has been linked to worse mental health outcomes for transgender youth, including thoughts of suicide and substance use, caused by gender dysphoria.
Reality check: Gender-affirming care is widely supported as appropriate and medically necessary by major health groups, including the American Medical Association and the American Academy of Pediatrics.
The latest: After a monthlong recess spurred by scheduling conflicts, testimony for those who oppose gender-affirming care dominated the bench trial Monday and Tuesday.
Context: The trial is between the state's attorney general's office and four Arkansas families represented by the American Civil Liberties Union.
Details: Ohio psychiatrist Stephen Levine said Monday that psychotherapy should be the primary treatment for gender dysphoria, Arkansas Advocate reported. He claimed doctors are too quick to prescribe hormones to minors.
The testimony counters that given in October by other professionals for those seeking to maintain the right for parents to decide if their children receive gender-affirming care.
Yes, and: On Tuesday, U.S. District Judge James Moody Jr. didn't see immediate relevance of the testimony from Mark Regnerus, a University of Texas sociologist, the Arkansas Democrat-Gazette reported.
Regnerus claimed he's observed a bias toward affirmation rather than treatment of underlying mental or emotional conditions among providers treating transgender patients, the paper reported.
If you or someone you know may be considering suicide, contact the National Suicide Prevention Lifeline at 1-800-273-8255 — or you can text message or call 988.
3. A look at Rogers' 2023 budget
The city of Rogers has approved its budget going into the new year.
Why it matters: These annual budgets act as a guide for what the city will spend money on in the year ahead.
By the numbers: The general fund budget includes about $61.8 million in revenue and about $61.5 million in expenses, leaving a surplus of more than $307,000.
Some dedicated funds, such as those for streets and the airport, are excluded from the general fund.
Some highlights include:
$752,410 on a new police fleet.
$494,900 on the parks and recreation department, including fleet, trails and other equipment.
$270,000 on the Rogers Historical Museum, including an outdoor green space project.
$170,000 for renovations to City Hall.
Yes, and: Full-time police officers will receive $6,000 bonuses paid out over six monthly installments during the first half of 2023, the Northwest Arkansas Democrat-Gazette reported. All city employees will receive 5% cost-of-living adjustments and be eligible for additional merit raises of up to 2%.
4. Kitchen Sink: No hogwash
🚍 The Walton Family Foundation recently gave a $135,789 grant to allow Ozark Regional Transit to extend its zero-fare program through 2023 as ridership is on the rise. (Talk Business & Politics)
❎ The Alcoholic Beverage Control Administration on Monday revoked the license for medical marijuana cultivator River Valley Relief LLC. Pulaski County Circuit Judge Herb Wright ruled it never should have been given a license because it's too close to a juvenile detention center, which state law considers a school. (Northwest Arkansas Democrat-Gazette)
🥓 McDonald's is suing eight companies, including Tyson Foods, for allegedly fixing pork prices for the past 14 years. A spate of similar lawsuits related to poultry pricing have dogged the industry for several years. (Meatingplace)
Now hiring: New job openings
5. 🧑‍🎄 'Tis the season at Alex's house
Alex, here. I'm into Christmas, and here is the photographic evidence.
Your turn. Send us photos of the holiday decor at your home.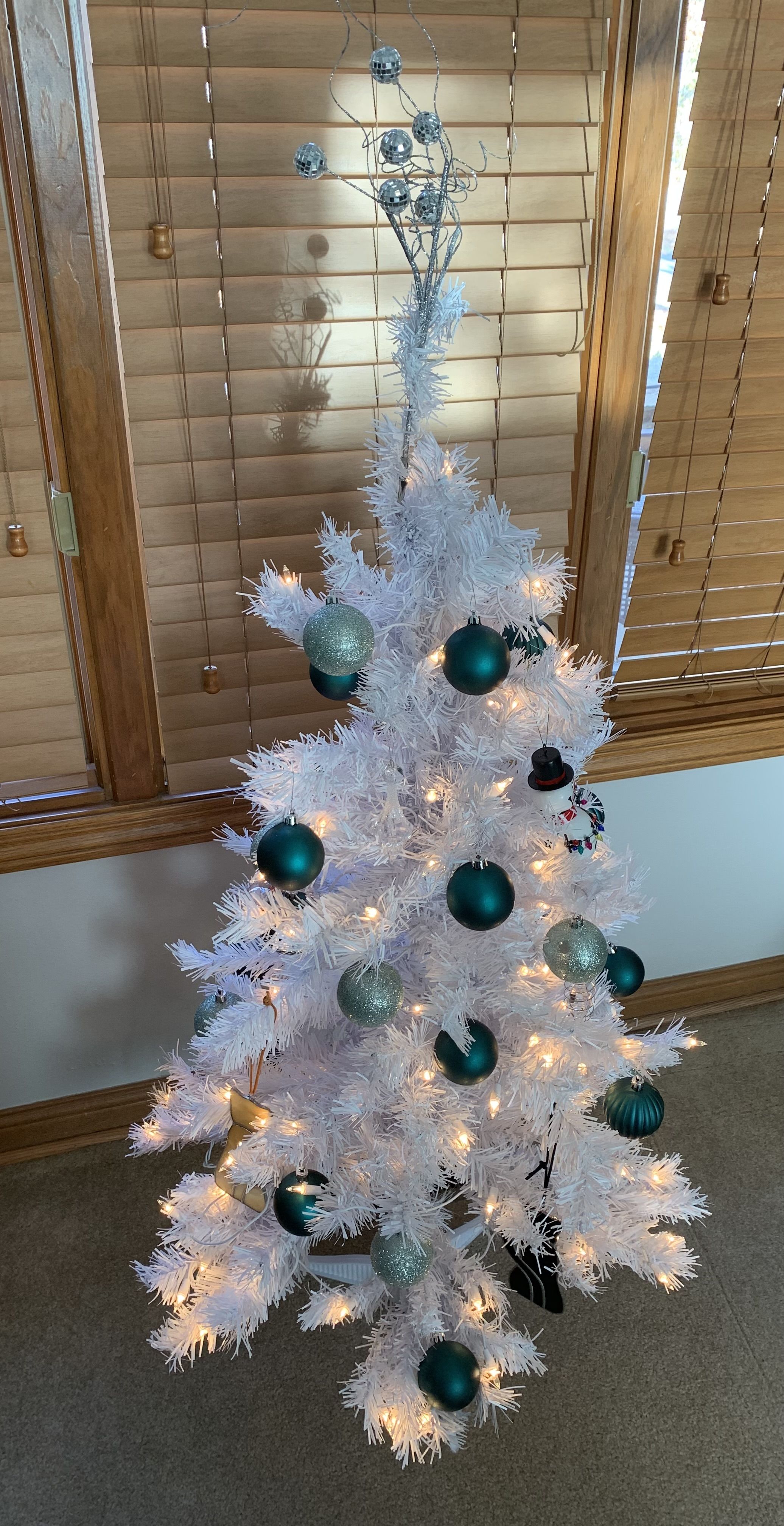 Thanks to Gigi Sukin for editing and Carlin Becker for copy editing this newsletter. 🎉
🥣 Alex had leftover rotisserie chicken, so she made this white chicken chili, and it's delicious.
🍉 Worth finished watching "Bad Sisters" and thinks it may be one of the best mystery series he's ever watched. 🛥