Axios Navigate
January 10, 2020
Welcome back! I survived CES — my feet are sore but there was lots to learn about the future of transportation, so read on!
Please share this newsletter and tell your friends they can subscribe here. If you have tips or feedback, just hit reply or send an email to

[email protected]

.
Axios' Alison Snyder will be moderating a conversation on the future of transportation at the British Embassy in D.C. on Tuesday, Jan. 14, at 6pm ET. RSVP here to attend or check out the livestream.
Today's newsletter is 1,571 words, a 6-minute read.
1 big thing: Everyone is piling into transportation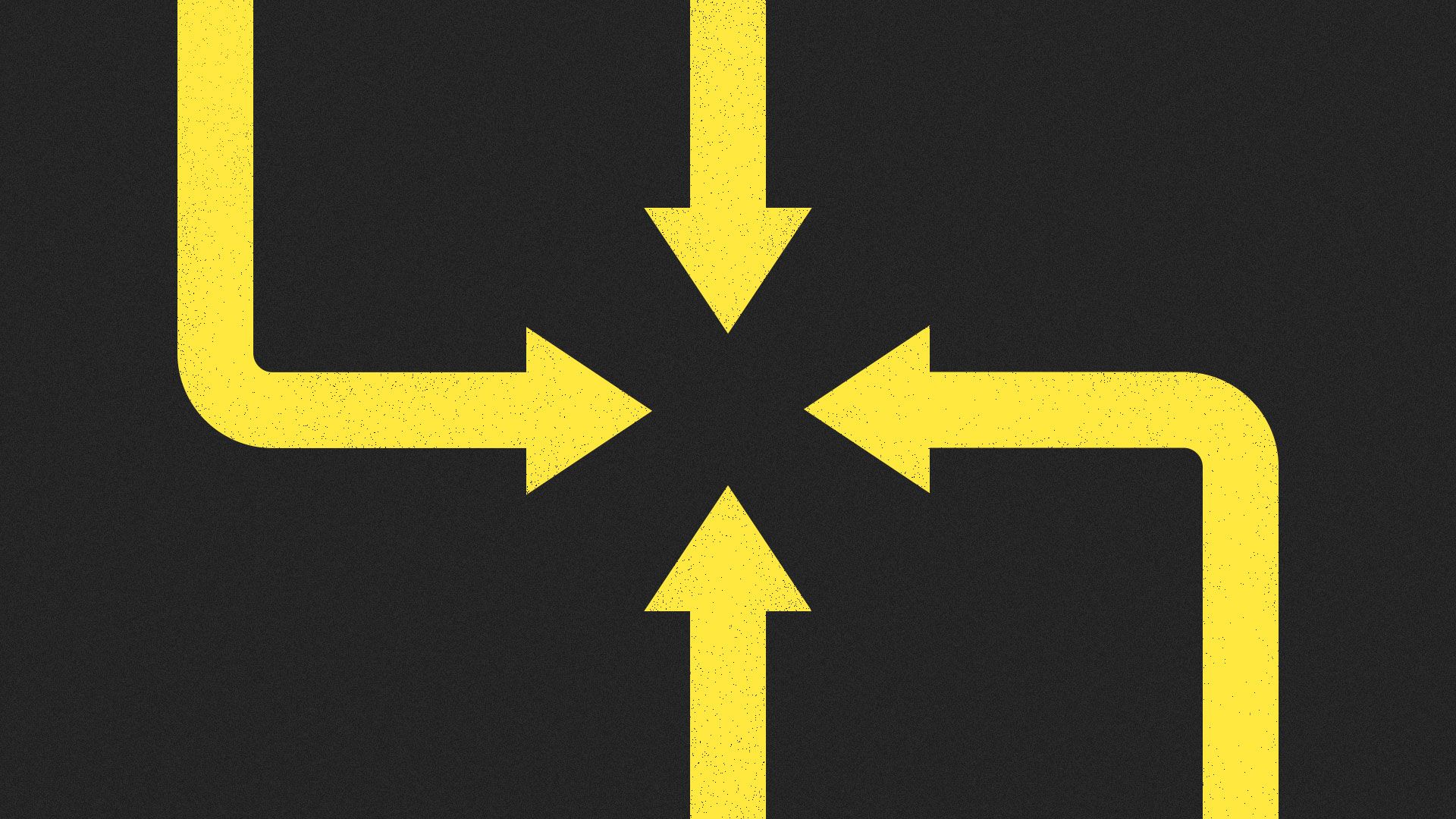 Some of the biggest surprises at CES came from big-name companies that seemed to stray from their traditional expertise: Sony debuted an electric car, Hyundai introduced a flying taxi and Toyota launched an entire city.
Why it matters: The mobility mashup shows how multiple industries are converging around their desire to own the transportation experience for consumers — whether they are riding alone or with strangers, with a robot behind the wheel or soaring over cities.
The big picture: CES has become an important venue to introduce what's next in transportation. This year it was about personalizing the ride to make people's lives better, even in a potentially shared driverless car or flying taxi.
Sony surprised many with its electric concept car, the Vision-S, showcasing its 360° immersive audio system and panoramic entertainment screen stretching across the front dashboard.
Hyundai, fresh off a $4 billion joint venture with Aptiv on self-driving cars, upped the ante on future mobility with its new air taxi concept that will someday allow you to summon a ride using Uber's app.
Toyota's Woven City will be a living laboratory to explore how humans and robots can thrive together in a hydrogen fuel cell-powered environment built from the ground up.
There are complications, as Axios' Sara Fisher points out, like who owns the data and how connectivity will work, but that potentially lucrative relationship with the traveling consumer has everyone piling into the mobility industry.
And there were plenty of demonstrations of what travel will be like when cars have no steering wheels, pedals or physical controls of any kind. To make a command, just gaze at, or point to, your selection on the windshield or virtual dashboard.
Audi's "empathetic" AI:ME concept car, came with virtual reality glasses that had me floating over scenic mountains, chasing a friendly dragon.
BMW showed its i3 Urban Suite and the i Interaction Ease concept, a mock-up of a future car interior, where augmented reality on the panoramic display might offer up movies and showtimes as you pass a theater, for example.
My personal favorite, however, came at mid-afternoon on a particularly exhausting day: the BMW X7 ZeroG Lounger.
A silky-voiced product expert showed how the NASA-inspired, zero-gravity seat could tilt back as much as 60°, relieving pressure and pain, for perfect comfort to inspire sleep on a long journey.
After that, I don't remember anything else he said until he woke me up and told me the demo was over and it was time to leave.
2. Now "vidar" is a thing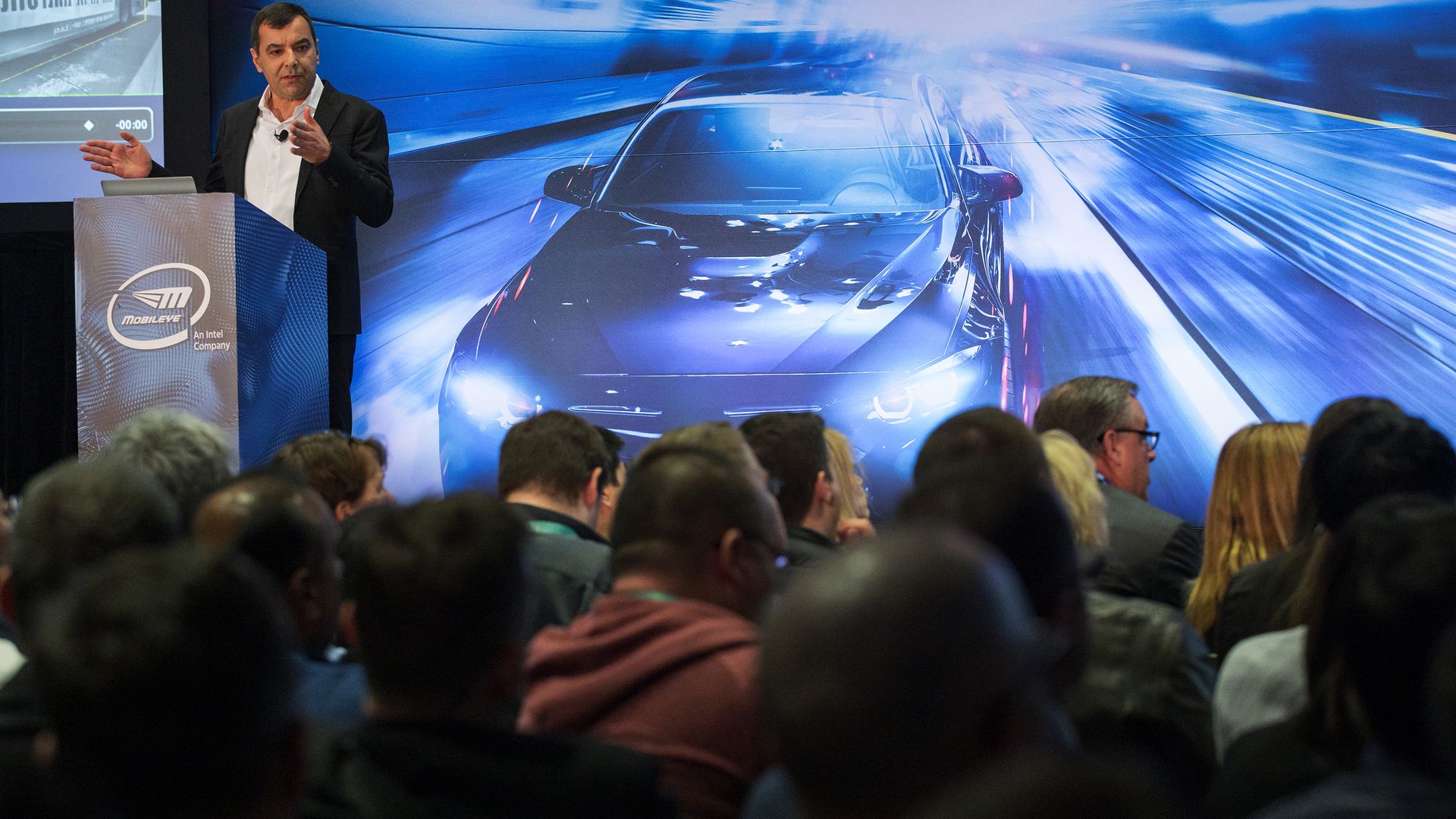 Mobileye CEO Amnon Shashua introduced auto industry followers at CES to new terminology this week: "vidar" is a computer vision system he claims can match expensive laser-based lidar solutions using only camera sensors.
Why it matters: There's been a debate inside the industry about whether lidar is necessary for self-driving cars. Most companies say it provides important redundancy to detect objects that cameras and radar can't see, but others — notably, Tesla CEO Elon Musk, who calls lidar "a fool's errand" — argue it's not needed.
Driving the news: Shashua, an Israeli professor, schooled customers, analysts and journalists during an hour-long presentation on Mobileye's technology, including why redundant software algorithms and triangulating camera sensors will be just as good as lidar.
Mobileye's camera sensors already power most of the assisted-driving features like lane-departure warning in today's cars.
By 2023, he said, Mobileye could achieve SAE level 4 self-driving capability with a single EQ6 vision chip for under $5,000, a startling breakthrough on both performance and price.
To back it up, he showed detailed video clips demonstrating how Mobileye achieves pixel-level scene segmentation that can be used to detect tiny fragments of road users such as wheelchairs and open vehicle doors. (Unedited video here.)
We'll see if vidar catches on — and more importantly, whether AV customers start to forego lidar for self-driving cars.
3. Meanwhile, the road to autonomy takes a detour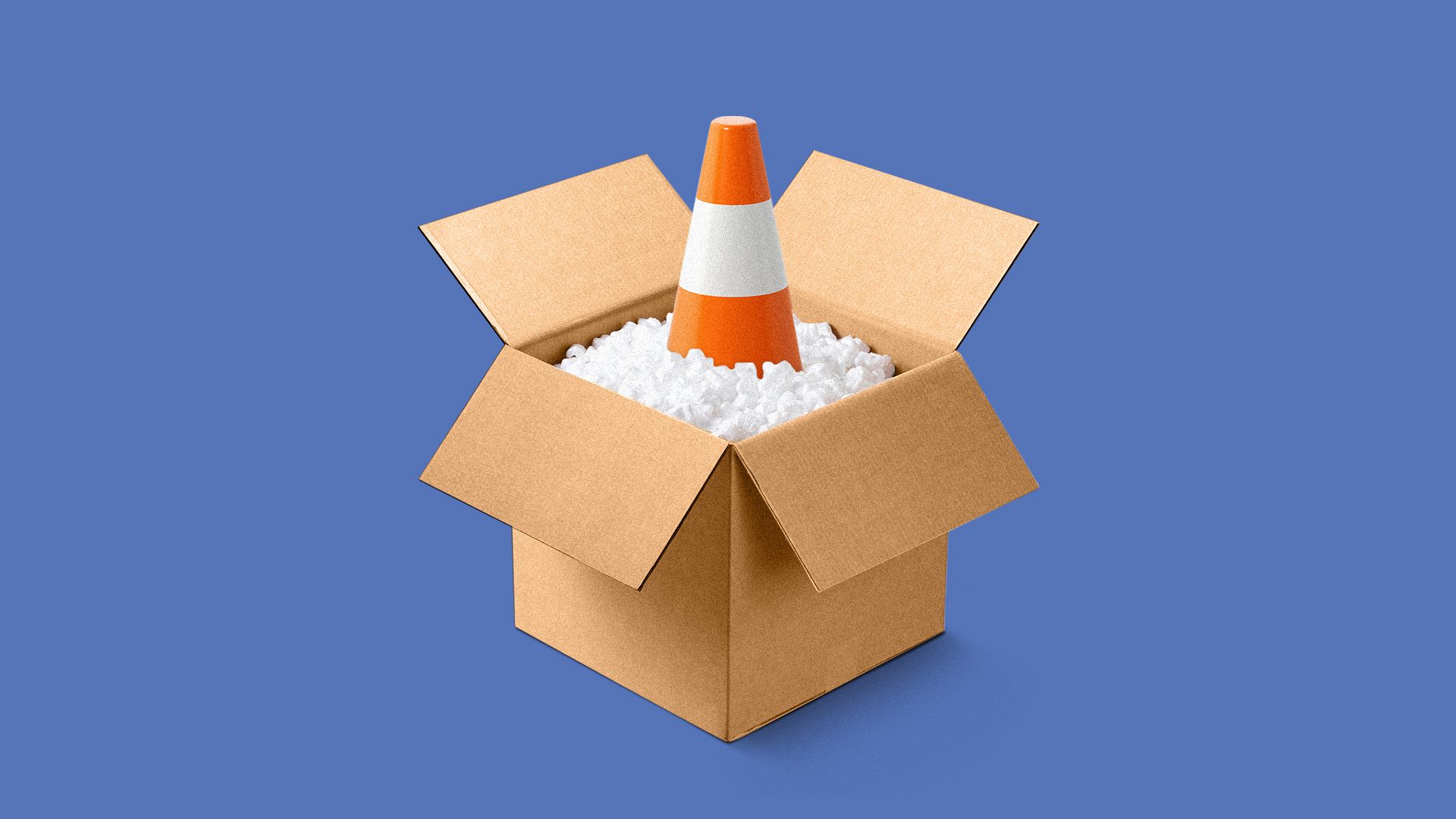 AV technology suppliers who bet heavily on a self-driving future that has yet to materialize are pivoting to a new strategy, pitching their sensors and software — including lidar — as a way to make today's vehicles even safer.
Why it matters: Self-driving cars remain a ways off, but AV tech suppliers need revenue to offset their big investments and keep innovating. By incorporating their wares into advanced driver assistance systems (ADAS) for millions of today's cars, they hope to reduce costs and make future AVs more feasible.
A recurring topic at CES was the growth of level 2+ (or even 2++!) ADAS technology, which doesn't exist under SAE's driving automation standards, but generally has come to mean hands-off highway driving.
Only a few luxury models offer it now, but the capability is rapidly expanding to mass market vehicles in the next few years.
At CES, many companies were highlighting the capabilities of their ADAS technology, including the addition of lidar to their suite of sensors.
"No one was talking about lidar for ADAS two years ago," noted Jack Weast, senior principal engineer at Intel (which owns Mobileye, by the way).
It could be a way to speed commercialization of lidar.
With the release of its newest lidar-based technology, Luminar has switched from selling hardware to automakers to selling subscription-based software and sensors in hopes of getting deeper into the development cycle — and ultimately winning commercial contracts.
4. After-school job for yellow buses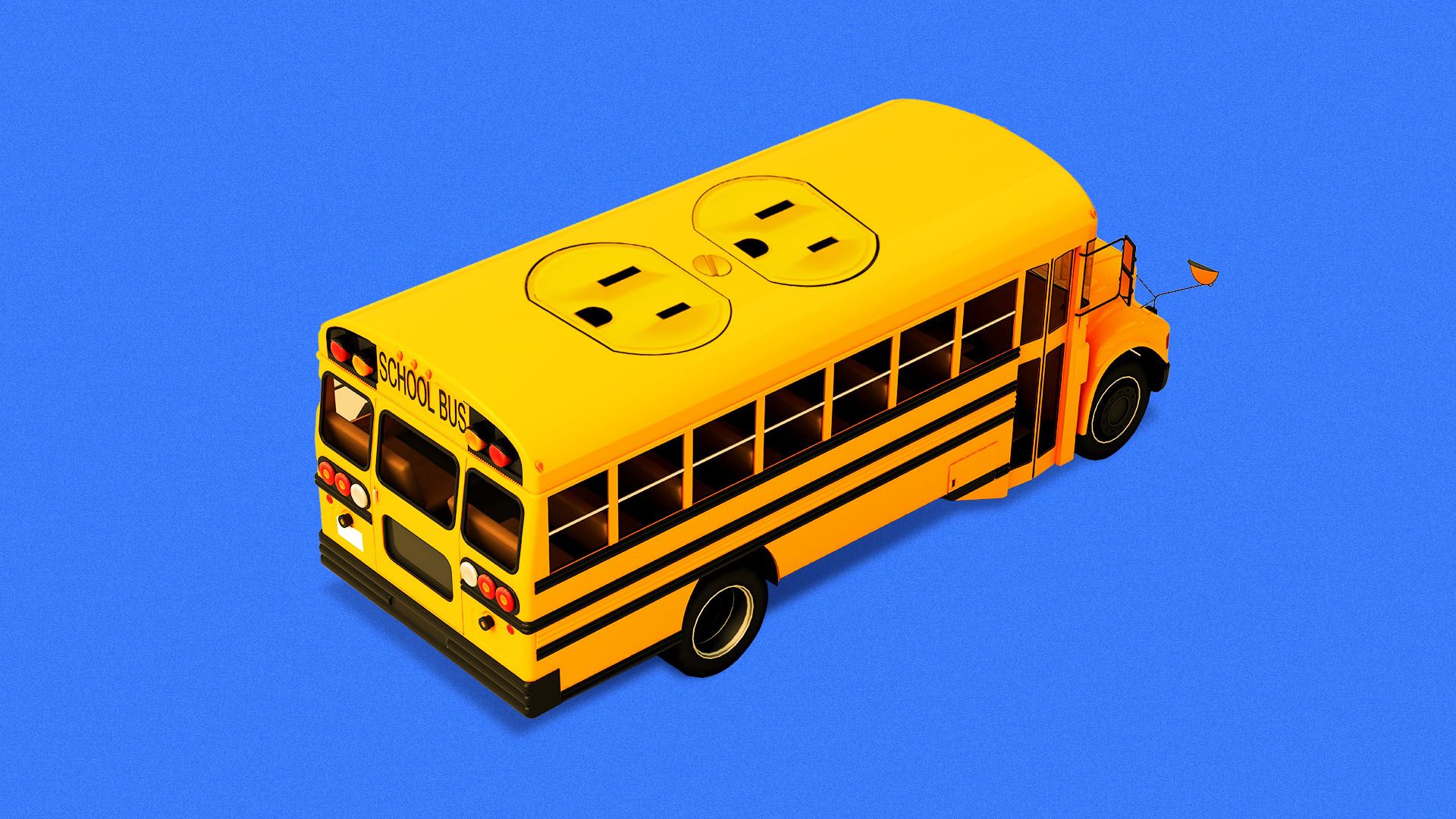 Utility companies are helping cash-strapped school districts replace diesel buses with electric ones that have a secondary purpose: helping to manage electricity demand.
Why it matters: Electric buses are cleaner, but cost about three times more. Using them for energy storage can help close that cost gap and smooth out energy demand on the electric grid.
What's happening: Less than 1% of America's 480,000 school buses are electric today, but that's beginning to change.
Communities in California, Massachusetts and a few other states are testing electric school buses and charging infrastructure (in some cases, tapping funds disbursed from Volkswagen's diesel emissions settlement with the U.S. government).
Vehicle-to-grid (V2G) technology for school buses is still fairly new.
Michigan-based DTE Energy, for example, has a pilot program with six buses in two school districts. It is testing charging infrastructure as well as V2G.
The most ambitious V2G effort comes from Dominion Energy, which is planning to deploy 1,050 electric school buses in Virginia over the next five years.
Dominion just ordered its first 50 electric buses from Thomas Built Buses, a division of Daimler Trucks North America.
The batteries and related EV technology are supplied by Proterra, a leading supplier of electric transit buses. The powertrain includes 220 kWh of total energy capacity and provides a 134-mile driving range — more than enough to deliver kids to and from school each day.
The buses can charge in about three hours with Proterra's 60 kW DC fast-charging system.
How it works: V2G enables electric vehicles to store surplus energy from intermittent wind or solar sources during non-peak periods and feed power back to the grid when needed.
A fleet of school buses is a better source of distributed power than passenger EVs because their usage patterns are predictable.
They are idle at precisely the times when energy demand is at its peak — midday and during the hottest summer months.
By storing or drawing power from a fleet of parked school buses, utilities can avoid wasting surplus energy from renewables or cranking up a natural gas power plant during peak demand, for example.
5. Driving the conversation
Speed bump: E-scooter startup Lime shuts in 12 markets, lays off around 100 (Kia Kokalitcheva — Axios)
Not funny: Boeing employees mocked FAA and 'clowns' who designed 737 MAX (Natalie Kitroeff — The New York Times)
Why it matters: The emails and instant messages are the latest black eye for Boeing, which has grounded its most popular plane for nearly 10 months after two deadly crashes. The company is working to fix a software system that was found to have played a role in both accidents.
AV 4.0: New U.S. plan keeps autonomous vehicle standards voluntary (Tom Krisher — Associated Press)
The big picture: Transportation Secretary Elaine Chao said the guidelines unify AV work across 38 federal departments and agencies and establishes a list of government principles. But safety advocates say the U.S. needs firm standards and regulations to make sure self-driving cars are safe.
6. What I'm driving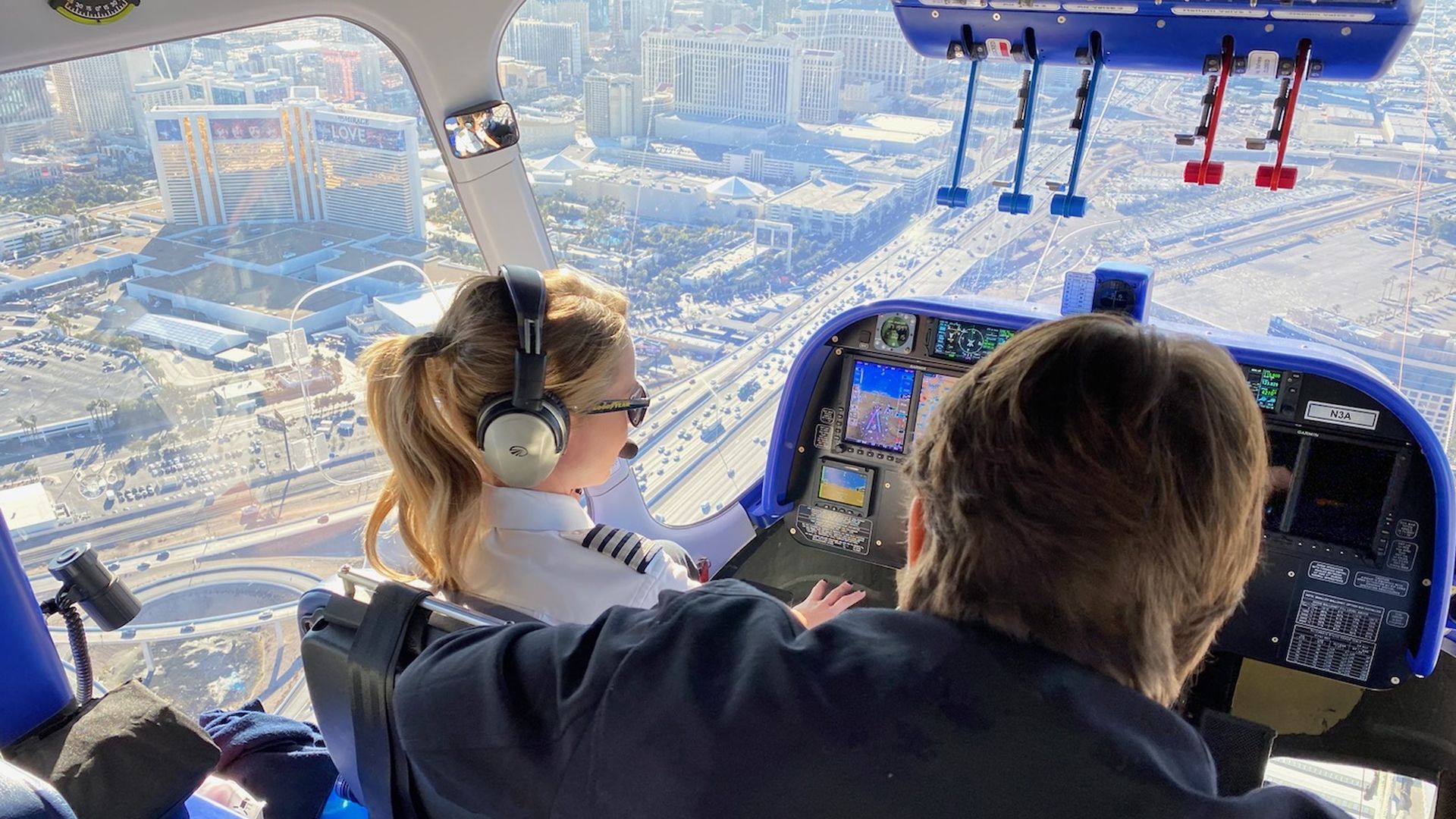 This week, I ticked off a bucket list item while in Las Vegas — riding in the Goodyear blimp.
How it happened: Goodyear, which was touting its predictive fleet management services at CES, invited a handful of auto beat reporters to experience a blimp ride over The Strip.
The details: This new generation of the Goodyear Blimp is not really a gas-filled sack. It's a semi-rigid airship, with a frame providing structure.
The airship is filled with helium, but also smaller "ballonets."
The ship's buoyancy is controlled by taking in and expelling ambient air. Because air is heavier than helium, the more air the craft takes in, the less buoyancy it has.
The experience: It's sort of a cross between a commercial jet and a small boat.
The gondola seats 12; you must be seated and buckled for takeoff and landing, but after reaching a certain altitude you are allowed to stand up and walk around.
Good sea legs are a plus — on a boat, you can see a swell coming, but you can't see that air puff that's about to push the airship sideways. 
How it works: Forward motion is provided by two, 200-horsepower propeller motors mounted to either side of the airship's fuselage.
A smaller motor mounted to the stern helps control the ship on takeoffs and landings.
All three motors rotate to allow for vertical takeoffs and landings.
Top speed is 73 mph.
The blimp pilots steer with a joy stick in the custom-designed cockpit to control giant fins on the stern called "ruddervators."
The bottom line: In a word? Awesome.