Axios Navigate
March 26, 2021
Well, folks, it's the end of the road. This is the last issue of Navigate. But the journey doesn't end here. We're evolving and expanding this newsletter into something even bigger and better on a daily basis. More to come on that soon.
In the interim, we'll still be publishing lots of content on the future of transportation.
And remember: Like transportation, Axios is multi-modal. If you want Smart Brevity, there are lots of ways to get there. Subscribe to Axios newsletters, download the Axios app, listen to our Axios Today and Re:Cap podcasts, sign up for Axios events or watch "Axios on HBO."
You can follow me on Twitter @JoannMuller or email me at

[email protected]

.
Today's Smart Brevity count: 1,525 words, a 6-minute read.
1 big thing: Taxing drivers by the mile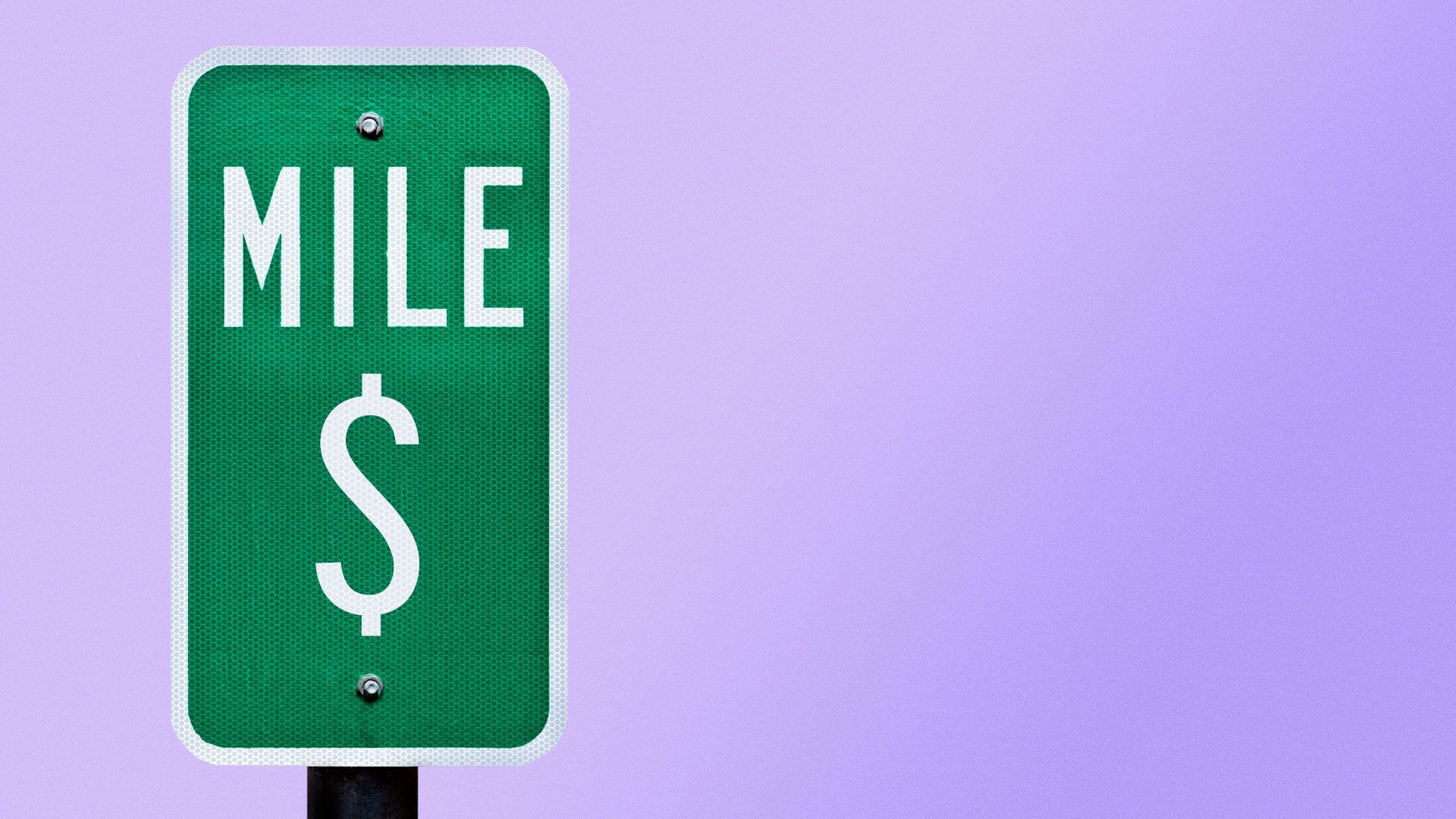 There's growing acceptance among federal lawmakers for a road user fee to fund highway repairs, but how it would work — and who would end up paying — are unclear.
Why it matters: The Highway Trust Fund, which pays for roads and transit systems, is going broke. The existing federal gas tax isn't enough to meet rising costs, and the budget gap will only grow wider as cleaner cars burn less fuel.
Electric cars don't even need gas, which is why finding an alternative to the current 18.4-cent per gallon fuel tax is inevitable.
The big picture: President Biden is getting set to unveil a $3 trillion economic package that will include spending on everything from highways, bridges and rail to broadband networks and electric vehicle charging stations.
Transportation Secretary Pete Buttigieg told lawmakers Thursday that the moment offers "the best chance in any of our lifetimes to make a generational investment in infrastructure" and that climate change must be addressed.
While infrastructure generally enjoys bipartisan support, lawmakers are divided over what should be included and how to pay for it.
Neither side seems interested in raising the gas tax at this point, even though electric vehicles still represent less than 3% of new cars sold.
Democrats suggest raising taxes on the wealthy, or hiking the corporate tax to 28% from today's 21%, but Republicans are firmly opposed.
One area of potential agreement — at least on highway funding — is a vehicle-miles-traveled (VMT) system that would charge drivers a penny or two for each mile logged behind the wheel.
The idea has been under consideration for years, and several states, including Oregon and Utah, are currently running pilots to test the technology and consumer acceptance.
Supporters say it's a way to ensure that electric vehicle owners — who currently pay no fuel taxes — chip in their fair share for road maintenance. (29 states have imposed alternative annual fees on EVs in the meantime.)
Buttigieg is open to a VMT. "We're obviously going to have to come to more solutions if we're going to preserve the user-paid principle," he told lawmakers Thursday.
Yes, but: There are technical and privacy challenges, and some environmentalists worry new fees would slow the adoption of EVs.
A VMT would do nothing to curb carbon dioxide emissions either, they note.
SUVs with the worst miles per gallon ratings would end up with a tax break, while fuel-sipping cars would pay more than they do today. The Washington Post has a cool interactive tool to visualize the potential impact.
How it works: Under a VMT system, drivers would report their mileage electronically, using a plug-in device in their cars or a smartphone app.
But forcing drivers to insert a transponder in their car raises worries about Big Brother tactics.
Commercial trucks already track their mileage, so VMT supporters say that's a natural place — along with ride-sharing fleets — to begin the new user fees. Not surprising: the American Trucking Associations objects.
The bottom line: Everyone agrees America's crumbling infrastructure needs fixing.
The American Society of Civil Engineers gave the U.S. a D+ on infrastructure, while an analysis of federal data by the American Road & Transportation Builders Association (ARTBA) found that more than one-third of U.S. bridges need major repair work or should be replaced.
What to watch: No matter what happens with Biden's ambitious infrastructure plan, Congress has until Sept. 30 to reauthorize a surface transportation funding bill, which pays for road and transit projects in all 50 states.
2. Drone vs. car crash test
New regulations that would allow drones to fly over highly populated areas raises the question: what happens when one accidentally falls from the sky and hits a moving vehicle?
Drone specialists at Virginia Tech devised a one-of-a-kind crash test to find out.
What they did: Researchers mounted a small, two-pound drone to a pneumatic sled.
They propelled the sled down a linear track toward a custom-built windshield frame made with parts from a salvaged Toyota Camry.
By varying the dynamics, they figured out that at impact speeds between 25 and 62.5 mph, the drone slid up the glass, leaving minimal damage.
Above 67 mph, however, "a web of cracks shot across the windshield as it bowed inward, spitting shards of glass onto the floor."
What they found: As long as the impact speed was below 62 mph, flights over moving vehicles presented minimal risk.
Yes, but: In the real world, the speed of the impact is the sum of how fast the car is going and how fast the wind is pushing the drone toward it.
The bottom line: In the average suburban neighborhood, with speed limits between 25 and 35 mph, even the maximum wind speed the drone can tolerate — about 23 mph — would keep potential impact speeds below the 62 mph threshold.
The research, which began before the new rules took effect, helped State Farm obtain an FAA waiver so it could inspect hurricane-damaged homes.
3. Tesla's video footage of drivers raises concerns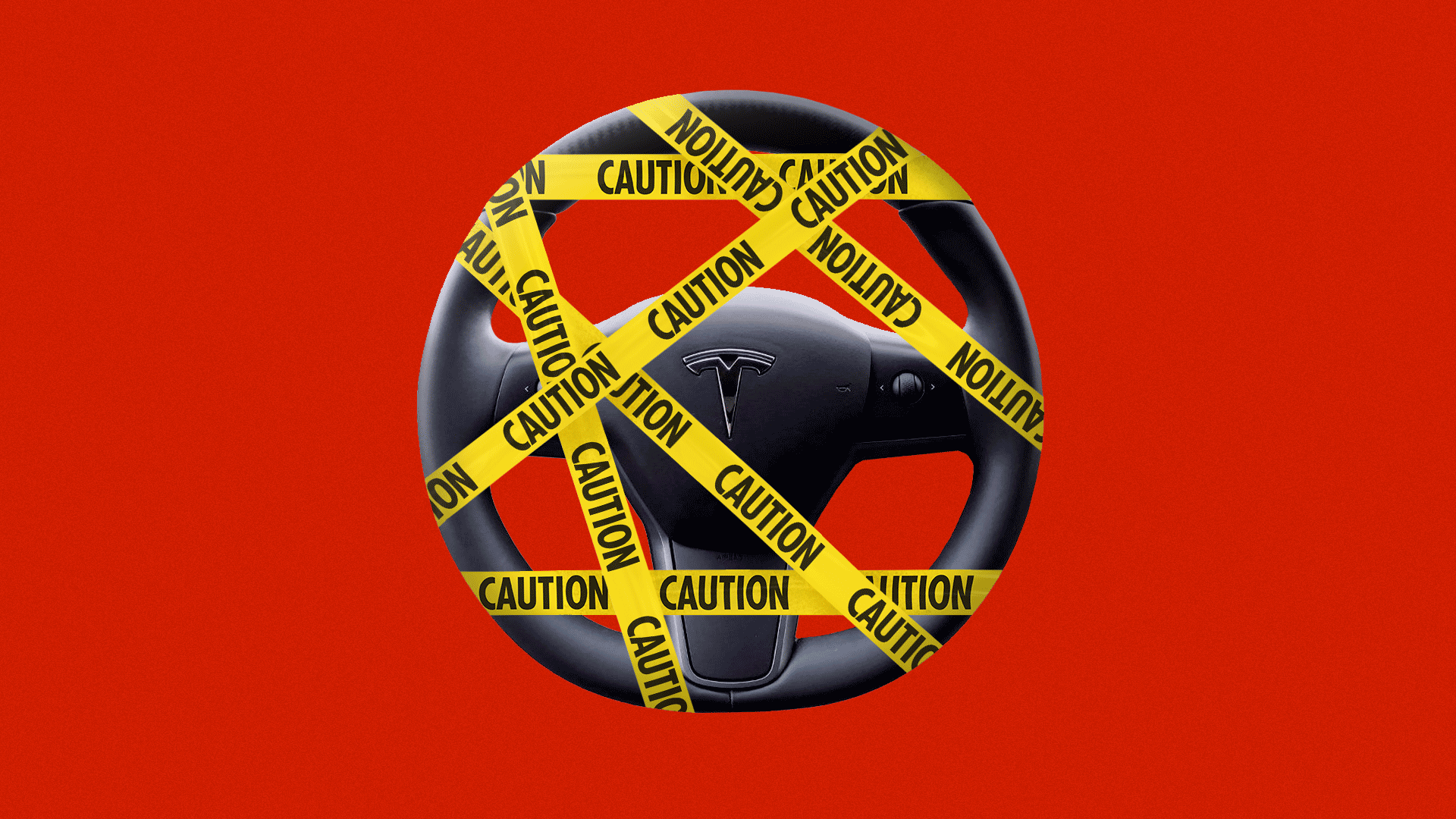 Cars are increasingly equipped with cameras to monitor driver behavior, but Tesla's use of the technology raises safety and privacy questions, Consumer Reports writes.
Why it matters: Driver monitoring systems help ensure motorists are paying attention to the road when using automated features that don't require their hands on the wheel.
How it works: Most of these systems use infrared cameras to track the driver's head position or eye movements.
If the system detects the driver is not engaged, it'll issue a warning — flashing lights or a vibrating steering wheel, for example — to get them to pay attention. Failure to do so will bring the car to a safe stop.
GM, Ford, BMW and Subaru told CR their closed-loop systems do not record, save, or transmit any data or video.
Tesla, on the other hand, is recording and transmitting video footage of occupants to help engineers further develop its self-driving technology, according to CR.
What's worse, the automaker is not using the in-car cameras to keep passengers safe, CR's auto expert Jake Fisher tells Axios.
"If Tesla has the ability to determine if the driver isn't paying attention, it needs to warn the driver in the moment, like other automakers already do," he said.
Catch up fast: Tesla has been letting certain customers beta-test its latest "full-self-driving" technology on city streets. That has led to a bunch of hair-raising videos on social media, some showing near collisions.
Tesla CEO Elon Musk responded on Twitter that the automaker would ban drivers from participating in its beta tests if video footage from inside the car shows they aren't paying attention.
Of note: Tesla's in-car camera is turned off by default, but owners have the option to activate it.
If they do, Tesla advises them it will capture and share video clips to help the company "develop future safety features and software enhancements."
That raises a host of privacy concerns, John Davisson, senior counsel at the Electronic Privacy Information Center (EPIC), told CR.
"Any time video is being recorded, it can be accessed later," including by police, insurance companies, regulators and bad actors, Davisson said.
Tesla didn't respond to Consumer Reports or Axios.
Go deeper:
4. Driving the conversation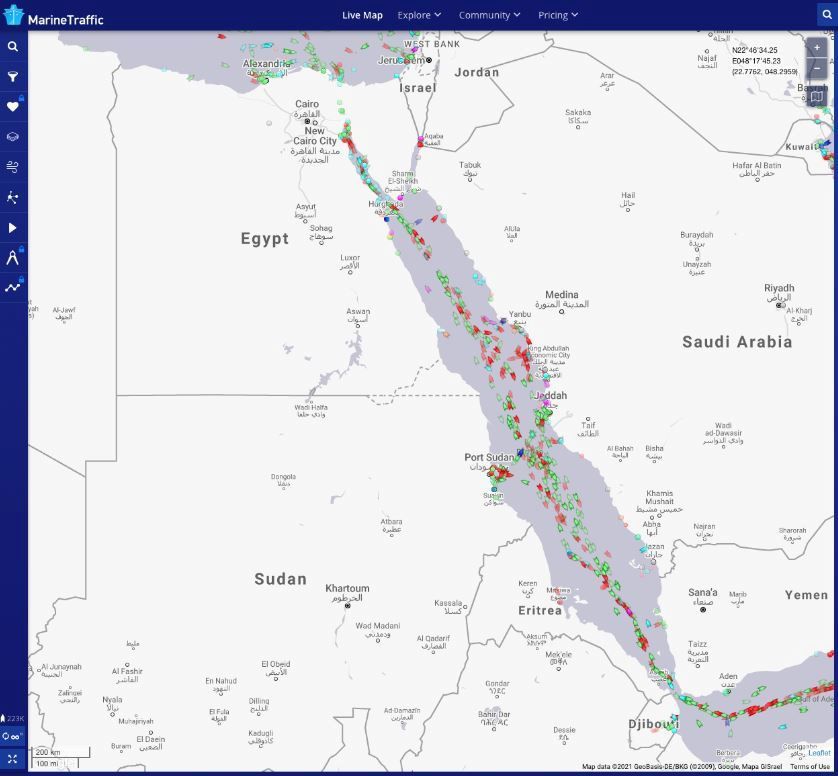 In Suez Canal, Stuck Ship Is a Warning About Excessive Globalization (Peter S. Goodman — New York Times)
Worthy of your time: "The fact that one mishap could sow fresh chaos from Los Angeles to Rotterdam to Shanghai underscored the extent to which modern commerce has come to revolve around truly global supply chains."
Airlines will add dozens of flights as leisure travel picks up (Niraj Chokshi — New York Times)
Why it matters: It's the latest sign that demand for leisure travel is picking up as the national vaccination rate moves higher.
Chipotle invests in SoftBank-backed driverless delivery startup Nuro (Reuters)
My thought bubble: Now we don't even have to get off the couch to get our burritos.
5. What I'm driving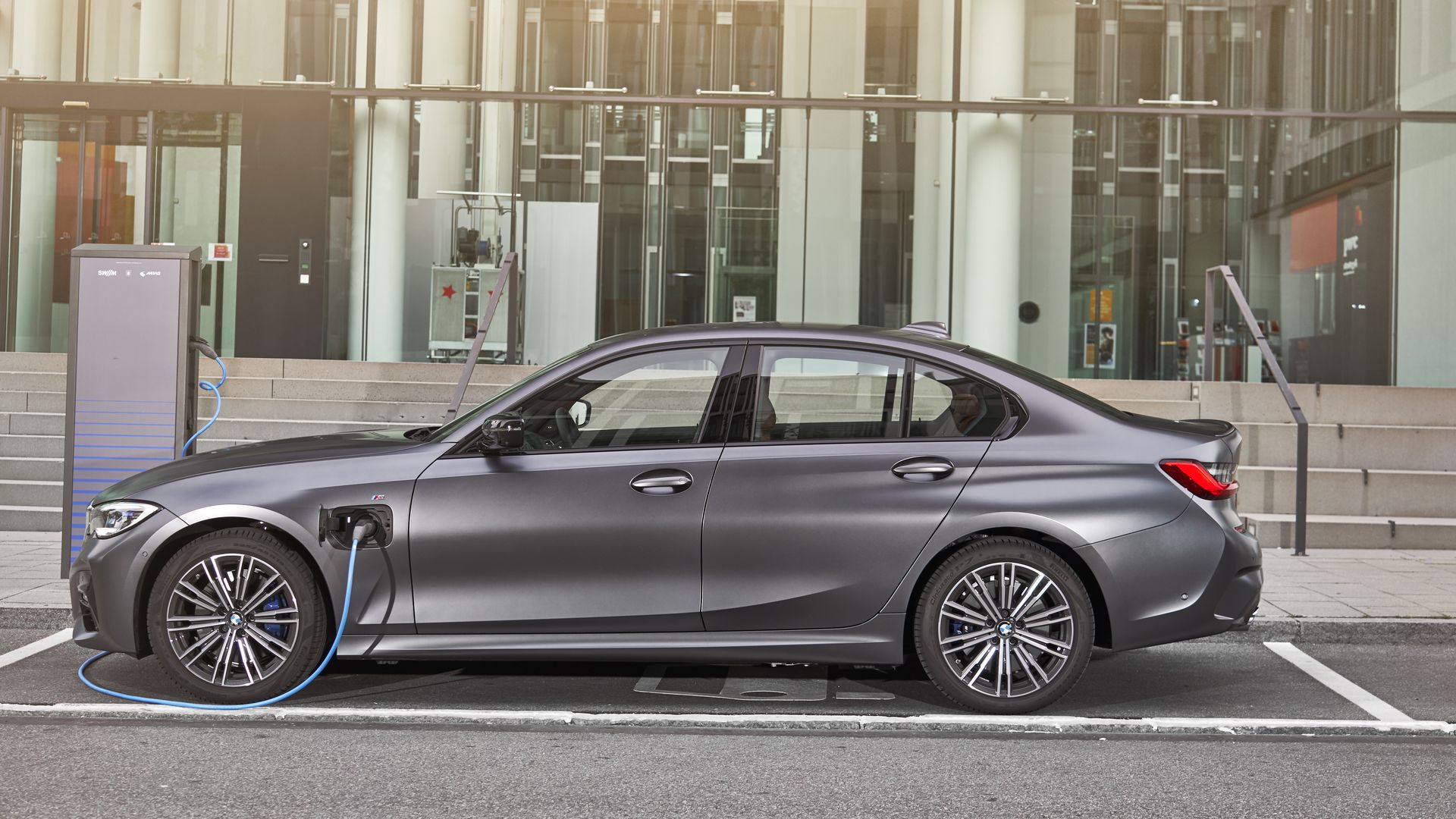 The BMW 330e sedan takes all the stress out of driving and keeps the fun.
The big picture: It's a plug-in hybrid that delivers the spirit of a BMW in a more eco-friendly package. And the driver-assistance technology will surprise you with all it can do.
Details: The plug-in hybrid powertrain includes an electric motor, 12-kWh battery and 2-liter, twin-turbo engine that together provide 288 horsepower and 310 lb.-feet of torque.
Kick down the throttle and a new XtraBoost feature adds 40 more horsepower in 10-second spurts.
You can also drive purely on electric power for 22 miles.
It'll charge overnight in a standard 110-volt plug, or in three hours using a Level 2 home charger. Utilities often offer discounts on installation.
Driver assistance features include the usual standard stuff like adaptive cruise control, automatic emergency braking and lane-keeping assist.
An optional Driving Assistant adds blind spot detection and other features that help you back out of blind parking spots.
The Driving Assistant Pro package takes over in traffic jams so you can relax, though a camera makes sure you remain attentive.
For $700 more, your car will also park itself (parallel or perpendicular) — and exit the space, too. In a tight spot, it memorizes how it entered the space and retraces the maneuver in reverse.
The bottom line: The BMW 330e I drove had a starting price of $44,550, but landed at $59,645 after adding all the bells and whistles.
For people who aren't quite ready to go fully electric, it's a good first step.