Thanks for subscribing to Media Trends. Tell friends to follow along by signing up here.
Good morning from Austin, where we're about halfway though South by Southwest. Noticeably absent from the festival this year is a breakout app. Noticeably present are policymakers, from EU officials to Sen. Mark Warner, talking about regulating big tech.
https://www.axios.com/newsletters/axios-media-trends-43da0bbb-d6d2-46f3-8887-5c97c3bfbefa.html?chunk=0#story0
1. Scoop: Facebook preps launch of News for Watch
Facebook is getting ready to launch a news section for its Watch platform and it's testing different video partnerships with roughly ten publishers, Axios has learned. 
Why it matters: This would be the first standalone news product for national news in Watch. The tech company previously launched several products, like Instant Articles and Facebook Live, with an array of publishers which included but was not limited to news companies.
Facebook is in touch with both legacy and digital-first news publishers to test a daily video feature that would run for at least a year, according to multiple sources familiar with the effort.
The content needs to be a minimum of three minutes.
Facebook plans on launching the feature this summer and testing what works best. 
Sources say Facebook is working strategically with publishers to understand budget needs and monetization opportunities on the platform. 
The big picture: Facebook is trying to create more meaningful engagement on its platform. While executives have said they don't know exactly how they will measure meaningful engagement through comments and shares, creating a news product that's native to the platform and includes content from vetted publishers will hopefully drive less passive engagement and curb the spread of misinformation on its platform. 
"Timely news video is the latest step in our strategy to make targeted investments in new types of programming on Facebook Watch." 
— Campbell Brown, Head of News Partnerships for Facebook, in a statement to Axios responding to request for comment
https://www.axios.com/newsletters/axios-media-trends-43da0bbb-d6d2-46f3-8887-5c97c3bfbefa.html?chunk=1#story1
2. Apple sets its sights on news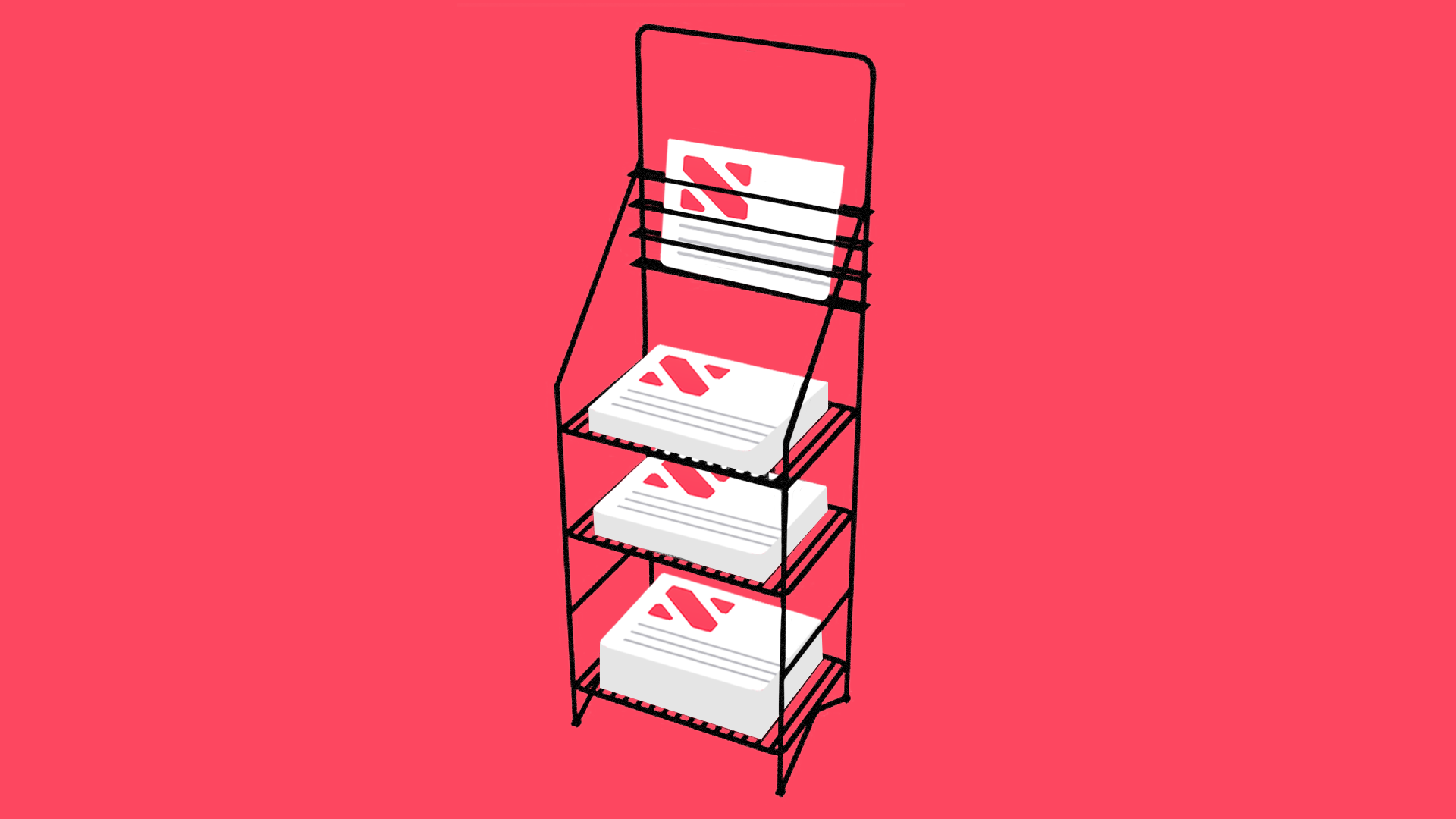 Apple has acquired Texture, the online news service dubbed "the Netflix of magazines" that lets users access to more than 200 magazines for $10 per month. It's expected to continue operating as a standalone service.
Why it matters: While it's unclear how Apple plans to integrate the service into its current product suite, including Apple News, the acquisition makes obvious Apple's plans to invest in news distribution.
The news also comes as Apple makes a hard push in revenue from software services. Last year, Apple chief Tim Cook said he hoped to double Apple software revenue — or money made from apps like the App Store, iTunes, iCloud, Apple Music and Apple Pay — by 2020.
The move could help Apple expand both Apple News on iOS and its subscription business more broadly.
What they are getting: According to data from Apptopia, Texture has ...
70,000 Daily Active Users worldwide
Increased in-app purchase revenue 30% over the last 365 days
Apple's purchase of Texture raises tantalizing possibilities for publishers eager to jumpstart their digital business. But it's not the first time publishers have hoped Apple would save their business and so far redemption has yet to come from Cupertino or elsewhere.
Apple's Newsstand app never quite took off, causing the company to fold the built-in app in 2015.
Publishers currently lament that while they love Apple News — Newsstand's replacement — from a traffic distribution perspective, they aren't seeing as much revenue being generated from the partnership as they would hope.
Apple also takes a 30% cut of subscriptions sold through Apple News in its first year of partnership and 15% the following, as a part of a greater policy they use for revenue agreements with subscriptions sold through the Apple Store. (Facebook said earlier this year it would give publishers 100% of subscription revenue.)
The big picture: Publishers have become more vocal about their gripes with Google and Facebook as news distribution partners, mostly because of monetization issues.
Apple is emphasizing that it will help continue to provide high-quality journalism from trusted sources to its customers, a distinguishing factor from some of its technology competitors that have struggled to embrace free speech while curbing misinformation.
Apple's SVP of Internet Software and Services Eddy Cue said on stage at South by Southwest Monday: "We're not trying to just give you the most popular stuff for you but some of the articles that you should be reading. We want that serendipity."
He says Apple is uniquely positioned to do this because it isn't advertising-focused.
https://www.axios.com/newsletters/axios-media-trends-43da0bbb-d6d2-46f3-8887-5c97c3bfbefa.html?chunk=2#story2
3. Meanwhile, Flipboard on the rise
Flipboard is becoming one of the biggest mobile traffic drivers to news sites on mobile, according to data from media analytics firm Parse.ly.
Traffic referrals have seen a sharp uptick since Facebook began down-ranking news from its News Feed.
Flipboard says its business is built strategically in partnership with publishers, so high traffic referrals and deep engagement is a good sign.
Other traffic distributors, like Linkedin, are also investing in news on its platform, Business Insider reports, by expanding its global newsroom and hiring more professional journalists as editors.
Parse.ly says Flipboard has officially replaced Reddit in its dashboard of top 10 news referral websites.
Parse.ly says Apple News would probably show up as a contender alongside Flipboard in this graph if it were integrated with Parse.ly publishers and sharing data about engagement.
https://www.axios.com/newsletters/axios-media-trends-43da0bbb-d6d2-46f3-8887-5c97c3bfbefa.html?chunk=3#story3
4. The biggest antitrust story you haven't heard about
The Supreme Court is currently weighing whether to side with American Express in a ruling that will make it a lot harder for companies with two-sided businesses (companies with two distinct sets of customers) to be tried for anti-competitive behavior.
Why it matters: Most of the biggest tech monopolies, like Google, Facebook, etc. serve two distinct sets of customers — advertisers and everyday users.
"This will set a radically-new precedent in the space and make it much more difficult to bring antitrust cases against a company serving multiple sets of users," says Lina Khan, Director of Legal Policy at the Open Markets Institute, at South by Southwest.
Lina notes that the concept of two-sided company is a very slippery slope. "A whole host of companies could be defined as two-sided," she says, including traditional media companies, like newspapers.
How it works: If the Supreme Court sides with American Express in Ohio v. American Express Co., anyone suing a company with a two-sided business would need to prove that the business is not just a threat to one set of customers, but that those threats in turn hurt another set of customers.
A plaintiff in a hypothetical suit against a Google, for example, would need to prove that there are no offsetting benefits of dominant behaviors towards one set of customers, like users, if there's an anti-competitive action towards another, like advertisers.
This would mean these companies would be subject to very high levels of burden at the very early stages of any antitrust suit.
Go deeper: EU and US leaders differ on tech competition policy
https://www.axios.com/newsletters/axios-media-trends-43da0bbb-d6d2-46f3-8887-5c97c3bfbefa.html?chunk=4#story4
5. Social media gobbles major sports rights
Social streaming properties are aggressively going after sports streaming rights, with Facebook nabbing exclusive rights to stream 25 regular season MLB games, and Twitter and Major League Soccer announcing a three-year agreement covering live matches.
The news follows months of live-streaming announcements by social streaming properties for major sports leagues. Notably, YouTube TV recently brokered deals with two MLS teams, the Los Angeles Football Club and the Seattle Sounders, to stream a handful of their games exclusively — meaning they will have rights to them and traditional TV broadcasters won't.
The big picture: The push into professional sports has gotten even more intense as professional leagues begin to reevaluate their distribution contracts to reach younger audiences.
https://www.axios.com/newsletters/axios-media-trends-43da0bbb-d6d2-46f3-8887-5c97c3bfbefa.html?chunk=5#story5
6. Reminder: TV sports audiences all getting older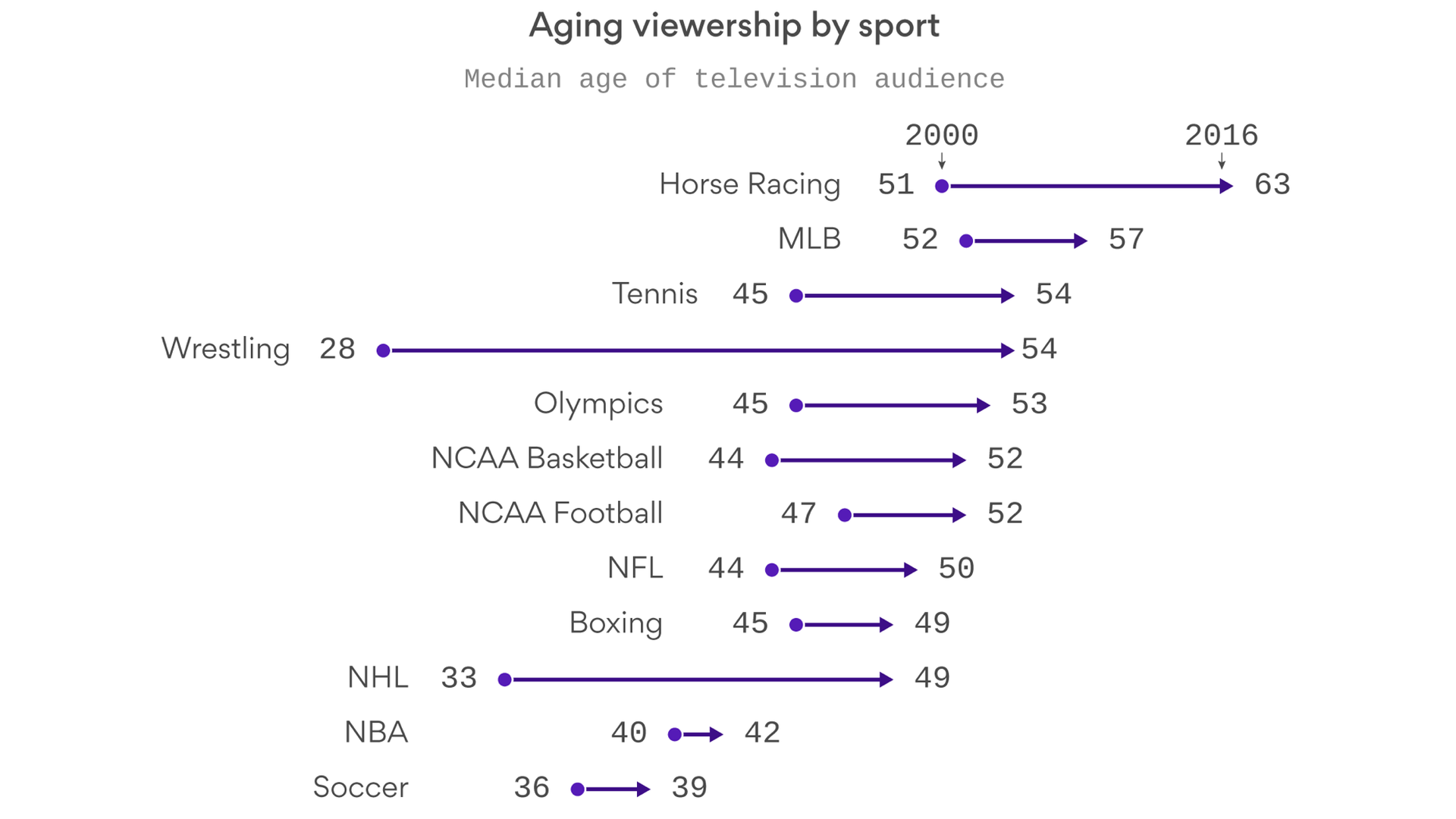 The median age of people watching live sports on television has increased across every nationally-broadcasted sport, according to Magna Global's latest U.S. sports media report.
https://www.axios.com/newsletters/axios-media-trends-43da0bbb-d6d2-46f3-8887-5c97c3bfbefa.html?chunk=6#story6
7. The shrinking commercial
Fox wants to reduce ad time to 2 minutes per hour by 2020, WSJ reports. The push comes from ad chief Joe Marchese, who was the first network executive to announce last year that his company would be joining YouTube in reducing commercial length to 6 seconds from the traditional 30-second spot.
NBC wants to slash ads by 20% starting in the fourth quarter, and the amount of ad time during those primetime shows by 10%, according to ad chief Linda Yaccarino in an interview with Variety.
Why it matters: Per Digiday, which has a nice summary of the changes to television programming in a digital-first landscape, some networks are able to squeeze more ad dollars out of reduced commercial times by making inventory more scarce, thus increasing ad rates significantly.
https://www.axios.com/newsletters/axios-media-trends-43da0bbb-d6d2-46f3-8887-5c97c3bfbefa.html?chunk=7#story7
8. White House blocks Broadcom amid China worries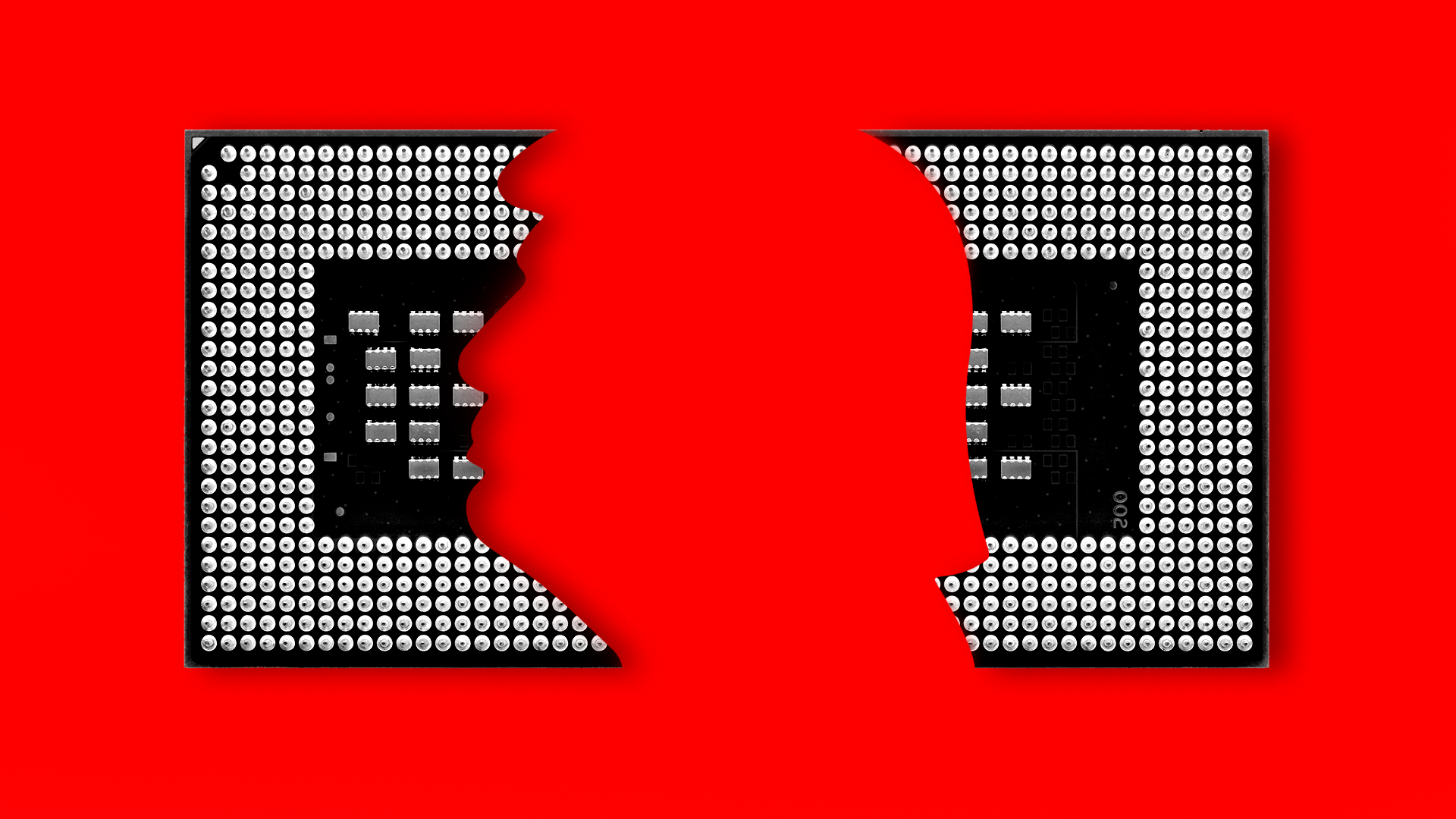 The White House last night blocked Broadcom's proposed $117 billion purchase of Qualcomm, saying preventing the deal was "necessary to protect the national security of the United States," Axios' Dan Primack and Ina Fried report.
Why it matters: It is unprecedented for the U.S. government to block a deal like this one. The purchase — which would have been the largest tech deal in history — hadn't even been agreed to yet by the two companies. Blocking it also shows the Trump administration's aggressive stance on perceived threats from foreign investors and the growing technological might of China.
The big picture: U.S. lawmakers have been weighing how to clamp down on some investments and acquisitions in light of concerns that they could give America's biggest rivals, mainly China, access to sensitive technologies that that are crucial to the U.S.'s economic and national security priorities, as I wrote in January.
They're also worried about giving Chinese companies access to data about U.S. citizens through some targeted acquisitions.
The most notable example of this happened in November, when U.S. regulators killed Chinese private equity firm Orient Hontai's proposed $1.4 billion acquisition of U.S. marketing firm AppLovin for concerns about data security under a foreign owner.
More recently, they blocked Alibaba's takeover of MoneyGram in January.
https://www.axios.com/newsletters/axios-media-trends-43da0bbb-d6d2-46f3-8887-5c97c3bfbefa.html?chunk=8#story8
9. China's Communist Party reigns in media
China is set to abolish the State Administration of Press, Publication, Radio, Film and Television (SAPPRFT), the regulatory body which currently oversees the media and entertainment sector, Variety reports:
"It will be replaced by a new state radio and television administration, that is attached to the State Council or cabinet... The proposal is being put to China's ongoing national legislative session for deliberation."
Why it matters: "The most immediate effect is likely to putting media and entertainment under ever closer control of the ruling Communist Party."
https://www.axios.com/newsletters/axios-media-trends-43da0bbb-d6d2-46f3-8887-5c97c3bfbefa.html?chunk=9#story9
10. The C-Suite shuffle
Variety is reporting that A&E's Nancy Dubuc may replace Vice co-founder Shane Smith as CEO in the wake of the company's sexual harassment scandals.
Univision CEO Randy Falco will be stepping down amid cancelled IPO plans.
ESPN appointed Jimmy Pitaro president to replace John Skipper last week.