Axios Markets
November 30, 2021
😎 Good morning! Happy Giving Tuesday.
💲I hope you have some money left after Cyber Monday. I didn't purchase a single thing but hit me up with the best deals you got yesterday or some of the causes you will support today. Find me at

[email protected]

or AjaWMoore on Twitter.
👀 Today's newsletter is 1,191 words, 4.5 minutes.
1 big thing: Crypto meets the real world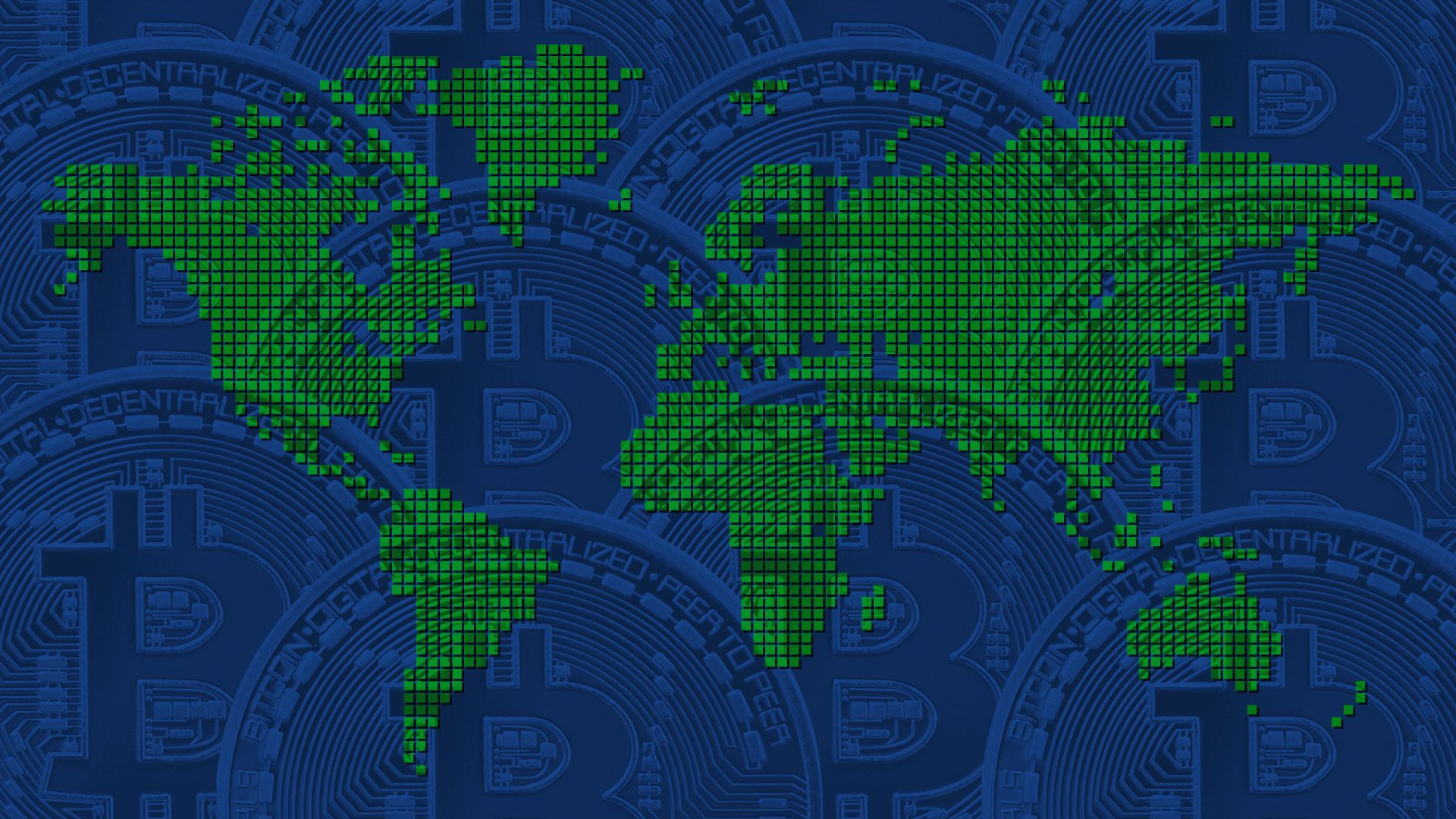 The two largest countries in the world seem intent on effectively banning their citizens from participating in crypto, which poses a serious threat to the crypto agenda, Axios' Felix Salmon writes.
Why it matters: The crypto world is global — but the real world is fragmented into nation-states, each of which claims control of what happens within its borders.
Driving the news: A bill set to be voted on by the Indian parliament has yet to be seen, but an official description says that it "seeks to prohibit all private cryptocurrencies in India," save for "certain exceptions to promote the underlying technology of cryptocurrency and its uses."
The bill's stated aim is to lay the groundwork for a cryptocurrency issued directly by the central bank. India doesn't oppose crypto in general — it just wants to control all crypto activity within its borders, and centralize that activity on its own digital currency.
Context: Binance, by far the world's largest crypto exchange, recently came out with a list of 10 "fundamental rights for crypto users" — most of which would raise few eyebrows in the U.S. In other countries, however, the message is much more opposed to existing government policy.
"Every human being should have access to financial tools, like crypto, that allow for greater economic independence," say the principles.
"Crypto users deserve safe access to emerging technologies and practices, including NFTs, stablecoins, staking, yield-farming, and more."
Reality check: None of this is likely to be true any time soon for billions of people who live in China, India, or many other countries, including Thailand.
Between the lines: While the principles say that exchanges like Binance "should be subject to the appropriate regulations," there's no way to construct a global regulator who could consistently regulate international exchanges.
What they're saying: "I don't think that's possible," Binance founder Changpeng Zhao tells Axios. "Different regulators in different countries care about different things. For instance, AML means different things in different countries. In the U.S. it means terrorism. In Thailand it means taking money out of the country."
The bottom line: Private cryptographic value exchange is now large enough to matter. Which also means it's large enough for some of the world's biggest governments to try to quash.
2. Catch up quick
🚨Airbnb has more than a dozen homes available for rent in China's Xinjiang region on land owned by an organization sanctioned by the U.S. for complicity in genocide, an Axios investigation by Bethany Allen-Ebrahimian and Jacque Schrag has found. Sign up here for more in Bethany's Axios China newsletter out later today. 
Fed chair Jerome Powell is set to testify today before the Senate Banking Committee. Prepared remarks released in advance are his first public statements on the Omicron variant, which he says creates more uncertainty for price stabilization and poses a risk to the labor market's recovery. (Bloomberg)
Microsoft CEO Satya Nadella sold roughly half his shares in the software company last week, yielding more than $285 million. Analysts say the move could be connected to Washington state's plan to roll out a new 7% tax for long-term capital gains in 2021 for anything above $250,000 a year. (WSJ)
3. The state of generosity in 2021
What a difference a year makes. 2020 was a banner one for corporate philanthropy — 2021 not so much, Felix writes.
Companies are experiencing "fatigue," according to Sona Khosla, chief impact officer at Benevity, a platform for corporate giving that works with companies such as Apple, Nike and Microsoft.
Why it matters: The spirit of generosity is globally alive and well, Giving Tuesday CEO Asha Curran tells Axios' Mike Allen in an interview to celebrate this year's big day. (Curran started the #givingtuesday trend on the first Tuesday after Thanksgiving in 2012.)
Corporations, however, have had fewer reasons to beef up donations in 2021 — beyond, of course, their record profits.
By the numbers: The aggregate amount of money donated through Benevity includes both contributions from employees and contributions directly from the employer. Add the two together, and the combined amount, on a per-active-donor basis, is currently at $980. That's 17% below the $1,178 that was seen at this point in 2020 — and is even running shy of 2019 amounts.
Flashback: 2020 saw not only the COVID-19 emergency but also a broad-based social-justice movement. At the peak in June of that year, more than 50% of donation dollars went to social causes, up from a normal level of about 5%.
Beyond the numbers: Generosity is about more than money. Curran tells Mike that she believes in "approaching generosity through the lens of mutuality and solidarity and recognition of our shared humanity, rather than as a divisive definition between people who have and people who don't."
"Thinking about generosity through a more radical lens is really about how we're all in this together. And I think we really are seeing that play out from a grassroots level this pandemic year more than ever."
4. Supply chain offense heats up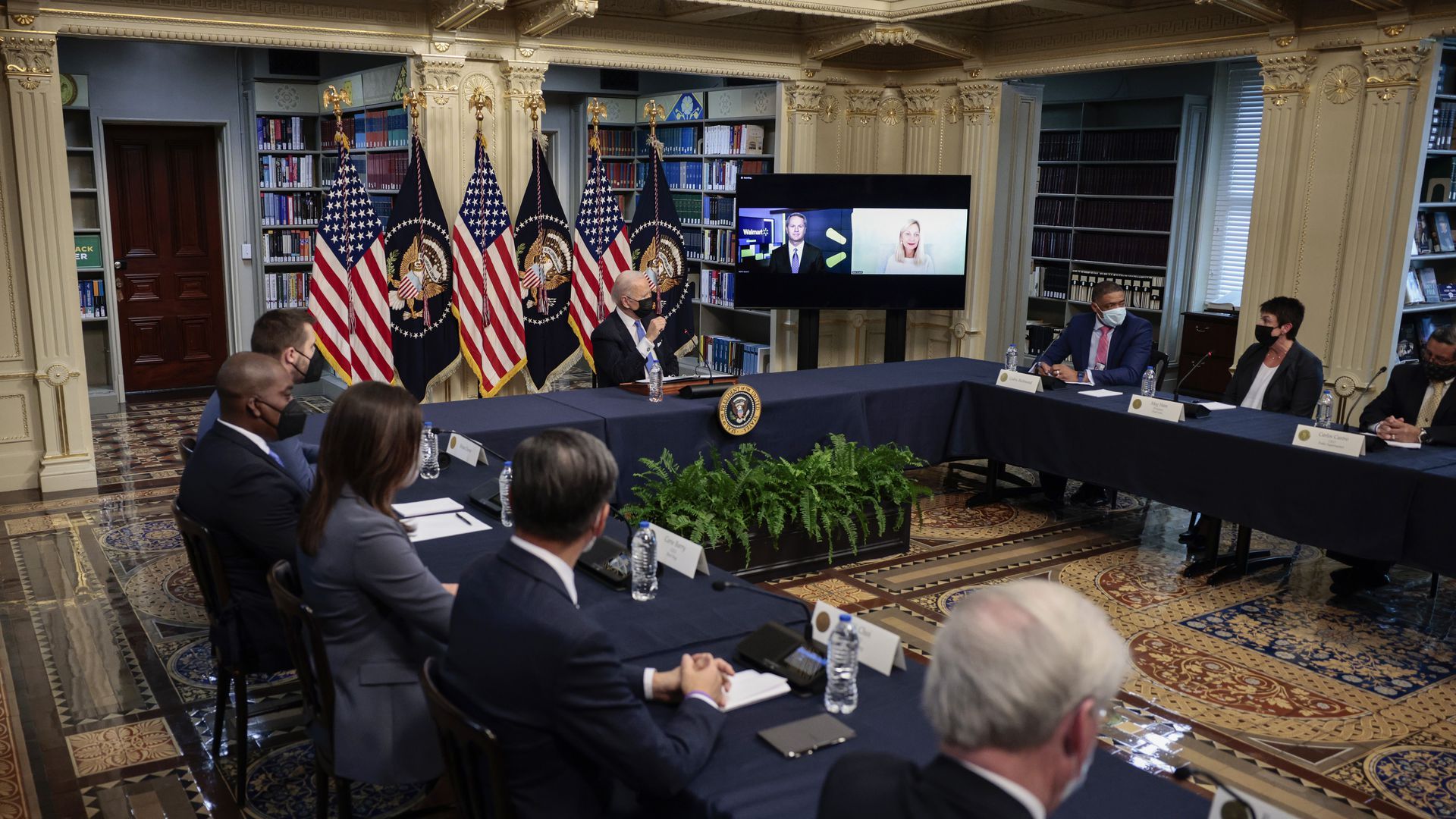 The Biden administration's supply chain offensive expanded yesterday, as the country entered the height of the holiday shopping season, Axios' Hope King writes.
Catch up quick: The Federal Trade Commission launched a study into the role competition plays in supply chain issues and how those issues might cause consumer hardship.
Why it matters: Ongoing supply-chain problems have pushed inflation to its highest level in 30 years, erasing wage gains and denting consumer confidence.
Details: The FTC has requested, in part, that Walmart, Kroger, Amazon, Tyson Foods and five other companies share internal documents on how supply chain disruptions impacted pricing and profit margins, Axios' Ashley Gold reports.
The backdrop: The new directive came as President Biden held a business roundtable yesterday as well — to discuss supply-chain issues — the second reported meeting of its kind this month.
Etsy CEO Josh Silverman, who met with President Biden in that meeting, told Axios that he's "heartened" by the administration's infrastructure investments.
At the same time, Etsy sellers typically don't rely on overseas production and fulfillment lines, so they're "ready to meet customer demand," he added.
The big picture: Politically speaking, Democrats are worried that the snags will hurt them at the polls come midterms Axios' Sarah Mucha writes — especially as the approval rating for Biden's handling of the economy has dipped.
5. Home sales poised to hit 15-year high
The housing boom marches on as Americans rush to enter into contracts on new homes, according to fresh data out yesterday from the National Association of Realtors.
What's happening: Contract signings increased 7.5% in October from September, representing a month-over-month increase in all regions, according to NAR's Pending Home Sales Index.
Yes, but: Signings were 1.4% lower versus a year ago.
What they're saying: "Motivated by fast-rising rents and the anticipated increase in mortgage rates, consumers that are on strong financial footing are signing contracts to purchase a home sooner rather than later," Lawrence Yun, NAR's chief economist, said in a statement.
"The notable gain in October assures that total existing-home sales in 2021 will exceed 6 million, which will shape up to be the best performance in 15 years."
What we're watching: Yun expects home prices to rise more slowly and overall demand to cool off a bit as mortgage rates increase.
Thank you for reading. See you tomorrow!