Was this email forwarded to you? Sign up here.
Situational awareness:
1 big thing: Down on the upside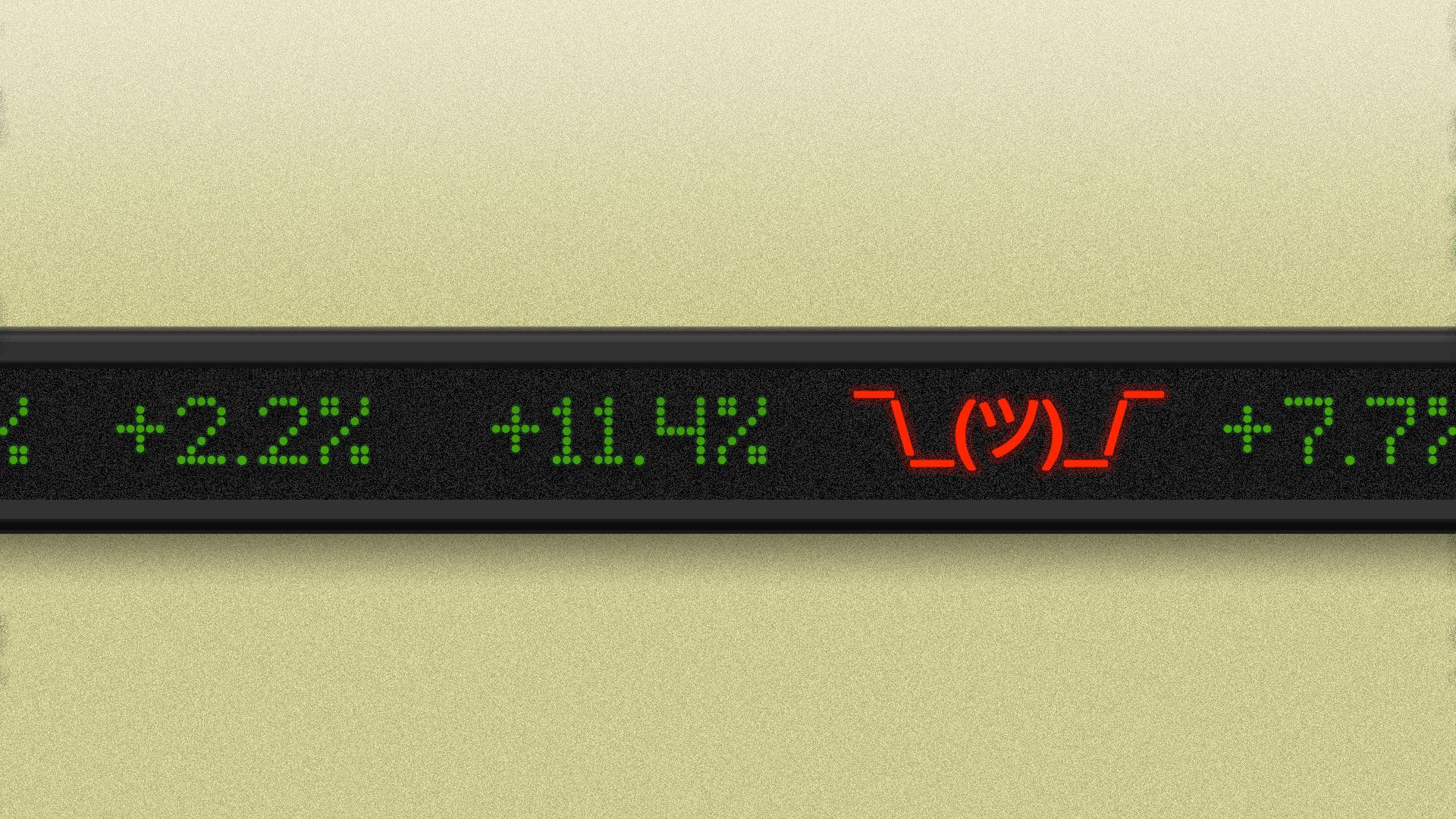 The Dow closed higher for the week on Friday for the fifth straight time. But rather than celebrate the market's remarkable bounce-back since its Christmas Eve nadir, investors have publicly focused on what has or could go horribly wrong.
"The idea that there will be a global recession, either this year or next, is now close to consensus," analysts at Fathom Consulting wrote in a note published after Friday's market close.
Interestingly, the flow of dollars has told a different story.
Fathom's comments came just a day after data from Rifinitiv/Lipper showed investors had injected $5.8 billion into ETFs and mutual funds for the week, with the majority going to equity funds.
What it means: While they're continuing to buy stocks, fund managers and analysts are beginning to worry out loud that the partial government shutdown that ended on Friday — at least temporarily — will come back to haunt the market.
"While the S&P 500 index is up more than 5 percent since the start of January, money managers including Federated Investors, Baron Funds and Hodges Capital Management are bracing for a powerful knock-on effect on the consumer," Reuters reported Friday.
"The market right now is treating this like a hurricane, where you know there will be an economic impact but you tend to discount any hit to the data because you know there will be some catch up," Steve Chiavarone, a portfolio manager at Federated Investors told Reuters. "But here's what's dangerous about that approach: the sample size is zero for shutdowns this long."
The shutdown left around 800,000 federal workers without pay for 35 days, and U.S. consumer confidence fell by the most in three years this month.
"The sentiment-driven rebound, or buying justified by the argument that the selloff went too far, is coming to an end," Dennis Debusschere, the head of portfolio strategy at Evercore ISI, wrote in a note to clients. "Another sharp decline remains a low probability event, but new energy is needed to push the market meaningfully higher near term."
2. The shutdown offset the impact of tax cuts, spending boost in Q1
According to the White House's projections, the government shutdown that ended Friday had already eroded the positive impact of tax reform and spending increases signed by Trump in 2017.
What they're saying:
"Chairman of the Council of Economic Advisers Kevin Hassett recently said the shutdown reduces quarterly annualized economic growth by 0.13 percentage points for every week that it lasts. After more than four weeks, that's the equivalent of a 0.6 percent reduction in the annualized growth rate," the Center for a Responsible Federal Budget notes.
"The deficit-financed nature of these bills provided significant short-term stimulus, though they will do little to boost GDP over the medium and long terms. CBO estimates suggest they will each increase GDP growth by 0.3 percent per year in 2018 and 2019."
"At best, some of the economic losses from the shutdown may be recovered."
Hassett asserted last week that "the second quarter would be humongous if the government reopens," and could regain much of its lost growth, even though government output remains lost for the quarter.
Why it matters: Much, but not all of the growth would be recovered after the government reopens.
As one economic analyst explained via email, "The restaurant meals not eaten still represent a permanent loss (not to mention the spending by federal contractors who are not getting backpay)."
"Some but not all of the economic effects will bounce back — federal workers will make their missed mortgage/car payments, but they're not going to go out to eat 10 times this week to make up for the times they didn't go out last week."
Of note: Economists polled by Reuters estimate the shutdown, which started on Dec. 22, actually knocked 0.2% off of quarterly GDP growth every week, double the White House's estimate.
1 bonus chart: S&P 500 since Trump election
The S&P 500 was far more volatile in 2018 than it was in 2017, and almost touched a bear market. But it has still risen more than 400 points since Trump's election in November 2016.
3. "We tend to talk too much about risk"
"We tend to talk too much about risk. We tend to talk about all the ways that we could be wrong and the ways that the economy could go bad. One of the things our team's been talking about is what could go right. What could surprise us to the upside? And that is, right now, the U.S. consumer. It's getting some air time, but it's not getting enough.
If rates stay low, that could be a reason to borrow more, that could be a reason to start investing in real estate again, so maybe the housing market firms up a little bit. Gas prices are pretty low that could be a reason to increase travel this year.
Slowing growth or peak growth does not mean recession ... Slower growth doesn't mean that stock prices have to go negative. I love the saying that the market has predicted nine of the last five recessions. It's true because the market tends to react very emotionally in the moment.
We don't expect double-digit growth or a rip-your-face-off rally, by any means, but we also don't expect a bear market and we certainly don't expect a recession."
— Liz Young, senior investment strategist at BNY Mellon
4. The sad state of Brazil and Vale
So far 58 people are dead and more than 300 others are missing after a dam collapsed at Vale's Corrego do Feijao mine in what looks like Brazil's worst environmental disaster on record.
Vale CEO Fabio Schvartsman and Minas Gerais governor Romeu Zema both warned the death toll is likely to continue rising.
What they're saying: "From now, the odds are minimal (to find more people alive) and it is most likely we will recover only bodies," Zema told reporters late Friday.
Brazil's environmental protection agency fined Vale an initial $66.5 million over the disaster, and the mayor of the affected town has blasted the company as "careless and incompetent." He has vowed to fine Vale an additional $26.5 million.
Authorities initially obtained a court order blocking $270 million of Vale funds in bank accounts to use for victim relief. The Brazilian government has since ordered Vale to stop operations at the mining complex and frozen nearly $3 billion of the company's assets.
Why it matters (to the market): In addition to being the world's No. 1 producer of iron ore, the strong performance of Brazilian assets helped power emerging markets indexes late in the year.
A fall by Vale that's even marginally similar to what's happened with California utility company PG&E — currently facing liability charges for wildfires in 2017 and 2018 that left dozens dead — could send ripples through emerging market equities.
And it's the second dam collapse involving Vale in four years.
Vale shares sank 8% on the New York Stock Exchange Friday. With U.S. markets about to open Monday, shares were down another 9% in pre-market trading. Its bonds have cratered and iron ore prices climbed in Asian trading as investors speculate global supply could be interrupted.
This impact of the environmental tragedy could be felt in a number of ways.
President Jair Bolsonaro made opening up Brazil's protected natural resources to companies and slashing regulations a tenet of his presidential platform.
Vale is a major part of Brazil's benchmark Bovespa stock index, holding a weighting of more than 10%. The Bovespa was the best-performing major index in the world in 2018, outperforming the S&P 500 by 18%.
The bottom line: "This calls into question the financial viability of Vale going forward because of the sheer scale of their potential liabilities," Tom Goodhead, a lawyer at SPG Law, told Reuters.
5. Humira Inc.
If Humira, the drug that treats a range of autoimmune conditions, were its own company, it would have almost the same amount of annual sales as Southwest Airlines or Visa and would be more than twice the size of the Hilton global hotel chain, Axios' Bob Herman writes.
The big picture: AbbVie has several other drugs, but Humira is its financial bread-and-butter. Humira's sales likely will decline this year as more biosimilar versions hit European markets, but the drug will still rake in more revenue in the U.S. as its net annual price exceeds $40,000.
6. Something we learned over the weekend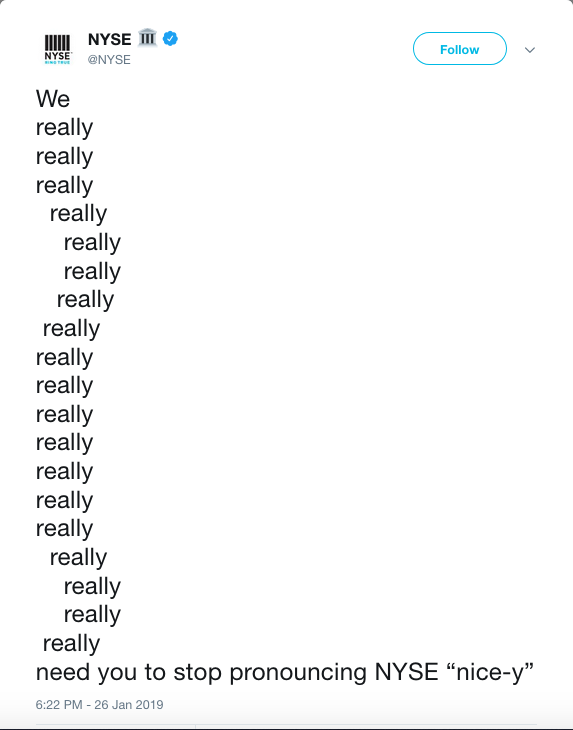 Tweet from @NYSE via Twitter
Apparently, we're all supposed to be saying, "En why Es Ee." As if we aren't busy and don't have more valuable things to do with our oxygen.
Editor's note: Friday's newsletter was changed to state that the Tubbs fire affected Santa Rosa rather than Santa Clara and that Nomura's Siobhan Morden assisted with data on protests from Venezuela.
Days without a factual error: 0
#Ugh #TaylorSwiftVoice