Axios Markets
December 01, 2021
🐪 Good morning! Thank you for sharing the causes close to your hearts.
👀 Join Axios' Courtenay Brown and Hope King today at 12:30pm ET for a virtual event exploring the future of manufacturing. Guests include Sen. Debbie Stabenow (D-Mich.) and Siemens USA president and CEO Barbara Humpton. Register here.
✏️Today's newsletter is 1,295 words, 5 minutes.
1 big thing: Less is more for department stores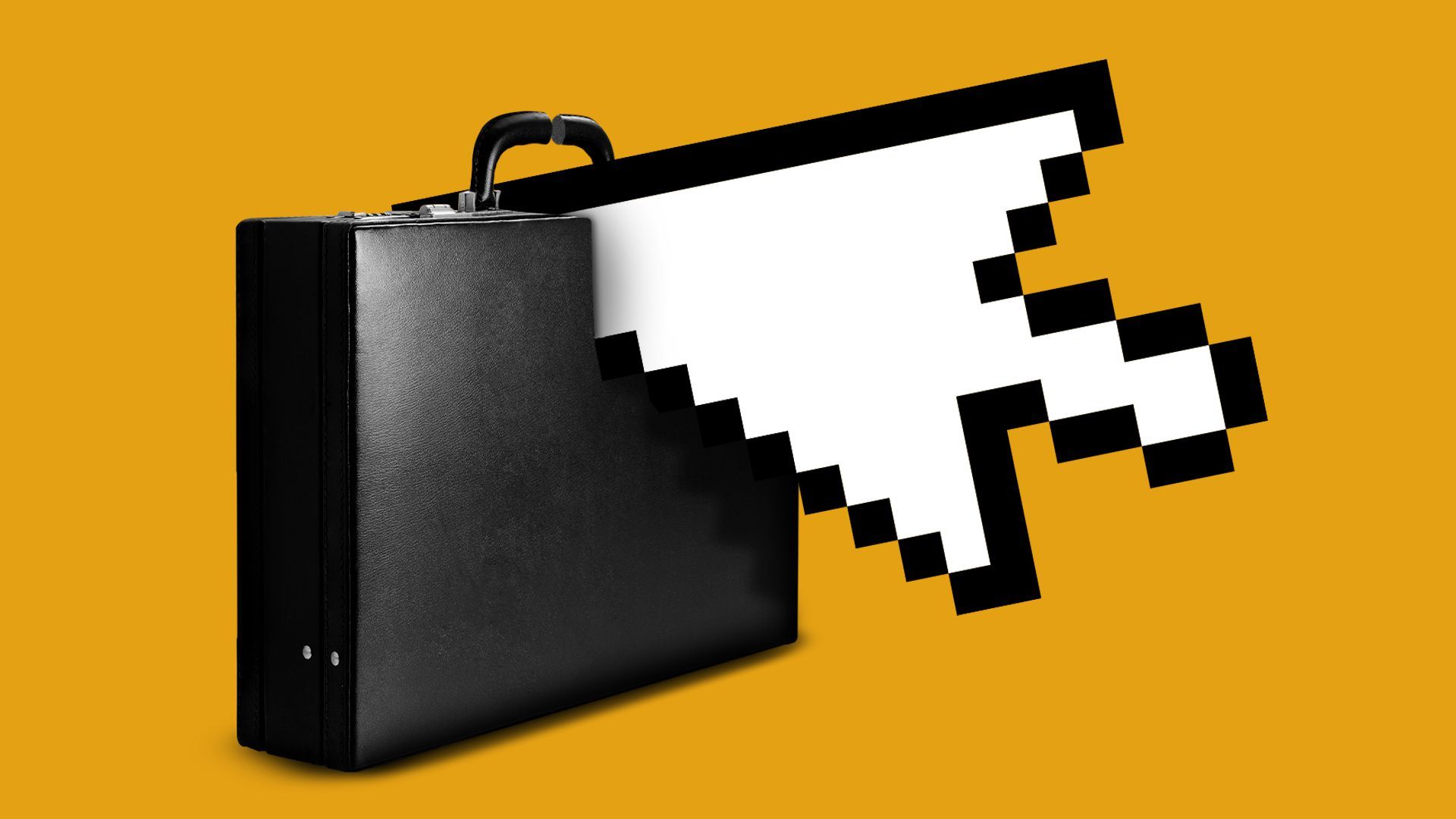 Department stores and their investors are obsessed with one retail trend you won't see on the runway: spinning off their e-commerce businesses, Axios Pro's retail reporter Richard Collings writes.
Driving the news: Macy's is the latest chain to explore such a move.
Why it matters: Department stores were further behind other retailers in modernizing and, as a result, were the most cash-starved.
State of play: Investors, particularly activists taking positions in depressed retail stocks, are pushing hard for companies to bolster their cash positions and reinvest in their transformations.
Despite Macy's roughly $25 share price in late September, a level not seen since before the pandemic, activist investor Jana Partners argued in early October that the retailer could double its valuation to about $14 billion by spinning off its e-commerce platform.
Catch up fast: It all started in March when Hudson's Bay announced its luxury subsidiary Saks was splitting off its e-commerce business.
Then Macy's, the largest department store retailer in the U.S., disclosed its split review after being pressured by Jana Partners.
Now, according to sources who asked for anonymity because they are close to such matters, all department stores will at least explore separating their digital platforms.
What we're watching: Likely e-commerce spin-out candidates include privately held merchants Belk, JCPenney and Neiman Marcus, as well as publicly held banners Dillard's and Nordstrom, the sources say.
Sycamore declined to comment on behalf of Belk, its portfolio company. Simon Property, the owner of JCPenney, and Nordstrom also did not provide a comment. Neiman Marcus and Dillard's did not respond to a request for comment.
Industry sources say the impetus for department stores splitting off their e-commerce units are the standalone valuations such businesses could achieve.
The capital raised can then be reinvested in digital capabilities and remaining stores.
And it will take a lot of cash to transform department stores back into the kind of physical environments that capture shoppers' imaginations.
The intrigue: Companies such as Authentic Brands Group have innovated by creating corporate structures in which the intellectual property is held by a parent entity, while the operations reside in a separate company with its own group of shareholders.
That structure may serve as a kind of prototype, said one source. The idea is for both businesses to remain connected and then to reunite at some point in the future.
Join the waitlist for Axios Pro, coming in early 2022.
2. Catch up quick
Eurozone inflation hit a record, with consumer prices in November increasing to an annual 4.9%. The spike complicates the European Central Bank's effort to provide reassurance ahead of a meeting next month on stimulus. (Bloomberg)
Richard Cordray, the first director of the Consumer Financial Protection Bureau, is reportedly being considered for the top banking regulator at the Fed. If chosen, he would fill the vice chairman of banking supervision slot being vacated by Randal Quarles. (WSJ)
The GOP is already firing warning shots about the potential nomination. (Axios)
3. Powell's confirmation preview 👀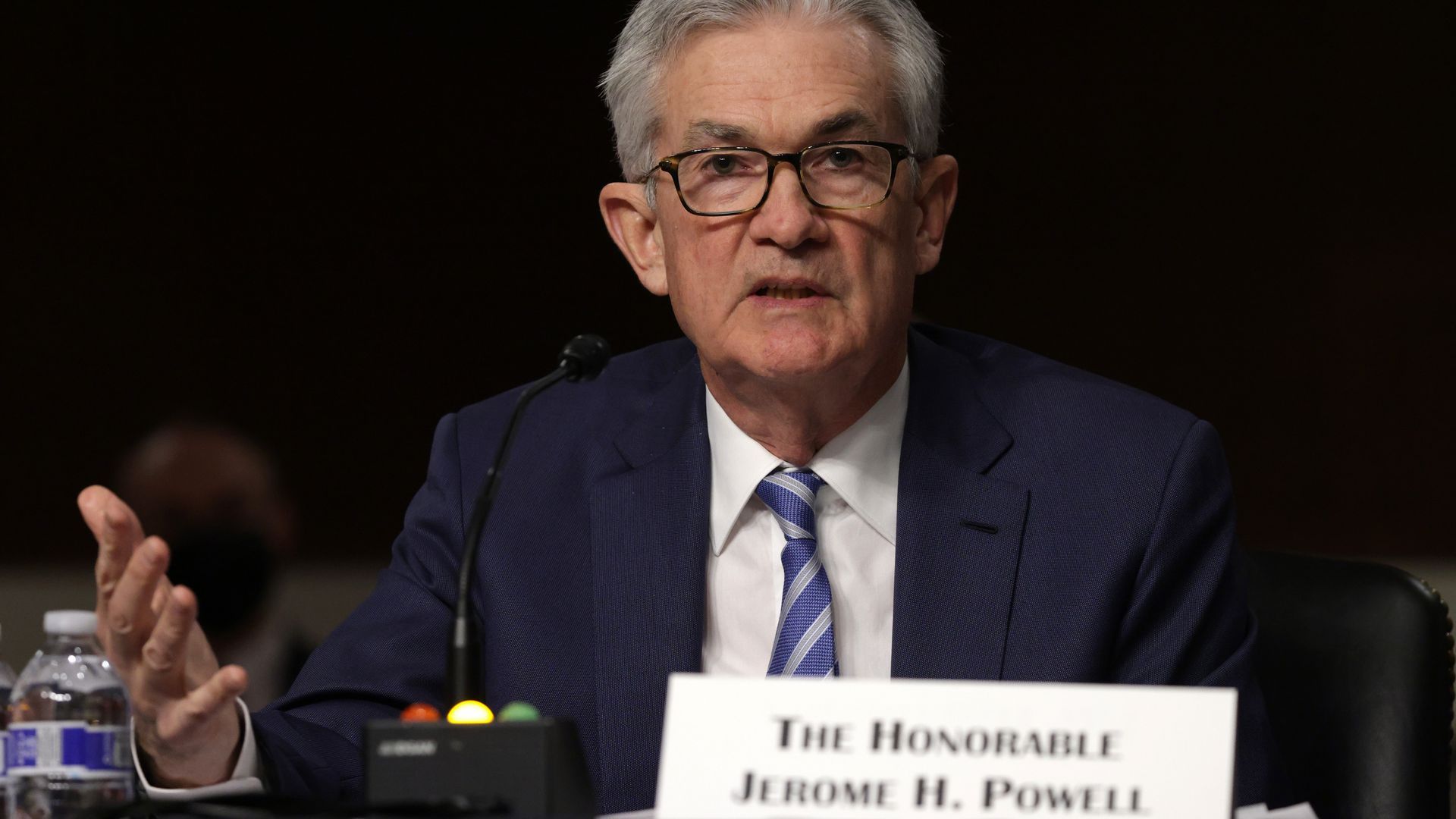 A major Fed pivot is all but complete: A faster taper might be coming amid hot inflation, chair Jerome Powell told a Senate committee Tuesday, Axios' Courtenay Brown writes.
Why it matters: Up until this point, Powell played down inflation as a temporary phenomenon and said moves to tamp it down would risk labor market gains.
Now he says it may need to be reined in a "few months" sooner and struck a more concerned tone about rapid price increases, noting they could unravel the job market's good times.
What they're saying: "In a sense, the risk of persistent high inflation is also a major risk to getting back to [the pre-pandemic] labor market," Powell said.
The intrigue: If you wanted a preview of what's likely to come during Powell's confirmation hearing (date TBD), this was it.
Few other topics came up the way inflation did, with lawmakers pressing the Fed chief on everything from his consistent use of the word "transitory" (Powell says the word should be retired) to how the Fed would get inflation under control.
Of note: Treasury Secretary Janet Yellen, who testified alongside Powell, also fielded heated questions about inflation.
Yellen pushed back on claims from Republican senators that the Biden administration's social spending bill would add fuel to the inflation fire.
4. Charted: Pandemic stock shocks ease
Pandemic shocks have gotten easier for the stock market to stomach, Courtenay writes.
"Covid-related stock market drops are getting milder and shorter," as DealBook noted earlier this week. Bad pandemic news hasn't prompted nearly as much turmoil as the early days of COVID-19.
Why it matters: Omicron — Wall Street's new boogeyman — is the latest to put that to the test.
The S&P 500 saw the worst Black Friday on record when news of the variant trickled out last week.
For perspective, news of the variant sparked only the 27th worst one-day stock drop of the pandemic era, according to data from S&P Dow Jones Indices — putting plenty of other sell-offs (COVID-related or not) ahead of it.
Where it stands: After staging a comeback on Monday, those market gains disappeared yesterday.
The sell-off may have something to do with Moderna's warning that current vax shots may not be as effective against Omicron, hints that Fed will be taking its foot off the gas sooner, or some combination of both (or neither).
What they're saying: "So far, at least, this is a normal drawdown, one we see multiple times in a year," says Brad McMillan, chief investment officer at Commonwealth Financial.
"Markets are supposed to do exactly what appears to be happening here ... pricing in some risks, some damage, but not the end of the world."
5. First look: How to meme a painting 🖼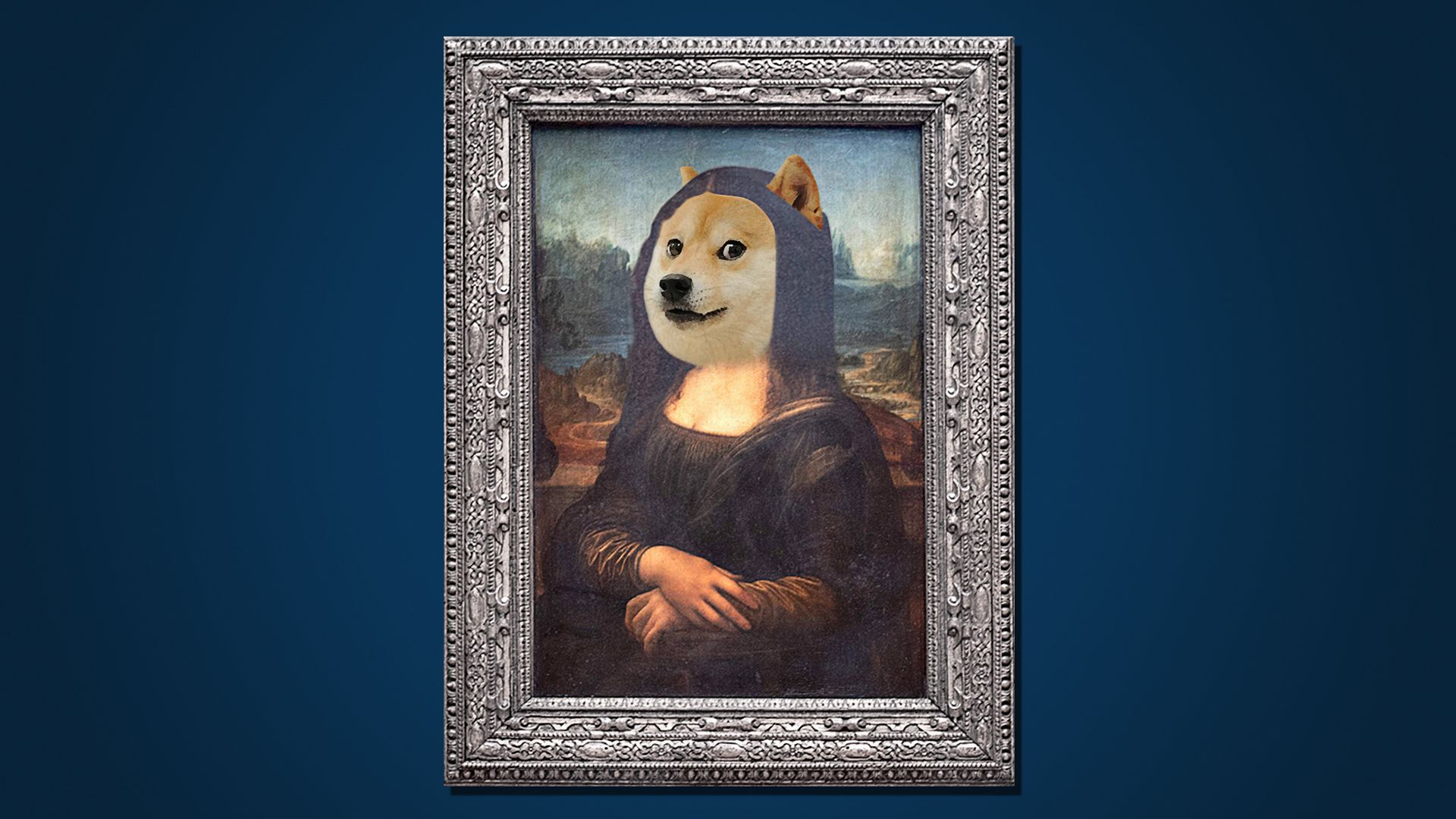 How can physical artwork become an NFT?
One new company has just spent $12.9 million on a Banksy in an attempt to try out a new way of converting the real into the virtual, Axios' Felix Salmon is first to report.
Why it matters: The art market globally sees volume of about $60 billion per year, almost all of which is trade in physical objects. Art world insiders including former Christie's co-chairman Loïc Gouzer are on the lookout for ways to monetize physical paintings without necessarily giving up physical ownership of them.
Driving the news: Gouzer says he spent $12.9 million at Sotheby's in May to buy a Banksy painting estimated at just $3 million to $5 million. He's now showing the work at Art Basel Miami Beach under the aegis of Particle, a company that intends to turn the work into 10,000 NFTs "within the overarching structure of collective ownership."
Reality check: The NFT owners will not have significant collective ownership of the physical painting.
Particle claims that it "has chosen to legally destroy" the work by donating it to a nonprofit called the Particle Foundation, which pledged never to sell it.
Yes, but: As Particle managing director Harold Eytan tells Axios, "NFTs are changing the way that people perceive ownership." Value drivers in the NFT world are based in community and consensus. So long as enough people believe that they're going to own a piece of a Banksy, they can trade on that belief.
Between the lines: Eytan says "value can't exist in two places." If he wants to create digital value, he needs a credible claim that the physical painting has lost a similar amount of value.
The community aspect of the NFT will also come from the foundation, which will exhibit works and try to build a level of enthusiasm that can compete with, say, bored apes.
The bottom line: Gouzer overpaid for the Banksy, relative to its estimate, in a move that only serves to increase the work's status as a meme. Whether that will be enough to generate more than $13 million of demand for derivative NFTs, however, remains to be seen.