Was this email forwarded to you? Sign up here.
Situational awareness:
1 big thing: The end of quantitative tightening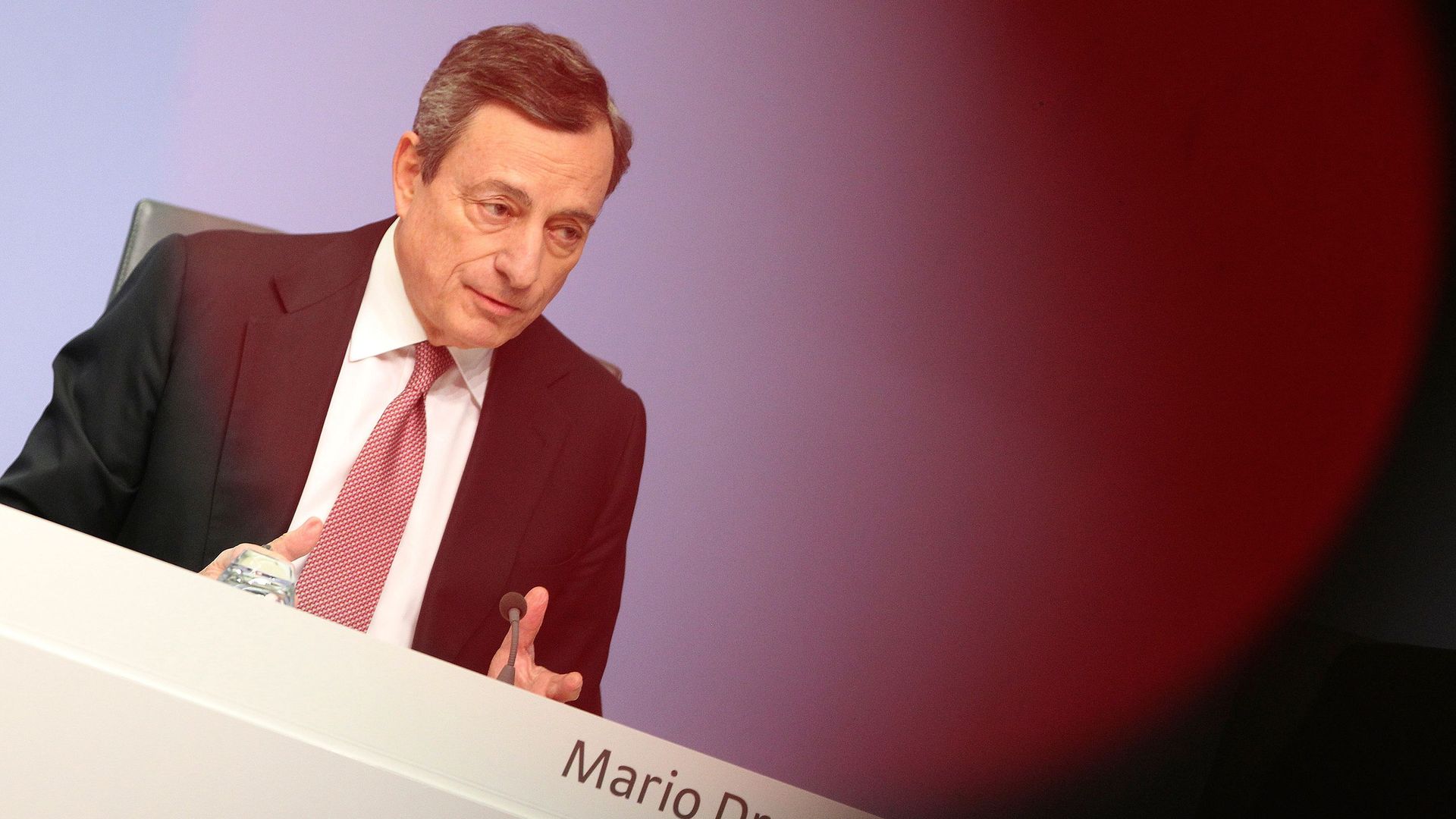 Both the European Central Bank and the Bank of Japan were expected to begin normalizing monetary policy in 2019 — reintroducing interest rates that are not at or below zero.
However, it looks like both will fail and may even go in reverse, potentially adding to their stimulus programs that have so far totaled more than $2.5 trillion and $3.5 trillion, respectively.
The big picture: With China announcing new stimulus measures and the Federal Reserve on pause, the quantitative tightening theme that was supposed to reshape markets in 2019 – draining liquidity from the global financial system, shaking stock prices and popping asset bubbles – may already have come and gone.
ECB president Mario Draghi spoke Thursday, announcing no changes to the bank's policy stance. The Bank of Japan on Wednesday lowered its growth and inflation forecasts and announced it would keep its negative interest rate policy and stimulus program intact.
Draghi recently pointed to weak growth across the euro zone that has continued to deteriorate.
What they're saying: FXStreet senior analyst Joseph Trevisani notes that a January measure of euro zone business sentiment and activity and a separate survey on the services sector both showed readings on the verge of contraction. 
Annual industrial production fell to -3.3% in November and is expected to have fallen further in December. The industrial sentiment index has declined from 9.7 in January to 1.1 in December.
As for Japan, a recent Bloomberg survey found 72% of economists think the BOJ will not raise interest rates at all this year and 79% don't believe it has the tools needed to fight a recession.
"The U.S. central bank has been raising rates for three years and ... they are at least sitting on a modest cushion if a recession occurs this year or next," Trevisani said in an interview. "The European Central Bank and the Bank of Japan have a bare plank."
The bottom line: Acknowledging the risks to growth and the overall economy, Draghi said Thursday the ECB is ready to again do whatever it takes.
"I don't want to speculate about what contingency would call for a specific instrument, but if you look at the number of instruments we have in place now, we can conclude that it is not true that the ECB has run out of fuel or has run out of instruments."
"We have all our toolbox still available."
2. PG&E still plans to file for bankruptcy
PG&E still plans to move forward with its Chapter 11 bankruptcy protection filing, a source close to the company tells Axios' Courtenay Brown.
Driving the news: California investigators ruled Thursday that PG&E was not responsible for the 2017 Tubbs fire near Santa Rosa that destroyed thousands of acres and killed more than 20 people.
The company's stock jumped 70% after the announcement.
The backdrop: PG&E is on the hook for $30 billion dollars in liability costs for fires in the past two years. Per a company filing, at least $10 billion is for the 2017 fires, but it's unclear how much of that amount is for the Tubbs fire specifically. PG&E's equipment was linked to over a dozen fires in 2017.
PG&E still faces "significant potential liabilities and a deteriorating financial situation, which was further impaired by the recent credit agency downgrades to below investment grade," a company spokesman tells Axios.
California has not concluded its investigation into whether PG&E's power lines sparked the 2018 Camp Fire, which eclipsed the Tubbs Fire as the worst in the state's history.
Yes, but: BlueMountain Capital Management, the hedge fund set to launch a full-on proxy battle with PG&E, is urging the company not to file for Chapter 11.
"The news from Cal Fire ... is another example of why the company shouldn't be rushing to file for bankruptcy, which would be totally unnecessary and bad for all stakeholders," said a spokesman for BlueMountain, which owns about a 1% equity stake in PG&E.
The hedge fund has sent a series of letters to the company (including one calling on PG&E to replace its entire board) arguing against bankruptcy.
Bottom line: The most likely reason PG&E would halt its bankruptcy filing is any indication that California legislators would be willing to step in and help.
California governor Gavin Newsom, per the Fresno Bee: PG&E's bankruptcy remains "an open-ended question, and that's a question for them."
3. Huawei expects to be world's top smartphone maker by year-end
Despite being blackballed from the American market as U.S. regulators explore legal and possibly criminal action against the company, Huawei has been growing its share of the smartphone market and has an ambitious goal for the end of the year.
"Even without the U.S. market we will be number one in the world," Richard Yu, Huawei's consumer division chief, said at a new-product news conference in Beijing this week. "I believe at the earliest this year, and next year at the latest."
Between the lines: With chief financial officer Meng Wanzhou set to appear in court on Feb. 6 and likely to stand trial this year, Huawei could become the first telecommunications company to have the world's top-selling smartphone while its CFO is in jail. Shades of the late Tupac Shakur.
4. More IRS agents could cut U.S. deficit by $145 billion
Beefing up the Internal Revenue Service was a pivotal but little noticed piece of 2020 presidential candidate Elizabeth Warren's proposal for a wealth tax on America's richest citizens.
But even without a wealth tax and at today's rates, simply adding more firepower to the IRS could generate $145 billion over 10 years.
Driving the news: The Washington Post reports Warren's wealth tax would "raise $2.75 trillion over a ten-year period from about 75,000 families, or less than 0.1 percent of U.S. households," citing economist Emmanuel Saez.
It includes three new mechanisms to combat tax evasion:
Significant increase in funding for the IRS
Requirement that certain people who pay the wealth tax be audited every year
One-time tax penalty for those who have more than $50 million and try to renounce their U.S. citizenship
(The plan would cost Jeff Bezos $4.1 billion a year, according to Bloomberg's calculations.)
What it means: Last year the CBO released a study that found increased resources and enforcement at the IRS would result in $55 billion of revenue between fiscal 2019 and 2028. They report a net of $35 billion would be cut from the national deficit, since the funding would cost the government $20 billion.
Importantly, their figure does not take into account the so-called deterrence value of adding more IRS enforcement, which analysts at the Treasury Department estimated "to be at least three times the direct revenue impact."
If that estimate holds up — though, CBO estimates rarely do — it would cut the deficit over 10 years by $145 billion ($55 billion x 3 — $20 billion for IRS enforcers).
5. What comes next in Venezuela
The next few days — and Maduro's response — will be crucial for the future of Venezuela, which holds the world's largest proven oil reserves, writes Jason Marczak, director of the Atlantic Council's Adrienne Arsht Latin America Center, for Axios Expert Voices.
In short: "The path forward will be determined by whether the military, including lower ranks, stays united in backing Maduro and how the interim government consolidates power."
The stakes are global. Maduro's international backers are not backing down, and neither are newly declared interim president Juan Guaidó supporters.
Siobhan Morden, head of Latin American fixed-income strategy at Nomura, believes the military is likely soon to turn on the man she now calls "President" Maduro. But much depends on the actions of the United States, and whether President Trump chooses to impose oil and/or further economic sanctions on the country.
"The U.S. is one of [Venezuela's] most important customers," Morden tells Axios. "If we cut them off it further impacts cashflow. No petrodollars = no rental/corruption income. It's all about the economy."
Further, she points out "the majority of the military face the same economic crisis with insufficient privileges to immunize against hyperinflation and facing increasingly disruptive social unrest and perhaps even eventual military threat from the international community."
What to watch: The Atlantic Council's Marczak writes: "It would be well in line with Maduro's modus operandi to ramp up repression and violence. Any threats against foreign diplomats could lead to swift international action. So too could the arrest of Guaidó and others in the National Assembly leadership. In such a scenario, whom the military sides with and who controls Venezuela's assets abroad would prove decisive for the country's future."
6. Venezuela's protests by the numbers
The number of people who took to the streets in Venezuela on Jan. 23 was massive, but protests in Venezuela are nothing new. In 2018, unhappy Venezolanos mobilized more than 1,000 times a month throughout the country.
Food shortages were the leading cause of the actions, with nearly 200 food protests taking place in December, according to the Venezuelan Observatory of Social Conflict.
The site reports that 17 were killed during protests in 2018 and 163 were killed in 2017.
7. At the request of the president

Screenshot of a tweet from U.S. President Donald Trump
As of Jan. 18, of the 55 companies in the S&P 500 that had reported 2018 fourth quarter earnings, 76.4% were above analyst expectations, according to Lipper/Refinitiv data. This is above the long-term average of 64% and below the average over the past four quarters of 78%.
There have been 73 negative earnings per share pre-announcements issued by S&P 500 corporations compared to 49 positive.
FactSet data shows this quarter has seen the largest cuts to S&P 500 EPS estimates in four years. Over the past three months (Oct. 15 — Jan. 15), analysts lowered earnings estimates for companies in the S&P for the first half of 2019.
Editor's note: This story has been changed to state that the Tubbs fire affected Santa Rosa and that Nomura's Siobhan Morden assisted on data on protests from Venezuela.
Days without a factual error: 1
#GetTheTrapBackJumpin