We've brought back the history section at the bottom of the newsletter for April!
Was this email forwarded to you? Sign up here.
Situational awareness:
1 big thing: China is growing its power in global financial markets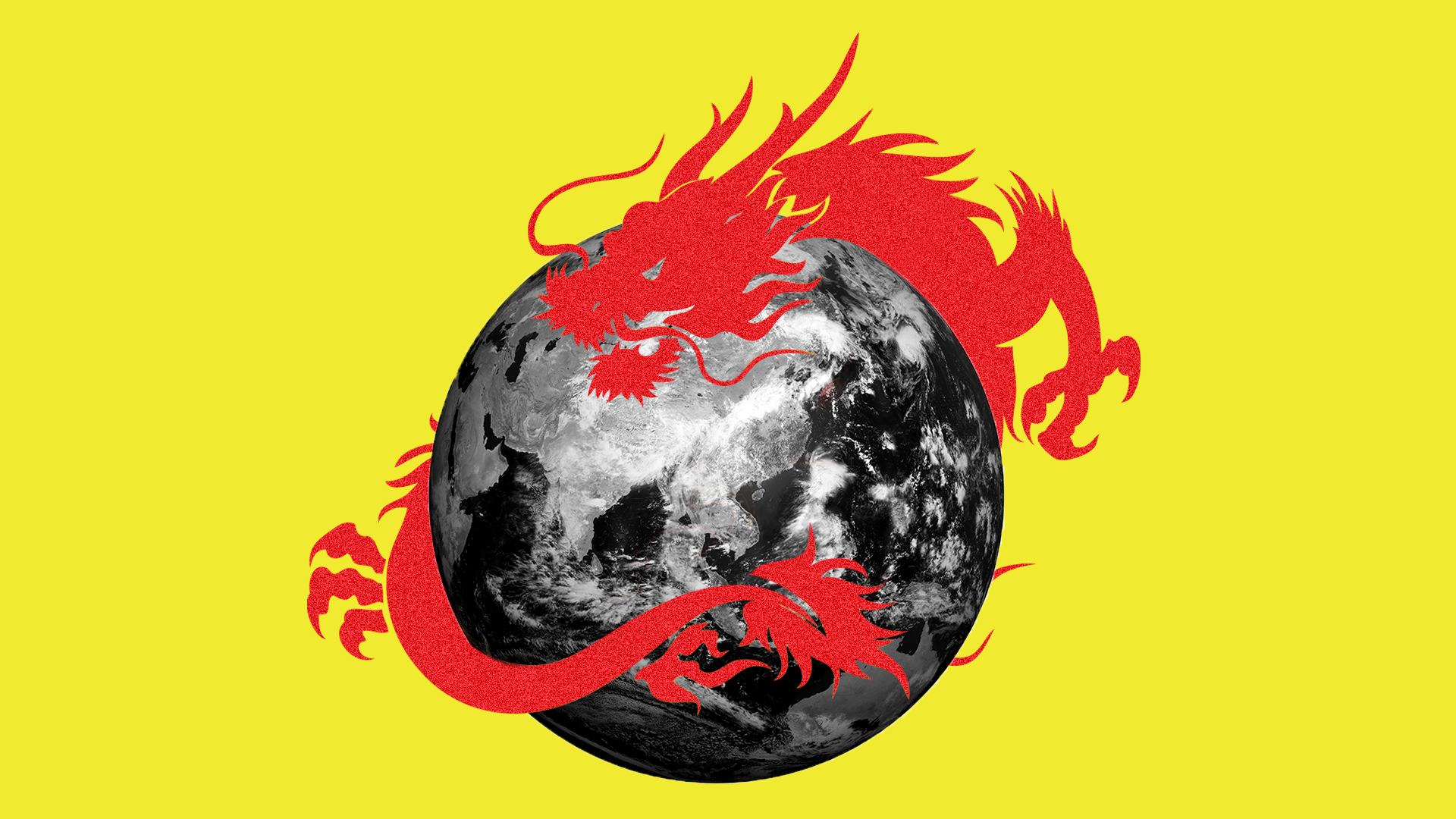 Chinese onshore bonds, denominated in yuan, officially join the Bloomberg Barclay's Global Aggregate Index today, providing access to China's $13 trillion debt market, the world's third-largest after the U.S. and Japan.
The index is tracked by around $3 trillion of assets and will include debt securities issued by China's treasury or its 3 policy banks. The initial weighting will grow to 6% over a 20-month phase-in program, meaning about $180 billion of investor capital will flow to China.
Why it matters: This is a major milestone in China's development as a growing power in global financial markets.
"We're lucky that China is going slow in opening up because it would create enormous disruption," MSCI CEO Henry Fernandez said, noting the higher yields for Chinese government debt of around 3%. The index maker in February quadrupled the percentage of Chinese stock access in its EM indexes.
Today's inclusion will make the yuan the fourth-largest currency component in the globally tracked bond index behind the dollar, euro and yen. Right now foreign investors own just 2% of onshore bonds, according to Bloomberg.
Be smart: That's a big step considering the significant concerns about Chinese government involvement in the country's businesses and its currency. Further, its ratings agencies are seen as unreliable and sometimes untrustworthy.
"There are some risks associated but there are also some very good things happening, a lot of progress being made," Kate Jaquet, a portfolio manager at Seafarer Capital Partners, tells Axios. "That needs to be understood in a less biased way."
What's next? Chinese government debt also is on a watchlist of bonds to join FTSE Russell's World Government Bond Index.
Ratings agencies Moody's and Fitch are working to launch ratings units in China to allay some investor concerns. S&P was granted approval in January.
"This is a market to watch and understand because whether people like it or not these bonds are coming," Jaquet says.
Bonus: How to read Chinese bond ratings
Chinese ratings agencies are currently the only ones allowed to rate China's bonds. And while the agencies have long been notorious for their "unscrupulous business practices," many regulatory reforms are happening, Jaquet tells Axios.
The state is allowing defaults, including some by issuers with high ratings. The People's Bank of China and the China Securities Regulatory Commission have been tinkering since 2017 with guidelines for ratings agencies to "push forward communication in the bond market, and promote the orderly development of the rating industry."
"Factors such as asset size, profitability and state ownership carry much more positive weightings in domestic ratings and leverage is seen is having far less negative impact on ratings," Jaquet said. "On average there's a 6–7 notch differential between international ratings from Moody's, Fitch and S&P versus the domestic Chinese ratings."
2. The U.S. coal industry is choking
The brief selective default of Ohio-based coal company Murray Energy brought the total number of global corporate defaults to 27 this year, 19 of which have come from the U.S., with 4 in the metals and mining space, S&P Global said.
Why it matters: "The metals, mining, and steel sector is off to a rocky start this year with four defaults, already surpassing last year's full-year tally of three," Diane Vazza, head of S&P Global Fixed Income Research, said in a note last week. "Two of the four defaulters in the sector are U.S. coal producers."
The U.S. expects dozens more coal plant closures this year, including the Navajo Generating Station, the largest coal-fired plant in the western U.S., which provides power to Arizona, Nevada and California.
The big picture: This is a long-running theme in the coal industry. In 2010, coal-fired power plants provided 45% of U.S. electricity generation, according to a report from The Week. In September, there were almost 200 fewer coal plants and they provided 30% of the country's electricity. Many more plants are set to be shuttered in the next 5 years.
The EIA said in December expects total U.S. coal consumption in 2018 to fall to the lowest level since 1979. U.S. coal consumption has been falling since 2007, mainly driven by declines in coal use in the electric power sector.
What they're saying: Paul Browning, CEO and president of Mitsubishi Hitachi Power Systems Americas, which makes technology for electricity, including coal, echoed what most other U.S. energy executives are saying.
"There is really nothing happening from a new coal power plant power point of view in the Americas," Browning told Axios' Amy Harder on the sidelines of the Bloomberg New Energy Finance conference last week in New York. "New coal-fired generation is really in decline and it's a sectoral decline, not cyclical. It's driven principally by climate change concerns and natural gas and renewables becoming more affordable."
Watch this space: The U.S. so far accounts for 70% of the world's defaults in 2019, followed by emerging markets with 15%. Bankruptcy is the leading cause of defaults, per S&P.
3. The stock market loves to climb a wall of worry
There are lots of reasons to be very worried about the markets and the economy, should you be so inclined, Axios' Felix Salmon writes.
The yield curve inverted last week, which normally presages a recession.
The economy is decelerating fast: GDP growth was 4.2% in the second quarter of 2018, 3.4% in the third quarter, and 2.2% in the fourth quarter. Economists expect it will register a mere 1.7% growth in the first quarter of 2019.
The White House is calling for an immediate half-point cut in overnight interest rates, as Axios' Dion Rabouin first reported (yeah, I did!). That kind of sudden rate cut generally only happens in an economic emergency.
The herd of unicorns rushing to go public is raising worries that the smart money is getting out at the top of the market.
All of these concerns can easily be countered, if you're feeling bullish. As of Friday, the yield curve is no longer inverted; economic growth is expected to pick up again in the second quarter; the people calling for rate cuts say that there's no emergency; IPOs are a sign of optimism, not a reason for pessimism.
The bottom line: The stock market loves nothing more than to climb a wall of worry, and it duly posted a spectacularly good first quarter. Bond investors were happy too, with the 10-year bond yield falling to levels not seen since 2017. That in turn created new optimism for mortgage origination. The macroeconomic concerns are real, but the bull market rages onward.
4. Ailing health care sector looks at more Trump headwinds
Public companies in the health care sector have suffered so far this year and the Trump administration looks to be plowing ahead on new drug price regulations the industry fears could do more damage.
The administration is hoping to break through the cycle of legal and political setbacks that have stymied the rest of its health care agenda, Axios' Sam Baker writes.
The big picture: The administration has several proposed rules that take on some aspect of the drug-pricing system, and is quietly talking with congressional Democrats on the issue, too.
New rules should be finalized soon requiring drugmakers to include prices in their TV ads. The industry will likely sue.
Conservatives are uneasy about Trump's plan to import some European price controls, but Democrats may be willing to help.
Why it matters to the market: Health care stocks were the S&P's worst performers during the first quarter, rising just 6% while the broader index rose 13.1% and notched its best start to a year since 1998. The best performing sector, information technology, saw a 19.3% gain in the quarter.
That's a 180° turn from the fourth quarter of 2018 when health care stocks gained 3.7% vs a 7.8% decline for the broader index, notes Lindsey Bell, an investment strategist at CFRA Research.
Biotech companies have slumped as drug approvals have stagnated and times are expected to continue to decline under the Trump administration's FDA, she writes in an editorial for Fox Business.
"Hospital companies haven't fared well either given the removal of the individual mandate from ObamaCare and the soaring premiums for health insurance."
"The Trump administration's renewed focus on dismantling ObamaCare in its entirety will not bode well for the health care providers and services industry near-term."
Yes, but: Sam writes that Trump's legal assault on the Affordable Care Act faces long odds and a backlash from congressional Republicans.
Medicaid work requirements — the most substantive rightward shift the administration has imposed so far on health policy — have been struck down in court.
April Fools!
Editor's note: The second story was updated with new details from S&P, which now says its report shows Murray Electric was in default at the time but now has a forward-looking rating of CCC+. It also corrects the use of the word "corporate failures" with "defaults."