1 big thing: The worst president in the world begins 2nd term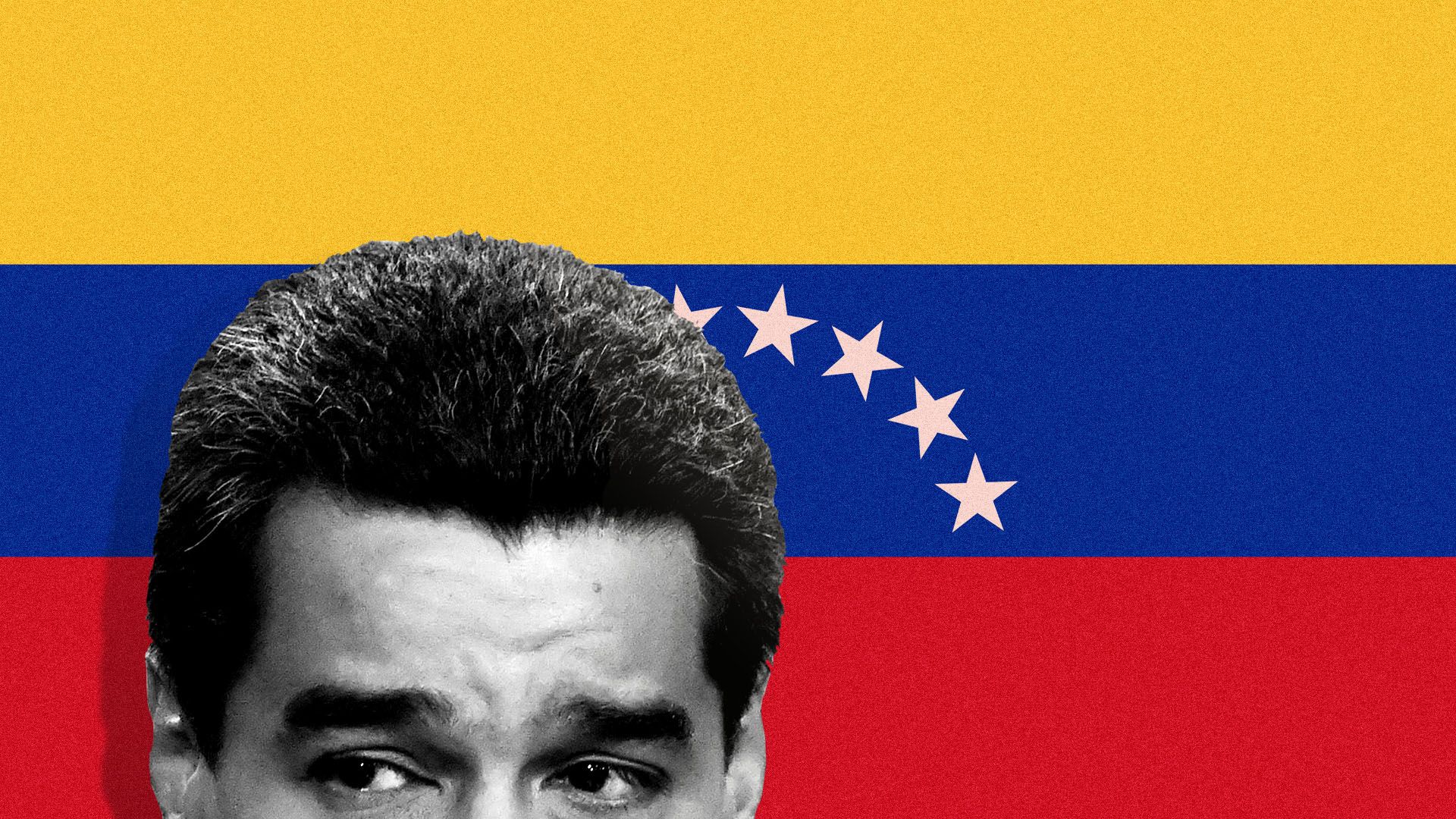 Venezuelan President Nicolas Maduro won a sham election last year after deposing or intimidating his legitimate challengers. He begins his second six-year term Thursday, much to the chagrin of 85% of Venezuelans, international humanitarian aid organizations and most of the world's leaders.
While many nebulously blame "socialism" for Venezuela's dire condition, the truth is that the country's problems are a result of corruption and wide-ranging economic incompetence from Maduro's government
Why it matters: Humanitarian crisis aside, Venezuela owes international creditors an estimated $150 billion.
Here's a short list of problems Maduro will face in his second term, most of his own creation:
Annual inflation is estimated to be 1,400,000% and forecast to rise to 10,000,000% by year-end.
The country's 90% poverty rate.
Citizens lost an average of 24 pounds last year because the government can't import food or medicine.
Four of the world's 10 most dangerous cities are in Venezuela.
The homicide rate has risen to 90 per 100,000 (for reference, the United States has a homicide rate of 5 per 100,000) and 73 Venezuelans die violently every day.
3 million people, nearly 10% of the population, have left the country, with the outflow of citizens increasing annually.
The democratically elected and opposition-led National Assembly is seeking to unseat Maduro after he effectively replaced them with a "Constituent Assembly" made up of family members and loyalists.
His presidency is being called illegitimate by 14 Latin American countries as party to the Lima Group — including Argentina, Brazil, Canada, Colombia, and Peru.
Oil production has fallen to its lowest in nearly 70 years, with more of what's produced going to China, Russia and Cuba
Possible further sanctions and an oil embargo from the administration of U.S. President Donald Trump, which has already targeted various companies and members of Maduro's government, including his wife and vice president.
1 bonus chart: Venezuela's one shining bond
Despite having recently defaulted on billions of dollars worth of debt and holding the lowest possible grades from ratings agencies, Venezuela's state oil company PDVSA's bonds maturing in 2020 are trading near full par value.
That's because the bonds are tied to Houston-based Citgo, of which PDVSA is a majority owner, and assets would be easy (and profitable) to seize if the bonds went into default.
The bonds also trade as a "sinking fund," meaning PDVSA pays a balance of interest and principal to investors over the course of the bond's term, reducing the risk the debt won't be paid when it reaches maturity next year.
Venezuela halted payment on about $50 billion worth of bond payments in 2017 and owes a total of about $65 billion. That's in addition to other debts owed by the government and state companies, largely to the Chinese and Russians, of an estimated $150 billion.
Between the lines: The 2020 PDVSA bonds have actually increased in value as the Venezuelan government and the state oil company have defaulted on their other debt.
2. Wednesday's ominously strong 10-year Treasury auction
Despite yields well below 3% (where they were as recently as November) Wednesday's 10-year Treasury note auction was very strong, with direct bidders taking double their average and the highest level since 2015.
Why it matters: Direct bidders include foreign buyers and U.S. institutions that don't do business directly with the Federal Reserve, so they're not compelled to buy government debt. The results show U.S. Treasuries are still very attractive, analysts say. But that may not be a good thing.
"If you are looking to add duration in preparation for an economic slowdown, getting 10 [year Treasuries] at 2.73% when they were at 2.54% on Friday seems like a pretty good deal," said Ben Jeffery, U.S. rates strategist at BMO Capital Markets.
Bottom line: While most economists have predicted slowing U.S. and global growth in 2019, Jeffery warns, "You would have to imagine there are at least some in the market playing for something more ominous."

3. Eddie Lampert is back again to "save" Sears
Sears Chairman Eddie Lampert has upped his bid for some of the failed company's stores to $5 billion, hoping to shield it from liquidation, Reuters reports.
The offer is 13% higher than Lampert's previous bid, which was rejected earlier this week.
Our thought bubble from Courtenay Brown: Look at this brief timeline of Sears in the 21st century:
Lampert's hedge fund, ESL Investments, bought bankrupt Kmart in 2003 to merge with Sears.
After the Kmart-Sears Roebuck merger, Lampert was named chairman of the combined company (and then named CEO in 2013).
Lampert sold hundreds of stores to a spin-off company (in which he was an investor), took in millions of dollars worth of loans from himself and ESL, and shed marquee brands to raise cash — all while being accused of ripping Sears apart for his own personal gain.
The company filed for bankruptcy in October.
Go deeper: The cannibal of Sears
4. The cannabis craze may be cracking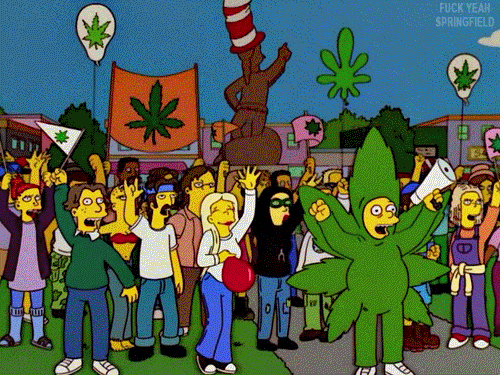 Shares of Constellation Brands, which took a major stake in marijuana producer Canopy Growth last year, fell to a two-year low after the company cut its 2019 profit forecast, Courtenay writes.
Constellation put the blame on weakness in its booze business, but also cited higher interest payments for its now $4 billion stake in Canopy Growth.
Canopy lost $164 million in value during the fourth quarter, Reuters reports.
What they're saying: Bill Newlands, incoming CEO of Constellation Brands, stressed that he was committed to cannabis on the company's earnings call Wednesday.
"We believe the emerging cannabis space represents one of the most significant global growth opportunities of the next decade, and frankly, our life time."
What they're not saying: The vultures are circling cannabis companies and spending big for the airspace. Bearish investors are paying as much as 900% to take short positions against cannabis company Tilray, data from financial analytics firm S3 Partners show.
That means to rent out one share of Tilray, which closed at $79.70 on Tuesday, shorts are paying more than $700.
"Our desk can't remember any rates higher than these," Ihor Dusaniwsky, S3 Partners' managing director of predictive analytics, told Bloomberg.
5. The Brexit mess gets messier
British Prime Minister Theresa May will be forced to present a new Brexit plan within three days if her current proposal is voted down next week, as most onlookers expect. That's thanks to a procedural amendment passed Wednesday night.
The problem is that no one in Parliament seems to like anything when it comes to Brexit.
"As the exit debate in Parliament begins everyone has a no. No to May's Brexit deal, no to emergency taxing power, no to leaving without a agreement, no to a second vote, no to further negotiation, no to extending article 50.
The only yes is March 29th."
— Joseph Trevisani, senior analyst at FXStreet
6. CFOs down on the global economy, but not out
North American financial executives are not optimistic about future growth anywhere, Deloitte's new survey of 140 CFOs found.
Perception of China has been declining since early last year, but only 24% said economic conditions there were good in the fourth quarter (down from 37% in the prior quarter). Only 12% expect conditions to get better this year.
The numbers are worse in Europe where just 7% expected improved conditions in 2019, the worst in the survey's 8-year history.
The number of executives banking on better times for the North American economy this year has steadily declined and hit a 5-year low this quarter.
Yes, but: The sharp declines in optimism about the global economy aren't affecting companies' plans for international expansion. In the fourth quarter, CFOs said they were slightly more focused on growing in new geographies than in previous quarters.
*Editor's note: A note in situational awareness was corrected to show Reuters reported VW is spearheading a $300 billion spend on EVs (not $300 million).