Axios Markets
October 15, 2020
Good morning! Was this email forwarded to you? Sign up here. (Today's Smart Brevity count: 1,215 words, 4.6 minutes.)
🎙 "When you win, say nothing. When you lose, say less." - See who said it and why it matters at the bottom.
1 big thing: A bad time for a global pandemic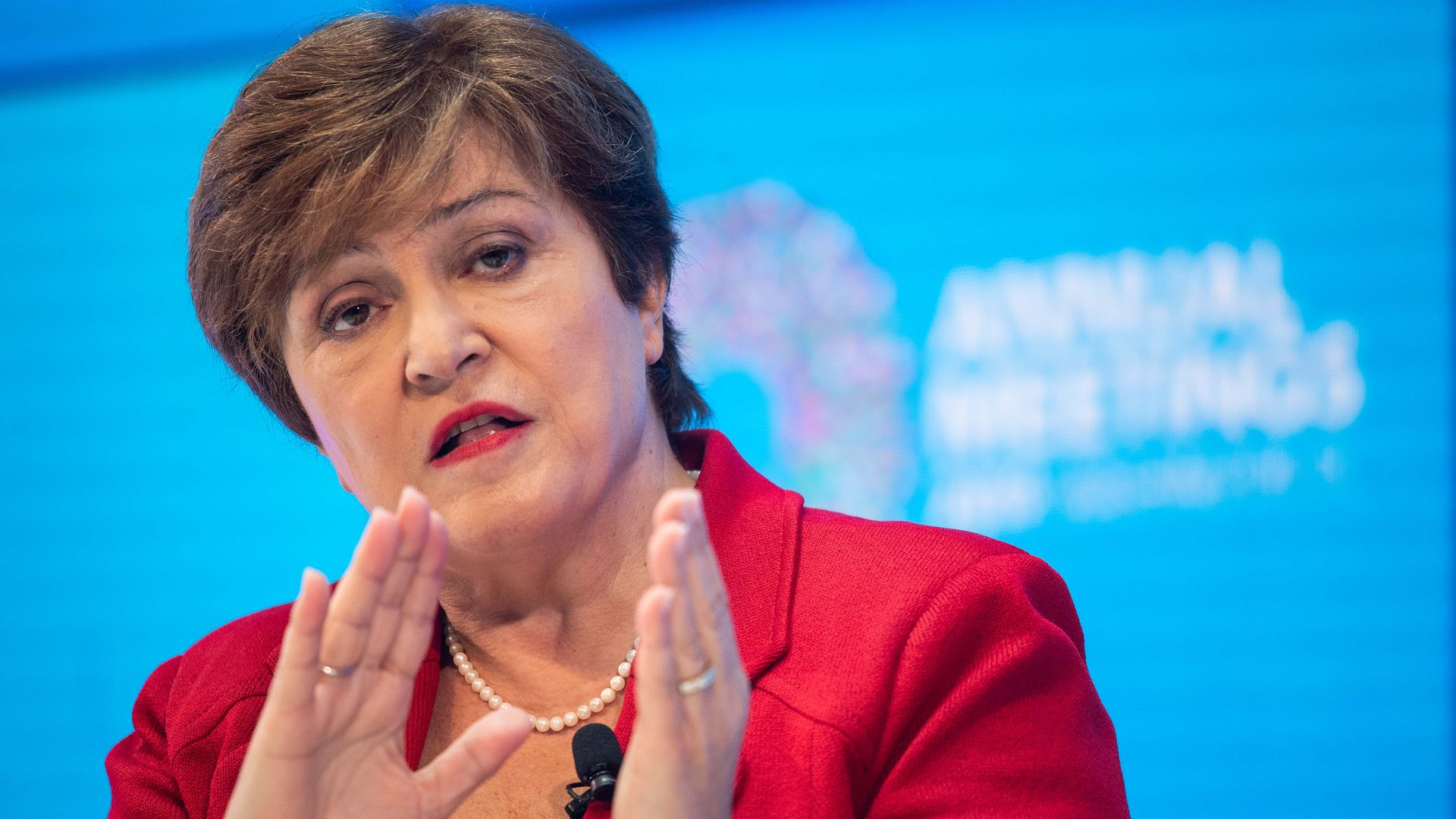 The world is in desperate need of cooperation and unity to pull out of the coronavirus pandemic and begin what the IMF has termed the "long, difficult ascent" right as its leaders are increasingly focused on nationalism and decoupling.
Driving the news: The IMF raised its 2020 global growth outlook, largely because of improved expectations for China, but cut its longer-term forecast, citing slower growth. Policymakers expressed worries about a number of "setbacks" that could hobble its diminished forecast with potentially significant "scarring" in the long term.
"The scarring is expected to compound forces that dragged productivity growth lower across many economies in the years leading up to the pandemic — relatively slow investment growth weighing on physical capital accumulation, more modest improvements in human capital, and slower efficiency gains in combining technology with factors of production," IMF leaders said in the latest World Economic Outlook.
"The uncertainty surrounding the baseline projection is unusually large."
What we're hearing: "I worry most about withdrawing support to workers and firms prematurely because it could cause a wave of bankruptcies and massive increase in unemployment," IMF head Kristalina Georgieva said during a media briefing Wednesday.
"We are advising all governments, 'Do as much as you can, don't cut financial lifelines too early.'"
By the numbers: Already, the World Bank has warned the pandemic will push an additional 88 million to 115 million people into extreme poverty this year, with the total rising to as many as 150 million by 2021.
The big picture: Without global leadership on the issue from either of the world's two largest economies, the IMF and World Bank have attempted to fill the void but are already far overextended for a crisis that is just beginning in much of the developing world.
Since March, the IMF has provided "10 times" as much economic support to the world's developing countries as it does in a normal year, Georgieva said.
The Fund is calling for multilateral efforts to reduce the debt held by developing countries, an effort that has so far fallen on mostly deaf ears in China and at asset management firms in the U.S. and Europe.
The bottom line: For many countries, the immediate shock and bounce that has followed over the past few months has been the light work.
Now comes "the really hard part of the recovery," Brian Coulton, chief economist at Fitch Ratings, said during a presentation for the Institute of International Finance's annual meeting Tuesday.
"We've got another 18 months ahead, at least."
2. Catch up quick
Confirmed coronavirus infections rose by nearly 17% over the past week and the number of new cases increased in 38 states and Washington, D.C. (Axios)
Europe has overtaken the U.S. in the number of new coronavirus cases as lockdowns return and France and Germany hit new all-time high diagnosis numbers. (WSJ)
The State Department issued sanctions on 10 individuals, including Hong Kong's chief executive Carrie Lam, over actions in Hong Kong. (Reuters)
Wells Fargo fired between 100 and 125 employees the company believes defrauded the SBA by applying for and receiving coronavirus relief funds, and more terminations could be on the way. (Axios)
3. More than 100 million Americans are out of the labor force
The number of Americans who aren't employed but aren't considered unemployed because they are not looking for a job skyrocketed to 103 million in April and still accounts for more than a quarter of the U.S. population.
Why it matters: The official unemployment rate has halved in recent months (to 7.9% in September from 14.7% in April) but the number of Americans out of the labor force has not fallen with it, and, in fact, rose in September back to nearly 101 million.
Between the lines: As Fed chair Jerome Powell noted in remarks to the National Association for Business Economics last week...
"A broader measure that better captures current labor market conditions — by adjusting for mistaken characterizations of job status, and for the decline in labor force participation since February — is running around 11%."
The big picture: During the Great Recession the number of people not in the labor force increased by an average of 0.12%, or 96,000 people, per month, according to an Axios analysis.
During the month of April, the number increased by 7% and remains 6% higher than it was in March — an average of 713,000 people removed from the labor force each month.
The last word: The pandemic "has resulted in millions of workers falling through the cracks of the BLS methods and definitions," says Lou Brien, rates strategist at DRW Trading, in a note to clients.
"Therefore, millions of people exist in an employment statistics Neverland, where the bad news doesn't seem quite as bad because of unusual circumstances created by the pandemic."
4. Wall Street certainty grows as polls show Biden with historic lead
The U.S. presidential election is 19 days away and investors are growing increasingly certain of a Joe Biden victory, as the former vice president has maintained and added to his sizable lead over President Trump in national polling and betting odds.
Biden's edge recently rose above 10 percentage points, according to polling averages from FiveThirtyEight and Real Clear Politics, an important milestone.
Why it matters: "A Truman style error in the polls may give Mr. Trump a chance given the electoral college system, but the reality is that — unless the polls narrow into election day — a Trump victory would be the biggest error in our modern era of mass polling," Deutsche Bank research strategist Jim Reid says in a note to clients.
Investors believe Biden and a Democratic Congress will deliver trillions of dollars of new fiscal stimulus.
What it means: "The largest error was in 1948 when President Truman won by 5% in spite of being behind by 4.4% in the final polls. However, Truman's challenger in New York Governor Dewey saw his lead fall from 17 points in late September to 9 points in mid-October before settling at 'only' 5 points just before the election," Reid says.
"The graph compares the final poll or polling averages (since 2004) for each election versus the eventual vote margin."
"Polls have been within 0-3% of the final outcome in the last 6 US presidential elections."
State of play: Polling shows Biden has improved his standing in Wisconsin, North Carolina and Iowa, remains ahead in Florida and has moved to "solidly" ahead in Michigan from "leaning" in recent weeks, TD Securities macro strategist Oscar Munoz says in a note.
Driving the news: The likelihood of a Democratic sweep of the White House, Senate and House of Representatives also looks more likely as Democrats are leading in both Senate races in Georgia with Biden up by 7 points, according to the latest Quinnipiac poll.
"Betting odds continue to indicate a Democrat majority in both chambers of Congress, with Dems on track to flip five seats in the Senate, while losing one seat," Munoz says.
"Democrats are also expected to add to their majority in the House."
5. Corporate ratings downgrades fell by 74% in Q3
After hitting a record high in the second quarter, the number of U.S. corporate ratings downgrades fell to its lowest level since Q4 2018, according to S&P Global Ratings.
By the numbers: S&P lowered 107 U.S. corporate issuer credit ratings in the third quarter — 74% fewer downgrades than in Q2, as upgrades nearly doubled to 43.
"Downgrades abruptly slowed and upgrades increased as U.S. GDP rebounded in the third quarter," said Nick Kraemer, head of S&P Global Ratings Performance Analytics, in a statement.
One level deeper: Downgrade risk as measured by negative bias (the percentage of issuer credit ratings with negative outlooks or on CreditWatch with negative implications) for U.S. speculative-grade companies fell by 5 percentage points to 47%.
Meanwhile, the negative bias for investment-grade companies held nearly unchanged at 26%.
Thanks for reading!
Quote: "When you win, say nothing. When you lose, say less."
Why it matters: On Oct. 15, 1989, "The Great One" Wayne Gretzky passed Gordie Howe to become the NHL's all-time leading scorer.
I don't watch a lot of hockey, but I love Wayne Gretzky.