Axios Macro
November 17, 2022
The spectacular implosion of cryptocurrency exchange FTX could crush support for a central bank-issued digital currency. More below.
Plus, a look at this morning's housing data that shows a surprisingly high number of single-family homes under construction. 🏠
Situational awareness: St. Louis Fed president Jim Bullard — one of the more hawkish Fed officials — said today that interest rates may need to rise to a range of 5 to 5.25%, at a minimum.
Today's newsletter, edited by Javier E. David and copy edited by Katie Lewis, is 691 words, a 2½-minute read.
1 big thing: CBDC hopes deflate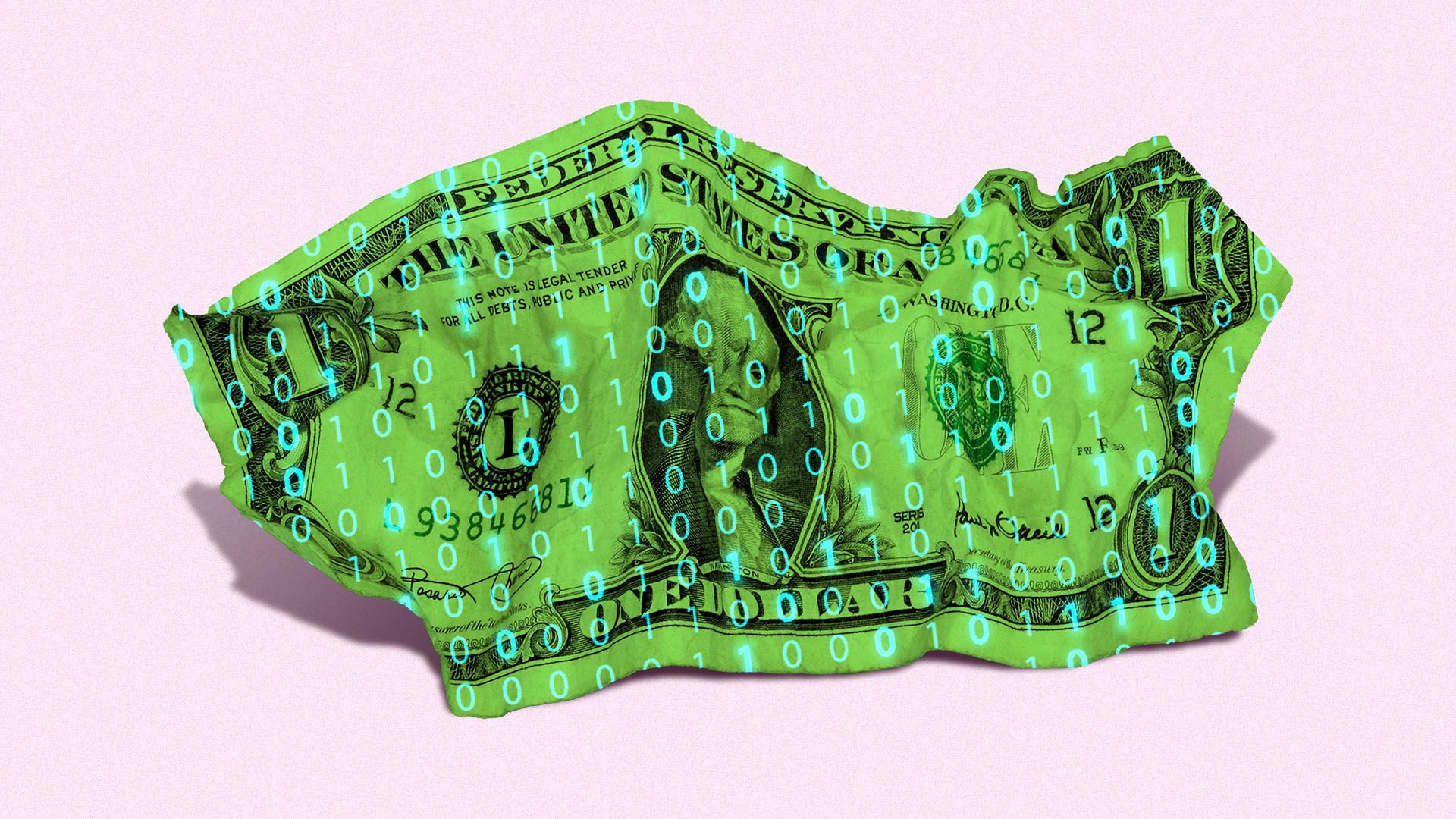 Many techno-optimists — including some at the White House — have dreamed of the day when the U.S. government itself becomes an issuer of cryptocurrency. The collapse of FTX, however, means that day seems further off than ever.
Why it matters: FTX was a Bahamian crypto exchange designed to facilitate speculative bets on the prices of digital assets. As such, it was about as far from a central bank digital currency (CBDC) as it's possible to imagine.
If you're a member of Congress, however, try explaining that to your constituents.
The big picture: One of the reasons the FTX story has received relatively little coverage is that on some level, it came as little surprise to the very large number of Americans who saw crypto as a scam. If you never believed in crypto in the first place, it's hard to be shocked by anything going to zero.
Between the lines: A central bank's greatest asset is the trust and confidence of the populace. Even before FTX, it would have been an uphill battle to try to persuade the public that an official digital currency was a good idea. Now, it seems downright foolhardy.
Where it stands: The New York Fed started a 12-week "proof-of-concept project" this week examining how a CBDC might work, alongside private companies like Citigroup and Mastercard.
The G-20, in its most recent communiqué, said that it looked forward to "continued exploration of how CBDCs could potentially be designed to facilitate cross-border payments, while preserving the stability and integrity of the international monetary and financial system."
State of play: Advocates of an American CBDC say that it would help improve financial inclusion (which is, frankly, not a big problem), while facilitating fast and cheap payments.
Opponents, including The Clearing House, a central and powerful group of America's largest banks, said that "a CBDC would pose substantial risks to the U.S. financial system – risks that cannot be adequately controlled, regardless of proposed mitigants."
The group concluded that "a CBDC is not in the national interest."
How it works: Regulators, including Fed vice chair Lael Brainard, have suggested that they won't move forward with any CBDC unless and until Congress legislates such a thing.
Meanwhile, Congress has been stuck in a stalemate for years about whether and how to regulate crypto.
The bottom line: When it comes to a CBDC, the easiest thing for Congress to do is nothing. Powerful interests are aligned against the CBDC project — and now the most visible avatar of crypto's future has imploded in a multibillion-dollar scandal.
💭 Felix's thought bubble: A U.S. CBDC is highly unlikely to transpire until FTX is a distant memory. That's going to take well over a decade.
2. 🏠 America is still building
The housing market is getting walloped by the Fed's interest rate hikes. Still, a historically high number of single-family homes remain under construction.
"These homes were started when rates were more reasonable and demand was seemingly insatiable," says Ali Wolf, chief economist at Zonda. "Now, the homes are expected to be available in the next handful of months, and there's uncertainty around who will be there to buy them."
By the numbers: The category hit a pandemic-era peak in April, with 828,000 units under construction.
As of October, there are 794,000 single-family homes being built, new data this morning shows. That's way above the 527,000 under construction, on average, in 2019. (Including multi-family homes, there are more new units being built than ever before.)
Of note: New construction of single-family homes has slowed, the result of the affordability shock crushing demand.
Single-family starts fell 6% in October, to an annualized rate of 855,000 homes — the lowest since May 2020. Permits — a proxy for future construction — also fell to the lowest since the onset of the pandemic.
What to watch: One reason construction remains elevated is because "homes are remaining in the pipeline longer," says Robert Dietz, an economist at the National Association of Home Builders.
"Typical construction time for a single-family home is a little more than six months. Currently, that number is likely closer to eight months" because of ongoing supply chain issues. (Yes, still.)