Just a reminder that Axios has lots of other good newsletters. You can sign up for any of them, or maybe even all of them, here.
https://www.axios.com/newsletters/axios-login-e6174ad5-24cd-4344-99e4-11476886e811.html?chunk=0#story0
Mr. Zuckerberg is not going to Washington (or Mr. Bezos...)
The powerful House Energy and Commerce Committee has backed off its deadline for Mark Zuckerberg, Jeff Bezos, Reed Hastings, and Larry Page (plus some telco CEOs) to commit to appearing at a September hearing on net neutrality, instead asking for input on a related bill.
What does that mean? David breaks it down for us:
Republicans want Silicon Valley's backing for a net neutrality bill, and inviting input lets them claim progress without having to suffer outright rejection from tech CEOs.
"Just generally speaking CEOs don't want to be called before Congress," said a source with knowledge of the discussions between Congress and the companies. "So, as those invitations went out the necessity of working with the Energy and Commerce Committee became much more important."
Dodging the hearing means the CEOs — who have zero interest in taking center stage in the net neutrality fight — can leave the negotiating to their policy teams. A representative of a tech firm said that companies prefer to send subject matter experts who aren't household names to such hearings, plus do not want top executives to be barraged by questions unrelated to the topic at hand.
What's next: Now the key will be to watch how the conversations unfold between tech companies, Republican House leaders and internet providers — between which tensions have already flared. According to an industry source, next month's hearing is still on the calendar.
https://www.axios.com/newsletters/axios-login-e6174ad5-24cd-4344-99e4-11476886e811.html?chunk=1#story1
Three things to watch for in Apple's earnings report
Apple releases its quarterly numbers after the bell on Tuesday. Here's what we are focused on.
iPhone, iPhone, iPhoneEveryone will be listening for any hint of when the new phone will ship, expected pricing, etc.
ChinaIt's been down for several quarters now. Apple had said last quarter it expected things to start improving.
Cars, health, augmented realityApple has gradually started talking more about each of these topics, so expect Apple CEO Tim Cook to at least have one line to say about each.
As for the June quarter numbers, analysts are expecting per-share earnings of $1.57, on revenue of $44.7 billion, according to Zacks.
https://www.axios.com/newsletters/axios-login-e6174ad5-24cd-4344-99e4-11476886e811.html?chunk=2#story2
Reddit raises a ton of money but may need exit strategy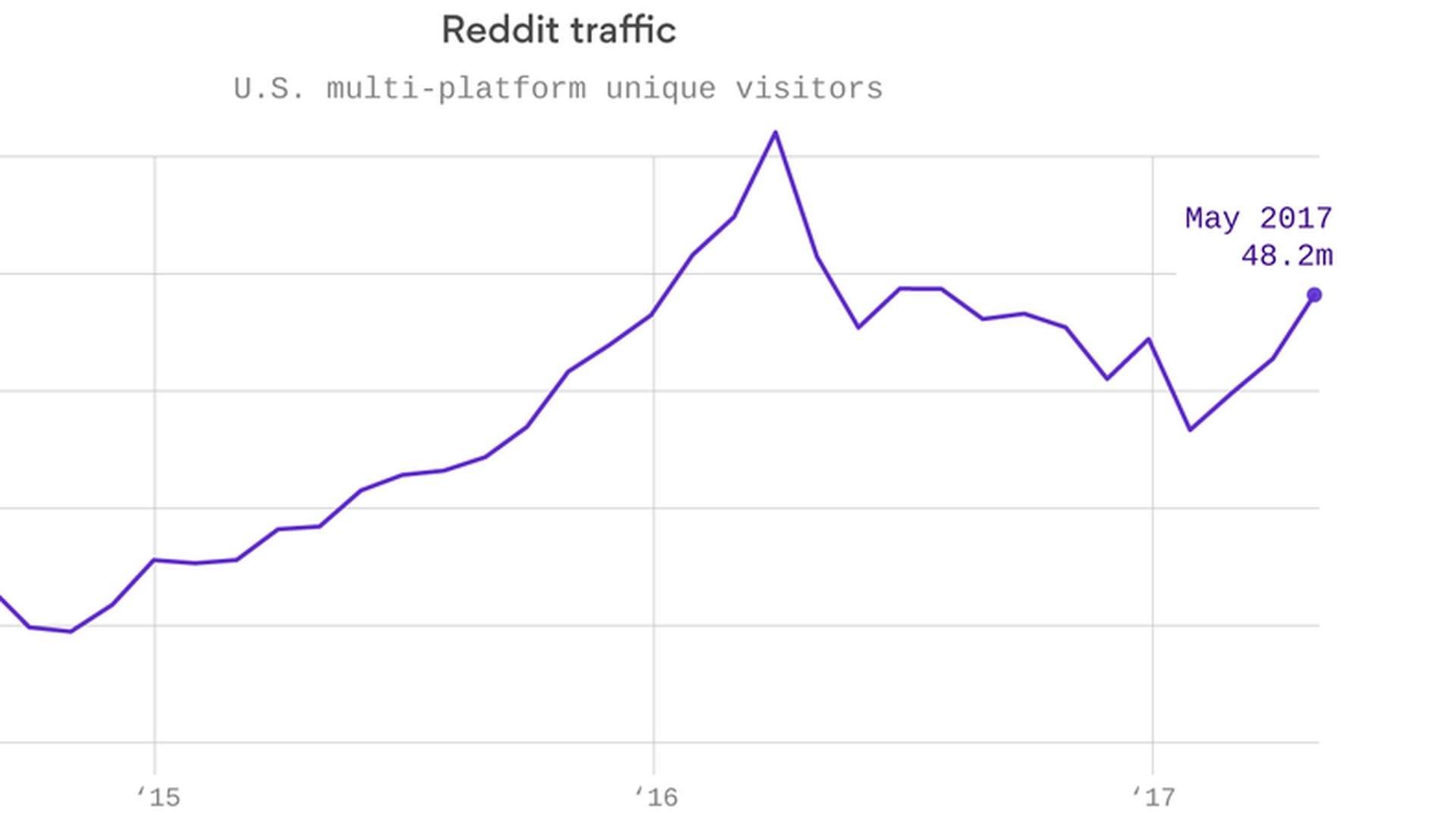 With a fresh round of funding, Reddit snagged $200 million and achieved a lofty $1.8 billion valuation. But the newly raised capital leaves unclear what the company's long-term business strategy is and how investors plan to ultimately get a return on their hefty investment.
CEO Steve Huffman told Recode that the additional cash will go towards a range of product and business efforts, including a homepage redesign, a more mobile-friendly design ,and a push into user-generated video.
Exit strategy: Axios' Dan Primack notes that a big question remains as to how these investors ever get out. Huffman says liquidity could lead to many paths, but it's unclear the type of investor that would want to eventually buy Reddit.
Huffman suggests an IPO as a possibility. But while Reddit has grown its traffic steadily over the past few years, the company hasn't scaled its monetization businesses to meet that bandwidth, and traders care even more about revenue than VCs.
https://www.axios.com/newsletters/axios-login-e6174ad5-24cd-4344-99e4-11476886e811.html?chunk=3#story3
Slack backs effort to make tech more transgender-inclusive
Tech companies that want to do a better job of recruiting, retaining, and supporting transgender and gender non-conforming workers will soon have a new set of tools at their disposal.
Workplace communications tool Slack is funding a curriculum for businesses that will cover everything from hiring practices to creating a trans-inclusive workplace. It's the next phase of a project called Transform Tech that kicked off in April with a meeting of trans and gender non-conforming tech leaders at Salesforce.
Why it matters: The move comes as the Trump administration considers excluding transgender soldiers and Texas weighs an anti-transgender bathroom bill.
"It feels particularly important in this moment where the trans community is under attack in so many different ways and has been under this administration," Transgender Law Center executive director Kris Hayashi told Axios.
https://www.axios.com/newsletters/axios-login-e6174ad5-24cd-4344-99e4-11476886e811.html?chunk=4#story4
Found: Kalanick's missing texts
Lawyers for ex-Uber CEO Travis Kalanick have told Alphabet's self-driving car unit that they have recovered more than 400 missing text messages and will start turning them over today, according to new court documents.
Last month, Waymo complained that Uber was withholding evidence, including Kalanick's text messages with Anthony Levandowski, the former employee at the center of Waymo's trade secret theft lawsuit against Uber. Because the text messages were not initially found, Waymo accused him of deleting them.
Why this matters: Kia points out that one of the biggest questions is whether Uber/Travis knew what Levandowski was doing and helped him do it. So far, Uber has argued that they had no idea and Levandowski was just a rogue actor.
https://www.axios.com/newsletters/axios-login-e6174ad5-24cd-4344-99e4-11476886e811.html?chunk=5#story5
Take note
On tap: As mentioned, Apple reports earnings after the markets close...The Global Internet Forum to Counter Terrorism, formed last month by Twitter, Facebook, Microsoft, and YouTube, will hold its first meeting today in San Francisco.
Trading places: Robotics and self-driving startup Zoox has hired Brandon Pearce, a rocket scientist (literally!), as VP of sense and compute; Pearce was previously at Virgin Galactic and before that spent a decade at SpaceX...Former Twitter engineering VP Mike Abbott is leaving VC firm Kleiner Perkins, where he has spent the past five years, according to Recode...Thomas Hansen, who had been the top sales executive at Dropbox, is joining security firm Carbon Black as chief revenue officer.
ICYMI: A British "prankster" convinced White House officials to share their account information with him by posing as Jared Kushner, CNN reported...Facebook has acquired chatbot maker Ozlo and will make it a part of its Messenger team...Linden Lab, which created the pioneering virtual world Second Life, has kicked off a public beta for its VR-based effort, known as Sansar; the move comes just as rival Altspace is shutting down...U.S. companies are bracing for EU privacy laws going into effect next year, Sara and Kim report.
https://www.axios.com/newsletters/axios-login-e6174ad5-24cd-4344-99e4-11476886e811.html?chunk=6#story6
After you Login
Watch newly minted Lyft director Valerie Jarrett interview then-Uber CEO Kalanick at last year's Global Entrepreneurship Summit in San Jose.