June 01, 2018
I'm headed back to San Francisco today in order to be back in the Bay Area for Apple's Worldwide Developer Conference, which begins Monday. Speaking of which...
1 big thing: Apple's WWDC opportunity
When Apple speaks to developers next week, pay close attention to what the company says about two key areas: augmented reality and digital health.
Augmented reality is an area that Apple CEO Tim Cook believes strongly in and where Apple is investing heavily to be a leader.
It added AR capabilities in last year's iPhone hardware and software and is expected to do more throughout 2018.
On health, Apple has been working on the area in two ways.
One is technology that helps people exercise more, access their medical records, etc.
The other relates to well being — that is, healthfully using its tech products. Google talked up such features for Android at its developer conference last month, and Bloomberg reports that Apple will do the same on Monday.
Be smart: Apple, like its competitors, is scrambling to demonstrate that it is not a digital-addiction-peddling, privacy-invading corporate monster. Since it's less in the business of profiting from user data, it stands to be in a better position than Facebook and Google in this regard.
What to expect: Apple almost always uses its developer conference to introduce new versions of its Mac and iPhone operating systems and this year should be no exception.
What not to expect: A lot of new hardware. Apple often has some new hardware and could well have new accessories or even a new Mac at the show, but this isn't the time or place Apple makes big consumer product introductions.
The bottom line: As Axios first reported in January, Apple has delayed some features originally planned for this year's iOS and Mac OS updates to focus on improving the reliability of its software. Still, the areas where Apple is investing are key to its future success.
Go deeper: Read my full story in the Axios stream.
2. SF housing activists block tech buses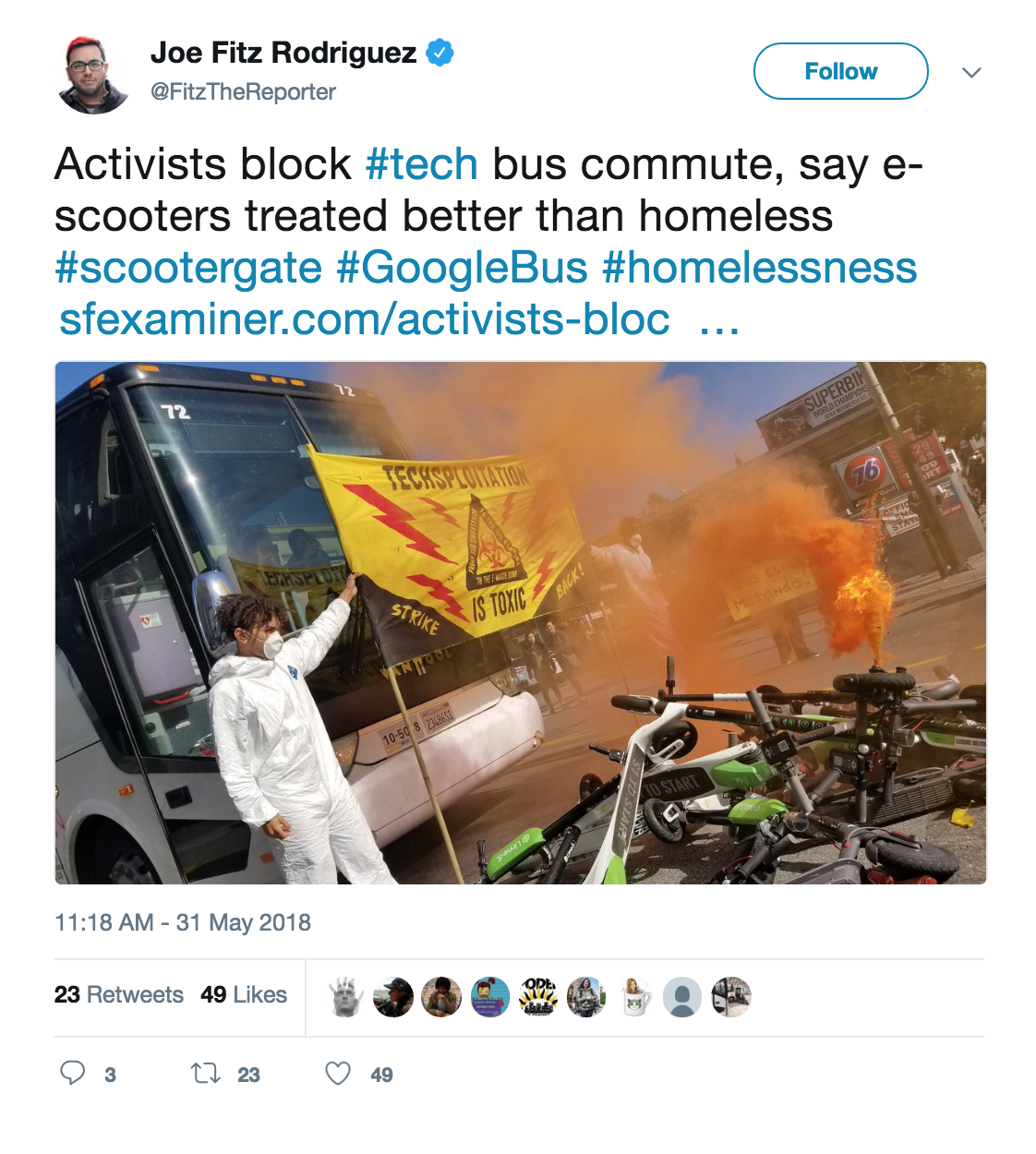 Here's another entry in the already fierce battle for most 2018 tech story of the year. As seen in the tweet above, housing activists in San Francisco blocked private shuttle buses with scooters on Thursday.
What's happening: Protestors were trying to call attention to the city's failure to help its homeless population and its focus on catering to tech companies, according to the San Francisco Examiner.
Why it matters: San Francisco — along with the Bay Area at large — has increasingly struggled with the influx of well-paid tech workers and its pressure on housing stock, which is making it difficult for many residents to afford housing.
3. Teens are losing interest in Facebook
Teenagers aged 13 to 17 are losing interest in Facebook, with only 51% using the social media platform — a drop of 20 percentage points since 2015, according to a new study released Thursday by Pew Research Center, Axios' Khorri Atkinson writes.
The breakdown, per Pew's study conducted March 7–April 10, 2018:
YouTube is now said to be their most popular platform — with 85% of teens saying they use it.
72% say they are active users of Instagram.
69% say they use Snapchat actively.
The popularity for Twitter is 32% among teens, while Reddit ranks among the lowest in teen usage at 7%.
4. Waymo weighs selling self-driving cars to consumers
Amid all the talk about companies rolling out ride-hailing services with self-driving cars, Waymo snuck in a twist to its plans via an announcement yesterday with Fiat Chrysler: The two companies have started discussing how they could sell self-driving cars to consumers.
Why it matters: By and large, companies working on self-driving cars have envisioned the vehicles being owned by businesses that offer rides as a service to consumers, reports Axios' Kia Kokalitcheva. These cars will be expensive (at least at the beginning) and more efficiently utilized by ride-hailing services, many argue.
Even Tesla, whose CEO Elon Musk has described eventually selling his company's self-driving cars to consumers, predicts that they'll add their vehicles to shared-car fleets so others can pay to use them while the owner is on vacation or at work.
Of course, Waymo still intends to provide ride-hailing services. Just on Wednesday, Uber CEO Dara Khosrowshahi said at the Code conference in Southern California that the company is talking to Waymo about possibly having its self-driving cars offered as an option to Uber customers.
5. SV Angel won't raise another fund
As Axios' Dan Primack scooped yesterday, Ron and Topher Conway have decided to stop raising new money. Going forward, they will invest only their own funds under the SV Angel moniker.
Why it matters: SV Angel has backed such firms as Airbnb, Pinterest and Twitter.
6. Take Note
On Tap
Trading Places
Matterport named former Apple iTunes executive Chris Bell as its chief marketing officer. 
ICYMI
7. After you Login
I think Friday calls for a dog photo. So here's"Darth Pupper," from my Axios colleague Bubba Atkinson.