Axios Login
July 26, 2017
No plugins are required to read today's Login.
Flash's not-so-fond farewell
Adobe may have been a little misty-eyed as it announced plans to phase out Flash, but there was little love from the rest of the internet.
"End of an error," wrote Glenn Fleishman in a tweet, offering his change to the wording of Microsoft's blog, which called it the end of an era.
"Ding dong. It's finally dead," longtime Apple watcher and former Macworld editor Jason Snell wrote on his blog, Six Colors.
Credit Steve Jobs: In explaining Flash's demise, many pointed to Apple's decision not to support the plugin on the iPhone and iPad as well as Steve Jobs' 2010 criticism of Flash as proprietary, insecure, and a battery hog.
Yes, but: There were other stumbles too, including a failed effort to get Flash running on Android, which Adobe later shelved.
The long goodbye: Just a reminder that Flash will be with us for a while longer. Adobe isn't ending support until 2020, with security and compatibility updates planned until then. Browser makers, some of whom have already started making it tougher for Flash to run, will gradually become more restrictive of Flash content before ending support entirely alongside Adobe.
Silicon Valley no longer has a lock on software developers
Think everyone in software works in the Bay Area? Think again. A new study by The App Association shows that 89% of U.S. software developers actually live and work outside of the Bay Area.
Why it matters: Software is the basis for the technologies — and therefore jobs — of the future: self-driving cars, augmented reality, and artificial intelligence, to name a few. The high cost of living in Silicon Valley has driven some workers elsewhere and therefore tech companies are starting to branch out to other cities to capitalize on that migration. For example, big names like Apple and Google now have engineering offices in Seattle, providing competition for talent to local companies Microsoft and Amazon.
My thought bubble: This as a healthy sign for Silicon Valley and the software industry. Most key companies are still based in the Bay Area, with outposts elsewhere. But there are others based in hubs like Seattle and Boston. Having more jobs in more places, especially as software becomes more important, should help the U.S. industry to both grow and diversify.
Kim has more here.
About those big plants Trump says Apple is building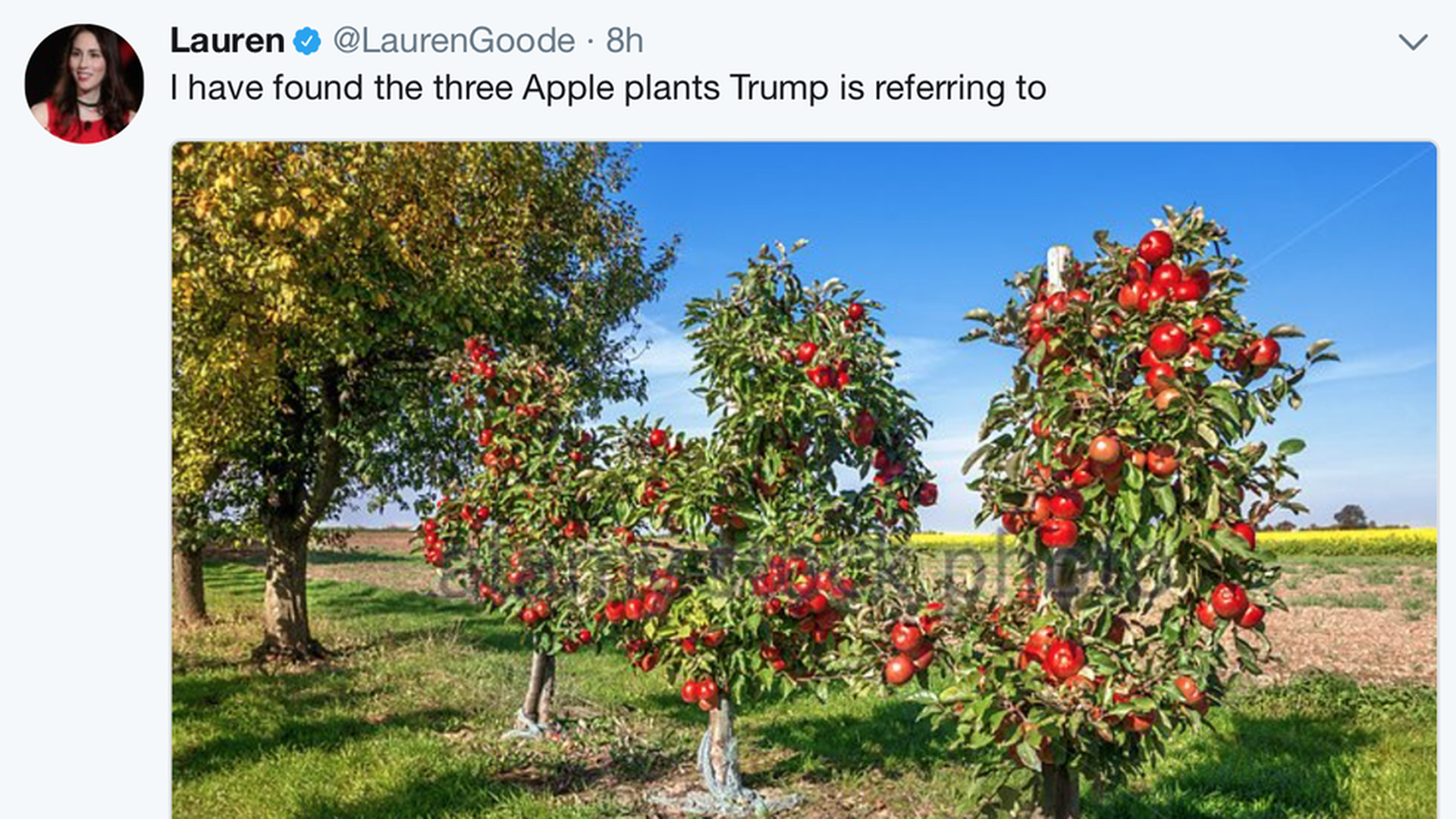 President Trump told the Wall Street Journal that Apple is building "three big plants, beautiful plants" in the U.S. He wouldn't say where they would be located or what they would make, but he promised they would be "big, big, big."
Apple offered up only a big "no comment," but it's worth pointing out that Apple doesn't do much of its own manufacturing, so it's possible they are talking about one or more of Apple's suppliers or contract manufacturers doing more work here.
Or maybe: The Verge's Lauren Goode is on to something.
Impossible's plant-based burger goes mainstream
Speaking of plants, Impossible Foods' plant-based burger is no longer impossibly hard to find.
Initially limited to a few high-end restaurants, Impossible Foods' burger has been expanding in recent months to a number of "better burger" chains across the nation, including Umami Burger, Hopdoddy, and Bareburger. Plus, it's at four standalone locations of the popular Bay Area chain Gott's Roadside.
His only beef: The biggest challenge, founder Joel Gott says, is the fact that Gott's has to form the patties by hand, forcing it to decide ahead of time how many to make for the day. That should change soon as Impossible begins producing pre-made patties from a new Oakland, Calif., facility.
More than burgers: While Impossible's focus for the foreseeable future is expanding its burger business from 50 locations to more than 1,000, the company eventually wants to take on many more products, CEO Pat Brown said at a launch event at Gott's popular SF Ferry Building location.
If the Gott's burger is any indication, they are off to a pretty good start.
Take note
On tap: Black Hat continues in Las Vegas, with Facebook chief security officer Alex Stamos set to give a keynote speech talking about missed opportunities in the last year and the need for the security community to think more broadly in its approach...Earnings include Live Nation, Ford, and Gorilla Glass maker Corning.
Trading places: Lots of movement to report. Joel Lunenfeld, VP of brand and creative strategy for Twitter announced (in a tweet storm, fittingly) that he is leaving the company to work with his non-profit...Chris Handman, the general counsel for Snap Inc., is stepping down, according to The Information...Blue Apron announced that COO and co-founder Matthew Wadiak will depart the company, but remain an advisor.
ICYMI: The SEC has determined that initial coin offerings may count as securities for regulatory purposes...GPS maker TomTom may end its foray into the wearables business amid weak sales...Ransomware victims have paid out at least $25 million over the last two years, according to a new study from researchers at Google, The Verge reports...A federal judge ordered Apple to pay $506 million to the University of Wisconsin's patent-licensing arm for infringing a semiconductor patent...The U.K. joins a growing ban on gasoline-powered cars, which could have a broad impact, Axios' Steve LeVine says.