Welcome back. We're happy to be back in your inbox. Ina is still vacationing so I'll be your host today. Comments, questions, tips are all welcome — just reply to this email. Let's dive right in.
https://www.axios.com/newsletters/axios-login-bba5674f-dc3b-4aae-8b49-8d62670e2de3.html?chunk=0#story0
Silicon Valley's new political reality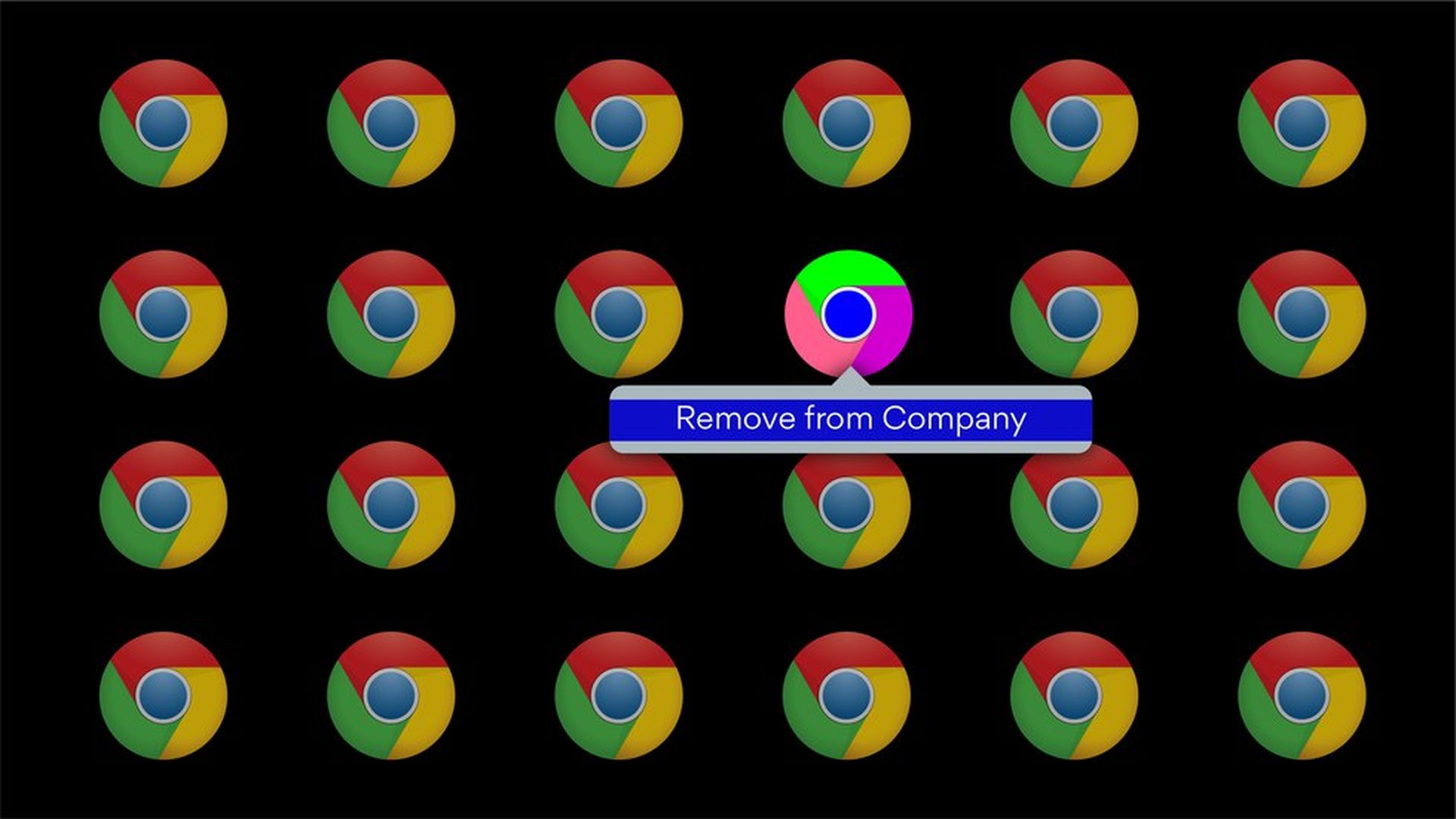 The left-coast has found itself in a war with the alt-right.
Tension between mostly progressive Silicon Valley and conservatives who feel singled out and marginalized by it has been bubbling under the surface for some time, but that dynamic has been brought into sharper focus by the response from both sides to the Google diversity memo and the firing of its author, James Damore.
What's happening now: Google — and Silicon Valley as a whole — is facing a rising campaign in what's being seen as a turning point in the online culture wars. The debate has only grown as animosity between the right and the left took a violent turn in Charlottesville on Saturday:
Protests: "Now, the pro-Trump media say that Damore's newfound fame is indicative of a bigger movement — an all-out protest against Silicon Valley," writes BuzzFeed's Charlie Warzel in his breakdown of how the pro-Trump media saw Damore as a compelling hero and gave him a national platform.
Anti-Google ads: These have appeared around California with phrases like "search for diversity of thought somewhere else," per Business Insider.
March: Protestors are expected to march on Google this Saturday at Google offices around the country. On Sunday, march organizer Jack Posobiec posted a note on its website condemning the Charlottesville violence as well as "silencing free speech as a means of promoting any political agenda."
The bigger picture: Google is far from the only tech company alt-right groups take issue with. They see a number of platforms from Airbnb to Twitter and Facebook as taking steps to intentionally sideline or even silence them by banning certain listings and posts. The Google memo offered a vehicle to push the narrative mainstream.
Go deeper:
In Washington, Silicon Valley companies are already dealing with an abrupt attitude change toward them on a number of fronts: antitrust concerns, bias on their platforms and their role in the rise of job-killing AI, to name a few, as my colleague Mike Allen recently explained.
In Silicon Valley, the populist phenomenon is banging on the door of many who've taken pride in avoiding politics. Steve Hilton, who played a key role in British conservative politics before moving to Silicon Valley, tells the NYT: "The last couple years, I've been trying to convey to people what lies behind the phenomenon," he said. "There's a lot of: 'Well, what about Mexicans? What about women?' Well, O.K., but there's a really big issue that life for half the country has gotten increasingly grim."
https://www.axios.com/newsletters/axios-login-bba5674f-dc3b-4aae-8b49-8d62670e2de3.html?chunk=1#story1
Twitter users trying to identify Charlottesville protesters
Twitter users, notably the @YesYoureRacist account, have been publishing photos of protesters who participated in the white supremacist march in Charlottesville and asking users to help identify them, Recode reports.
Identifying someone by name from a public photo doesn't appear to violate Twitter's policies, Recode writes, even though publishing private information like a home address typically would.
Twitter was also used by tech leaders to denounce the violence. Apple CEO Tim Cook tweeted: "Heartbreaking scenes in #Charlottesville. Violence and racism have no place in America." Twitter boss Jack Dorsey retweeted Joe Biden's tweet, "There is only one side. #Charlottesville"
Go deeper: Axios' Alexi McCammond has what you need to know about the chaos in Charlottesville.
https://www.axios.com/newsletters/axios-login-bba5674f-dc3b-4aae-8b49-8d62670e2de3.html?chunk=2#story2
Quip CEO Bret Taylor: It's our "moral obligation" to retrain workers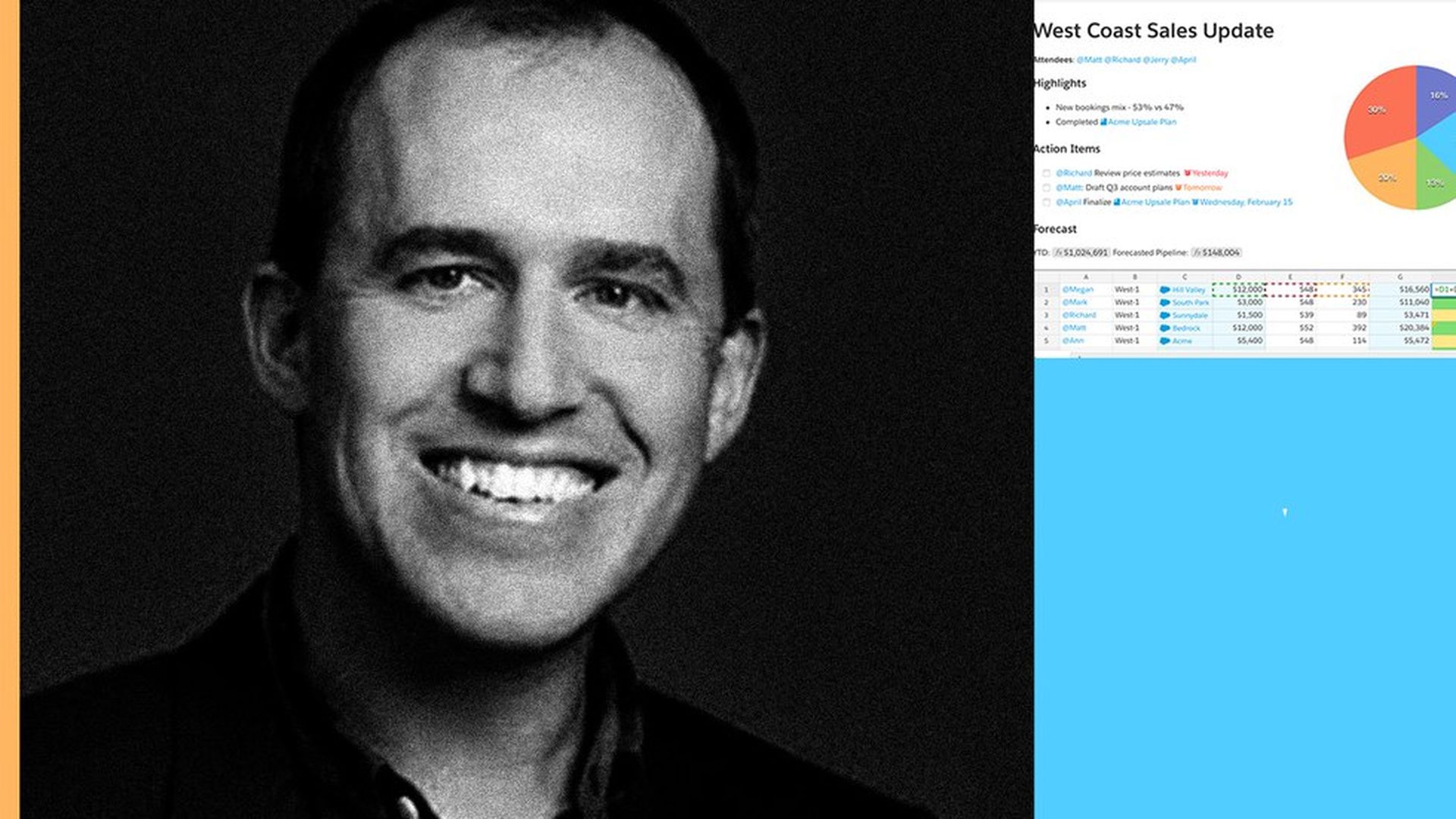 Bret Taylor has certainly been around the Silicon Valley block. He began his career at Google, was CTO of Facebook, founded a couple of startups, and is now at Salesforce after it acquired his latest company, Quip — a tool for online document and project management.
Axios' Kia Kokalitcheva recently asked him about how automation and AI are shaping how people work.
Taylor's answer:
It's just helping people get their jobs done better and more efficiently, to make better decisions.[Salesforce CEO] Marc [Benioff] has been talking a lot about apprenticeships and kind of training people for new jobs, and where the act of learning and the act of getting a job are sort of intertwined. I think that type of vision is a really meaningful thing, that we've really put our money where our mouth is as a company.I think that as much as we are going to be a part of introducing this new automation technology, I think we also want to be a part of enabling people to retrain themselves in new skills, and there's sort of a moral obligation to be a part of that transformation.
Check out Kia's full interview here.
Meanwhile, on Friday, Elon Musk tweeted about concerns over AI safety and added, "Nobody likes being regulated, but everything (cars, planes, food, drugs, etc) that's a danger to the public is regulated. AI should be too."
https://www.axios.com/newsletters/axios-login-bba5674f-dc3b-4aae-8b49-8d62670e2de3.html?chunk=3#story3
China cracks down on big tech
Beijing regulators are cracking down on global tech companies trying to penetrate the lucrative Chinese consumer data and communications market, Axios' Sara Fischer reports.
In the past few weeks, China added WhatsApp to its list of blocked properties in the country and cracked down on apps within Apple's App Store in China that allow users to get around content filters. Now, the Chinese government is threatening to take action against some of China's biggest tech monopolies, like Tencent and Baidu, arguing they pose national security threats.
Why it matters: China has emerged as one of the most lucrative markets in the new global trade war for consumer data, and it's leveraging that position for power and security, putting strains on global tech companies' ability to penetrate the Chinese market. The crackdowns of media and telecommunications companies, including Chinese ones, are reflective of the aggressive position China has taken on censoring communications to retain power and control in a communist state.
Some companies are looking for shortcuts: On Friday, the NYT reported that Facebook authorized a copycat app to be built in China that could be used for photo sharing in the country, since Facebook has been blocked there since 2009.
Meanwhile, happening today: As Axios' Jonathan Swan reported over the weekend, "[President] Trump will initiate a U.S. government process to crack down on Beijing for stealing American intellectual property and forcing U.S. companies to hand over their technology as a cost of doing business in China."
https://www.axios.com/newsletters/axios-login-bba5674f-dc3b-4aae-8b49-8d62670e2de3.html?chunk=4#story4
Study: Ride-hailing services replace car ownership
Ride-hailing services like Uber and Lyft are replacing more than just taxis in some cities; they're also replacing (or at least reducing) car ownership, according to a new study by three universities, Kia writes.
Case study: For a year, Austin's residents and visitors had to make do without Uber or Lyft, which provided a rare opportunity for researchers to study their impact on local transportation. Though the results can't be generalized too much, here are a few interesting findings:
After Uber and Lyft suspended service, 41% of respondents instead used a personal vehicle for transportation — and 42% turned to another ride-hailing service in town.
People who were inconvenienced by the suspension were 30% more likely to switch to a personal car instead of using the smaller ride-hailing services that cropped up.
They were also five times more likely to buy a car as a result.
Bottom line:
There's no doubt that ride-hailing services like Uber and Lyft have replaced car ownership for some of their customers. And depending on a community's public transportation and environmental goals, ensuring that ride-hailing services are available to residents may be critical.
https://www.axios.com/newsletters/axios-login-bba5674f-dc3b-4aae-8b49-8d62670e2de3.html?chunk=5#story5
Take note
On tap: As mentioned above, Trump is expected to initiate action against China over intellectual property theft today...Cisco and Alibaba announce earnings this week
Trading places: Soundcloud says Kerry Trainor and Mike Weissman (both from Vimeo) will be joining as new CEO and COO; Alexander Ljung will continue as chairman...Former Samsung SVP Marc Shedroff has joined Twitter as VP Global Business & Product Partnerships, overseeing areas including business development and syndication...Shonda Rhimes exits ABC and signs multi-year contract with Netflix, first reported by WSJ.
ICYMI: The FCC extended the deadline for net neutrality comments until Aug. 30...Researchers find more than 4,000 apps that secretly record audio and steal logs, ArsTechnica reports...Bitcoin passes $4,000 and shows no signs of stopping, per TechCrunch...Uber's board considers 3 investment offers to buy company's shares, by NYT...Wired writes on what is behind DeLorean Aerospace's flying car plans...A look at the world's top cyber powers, by Axios' Shannon Vavra...GoDaddy booted white supremacist site the Daily Stormer for violating terms of service after Charlottesville, per TechCrunch.
https://www.axios.com/newsletters/axios-login-bba5674f-dc3b-4aae-8b49-8d62670e2de3.html?chunk=6#story6
After you Login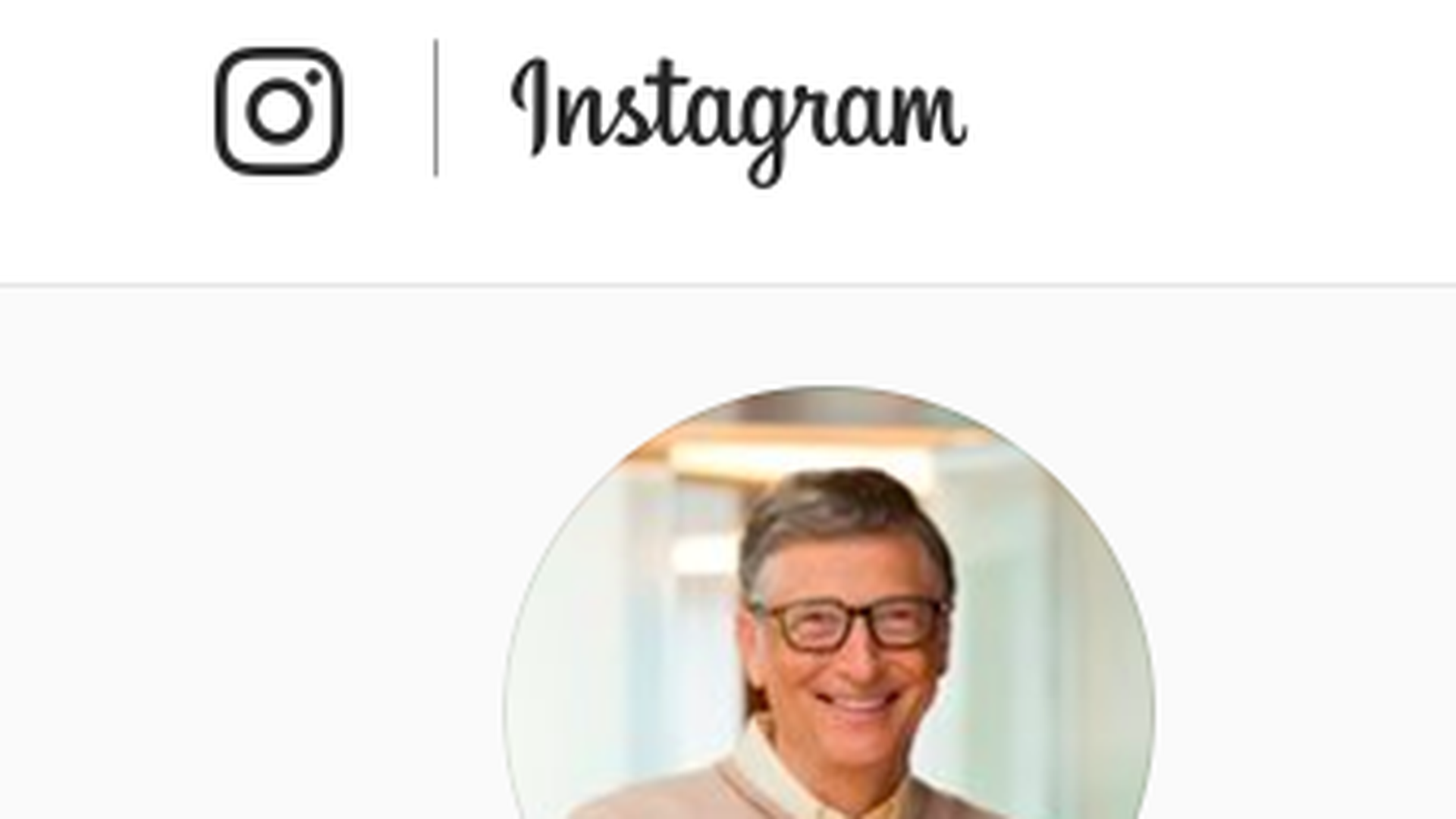 Need a new face to follow on Instagram? A billionaire, perhaps? Bill Gates just joined on Friday, and he already has more than 186k followers (he gained 50k followers in less than 24 hours). His profile says he'll be "Sharing things I'm learning through my foundation work and other interests."