This whole sending us tips thing really does work. See item No. 2.
Transgender techies gather in San Francisco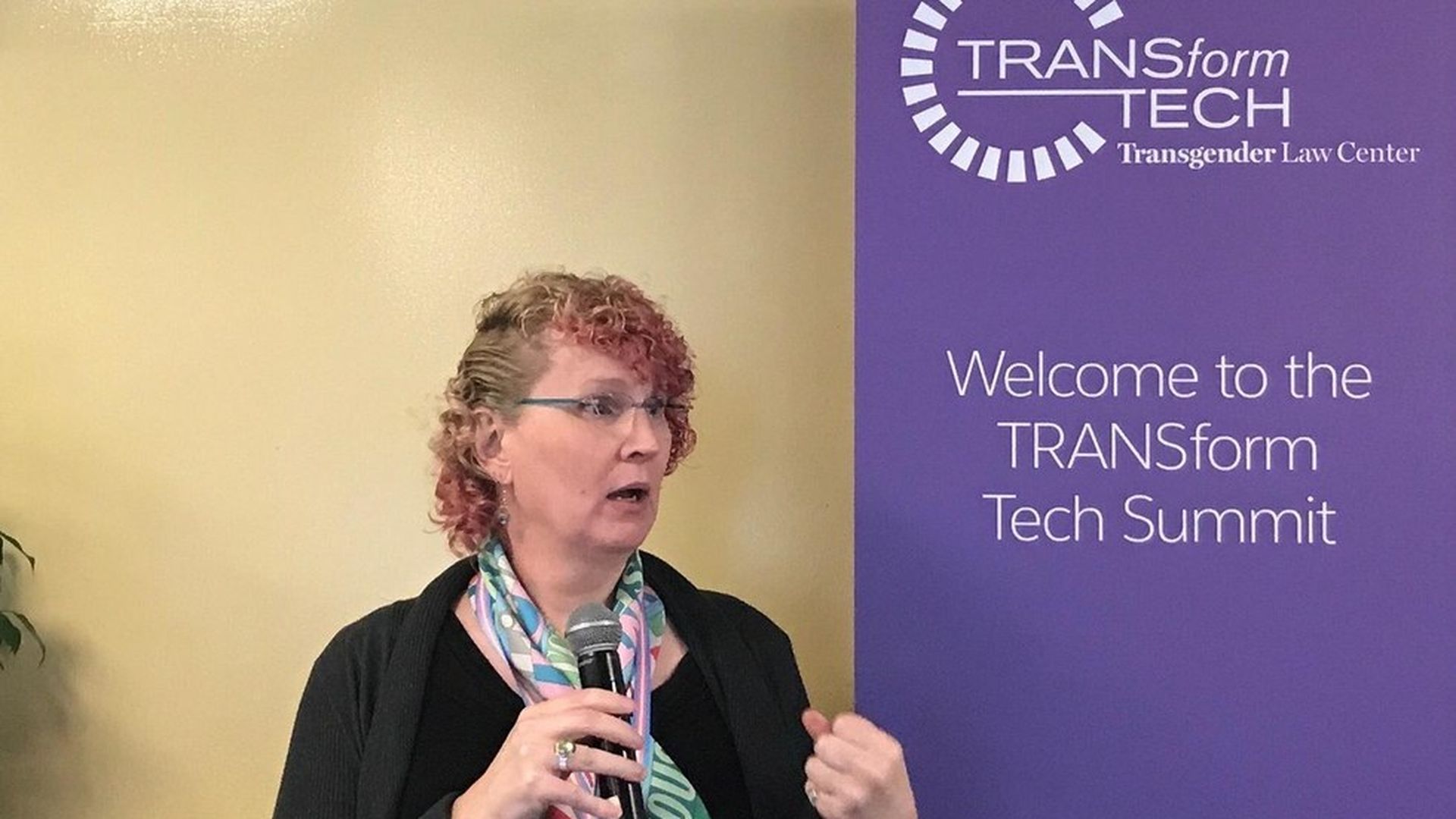 Transgender people have been involved in tech for a long time. Indeed, several tech industry pioneers have been trans women, including Lynn Conway and Naomi Ceder.
But, with the rise of the transgender movement, the numbers in the industry have risen. On Thursday, a group of transgender and nonbinary techies gathered at Salesforce's offices in San Francisco to examine the issues for trans people in tech and the role tech people can play in the transgender civil rights movement.
The discussion: Talks ranged from people discussing their transitions on the job, to sharing best practices on data gathering to programs designed to help transgender workers land their first job in tech.
Emotional moment: Perhaps the high point of the event came when the 20-year-old son of Salesforce chief equality officer Tony Prophet dialed in via video chat from college during the lunchtime session to talk about what it meant to to him as a young trans person to see all these transgender tech workers gathering in one place.
"It means there are people out there that will support you," Ashton Prophet said. "That means everything, at least to me."
For more from the event, check out this post.
Google is testing Google Hire
Google has been quietly testing a job applicant tracking system that appears to rival services like Greenhouse and Lever, Kia reported on Thursday.
Google Hire, as the service is currently dubbed, lets employers post job listings, then accept and manage applications, according to job listing links spotted by Axios reader Colin Heilbut. So far, several tech companies seem to be using (or testing) Google Hire, including Medisas, Poynt, DramaFever, SingleHop, and CoreOS.
Enterprise push: Google Hire seems to be the latest project under Google's enterprise and cloud division, led by Diane Greene. An email address inside the product references "Bebop," the name of Greene's startup that Google acquired in 2015.
T-Mobile spends $8 billion in FCC spectrum auction
The winners were finally announced in the government's long-running auction to redistribute spectrum from the broadcast TV industry to wireless carriers. The major buyers included T-Mobile, Dish Network and Comcast, David reports.
T-Mobile, the largest bidder at almost $8 billion, boasted of its win, with CEO John Legere calling it "a BFD for our customers!"
The backstory: The auction was the first where the FCC bought valuable airwaves from broadcasters and resold them to wireless carriers.
What's next: The FCC has to redistribute the spectrum, which involves moving television stations who sold their spectrum as part of the auction. It also remains to be seen what the winners will do with their spectrum, especially Dish which has been amassing a huge chunk of airwaves but has yet to launch any services.
End of auction could mean the start of merger talks
The conclusion of the landmark FCC airwaves auction marks the beginning of what could be a frenetic period of mergers and acquisitions in the wireless space. The most heavily rumored deal would be a combination of T-Mobile and Sprint.
Wireless carriers weren't allowed to talk during the auction, making it hard for anyone to craft deals. The prohibition on industry chatter lifts April 27, opening the door to possible matchmaking.
Straight Path bidding war
Speaking of spectrum and M&As, Reuters reported last night that Verizon is considering topping AT&T's bid for Straight Path Communications.
Why is Straight Path suddenly so popular? Because it holds a large amount of millimeter-wave spectrum that the FCC has approved for use in 5G networks — and AT&T and Verizon both have big 5G ambitions.
AI = new cyber risks
The big fear around artificial intelligence is often the science-fiction nightmare of computers taking control from humans. But there are other, perhaps more likely, things to worry about. KPMG security experts write in the Harvard Business Review about some of the other scary scenarios possible with AI and cognitive computing.
Cognitive technology relies on good information fed into the system. "But, bad human actors — say, a disgruntled employee or rogue outsiders — could hijack the system, enter misleading or inaccurate data, and hold it hostage by withholding mission-critical information or by 'teaching' the computer to process data inappropriately."
A hacker can pose as a bot to gain access to vast data. "Security monitoring systems are sometimes configured to ignore 'bot' or 'machine access' logs to reduce the large volume of systemic access. But this can allow a malicious intruder, masquerading as a bot, to gain access to systems for long periods of time — and go largely undetected."
Bottom line: When dealing with humans, the source of a security breach can be isolated. But with AI breaches, damage can turn massive in a matter of seconds and can be hard to trace —and therefore hard to correct — quickly.
After you Login
Check out Transgender Law Center's resources for companies looking to create inclusive space for trans and nonbinary employees.
It's not too late to get in on the tip action. Send your tips to ina@axios.com or just reply to this email.