October 05, 2020
If you want a break from talking about health and political crises, you can join Axios' Erica Pandey tomorrow at 12:30pm ET for a conversation on how businesses build capacity for organizational change with MassMutual CEO Roger Crandall, Clorox Company SVP and CCO Troy Datcher and Doctor on Demand CEO Hill Ferguson. 
Today's Login is 1,298 words, a 5-minute read.
1 big thing: Everyone turns to Twitter as Trump battles COVID-19
As Americans collectively process the president's bout with COVID-19, they are solidifying Twitter's role as both our national water cooler and key source of official and unofficial information.
Why it matters: Twitter's architecture makes it a natural forum to turn to during key news moments, and the crisis has shown the platform's continuing value in that role. But the moment is also displaying many of the service's weaknesses — a vulnerability to rumor and speculation, security gaps, and inconsistent rules enforcement.
Driving the news:
The president first revealed his positive test for coronavirus on Twitter at 1am Friday. Official confirmation came quickly, but still several minutes later. Subsequent videos and statements from the president have also come via Twitter, though he's tweeting a lot less than has been typical.
With the public receiving limited and contradictory information on the president's health, Twitter has also been a place for medical professionals to analyze the information coming out about Trump's health.
With many Trump campaign and White House staffers themselves out of the loop, Twitter has also served as their main source of information, as the Wall Street Journal and others report.
The big picture: Facebook has also been an information source during the crisis, and has taken action against some posts connecting the president's illness with election-related misinformation.
Even TikTok has played a role, as Kellyanne Conway's daughter used that service to announce her mother's COVID-19 diagnosis, which the former White House adviser then confirmed on Twitter.
But Twitter has played the most central role for several reasons.
It is public by default.
It favors real-time posts, unlike Facebook whose algorithm weights engagement over timeliness.
It is the president's go-to medium, and is widely used by journalists, politicians and medical professionals.
People used Twitter to share everything from their experiences with dexamethasone, the steroid Trump is on; to how both parties ought to handle the situation; to expressing their disapproval of Trump's Sunday SUV ride.
Yes, but: Baseless, evidence-free conspiracy theories have also flourished about the president's health, including suggestions that Trump's illness isn't real.
The "Trump is faking it" conspiracy theory is spreading widely on Twitter and Reddit, according to data provided to Axios from social intelligence firm Zignal Labs, which analyzed the top storylines related to Trump's COVID-19 diagnosis from 12:01am on Oct. 2 onwards.
My thought bubble: As I and others have pointed out since before Trump took office, the president's continued reliance on Twitter to convey messages that have a national security impact is a risky practice.
Among other reasons, there is no sure-fire way to know if his account had been compromised.
In this case, the tweet in which the president confirmed he had COVID-19 was authentic. However, a tweet from a hacked presidential account would look identical.
Also, with Twitter and other social media platforms, you can never be sure whether the account holder or a surrogate is actually writing a post.
Given the sparse medical info the public has received and concerns over the president's fitness to carry out his duties, our ignorance of who's doing the typing could become a more troubling problem.
2. Twitter's policy of wishing people ill gets tested
Twitter invited a torrent of criticism after publicly saying Friday that it would take action against those who wished severe illness or death on the president, citing its broad prohibition against such expressions.
The big picture: While that policy has been on the books since April, many Twitter users — especially women, LGBTQ people, people with disabilities and people of color — say they have reported such abuse in the past and the service has rarely taken action.
The point is being made by everyone from movie reviewers to members of Congress to activists and ordinary people sharing their stories of harassment and threats that did not lead to enforcement action: Marginalized groups endure threats and wishes for ill on a daily basis on Twitter.
What they're saying:
Shorenstein Center research director Joan Donovan: "For all of us that have been subject to threats where nothing has been done, this is a bitter pill. For those of us who have witnessed twitter users wishing death upon other politicians because they are women of color, this is a disgrace."
Rep. Alexandria Ocasio-Cortez: "So... you mean to tell us you could've done this the whole time?"
Twitter responded Saturday: "We hear the voices who feel that we're enforcing some policies inconsistently. We agree we must do better, and we are working together inside to do so."
Meanwhile: Facebook said it would enforce a similar policy, but only for those who tag the president in their comments, or post them on his page.
3. Exclusive: Figma nabs Google veteran
Figma, a popular online design tool, has hired Ken Norton, the product veteran who left Google last week after 14 years there, to be Figma's director of product, Axios has learned.
Why it matters: Though not well known outside design circles, Figma is part of a growing group of online workplace tools that have carved out a valuable and significant role in contemporary corporate life.
What they're saying: In an interview, Norton and Figma CEO Dylan Field confirmed the hire.
Norton said he always assumed he would leave Google for a job that called to him, saying he ended up staying at the company far longer than he expected, most recently in GV, one of its venture capital units.
After using Figma for nine months, he said he approached the company about joining.
The big picture: Figma has also seen some novel uses amid the pandemic. Field said it has been used for everything from serving as a remote whiteboard to creating a virtual Silicon Valley to engaging in a little multiplayer Pong.
But its main focus is on expanding the use of its product among designers and building a greater community. A new option encourages those using the site to share some of their creations under a Creative Commons license that allows others to make use of and remix the designs.
"We think we've got so much more to do on collaboration," Field said.
4. Big companies widen lead in AI research
The cripplingly high computational costs of top-notch AI research increasingly means that only a handful of big companies are able to do top-flight AI research, Axios' Bryan Walsh reports, citing a new study.
Why it matters: AI will do more than any other technology to shape our future. If only the Googles and the Microsofts of the world have the resources needed to move the field forward, it will solidify their power — and possibly strangle innovation.
By the numbers: It likely cost the Microsoft-funded research group OpenAI more than $10 million to train GPT-3, its cutting-edge, new natural language processing algorithm, according to the annual State of AI Report published Thursday.
That's because these models are created by essentially throwing ever-increasing amounts of data at the thorny problems of AI. Processing all of that data takes lots of computational power — and compute costs money.
Of note: OpenAI was originally founded as a nonprofit with the purpose of pursuing AI research for the benefit of all humanity.
But last year it set up a for-profit arm and accepted a billion-dollar investment from Microsoft.
Last month Microsoft announced it would be exclusively licensing GPT-3.
Context: In the future the costs of developing these massive models may become prohibitive even for the richest tech companies.
The report found that without major research breakthroughs, reducing the error rate for ImageNet — a massive database used for visual recognition research — from 11.5% to 1% could cost $100 billion billion. (Yes that's two "billions.")
5. Take Note
On Tap
A long-awaited report from the House Judiciary Committee on Big Tech and antitrust — which had been expected to come today, before the president's hospitalization upended D.C. schedules — is now seen coming early this week.
ICYMI
6. After you Login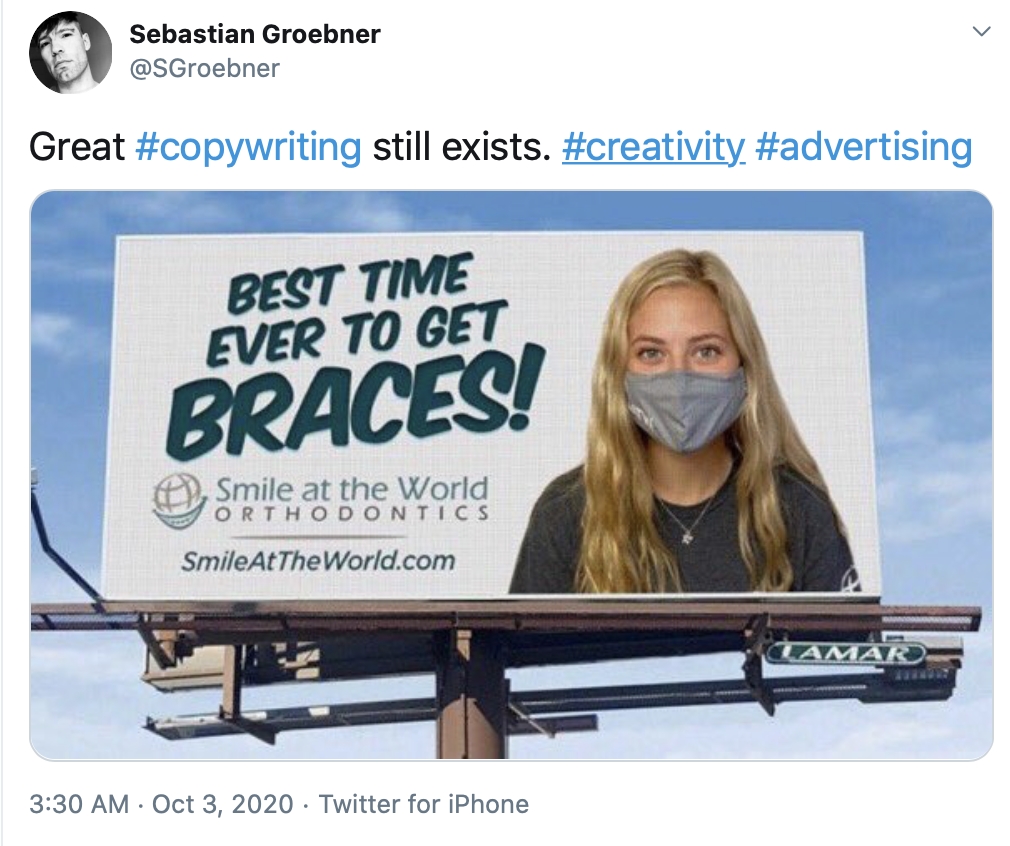 This is just brilliant marketing — because it's true. Now is probably a pretty good time to get braces, if you have to.