Axios Login
December 11, 2017
Good morning from D.C. I'll be hosting this party for the next 48 hours while Ina and Kim are out of town. As always, you can reply directly to this email and it'll go straight to my inbox. It's Monday and you lead a busy life — so let's get to the news.
How Ajit Pai tore up the rulebook this year
FCC chairman Ajit Pai has rewritten the rules of the information age so thoroughly that there's no mode of communication under his control where the regulations aren't looser than they were a year ago.
Why it matters: Many top Republican priorities have been stuck in Washington gridlock since Trump took office. Not so at the FCC. They're looking for another win when the FCC votes Thursday on Pai's controversial plan to repeal the net neutrality rules that have been in place since 2015.
While some of these moves were bipartisan, Pai's most aggressive proposals have divided the FCC and the nation. He's actively courted the right — most recently launching a broadside against Silicon Valley that attracted support from Trump backers — and inspired scorn on the left.
At an event last week, Democratic Sen. Elizabeth Warren called him the "point man" for a "corporate takeover of the FCC."
The big question: What impact will Pai's deregulatory spree really have on consumers?
His deregulation of the broadcast industry opens the door to more consolidation among the outlets where most Americans get their local news. More people could, for example, end up reading a newspaper in the morning owned by the same company as the station that produces their newscast in the evening.
Watch for more zero-rating plays from big broadband providers, where they don't charge for a certain service like streaming, potentially favoring content they produce. That could, however, matter less with so many consumers on unlimited wireless data plans.
Internet service providers will be able to offer paid "fast lanes" to edge providers — Netflix, Hulu, etc. That's a cost that could be passed along to consumers. Startups also worry those sorts of arrangements would make it harder to compete with the big players.
Yes, but: Big changes for consumers won't come immediately.
"In five years, we'll probably know whether eliminating the net neutrality rules was a mistake or smart policy, but in 2018 the internet will look exactly the same to consumers regardless of what the FCC does," Paul Gallant of the Cowen Washington Research Group tells Axios.
Go deeper: Flip through our card deck on Pai's biggest deregulatory moves in the Axios stream.
Catch up fast on net neutrality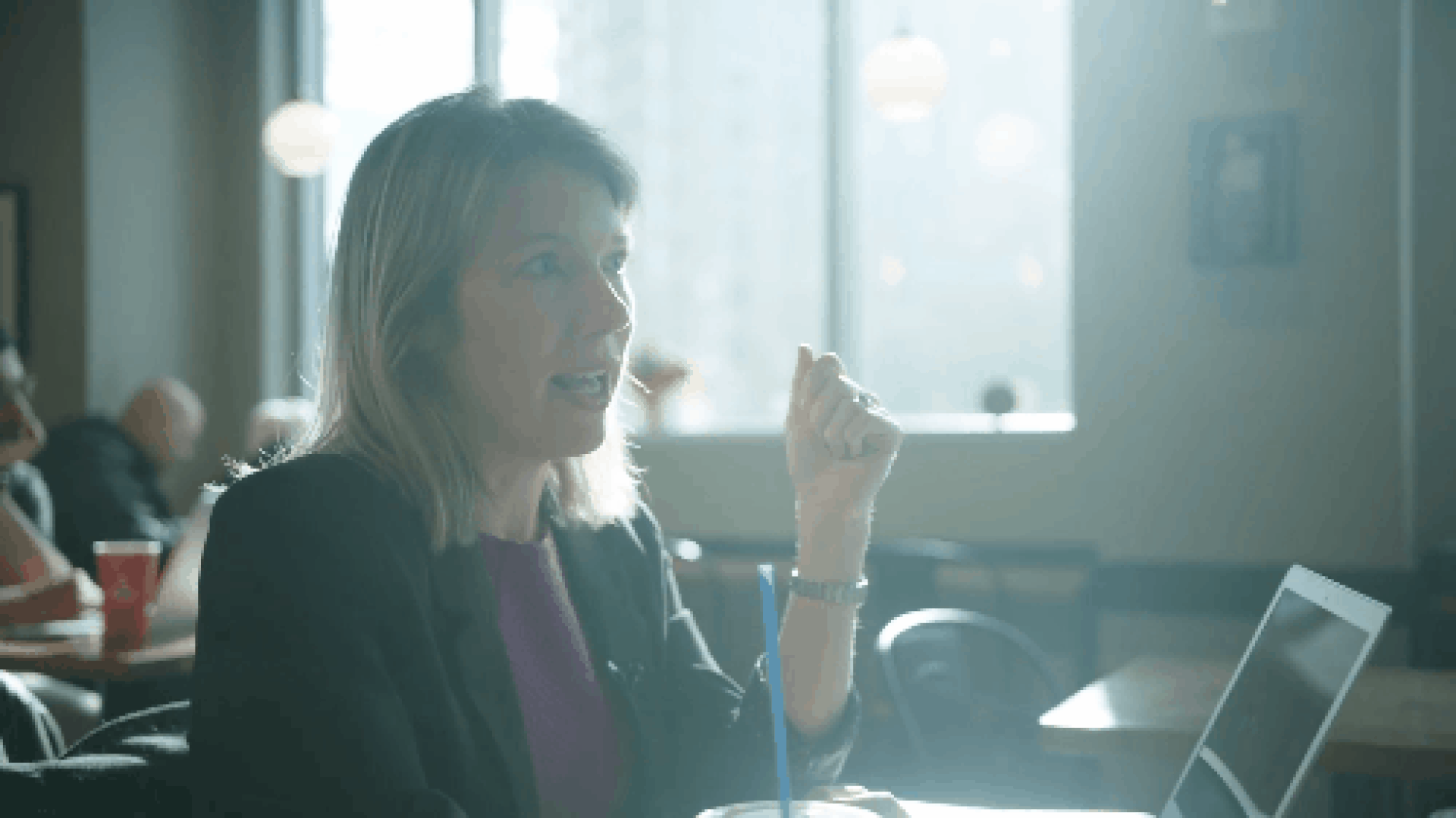 Axios' Kim Hart joins Sourced with everything you need to know ahead of the big vote. Watch it here.
Asus CEO on his company's advantage over its PC rivals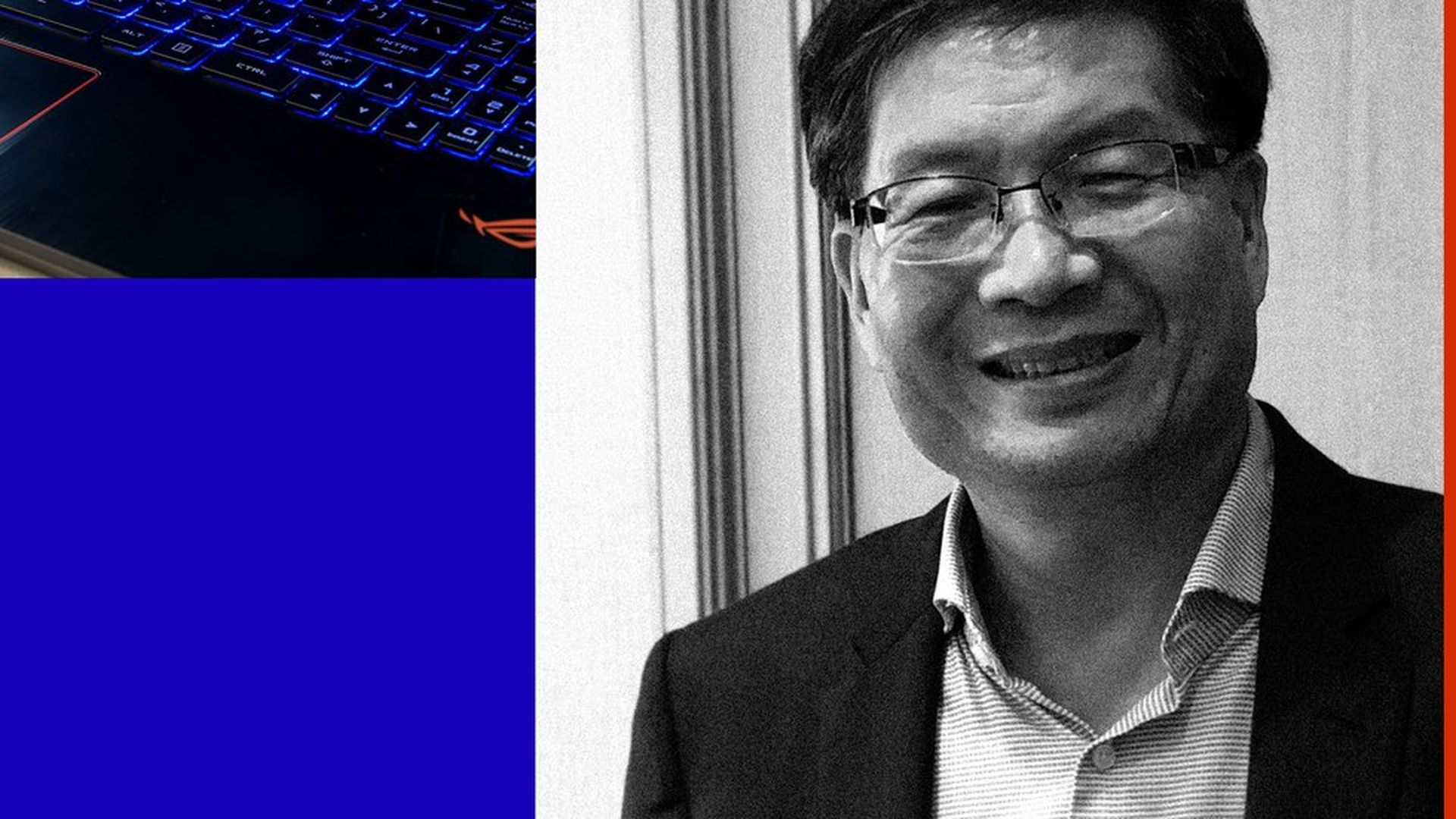 Asus is known for being willing to try new things. The Taiwanese computer maker first attracted notice in 2007, when it introduced the Eee PC, the first tiny, low-cost "netbook." Since then, it has tried phones that become tablets, tablet-sized phones and other novel designs.
What's happening now: It's not surprising that when Qualcomm and Microsoft came up with the notion of always-connected Windows 10 PCs, Asus was among the first to sign up.
Asus CEO Jerry Shen says such devices play to the company's strengths:
"Almost all the PC players cannot do the smartphone well," Shen told Axios in an interview at last week's Snapdragon Summit in Maui. "We are lucky; we can do both."
Why it matters: Being a PC maker is tough. Being a smaller PC maker is even tougher. Having smartphone chops might just be Asus' ticket to survival in a brutally competitive market.
Read more: Ina's conversation with Shen is here.
1 big idea: The "Uberization" of the Fortune 500
More companies are using software to assign tasks to full-time workers similar to the on-demand economy, Sam Schechner writes for the Wall Street Journal. GE and Shell are trying out the approach. Both told the paper they're going to expand those projects in the new year.
"Companies say the new tools make them more efficient and give employees more opportunities to do new kinds of work. ... Researchers say the shift could lead to narrower roles for some managers and displace others," WSJ writes.
Our thought bubble: Axios' Steve LeVine (sign up for his weekly Future of Work newsletter) joins me in saying that after decades of shearing off layers of workers at the bottom of the pyramid, automation is bubbling up into management, threatening middle-ranking jobs and, eventually, officers on top of the corporate ladder.
The C-suite — CEOs, CTOs and so on — seems highly unlikely to be at risk. But below that, look out.
In Washington, the conversation about the implications of algorithms and big data is still in the "policy makers asking lots of questions" phase.
For your calendar: On Tuesday, the Senate Commerce Committee holds a hearing on artificial intelligence.
Tweet of the weekend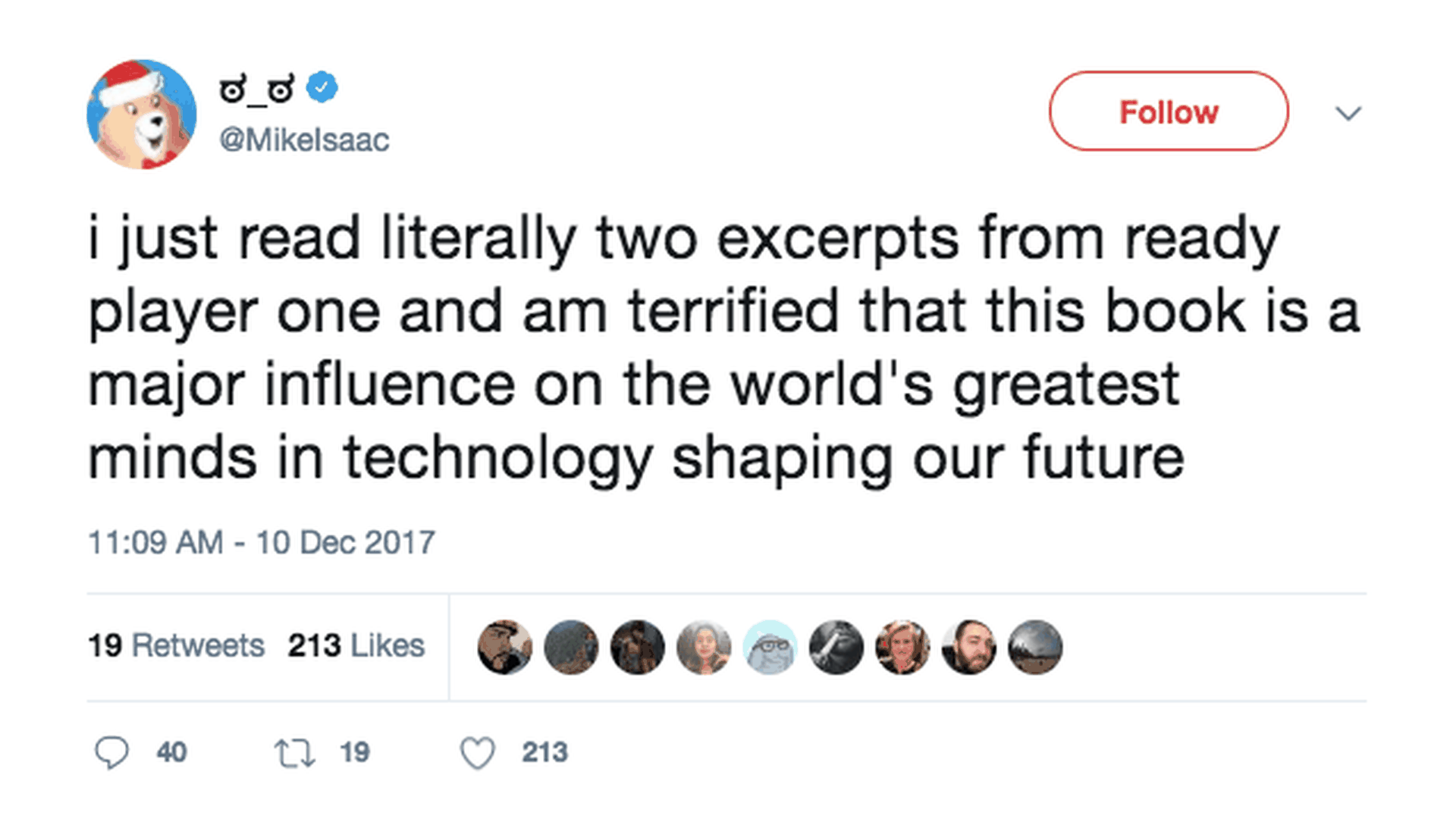 This whole Twitter conversation about Ernest Cline's 2011 thriller seems especially relevant with the book's film adaptation by Steven Spielberg dropping next year. (Warner Bros. just released a new trailer.)
But Ready Player One is also an outlier to a broader trend I've noticed. Earlier this year, Business Insider spoke to 24 "big names in tech" about what books they were reading. The vast majority of them were nonfiction. That was also true of Y Combinator's list of summer reading recommendations.
Earlier this year, FT's Hannah Kuchler floated the idea of creating the "humanities equivalent of coding schools" that would "would give techies a taste of what they missed at college — perhaps even with reading lists themed around the most urgent problems their companies face."
Take note
On tap:
Juniper Networks' NXTWORK kicks off in San Francisco.
Trading places:
ICYMI: