Hi from Washington, D.C., where I am in town for a couple days to compare notes with my Axios colleagues.
https://www.axios.com/newsletters/axios-login-937f4490-ce20-4a85-9d5b-7963da8eb978.html?chunk=0#story0
Twitter is testing ability to share longer Tweets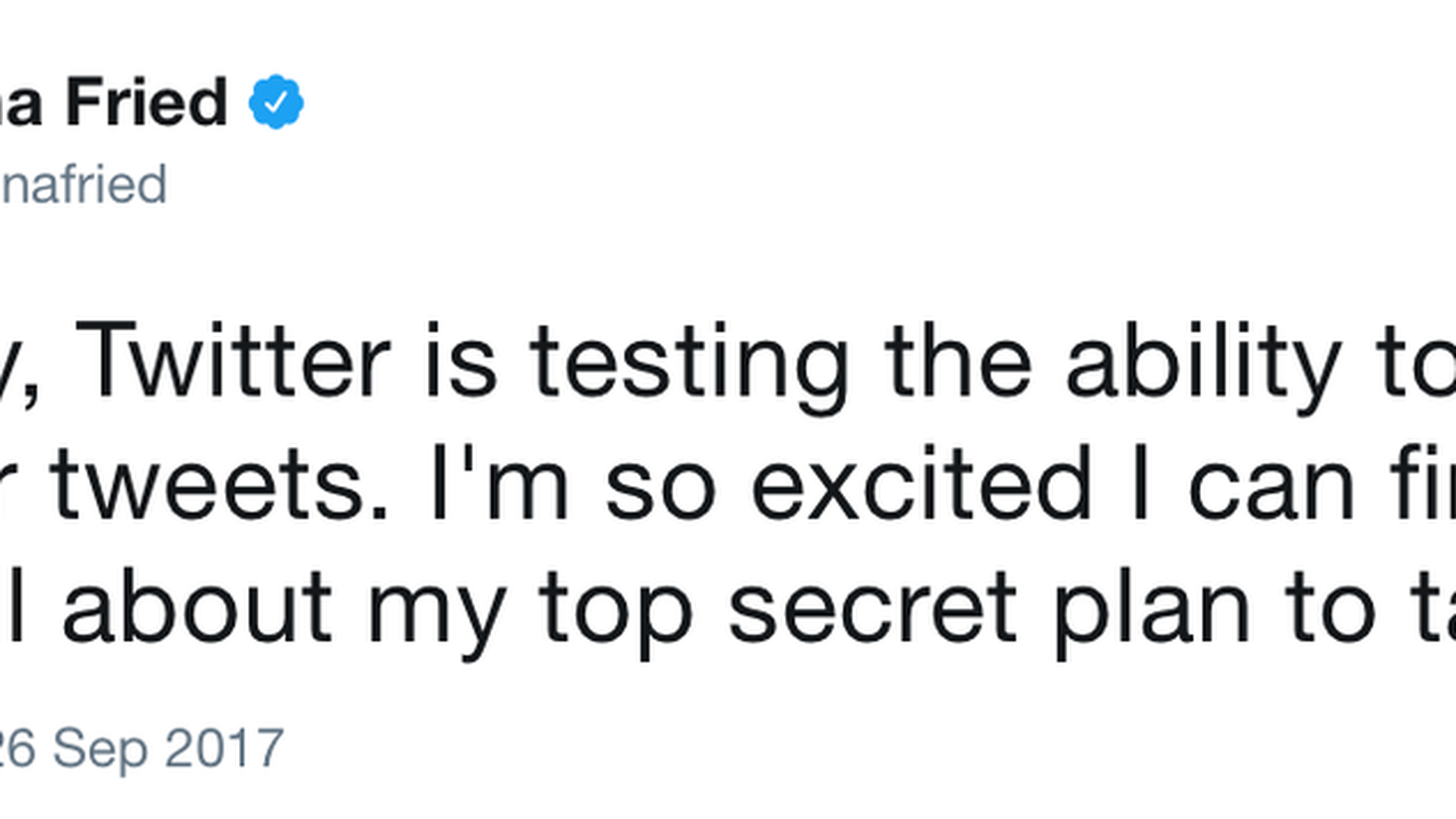 If you've ever felt constrained by Twitter's 140-character limit, rejoice. The short messaging service is testing the ability to share messages that are up to twice that length.
Twitter CEO Jack Dorsey summed up the issue in his own 280-character tweet:
"This is a small change, but a big move for us. 140 was an arbitrary choice based on the 160 character SMS limit. Proud of how thoughtful the team has been in solving a real problem people have when trying to tweet. And at the same time maintaining our brevity, speed, and essence!"
Reactions: It's something that many people want, but there is also concern over fundamentally changing Twitter's nature.
Here are some of the best reactions — from Twitter of course:
https://www.axios.com/newsletters/axios-login-937f4490-ce20-4a85-9d5b-7963da8eb978.html?chunk=1#story1
Some takeaways from Advertising Week NYC
There was a lot to digest from Advertising Week NYC on Tuesday. Here's a round-up from Axios' Sara Fischer.
The big announcements: Instagram still exploding: Facebook's Carolyn Everson announced that Instagram now has 800 million monthly and 500 million daily active users, up from 700 million in less than a month. Sorrell softens on Duopoly: Sir Martin Sorrell, CEO of mega-agency WPP, says Google and Facebook are now "Flexible Friends," not "frenemies," since so much responsibility comes with their scale and they're under increasing government pressure to regulate. Unilever speaks out: Unilever CMO Keith Weed says viewability is still a big problem and urged for more measurement accountability across major platforms. Facebook finally gets NFL deal: Facebook and the NFL announced a two-year partnership to stream highlight clips on Facebook Watch from NFL games.#AM2DM debuts: The new Buzzfeed/Twitter show that was launched Monday broke some news and received great reviews. Crazy Facebook stats for Group Nine: Group Nine's Ben Lerer announced that since joining Facebook Watch less than a month ago, it's had 100 million views and 100 million minutes viewed.Amazon launches messaging: Amazon Web Services Pinpoint launched a two-way global messaging service.Still to come:Wednesday: Ad Week's longest panel "Red, White and Blue," a two-hour highlight event that will talk about marketing internationally alongside the current "America First" agenda.Wednesday: Google and Walmart executives will sit together on a panel, just weeks after announcing a new shopping partnership.Thursday: Snapchat's Imran Khan and HBO's Richard Plepler will talk about connecting with consumers on mobile.
https://www.axios.com/newsletters/axios-login-937f4490-ce20-4a85-9d5b-7963da8eb978.html?chunk=2#story2
Google pulls plug on YouTube for Amazon Echo Show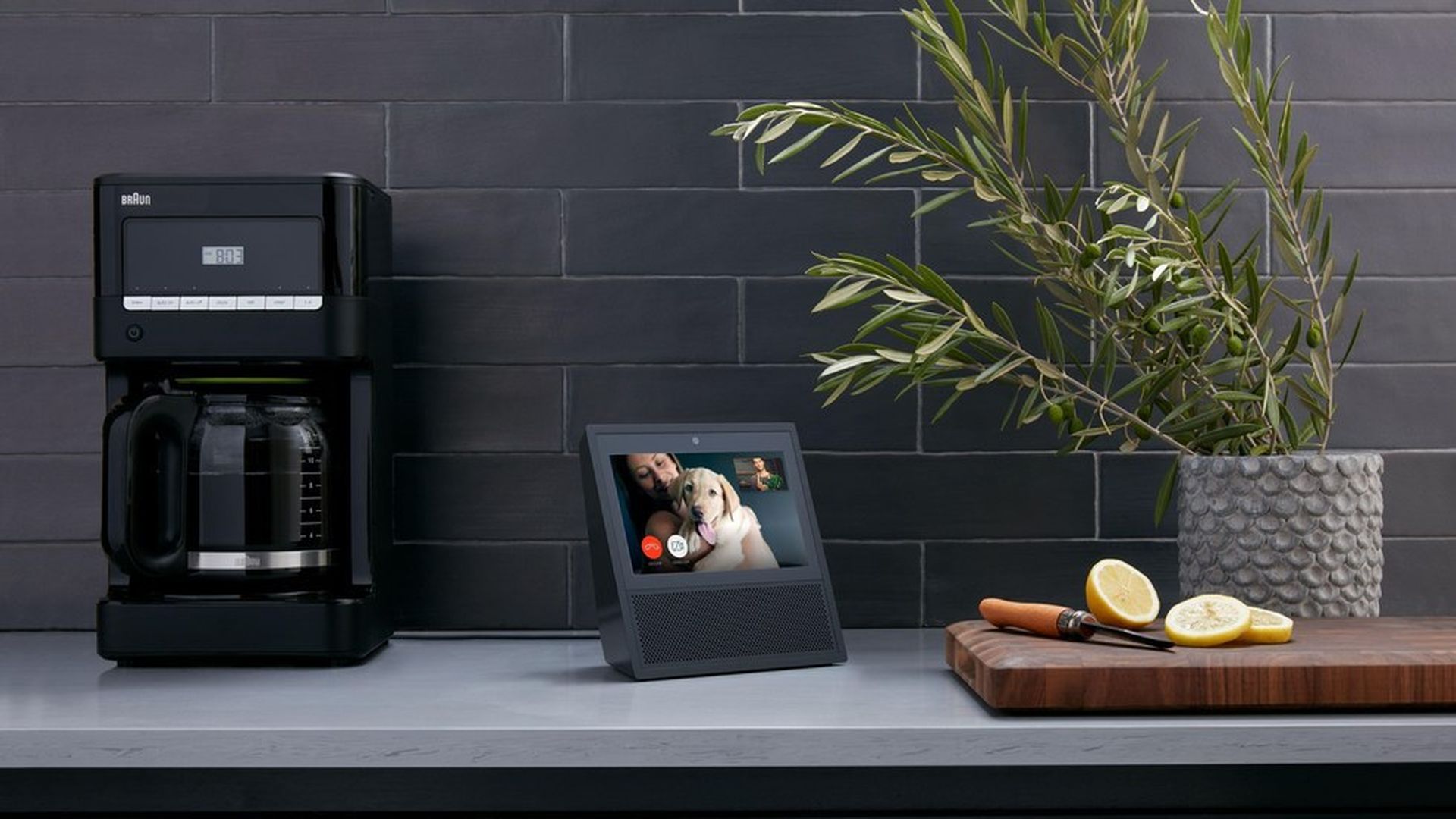 If you were planning to watch YouTube on your Amazon Echo Show, you might need to switch channels. Support for the Google-owned video service was abruptly pulled from the touchscreen Amazon device on Tuesday in what the latest salvo in a Cold War between Google and Amazon.
Why it matters: While consumers would generally like to see all their video services work on all devices, that often isn't the case. Apple and Amazon, for example, have only recently made peace after a spat that saw Apple TV pulled from Amazon's virtual shelves.
As for Google and Amazon, the two companies are rivals in a number of areas including cloud computing, TV streaming devices, and subscription content, not to mention the battle between Amazon's Alexa and Google's Assistant.
The Verge spoke to them about this "not-so-fun fight":
Amazon's take
"Google made a change today at around 3 pm. YouTube used to be available to our shared customers on Echo Show. As of this afternoon, Google has chosen to no longer make YouTube available on Echo Show, without explanation and without notification to customers. There is no technical reason for that decision, which is disappointing and hurts both of our customers."
Google's take
"We've been in negotiations with Amazon for a long time, working towards an agreement that provides great experiences for customers on both platforms. Amazon's implementation of YouTube on the Echo Show violates our terms of service, creating a broken user experience. We hope to be able to reach an agreement and resolve these issues soon."
What's next? The Verge's Tom Warren wonders which Google products will soon be gone from Amazon. Amazon already doesn't sell Google's Chromecast or offer its Amazon Video service available on the Google device.
https://www.axios.com/newsletters/axios-login-937f4490-ce20-4a85-9d5b-7963da8eb978.html?chunk=3#story3
Obama's former chief of staff heads Rework America
Denis McDonough, former chief of staff to President Obama, has a new task: Getting more Americans a job in the modern workforce. McDonough has been tapped to chair Rework America, a Markle Foundation initiative.
"Many workers have the skills employers are looking for to fill open positions, but don't know it because too many job listings are written in a way that excludes qualified job seekers rather than attracting them," McDonough said. "They use credentials like a four-year degree as a proxy instead of listing the actual skills needed to work a job – which is a problem, since nearly seven in 10 Americans don't have a four-year degree but many have the relevant skills."
Big tech on board: Companies involved in the effort include Siemens USA, Microsoft, IBM, Princeton University, Hearsay Systems and Coursera.
Why it matters: Half of adults living in distressed zip codes are trying to find gainful employment in the modern economy armed with only a high school education at best.
https://www.axios.com/newsletters/axios-login-937f4490-ce20-4a85-9d5b-7963da8eb978.html?chunk=4#story4
The "intimate" data tech companies collect
The privacy debate tends to focus on how big companies handle "private" information like Social Security numbers, credit histories, financial transactions and medical records — tangible info that can easily be used to get a look at your life.
Yes, but: According to University of Pennsylvania computer science professor Michael Kearns, the most valuable data is "intimate" data.
Intimate data includes:
Opinions, attitudes, beliefs and moods that aren't written down anywhere, but can be inferred from your online behavior — the posts you like on Facebook, the photos you share on Snapchat, the videos you watch on YouTube, the items you buy on Amazon, your search queries, your location, etc.
Advances in machine learning, deep learning and neural networks is making it easier to see patterns across raw data. That means otherwise innocuous data points can be combined to derive a specific, and often times more valuable, look at your life.
"The most valuable data can't be measured in bits," Kearns said at an AT&T-hosted privacy event in D.C. Companies that have access to this information "can make all kinds of inferences about you and your life circumstances that you may not even know yourself."
https://www.axios.com/newsletters/axios-login-937f4490-ce20-4a85-9d5b-7963da8eb978.html?chunk=5#story5
Take note
On tap: Microsoft's Ignite conference wraps up in Orlando...Advertising Week NYC continues in the Big Apple.
Trading places: Timothy Blute, who headed a recent cybersecurity initiative at the National Governors Association, has been tapped to run NGA Future, a new technology-focused unit at the organization. Prior to NGA, Blute served as intelligence analyst in the FBI's Counterterrorism Division...AI security firm JASK has hired former Carbon Black executive J.J. Guy as its chief technology officer.
ICYMI: Ford and Lyft announced a partnership around self-driving vehicles in the latest deal between a traditional carmaker and a Silicon Valley tech firm ... T-Mobile bought out the rest of iWireless, a regional carrier serving Iowa and parts of other midwestern states ... NASA dedicated a new building in honor of Katherine Johnson, the women whose work helped inspire "Hidden Figures"... Apple, Samsung and Fitbit are among nine companies chosen to take part in a pilot program from the Food and Drug Administration aimed at easing the regulatory burden for those creating health-tech products...Axios' Steve LeVine explores how professional sports is looking at AI as a helpful tool.
https://www.axios.com/newsletters/axios-login-937f4490-ce20-4a85-9d5b-7963da8eb978.html?chunk=6#story6
After you Login
This man's persistent cough turned out not to be the lung tumor doctors suspected, but rather a toy traffic cone the man had swallowed 40 years earlier, when he was 7.