Axios Login
March 22, 2019
I'm headed to Denmark on special assignment. I can't say too much, but hope it clicks for some of you. Assuming you are not a complete brickhead you will figure it out. In any case, thanks in advance for all my co-workers who will help make sure Login doesn't skip a beat.
1 big thing: In AT&T and Viacom spat, cable customers lose out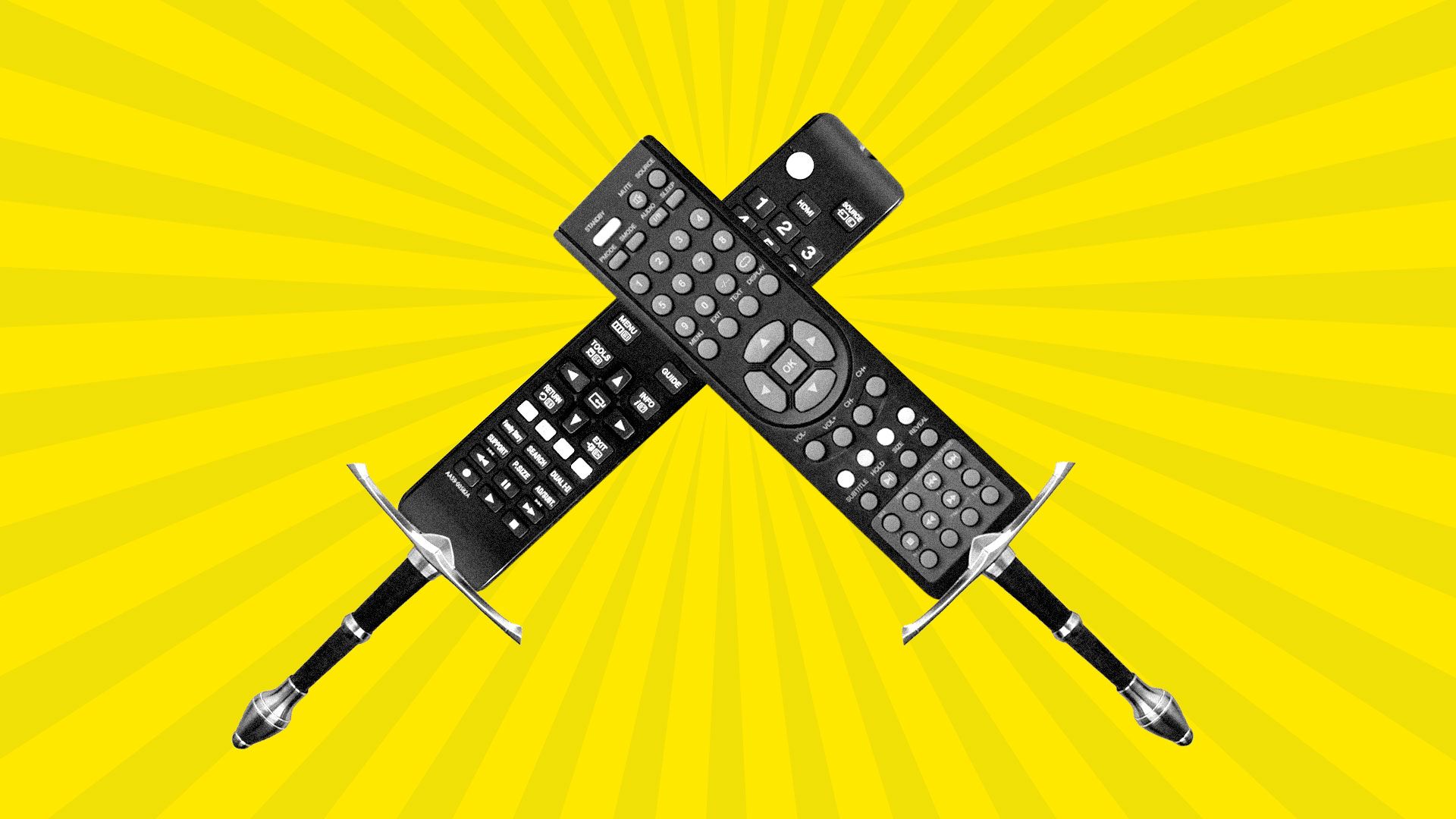 Barring a last-minute deal, millions of DirecTV customers will lose access to roughly two dozen Viacom channels like Nickelodeon, Comedy Central and VH1 at midnight Friday night because of a distribution dispute between DirecTV's parent company AT&T and Viacom, Axios' Sara Fischer writes.
Why it matters: Disputes like this one, driven by a shrinking traditional TV market, are leading to more programming blackouts for consumers, and could be forcing some smaller, niche cable channels out of business altogether.
Driving the news: AT&T and Viacom are struggling to reach a deal over how much AT&T should have to pay for Viacom's channels. Their current deal expires at midnight Friday. Viacom is also charging that AT&T is unfairly favoring the channels it owns.
Details: Viacom argues that AT&T is using its newfound market dominance, which resulted from its multibillion merger with Time Warner last summer, as leverage to drive consumers to the content it owns.
"Having recently acquired Time Warner, AT&T appears intent on using its new market power to prioritize its own content," Viacom CEO Bob Bakish wrote to staff.
AT&T said it's "on the side of customer choice" and that it "want(s) to keep Viacom's channels in our customers' lineups."
Analysts are split on what's best for AT&T's business. AT&T's stock has risen over the past few days, while Viacom's stock was down 5.5% as of late Thursday.
Flashback: Analysts that are bearish on the idea of AT&T dropping Viacom have been pointing to a similar situation from 2012.
"DirecTV dropped Viacom networks back in 2012 and it did not end well for DirecTV, with competitors seizing on the opportunity to capture market share at DirecTV's expense," BTIG media analyst Rich Greenfield wrote in a note to clients.
The big picture: Critics argue that AT&T's aggressive business behavior since its Time Warner acquisition breaks promises it made during the merger trial to not abuse its market dominance to harm consumers, either directly or by harming competitors.
One fun thing: Part of what's making this dispute so public is the outpouring of support for Viacom from its TV stars.
Actors and show hosts like RuPaul, Trevor Noah and even Lindsay Lohan have urged customers over the last few days to call AT&T and urge them to "keep Viacom" as part of a larger #keepviacom advocacy campaign.
The bottom line: Both companies are in a difficult position.
AT&T reported record subscriber losses late in 2018 and is at risk of losing more if this conflict angers consumers or gives them less reason to stick with its services.
Viacom risks a ratings hit ahead of the upfronts ad-buying season, the most lucrative calendar period for ad sales.
Consumers lose out most of all, as market dynamics deteriorate and they have to navigate the fallout from fights like this one.
2. Gaming without a controller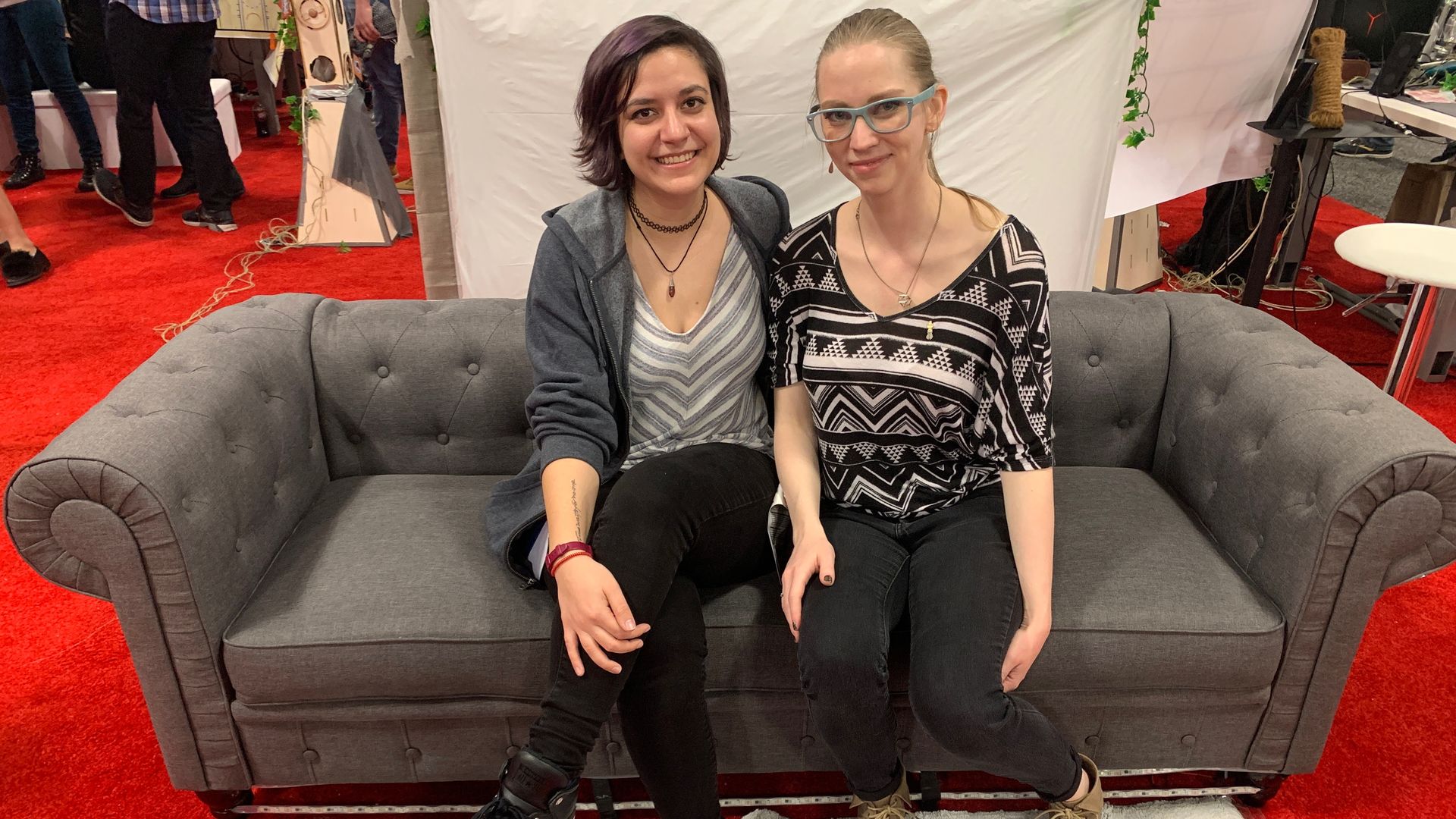 One of my favorite parts of this week's Game Developers Conference was a section called "Alt. Control. Delete." where developers had to build games operated using all manner of objects rather than a joystick, mouse or game controller.
Why it matters: As sensors show up in more places, the opportunity for everything to be a computer (or a game console) will only grow.
Among the creations was Plünge, a series of player vs. player mini-games that use toilet plungers as the controller.
But for me, the scene stealer was Hellcouch, the brainchild of NYU students Carol Mertz and Francesca Carletto-Leon, which uses a sensor-equipped couch as a controller.
The 3 couch-bound players have to sit and stand in response to a series of lights at their feet.
The project started as a joke a year ago when the 2 designers were taking a class on alternative controllers.
"It's something that is different," Carletto-Leon said. "Everyone knows how to sit on a couch. Nobody knows how to play a couch."
The bottom line: Your butt is the controller.
3. Tackling the Bay Area's housing crisis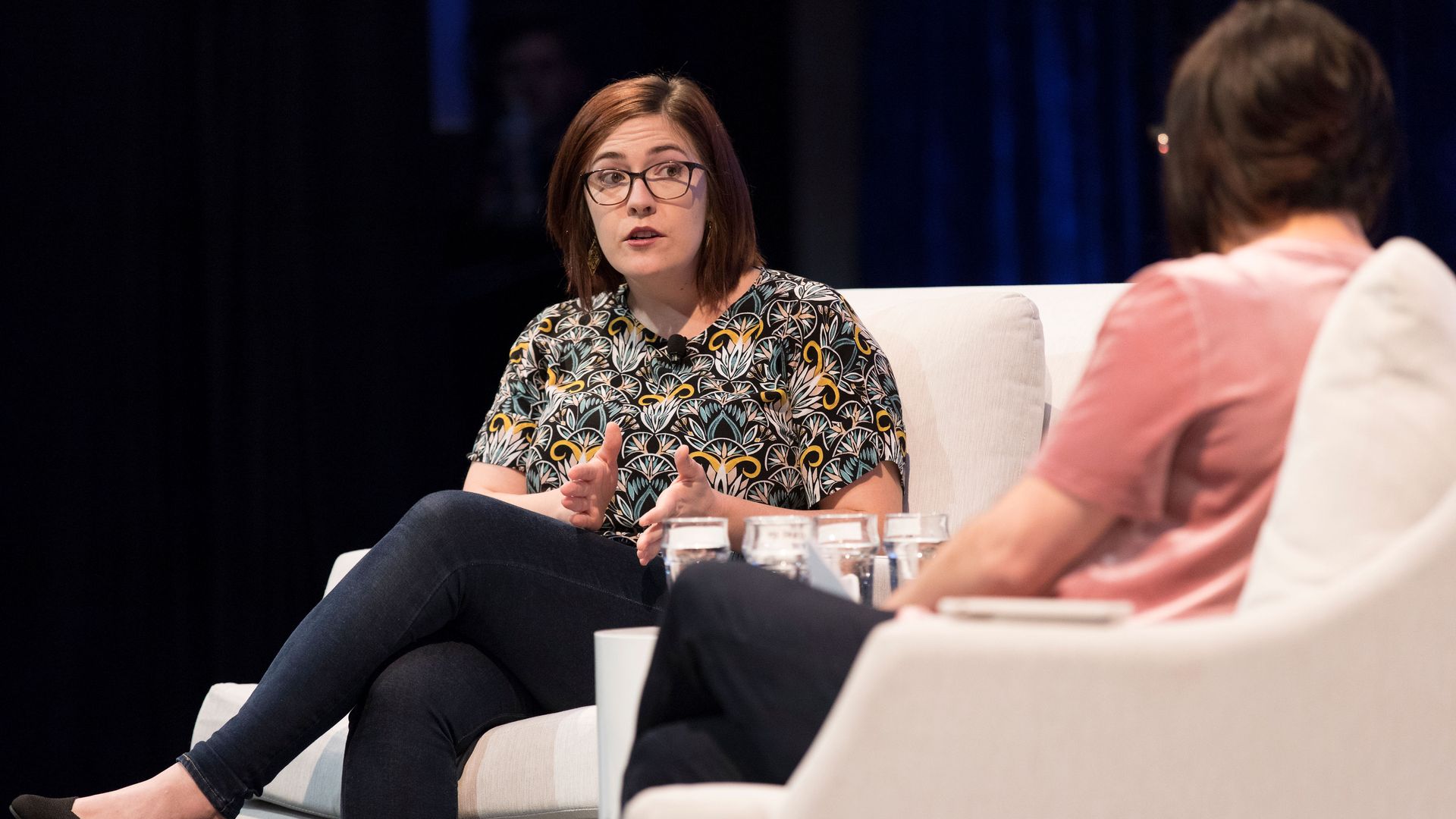 For Axios' first public event in San Francisco, we decided to take on a modest challenge — the Bay Area's housing crisis. All kidding aside, it's the issue on the minds of everyone who lives here, and all the hand-wringing in the world won't solve the issue.
By the numbers: The statistics are daunting, as noted by David Sobel, CEO of the San Francisco Housing Development Corporation.
The average San Francisco home price is $1.15 million, while the average rent is $4,700 per month.
The city has lost more than half of its African-American population, with fewer than 50,000 African-Americans now able to call San Francisco home. That's about 5% of the resident population as compared to around 12%–13% in the 1970s.
Perhaps most sobering of all, with the high prices of land, labor and raw materials, it now costs $650,000 to $850,000 per unit of "affordable housing."
That means the only way to actually build affordable housing is with significant subsidies. (Fortunately, a number of federal, state and local programs exist to help do that.)
What surprised me was the unanimity among the four panelists, who ranged from an economist to the leader of an affordable housing nonprofit — everyone agreed that a change in laws and mindset is needed to enable more construction of all types.
That includes everything from the types of large, subsidized buildings that Sobel builds, to the newfangled co-living projects built by Starcity, a Y Combinator-backed startup.
While sometimes derided as "dorms for millennials," Starcity CEO Jon Dishotsky said the buildings make efficient use of space, with residents getting more space than some studio apartments while paying rents that start at $800 per month.
The furnished units give each resident their own bedroom and bathroom and rely on a shared kitchen/living space that is cleaned daily.
Laura Foote, head of YIMBY Action, argued that the conflict need not be seen as a competition among affordable housing, luxury apartments and new types of living arrangements. All are desired and badly needed.
So if everyone realizes this, what's the problem? As you might guess from the name of her organization, it is the fact that so many people oppose large housing projects in their own neighborhoods.
A big part of the solution, Foote maintains, would be to allow all projects to be built as long as they conform to established rules. Today, each project must go through a process where any neighbor can object and, in many cases, slow or thwart the plan.
The bottom line: Every unit of housing that gets built eases a tiny bit of pressure and has the long-term effect of moderating prices.
4. Uber and Pinterest move closer to IPOs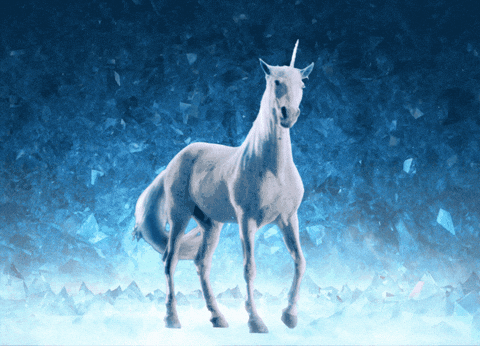 The parade of unicorns heading toward Wall Street continues.
Bloomberg reported Thursday that Uber is said to have chosen to list on the New York Stock Exchange. The ride-hailing giant is expected to go public next month.
Pinterest, meanwhile, is speeding up its plans to go public, per the Wall Street Journal. Pinterest has also chosen to list on the NYSE and is expected to make public its SEC paperwork as early as today, the WSJ reported.
Meanwhile, Lyft is seeking to go public at a price of between $62 and $68 per share and is on its pre-IPO roadshow this week.
Why it matters: Opportunities to go public can close in a hurry. With the window open, many of tech's best known private companies are looking to pass through to the other side and cash in.
5. Take Note
On Tap
Game Developers Conference wraps up in San Francisco.
Trading Places
President Trump named Michael Kratsios as U.S. chief technology officer. The post has been vacant for the 2+ years of the Trump administration, with Kratsios having been deputy CTO.
Video chat app Houseparty elevated co-founder and COO Sima Sistani as its new CEO. Ben Rubin, who has been running the company since it was known as Meerkat, will join its board. (The Verge)
ICYMI
Layoffs have begun at former 21st Century Fox properties following their acquisition by Disney. (Axios)
Jared Kushner has apparently been using WhatsApp for official White House business, according to a new report. (NYT)
Facebook stored hundreds of millions of user passwords in plain text (Axios)
6. After you Login
There are so many wildflowers blooming in the Southern California town of Lake Elsinore that the city is making people take a $10 shuttle to see the poppies to ease traffic snarls.