December 11, 2019
Situational awareness: A trove of documents show how China tried to funnel funds from the World Bank into funding facial recognition surveillance of its Uighur minority in Xinjiang, Axios' new China reporter Bethany Allen-Ebrahimian scooped this morning.
Today's Login is 1,392 words, a 5-minute read.
1 big thing: The complicated reality of AR and VR
Depending on who you talk with, augmented and virtual reality are either the next big thing or a giant disappointment. Several moves over the past week show it's probably both.
Between the lines: Both the products and the market are developing more slowly than initially anticipated, forcing startups to rejigger their plans to survive longer with less revenue and big companies to be cautious about investing too much, too soon.
Driving the news:
Last week Qualcomm introduced the XR2, its latest VR/AR chip designed to power the next generation of VR and AR devices and offering support for higher resolution displays, more cameras and 5G support. It's also working with Pokémon Go creator Niantic on a reference design incorporating both companies' knowhow.
The well funded Magic Leap is repositioning itself to focus more on business customers, only the latest in a series of players in the space to do so. It's all the more notable as Magic Leap has raised more than $2 billion in funding while being hyped as a transformational breakthrough in augmented reality.
Facebook sold its Oculus Medium VR development program to Adobe. Meanwhile, Oculus Quest is gaining support for hand tracking, a small but important move forward in capabilities to make VR experiences less cumbersome.
The big picture: The road that VR and AR are on is well-paved in tech. Initial buzz leads to overheated enthusiasm, then a "trough of disillusionment." After that, there's a steady march in which the technology ends up meeting or surpassing expectations even while taking far longer than anyone anticipated.
The problem for AR and VR is that several key ingredients — battery life, screen resolution and comfort — aren't where they need to be for either technology to go mainstream, especially for consumers.
By aiming at consumers, companies also made sacrifices in the name of cost, which has further compromised the experience, says Urho Konttori, founder and producer chief at Varjo, a Finnish startup focused on VR for business.
Many AR and VR companies are pivoting towards business use because in that market, as long as you can find one money-saving or productivity-enhancing use, you can ship a successful product.
In the consumer market, by contrast, there's a chicken-and-egg problem — there's not yet enough content to drive hardware sales, and low hardware sales mean the market remains unattractive for most content creators.
What's next: At last week's Snapdragon Summit, I had a chance to try out technology from startup Spatial, which aims to create virtual collaboration for business users across different kinds of devices and platforms. (See video here.)
Spatial's technology allows people on XR2 prototypes, Microsoft HoloLens, Oculus Quest and even AR-capable smartphones to engage, via avatar, in one virtual environment, using virtual whiteboards, for example. While still crude, Spatial's tool is already in use at companies like Purina to bring together remote teams.
2. New YouTube policy against personal attacks
Google said in a statement Wednesday that it is updating harassment policy for YouTube to curb explicit threats, as well as veiled or implied threats and personal attacks, against viewers and content creators, Axios' Sara Fischer reports.
Why it matters: Google said it's strengthening its policies in part because it saw a growing trend of creators harassing other creators on the platform. In particular, it saw an uptick in creators starting YouTube channels dedicated to harassment.
What's new:
Google says it's expanding protections around implied or indirect threats. Its policy previously drew bright lines around direct threats, things like doxing, or posts that called for violence. Now it's going a step further by saying it will take action against users who make indirect threats, like talking to someone about brandishing a weapon.
It's expanding its rules on personal attacks to ensure that they apply to everyone, from private individuals to YouTube creators to public officials. Google says it will no longer allow content that maliciously insults someone based on their race, gender expression, or sexual orientation.
It's tightening its policies for the YouTube Partner Program (YPP), which gives creators of YouTube videos greater access to YouTube resources and features. The policies will be tougher on those who engage in repeated harassment or borderline harassment by suspending ongoing offenders from YPP, and eliminating their ability to make money on YouTube. Repeated violators could have their YouTube channels banned altogether.
It's making comments review a default for its largest channels.
The big picture: Updates to policies around harassment or bullying are always difficult to negotiate, and sometimes enforce, because they can be subjectively interpreted.
Many Big Tech platforms, including Google, have also faced repeated accusations of bias in content moderation, particularly from conservatives.
While none of those allegations have been backed by substantial evidence, they force companies like Google to tread carefully when creating policies that could impact creators' freedom of speech.
Google said it took the company eight months to update its policies and consulted many experts, like online bullying organizations and free speech proponents, to ensure that the changes didn't just solve for one kind of incident or outcome.
3. Tech workplaces are less popular this year
Glassdoor is out with its annual "best companies to work for" list, and a number of tech names have seen their rankings fall.
Why it matters: One area where the techlash could most harm Big Tech is recruiting and employee retention.
By the numbers:
Facebook fell to No. 23 from No. 7 among large U.S. firms, making this the first time since 2015 that the company didn't make the top ten. It's worth noting, though, that its 4.4 rating is still well above the 3.5 average, with most employees still happy to work there despite another year of controversy.
Google, which landed at No. 11, dropped three spots, while Apple, at No. 84, dropped 13 positions. Employees rated the company high for compensation and benefits, but lower in senior leadership, citing bureaucracy and poor work-life balance.
Microsoft, meanwhile, rose 13 places to rank at No. 21.
Three less-well known tech companies were in the top 10, including HubSpot, which ranked No. 1 overall, DocuSign at No. 3 and Ultimate Software at No. 8.
Overall, 31 tech companies made the list, up from 29 last year.
4. Senators lash Apple, Facebook on encryption
The long-running fight over encryption heated up Tuesday as representatives of Apple and Facebook were grilled by members of the Senate Judiciary Committee. Facebook sent a letter to Attorney General William Barr saying it won't accede to government pressure to add "back doors" to its products.
Why it matters: Encryption is increasingly baked into tech devices and communications platforms, Axios' Scott Rosenberg reports. That enhances personal privacy — but law enforcement authorities have long maintained that it also harms their ability to apprehend criminals, terrorists and child abusers.
The big picture: The message to tech firms from senators of both parties was blunt: Expect Congress to pass new encryption legislation mandating law enforcement access to devices and messages unless the industry provides its own methods.
What they're saying:
Committee Chairman Lindsey Graham: "You're gonna find a way to do this or we're gonna do it for you."
New York District Attorney Cyrus Vance Jr. testified that Apple's decision to begin encrypting iPhone content by default in 2014 "effectively upended centuries of American jurisprudence holding that nobody's property is beyond reach of a court order."
Erik Neuenschwander, Apple's manager for user privacy, told the senators that Apple has never held keys that let it access users' data, and it opposes efforts to require it to do so: "We've been unable to identify any way to create back doors that would only work for the good guys. They will be exploited by nefarious entities as well."
Jay Sullivan, product management director for privacy and integrity at Facebook Messenger, argued that if the U.S. mandates weakened encryption for U.S.-based services, customers will simply switch to services offered by companies abroad that will be less responsive to American authorities.
Meanwhile, Facebook responded to a November letter from Barr and other officials urging the company to design its systems to allow law enforcement authorities access to user data when investigating crimes.
The letter, from Will Cathcart, head of WhatsApp, and Stan Chudnovsky, head of Messenger, said: "Cybersecurity experts have repeatedly proven that when you weaken any part of an encrypted system, you weaken it for everyone, everywhere. The 'backdoor' access you are demanding for law enforcement would be a gift to criminals, hackers and repressive regimes."
5. Take Note
On Tap
Trading Places
ICYMI
6. After you Login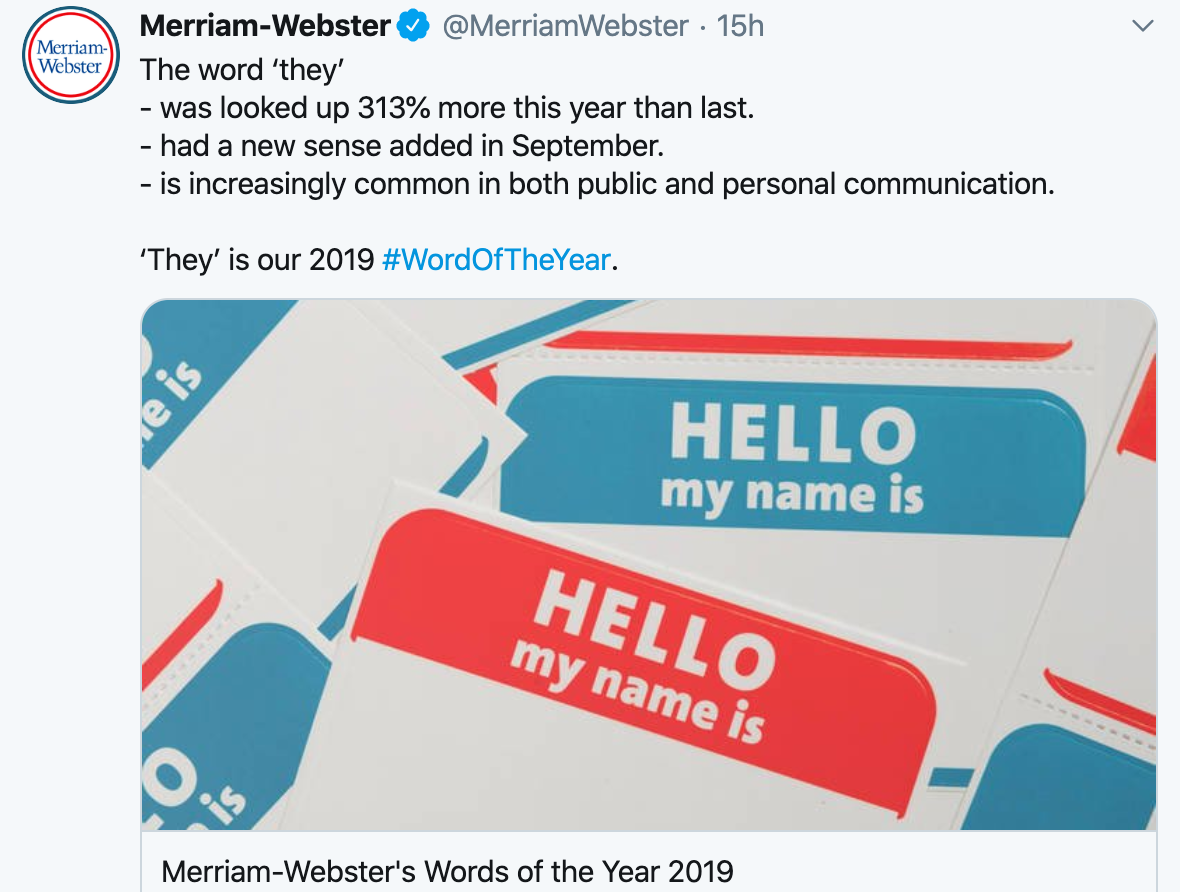 Merriam-Webster made "they" its word of the year recognizing its increasing use as a singular pronoun for those who identify outside the gender binary.