Axios Login
May 01, 2019
It's a packed newsletter, so no clever intro. Well, that and I stayed up too late watching the Sharks and Warriors.
1 big thing: Facebook's off-again, on-again affair with privacy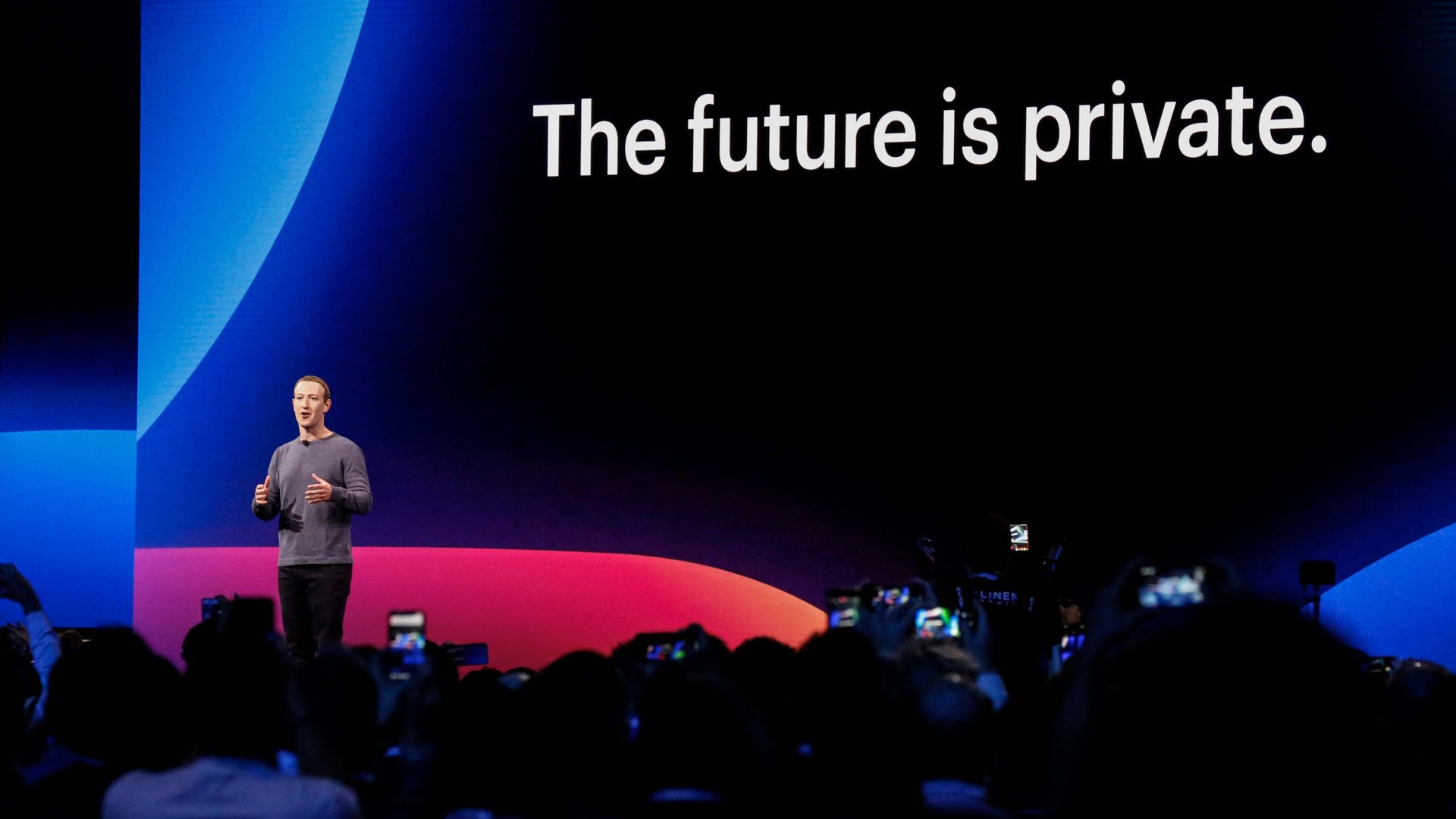 As Mark Zuckerberg filled in the details of his new, privacy-oriented vision of Facebook at the F8 developers conference Tuesday, the CEO left out a key episode from the past: Long before Facebook's pivot to privacy, the company pivoted to make everything more public.
Why it matters: There's a reason Facebook's new "digital living room" where you are "free to be your true self" sounds familiar, Axios' Scott Rosenberg writes. You've already been there, if you were one of the hundreds of millions of people who used Facebook before roughly 2010.
Flashback: Facebook's original superpower — and the reason so many users flocked to it from the untamed wilds of the wider web — was that it gave you an assurance of semi-privacy and a respite from the anonymity that fueled so much online conflict.
But roughly a decade ago, as the company turned its gaze from user growth to making money, it started deprecating privacy and altering its default settings toward more public interactions.
Public pages were more valuable as ad inventory. Privacy, Zuckerberg said in 2010, was no longer a "social norm."
Driving the news: Today Facebook is doing everything it can to encourage users to shift their messaging to smaller private groups, move their communications behind a veil of encryption, and assure them that it's safe to just "be yourself" on its network.
Yes, but: When Facebook shifted away from privacy a decade ago, it planted a field of landmines that started exploding in its business path over the last 2 years.
As the company and its third-party partners mined user data for ad targeting, Facebook changed from a protector of privacy into a predator.
The shift also transformed Facebook from a relatively "safe" precinct of the online realm into a free-fire zone of misinformation, trolling and hate speech — culminating in its role as a vector for Russian meddling in the 2016 U.S. presidential election.
The catch: Today Zuckerberg is promising users a newer, better experience rooted in privacy — but he's not talking about how Facebook's current 2 billion-plus users get there from here.
The bottom line: Zuckerberg may believe that he succeeded a decade ago because the public-oriented Facebook he built succeeded in creating a powerful, rich company that's still growing today.
But in another way, Zuckerberg also failed back then. Facebook's original pivot towards the public realm made a huge sociopolitical mess that he's still trying to clean up.
Giving the network a big shove back toward privacy offers no guarantees that it will solve Facebook's current trust and safety problems. And it could easily make an even worse mess.
2. VR gets its next, best chance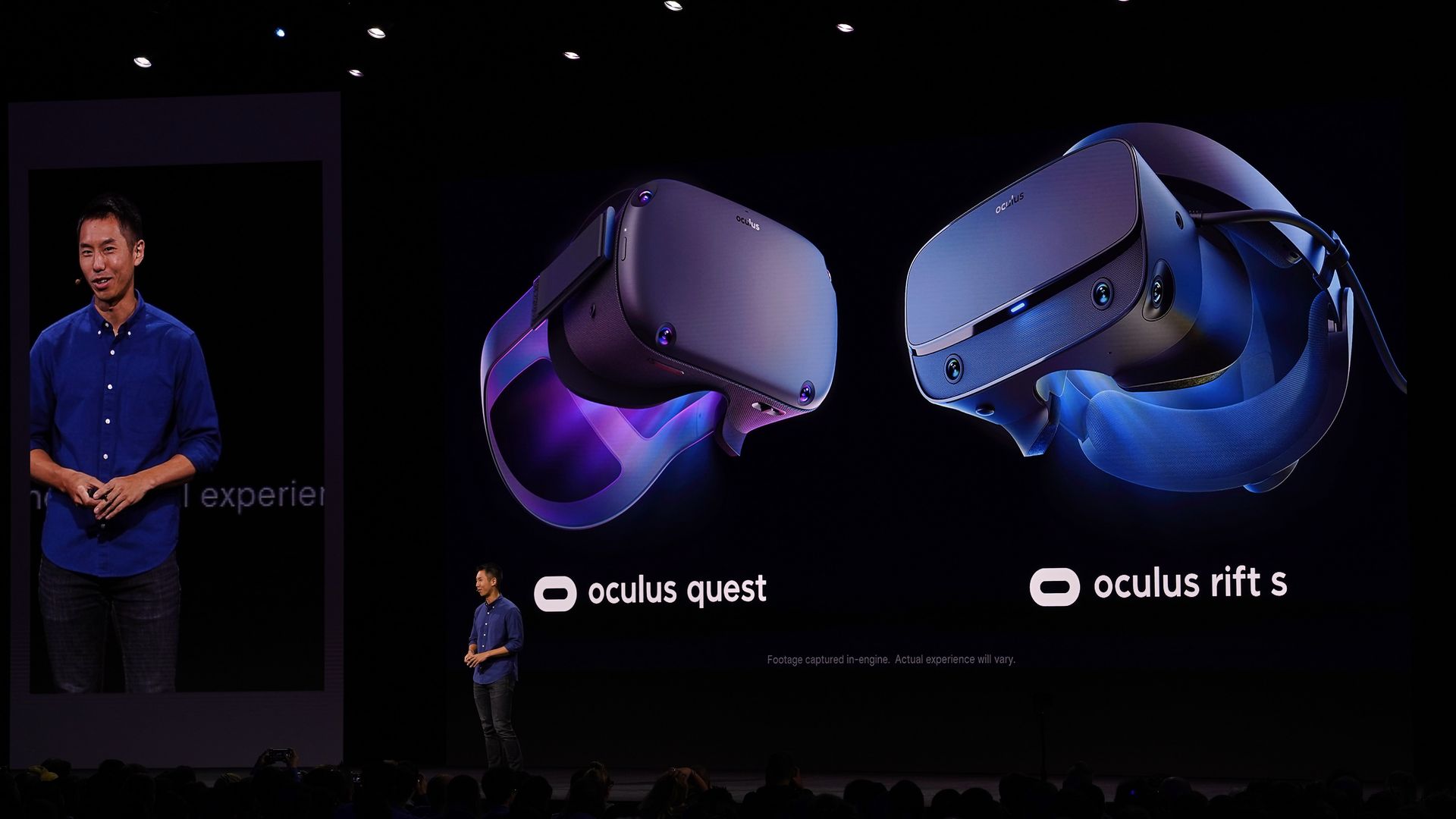 While much of the focus at Facebook's F8 conference was on the changes it's making to the core platform and its messaging apps, its moves in virtual reality highlight a new wave of products coming to market.
Why it matters: The last coming of VR fell far short of estimates. HTC, Valve and Facebook's Oculus all have new and improved hardware, but it's unclear whether consumers and content developers are ready to take another plunge.
Aware of this, both HTC and Oculus are taking aim at businesses as well, with Facebook using F8 to announce a renewed Oculus for Business effort.
While not as flashy as the consumer market, there has been steady interest in VR and augmented reality from businesses looking to improve training, prototyping and safety.
Driving the news:
Facebook yesterday announced pre-orders for its standalone Oculus Quest and its PC-based Rift S, both of which sell for $399, plus its relaunch of Oculus for Business focused on the standalone Oculus Go and Quest headsets.
Valve's high-end, PC-based Index headset goes on sale Wednesday for $999, challenging the Vive Pro at the high-end of the gaming market.
Meanwhile, HTC's $799 Vive Focus Plus went on sale April 15, offering improved optics and 6-degrees-of-freedom control in a standalone headset aimed at enterprise customers.
Our thought bubble: New hardware is nice, but it's hard to see the consumer market, in particular, taking off until we get a convergence of affordable, powerful headsets and content.
3. Scoop: e-Bike startup Bond raises $20M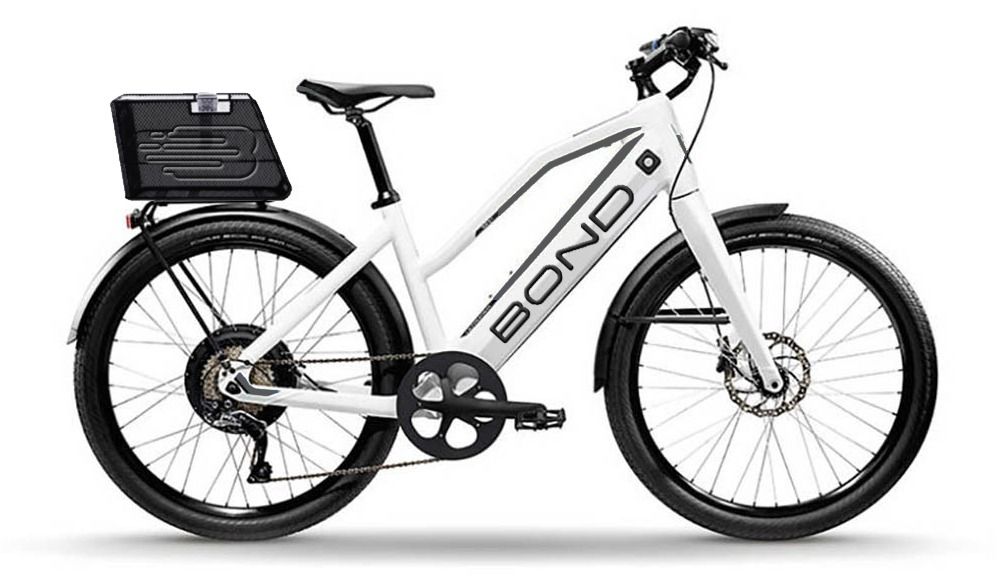 Some prominent names from the mobile world have teamed up to form Bond Mobility, an e-bike startup that's announcing funding later today.
Details: Former Cyanogen CEO Kirt McMaster is Bond's chief business officer, while prominent analyst Horace Dediu is a co-founder and chief strategy officer.
Car parts giant Denso is leading the $20 million Series A funding round for the 25-person startup.
Bond is actually a rebranding and broadening of an existing e-bike venture that has been up and running in Zurich, Switzerland, since 2016.
The bigger picture: Bond enters an already crowded micromobility market filled with bike-sharing and scooter startups. To stand out from the pack — and compete against Uber-owned Jump — Bond is betting on a fast, dockless e-bike capable of traveling up to 30 miles per hour.
Unlike rival bike-sharing services — for instance Jump bikes can go up to 20 mph with an e-assist boost — McMaster says Bond competes more with cars than scooters or walking.
"Jump does not substitute a car," McMaster said in an interview. "This substitutes a car."
What's next: McMaster says the company hopes to operate in Silicon Valley, Southern California and a few other West Coast cities.
4. Senate inches forward on privacy regulations
Two more lawmakers have joined a Senate effort to craft a bipartisan online privacy bill, but the group still seemed far from releasing legislation as they huddled on Tuesday.
The bottom line: Congress isn't going to move quickly on this issue, even if lawmakers are facing pressure to preempt state privacy measures like the one that goes into effect in California next year.
Details: The Senate Commerce Committee will host a hearing about consumers' privacy expectations Wednesday, featuring Irish Data Protection Commissioner Helen Dixon and Common Sense Media CEO Jim Steyer.
"Any law Congress passes must be at least as strong, if not stronger, than the California law and any action must be coupled with consumer education and incentives for companies to design their products from the start with privacy protections," Steyer said in a statement.
The hearing follows a closed-door meeting Tuesday evening of the group of panel members trying to write a bipartisan bill.
Two new additions to the group: Sen. John Thune (R-S.D.), who as majority whip is a high-ranking member of Senate Republican leadership, and Sen. Maria Cantwell (D-Wash.), the top Democrat on the committee.
Chairman Roger Wicker (R-Miss.) said that their addition "will help us develop the consensus needed to move this legislation forward in the coming months."
What they're saying: "We're just in the early stages, but I think in terms of this kind of a big undertaking, in terms of legislation, [we're] probably in a pretty good place," Thune said. "It's Senate speed, you know?"
Yes, but: Even if a bill preempting state laws manages to get to 60 votes in the Senate, the passage of legislation in the House is far from guaranteed.
House Speaker Nancy Pelosi (D-Calif.) has said she won't accept legislation that replaces her state's law with something weaker.
5. Benioff donates $30M to fight homelessness
Salesforce founder Marc Benioff and his wife Lynne have donated $30 million to UC San Francisco to establish a center to study the causes of homelessness and the best means of reducing and alleviating it.
Why it matters: It's believed to be the largest private donation toward research to combat homelessness and comes as San Francisco struggles with a growing housing crisis amid skyrocketing rents.
Benioff previously backed a city proposition to raise corporate taxes to help fund comprehensive anti-homelessness funding.
What they're saying: San Francisco Mayor London Breed, who opposed that measure, praised Benioff's donation. In a statement, she said...
"Preventing and ending homelessness requires innovative solutions that can be replicated regionally, statewide, and nationally..."
"No one city alone can address homelessness, which is why this initiative by Lynne and Marc Benioff and UC San Francisco will be a great tool for helping us here in San Francisco and in cities all over confront one of our greatest challenges."
6. Take Note
On Tap
Facebook's F8 conference continues in San Jose.
Google Walkout organizers have a sit-in planned for today amid allegations the company has retaliated against 2 of the original event's planners, a charge Google denies.
Oracle Media Days take place today and tomorrow, with presentations from several top execs.
New America and the Anti-Defamation League are holding an event focused on "Exploring Online Hate" in Washington, D.C.
Trading Places
Alphabet said former CEO and executive chairman Eric Schmidt and Google Cloud executive Diane Greene won't stand for re-election to the company's board. Gilead Sciences CFO Robin Washington has been named to join the board.
Enterprise identity firm Okta hired former Google and Microsoft executive Diya Jolly as chief product officer. Jolly was most recently a VP of product management at Google.
Digital Ocean hired former Comcast HR exec Lysa Dahlin to be its chief people officer. Dahlin left Comcast in 2017 and has been consulting.
ICYMI
Apple's quarterly earnings and outlook topped analysts' estimates, as a strong iPad and services businesses helped offset a weakness in its iPhone sales, especially in China. (Axios)
An estimated 310.8 million smartphones were shipped during the first quarter, down 6.6% from a year ago. The U.S. market was the most sluggish, with sales down 15% year-over-year, with particular weakness in the high-end. (IDC)
Streaming financial news network Cheddar was acquired by cable company Altice USA for $200 million. (Axios)