Wow. We made it to Friday.
Yes, there are still more shoes dropping at Uber
While there was a little less Uber news on Thursday, things are far from settled:
The troubled ride-hailing company still has open spots for the CEO, COO, CFO, and CMO positions.
There was a petition from more than 1,000 employees who want to see founder Travis Kalanick reinstated.
The company tasked one of its many law firms to dig deeper into how a former executive obtained the medical records of a woman who was raped by a driver in India in 2014.
Surprise! FCC no longer cares to regulate pay phones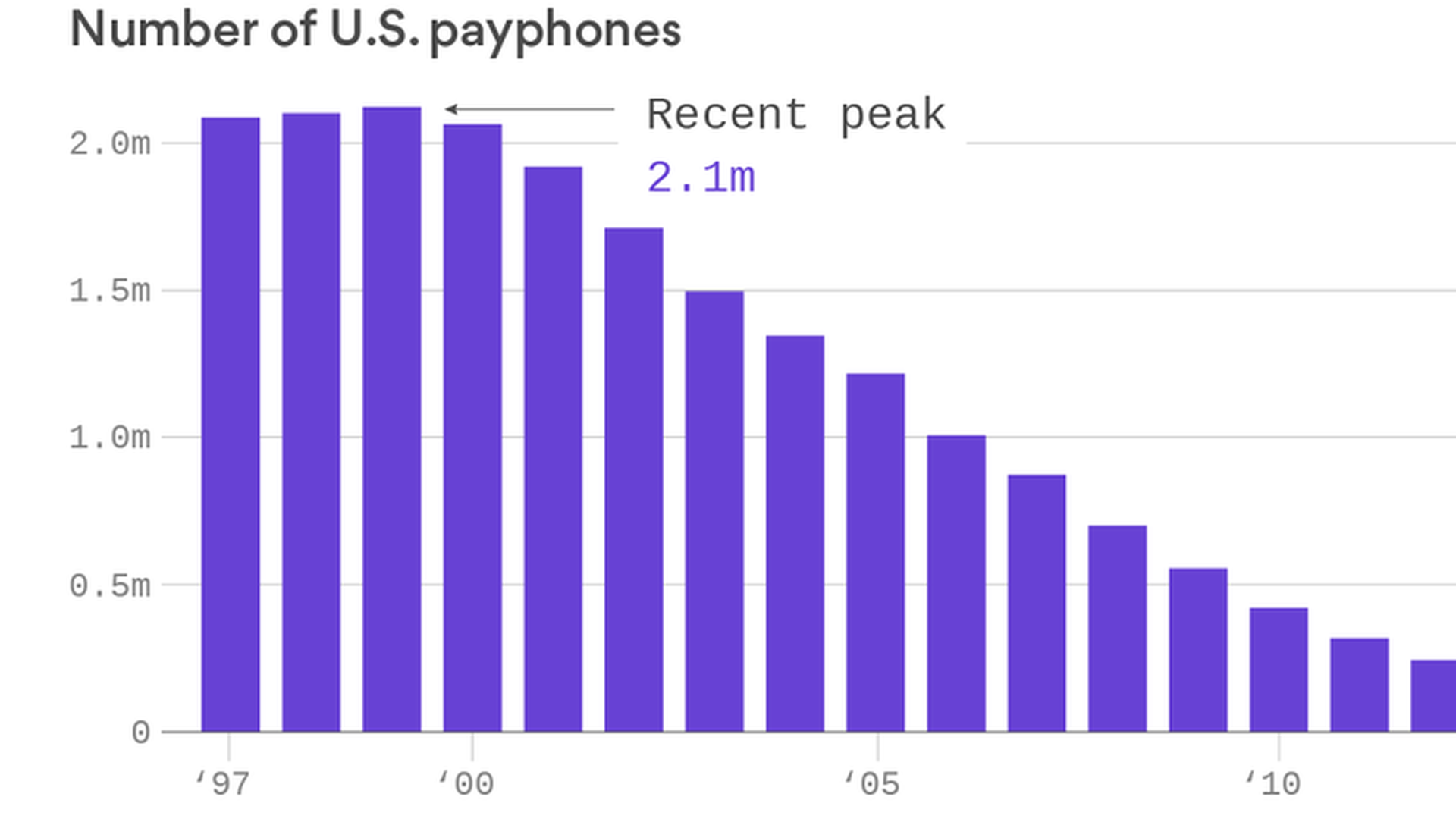 You know the numbers of pay phones are seriously dwindling when the FCC no longer feels the need to track transactions for them.
The FCC proposed eliminating some of the regulatory requirements for phone companies that support the few remaining pay phones, Kim reports. The number of U.S. pay phones has declined to fewer than 100,000 from 2 million in 1997.
Why it matters: It's another sign of the rapid decline of pre-cellphone era technology. Cincinnati Bell, for example, says the cost of completing annual audits is now about five times the amount of revenue it makes from its pay phones.
What's next: FCC chairman Ajit Pai wants to waive the pay phone audit requirements for 2017 while the agency considers whether to eliminate them altogether.
Fun fact: The first pay phone was installed in New Haven, Conn., in June 1880 (h/t this AT&T blog).
AI investment skyrockets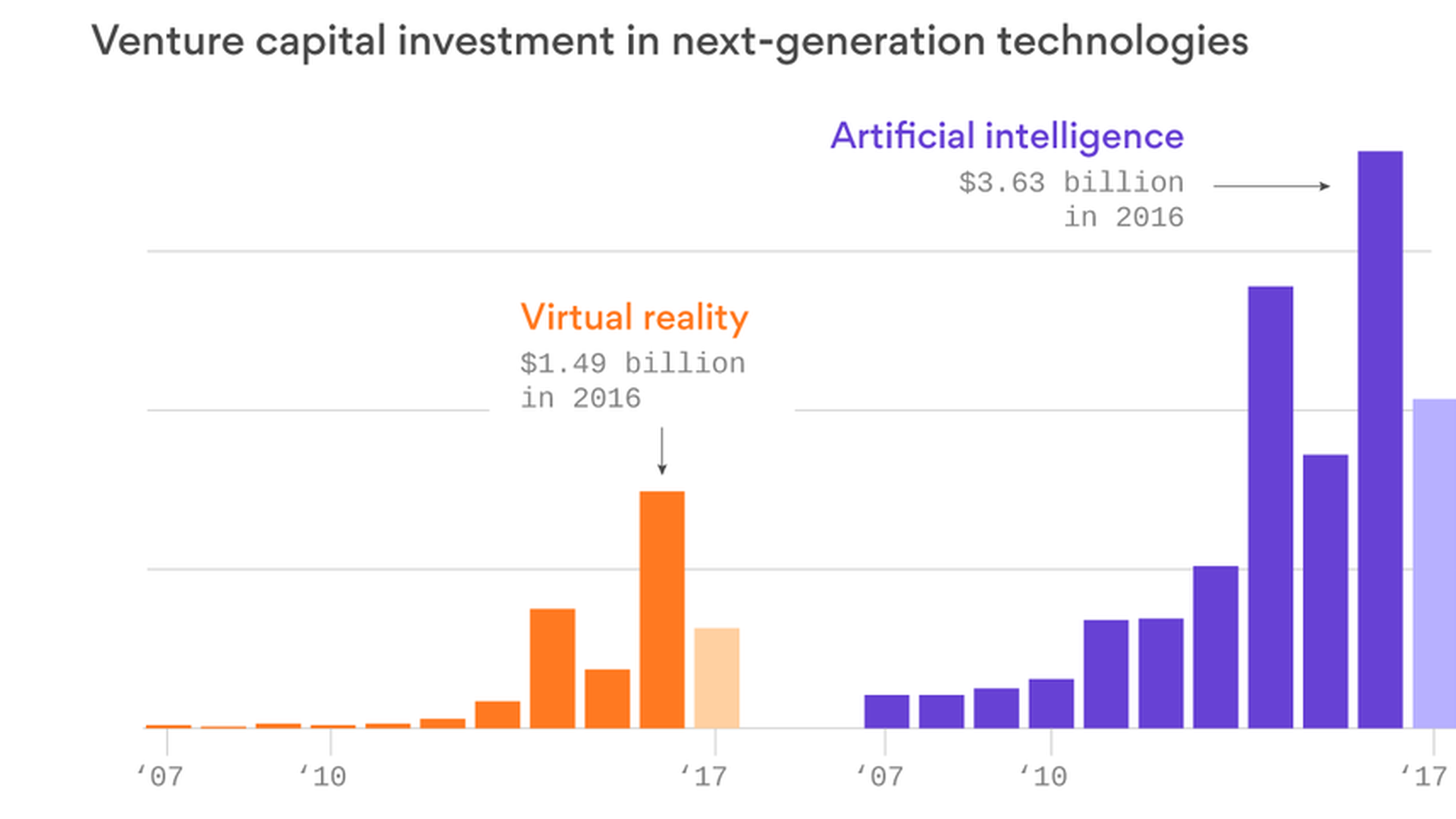 Venture capitalists are pushing a lot of cash into artificial intelligence and machine learning technologies, more than doubling the investment into virtual reality and augmented reality technologies in 2016, according to PitchBook data via NVCA.
In 2016, there were 322 deals worth a total of $3.6 billion in investment into AI and machine learning companies, compared with only 31 such deals in 2007, Kim reports.
Why it matters: U.S. investors want an edge on the development of next-generation technologies that center around AI, including self-driving cars. Speaking to investors at the White House yesterday, President Trump said his administration wants to help "unleash the next generation of technological breakthroughs."
More on what Trump said: "This is a very, very competitive field. You see what's going on in China and so many other countries. And we want to remain number one... And we're going to give you the competitive advantage that you need." (David has a recap of the meeting here.)
Yes, but: At the same time Trump is promising to help U.S. companies keep their lead, his administration is expected to overturn the Obama-era International Entrepreneur Rule. This rule, which allows foreign founders to come to the U.S. to start companies as long as they meet certain requirements, was widely supported by the VC community.
​These truckers are helping Silicon Valley automate their jobs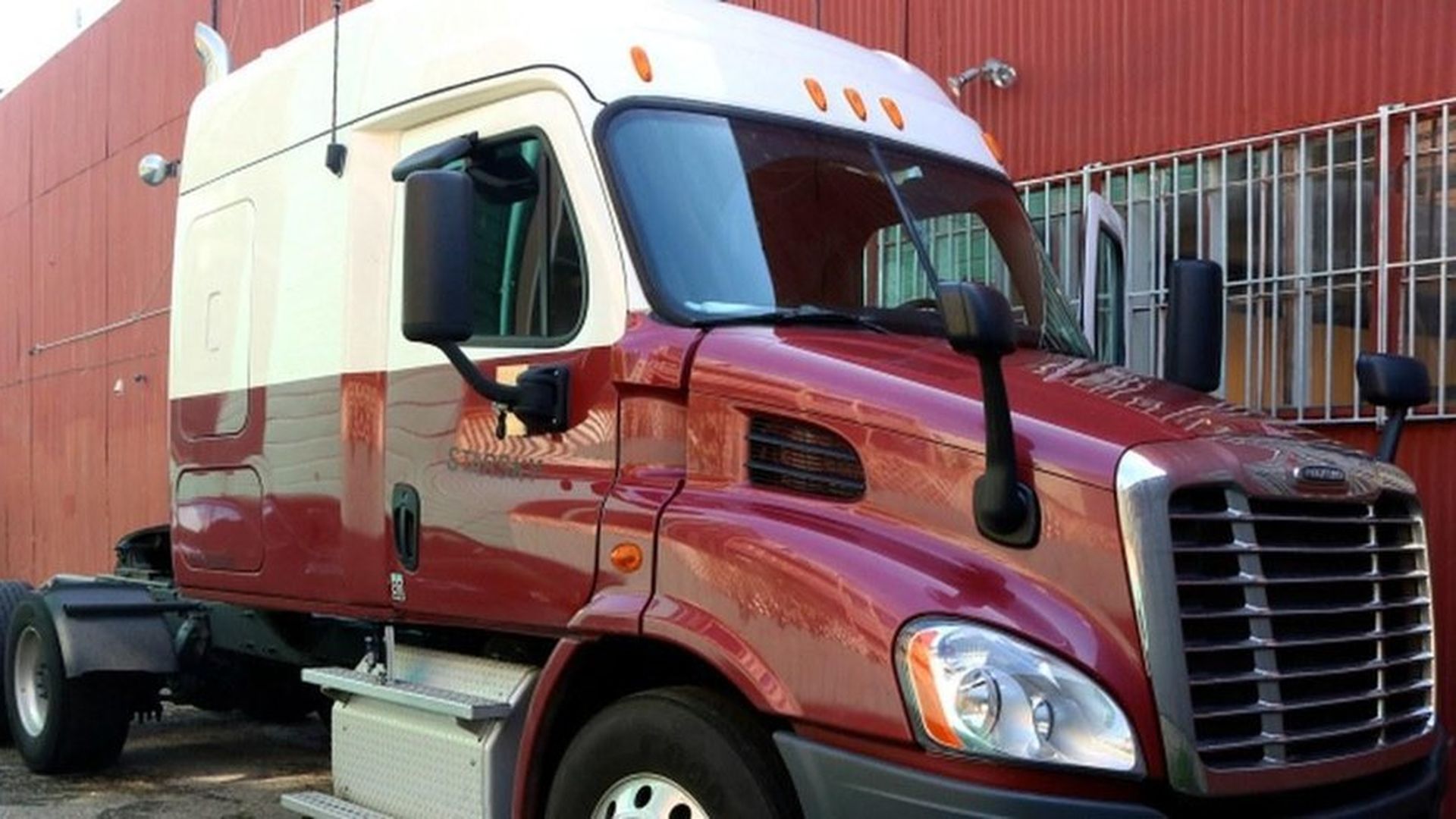 Bloomberg Businessweek has an interesting look at startup Starsky Robotics, which is using machine learning to train its semi-trailer trucks to one day be completely self-driving. Starsky is earning revenue hauling loads while it tests its self-driving technology.
How it works: Because its vehicles are still in beta, they are manned by a truck driver and an AI specialist for safety and research purposes. Starsky is training drivers to operate trucks remotely, with software that enables monitoring of up to three trailers at a time.
Strange bedfellows: Culturally speaking, the arrangement is interesting as truck drivers and computer science specialists tend to live worlds apart. But, in addition to being a sociologically revealing portrait of America in 2017, Starsky's staff might also foreshadow changes to the workplace of many other industries.
Chris Matthews has more here.
Time for me to grab a cookie.