Axios Login
July 17, 2019
Situational awareness: As if to remind the world that Congress isn't the only body looking to restrain tech giants, the EU announced this morning its formal launch of an antitrust investigation into Amazon's dual role as a retailer and an e-commerce platform.
Today's Login is 1,398 words, or ~5 minute read.
1 big thing: Congress' Big Tech triple play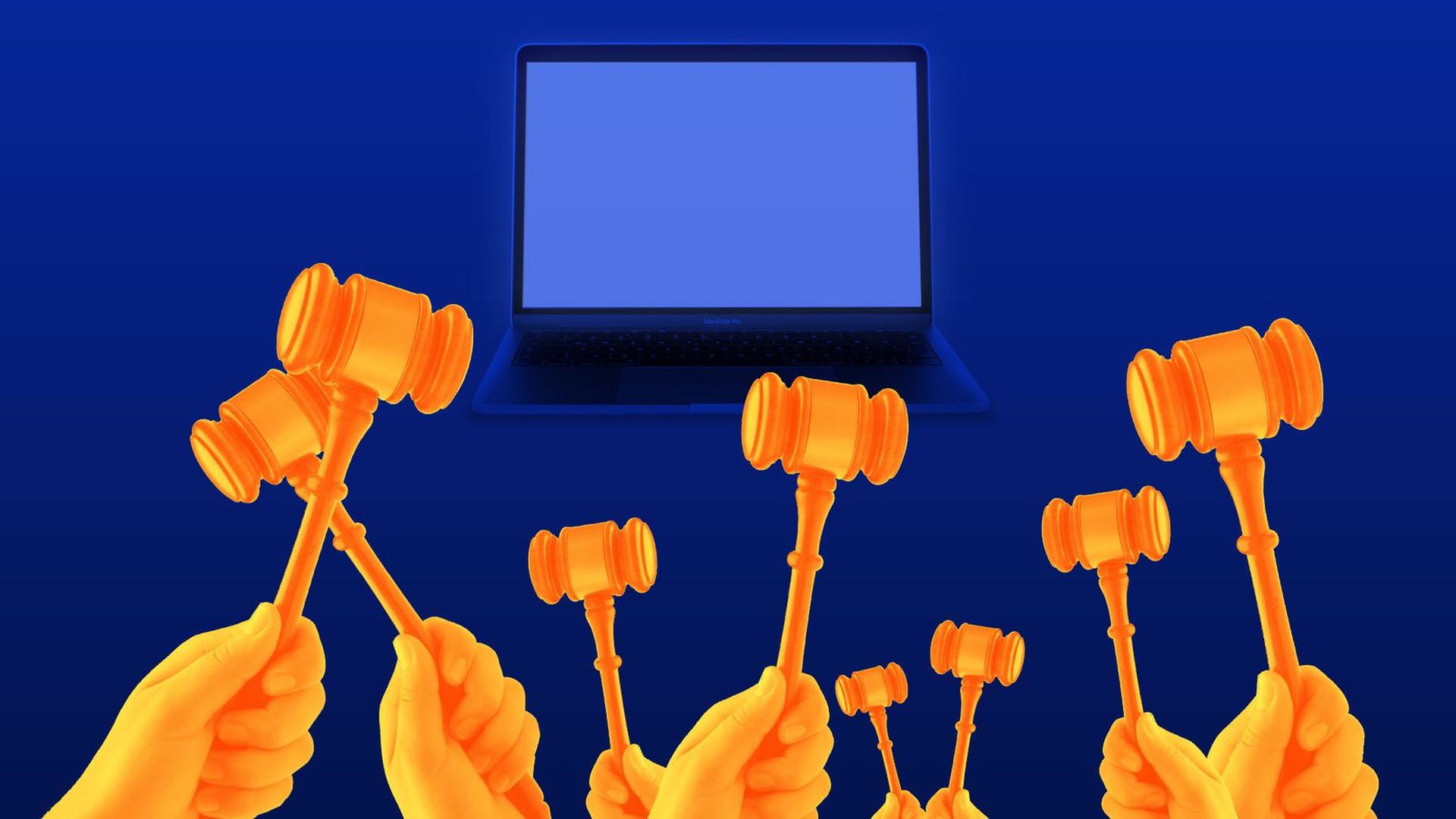 Republicans and Democrats on Capitol Hill who no longer seem able to agree on the color of the sky found common ground Tuesday across 3 committee hearings in the 2 houses of Congress: Big Tech is too powerful and needs to be knocked down a peg.
Why it matters: While it's not out of the "all talk" stage yet, regulation of tech is starting to seem like something both parties can agree on — and that should worry Silicon Valley.
Driving the news: Tech executives appeared before three separate committees on Tuesday to face different versions of the complaint that their industry has grown too big for its digital britches.
A House Judiciary subcommittee looked at monopolistic behavior by Big Tech.
A Senate Judiciary subcommittee grilled Google on "censorship" and bias.
The Senate Banking Committee demanded Facebook explain its plans to launch a cryptocurrency.
What's next: As this year opened with a wave of congressional scrutiny of tech, privacy legislation seemed the most likely outcome. Now, the conflict has broadened onto much wider terrain.
This includes looming antitrust investigations, free-speech and political bias complaints, calls to revoke tech platforms' legal protections, demands for independent audits of search results and content moderation, and even charges of treason.
The bottom line: Never bet against Congress' inertia and deadlock. But there are now so many directions from which blows could land on Big Tech that it's hard to imagine the industry escaping unscathed.
2. In the House, 4 giants face the monopoly music
Four of the biggest companies in tech defended themselves Tuesday from charges that they've become monopolies, choking small business and hurting consumers in the process, Axios' David McCabe reports.
Why it matters: The hearing in the House Judiciary Committee's antitrust subcommittee previewed how Facebook, Amazon, Google and Apple will make their case should regulators come knocking with the threat of lawsuits or breakups.
The bottom line: Overall, lawmakers seemed especially concerned about Amazon and Facebook and relatively unconcerned about Apple.
Lawmakers' questions underscored the wide number — and variety — of competition questions facing the tech giants.
Amazon: Associate general counsel Nate Sutton said the retail giant didn't use individual third-party sellers' data to develop products that competed directly with the sellers, one of many questions he got about whether the company privileges its own products.
"You're saying you don't use that in any way to promote Amazon products," subcommittee Chairman David Cicilline said when asking about the company's vast trove of sales data. "I'd remind you, sir, you're under oath."
Facebook: Head of global policy development Matt Perault argued that it wasn't strategically using acquisitions to zero out competitors, even as Rep. Joe Neguse said that the company's ownership of 4 of the top communications apps in the world was "a monopoly, or at least monopoly power."
Google: Cicilline questioned director of economic policy Adam Cohen about its strong hold over search.
Apple: VP Kyle Andeer disputed the idea that the iPhone manufacturer was acting anti-competitively by taking a cut of developer revenue in some cases.
What we're hearing: Rivals and critics of the major tech companies have spent recent weeks pressing their case on Capitol Hill.
Apple competitor Spotify and Walmart-backed trade group the Retail Industry Leaders Association, an Amazon antagonist, were among those who submitted materials to the committee before the hearing.
The big picture: Concerns about monopoly have entered the political mainstream, including in the Democratic presidential primary.
What's next: The Judiciary Committee's investigation into the tech giants continues, while DOJ and the FTC have the option of opening formal investigations.
Go deeper: Read David's full piece here.
3. In Senate, Google gets a bias interrogation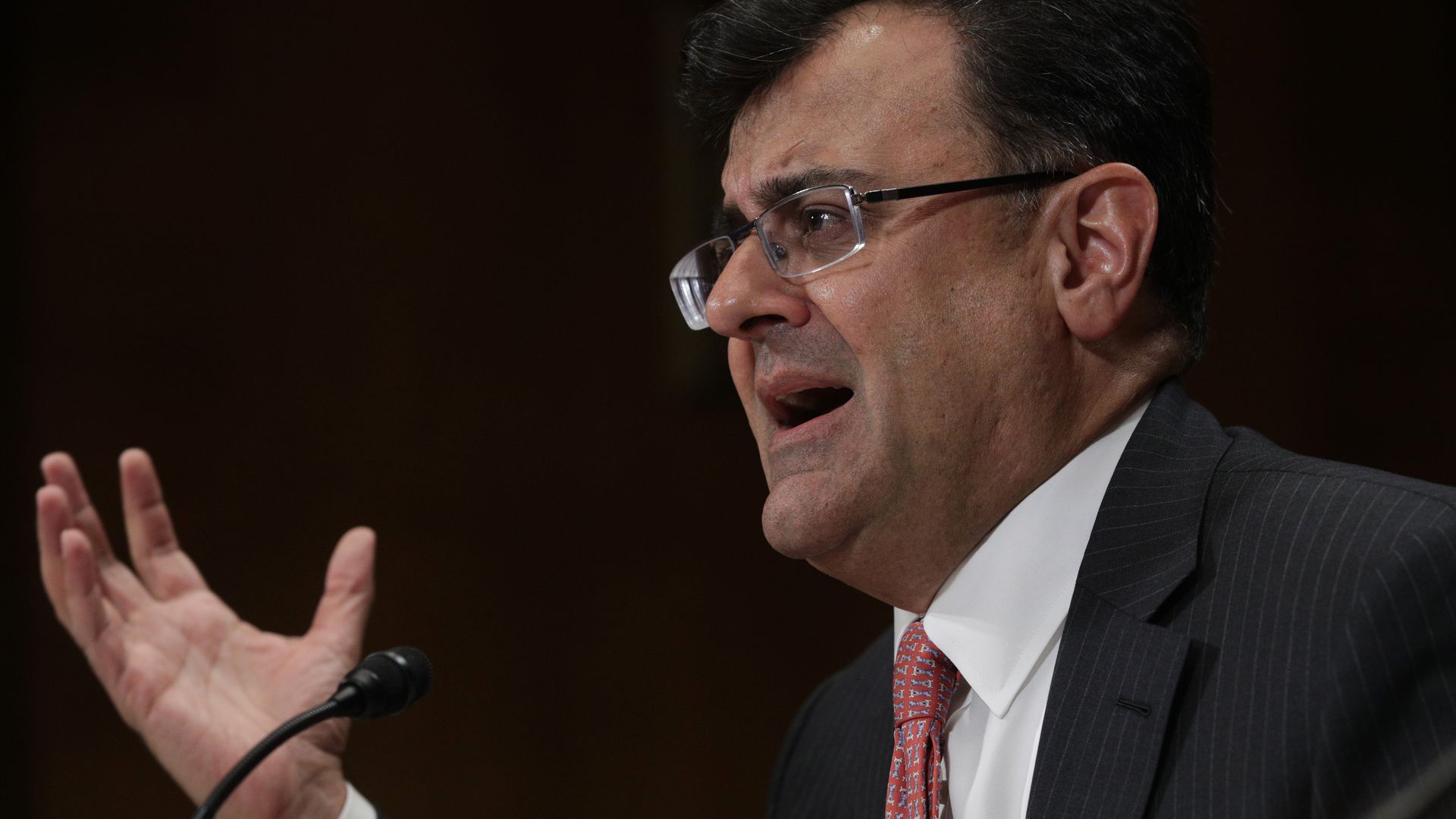 Google faced stern words from both sides of the aisle at a Senate Judiciary subcommittee hearing about its power over online content Tuesday afternoon, Axios' Scott Rosenberg writes.
Why it matters: As new privacy regulations and antitrust initiatives aimed at Big Tech build momentum, everyone on Capitol Hill seems to have their own set of gripes with the companies, leaving them little political safe harbor.
Republicans lashed Google for "widespread implicit bias against conservative values," in the words of Sen. Marsha Blackburn, in both search results and YouTube policies.
Democrats dismissed the bias claim but criticized the company for failing to limit the spread of violent, extremist and deceptive content on Google-owned YouTube.
Senators from both parties pushed Google to allow an independent third party to audit its content moderation and search rankings, similar to one Facebook launched last year.
Both GOP Sen. Ted Cruz, chairman of the subcommittee holding the hearing, and Democratic Sen. Richard Blumenthal pressed Google's representative to promise to allow an audit with full access to its data.
But Karan Bhatia, a former Bush administration official who's now Google's VP of global government affairs and public policy, was noncommittal.
The big picture: Although the tech workforce leans politically left, there is no solid evidence of political bias in tech platforms' content policies. A panel of 5 witnesses at the hearing offered a range of criticisms of Google but little new evidence.
Andy Parker, a gun control advocate whose journalist daughter was killed on live TV, accused Google of "turning a blind eye to targeted harassment."
After conspiracy theorists began painting the incident as a hoax on YouTube, he asked Google to take down the videos, but the company told him to review them himself and flag them for removal.
Our thought bubble: One thing seems to infuriate Google critics of all political stripes — the company's tendency to respond slowly or not at all to inquiries, complaints and outrage.
Go deeper: Read Scott's full story here.
4. Facebook grilled over cryptocurrency plans
Given Facebook's multitude of missteps and scandals over the past 2 years, it's no surprise that legislators are skeptical of the company's plans to launch a new cryptocurrency called Libra.
Details: Members of the Senate Banking Committee piled on their concerns, expressed particularly strongly by Sen. Sherrod Brown:
"They moved fast and broke our political discourse. They moved fast and broke journalism. They moved fast and helped incite a genocide. They moved fast and they're helping to undermine our democracy. Now Facebook asks people to trust them with their hard-earned paychecks."
— Sen. Sherrod Brown
For a company to have Facebook's track record and look to become its own currency issuer, Brown said, "takes a breathtaking amount of arrogance."
Why it matters: Facebook faces a host of legal and regulatory issues around the globe amid concerns over privacy, data sharing and money laundering.
For his part, David Marcus, the Facebook executive leading its Libra efforts, acknowledged "serious legitimate concerns" and committed to "do what it takes to address these concerns," according to The Hill.
"And if those concerns are not addressed, and if the regulatory oversight is not appropriate, then we will not launch until it is," Marcus said.
Meanwhile, CNBC reports that the Swiss regulator Marcus said will oversee Libra has yet to hear from the currency's backers.
5. Emoji get more diverse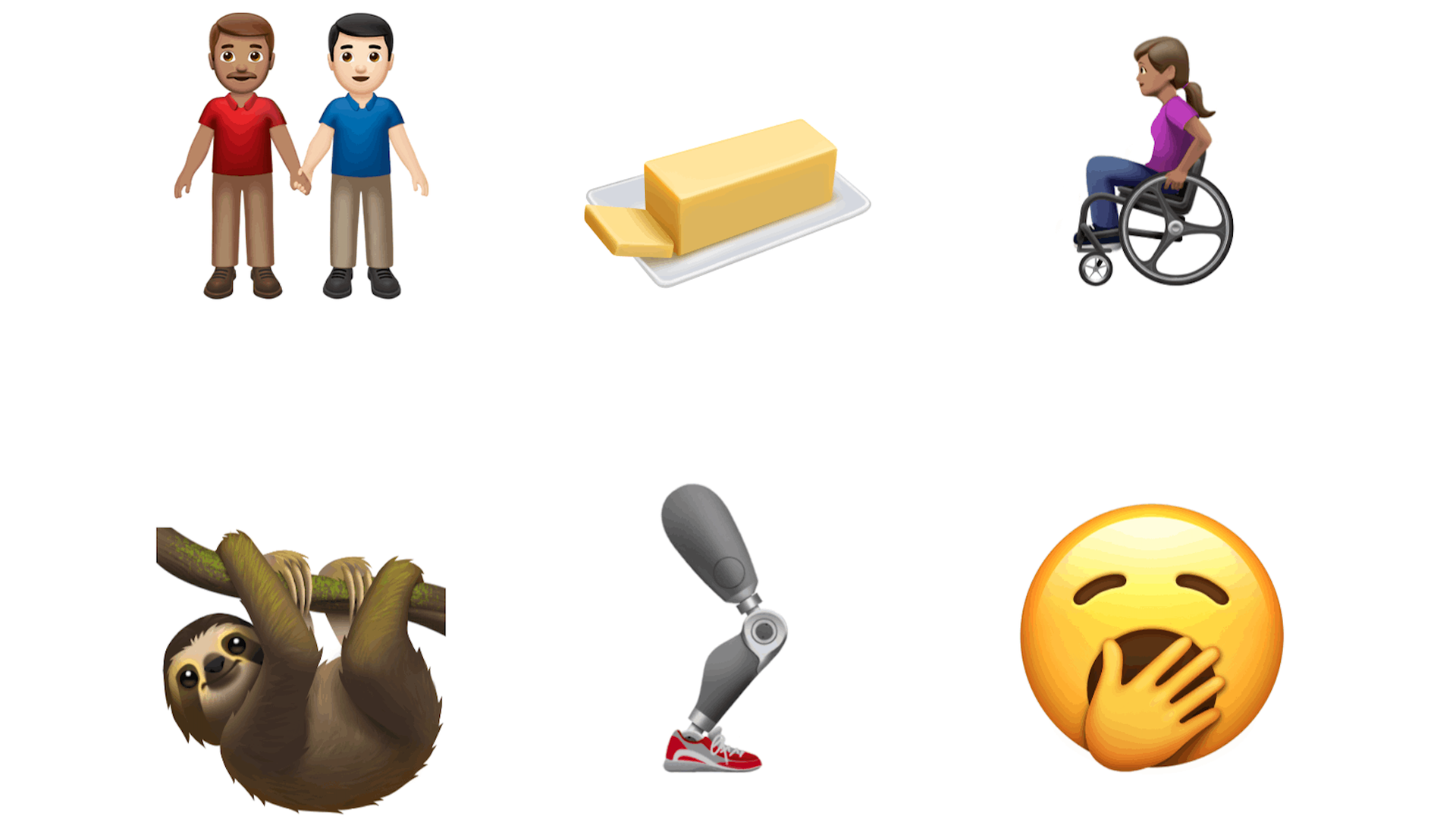 Today is World Emoji Day, and the good news is that the digital encapsulations of our world are starting to better reflect the world itself.
What's happening: New icons allow couples of all races and genders to better represent themselves, with dozens of new skin tone and gender combinations. There has also been work to make depictions of various professions more gender inclusive.
Other new emoji offer more options to represent various people with disabilities and their lives, including prosthetic limbs, service dogs and electric wheelchairs.
Also new to the standard emoji palette: icons for garlic, waffles and otters.
Why it matters: Whether you feel 👍 or 👎 about emoji, they are here to stay and should better represent our diverse population.
Both Apple and Google are using World Emoji Day to show off dozens of new emoji they plan to introduce with the next versions of iOS and Android.
Meanwhile, Adobe today released its 2019 survey on emoji usage. Among its findings...
The three most used emoji are a grin, heart and kiss, with love, happiness and sadness among the top emotions users aim to express through emoji.
More than 90% of emoji users say that among the reasons they do so is to either lighten the mood of a conversation or to show support.
Nearly two-thirds of emoji users said they are more comfortable expressing their emotions through emoji than a phone call. That's even more true for Gen Z respondents, of whom 83% prefer sending emoji to picking up the phone.
Even at work, survey respondents said emoji make communication more likable, sincere and, surprisingly, credible.
6. Take Note
On Tap
Trading Places
Alienware co-founder Frank Azor has joined chipmaker AMD to lead its gaming efforts, as was expected when he left Dell last month.
ICYMI