Hi again from Seattle. And, we have guests today, as we do from time to time. Please welcome attendees of the influential Mobile Future Forward conference. I'll be interviewing Qualcomm EVP Brian Modoff at Chetan Sharma's annual mobile event later today.
https://www.axios.com/newsletters/axios-login-260585f1-35c0-4df6-9e06-95d4d10d4bf9.html?chunk=0#story0
Sex-trafficking bill hits a nerve in Silicon Valley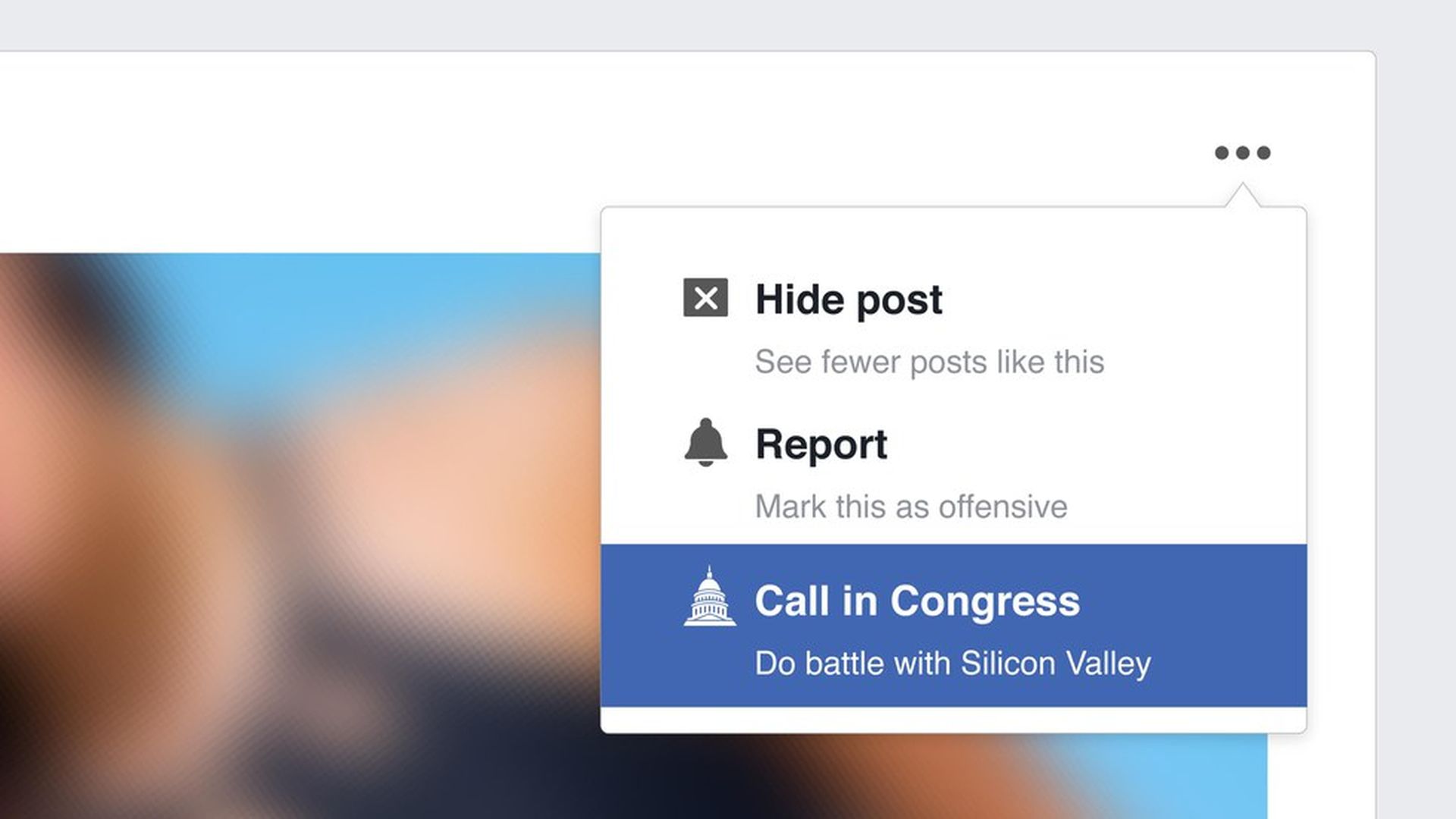 You might be surprised to learn that of all the policy battles in D.C., one of the Senate bills that has Silicon Valley most riled up is one that aims to address sex trafficking.
It's not that tech companies aren't opposed to sex trafficking. It's that they are deeply concerned this bipartisan bill, sponsored by Sens. Rob Portman and Richard Blumenthal, aims to hold online platforms liable for illegal ads that lead to sex trafficking.
Why it matters: Internet companies including Google, Facebook, and Amazon, say that the bill threatens the core of their business models — because they couldn't have grown to their current size if they were responsible for all of the content they host. But by opposing the measure, they're being painted as not doing enough to help the victims of sex trafficking.
Axios' David McCabe has more on the issue here.
https://www.axios.com/newsletters/axios-login-260585f1-35c0-4df6-9e06-95d4d10d4bf9.html?chunk=1#story1
How cellphone companies prepare for hurricanes
One of the big differences between Hurricane Sandy and Hurricane Harvey was the level of cellphone service customers were able to access during the storms.
The numbers: "25% of cell sites were down during Sandy compared to 5% down during Harvey," CTIA chief Meredith Attwell Baker said in an interview. "That's a significant resiliency improvement."
One company's response: T-Mobile COO Mike Sievert said that the company knows just how important cell phones are to its customers during a disaster and does everything it can — from hardening its network gear, to offering free service in the wake of disasters or delivering free phones to those whose phones are lost or damaged.
"It really matters to (customers) whether you can keep that service going," Baker said. "By and large we did."
More details:
Calling 911: Cell phones are critical for summoning help. An estimated 240 million 911 calls are made in the U.S. each year and in many areas 80% of calls come from wireless devices.
Power up: One of the big advantages with Harvey was the fact that, by and large, the power grid stayed up, lessening the need for cell towers to rely on generators.
Preparing for Irma: It looks like the damage could be worse from Irma, Sievert said. Baker told Axios' Kim Hart that the industry is learning with each disaster.
Early warning system: Baker also defends the wireless emergency alert system, which has been around since 2012 and warns customers ahead of floods and other potential threats. "Can they be better? Absolutely. And we'll continue to work with state and federal authorities on this to make them better and enhance them."
Improvements needed: One of the key wireless alert limitations is the ability to offer targeted, block-by-block warnings. Technology will continue to improve to allow for more granular targeting, Baker said.
https://www.axios.com/newsletters/axios-login-260585f1-35c0-4df6-9e06-95d4d10d4bf9.html?chunk=2#story2
Senator wants hearing over Facebook's Russia election ads
The top Democrat in a congressional investigation of Russia's influence on the election wants more information from Facebook following the social giant's disclosure that thousands of ads were likely purchased by a Russian operator between mid-2015 and earlier this year.
"I'd like to get a more comprehensive look than perhaps what we got today," said Sen. Mark Warner. "I think today was a good first step, but I think there's more to come."
Why it matters: Warner and others have raised questions about whether digital ad targeting systems were used to distribute "fake news" meant to tilt the results of the election and if the Trump campaign could have aided Russian operatives in such an effort. That pressure isn't letting up, as Axios' David McCabe reports.
Mueller's interest: Reuters reports that Facebook has also provided special counsel Robert Mueller with a copy of its findings. The newswire says the "company produced copies of advertisements as well as data about the buyers."
What about Twitter: "My hope is that we would even at some point get Facebook, Twitter, and some of the other social media firms in for a public hearing," Warner said, adding that Twitter would be briefing committee staff in the future.
Bigger picture: Warner added that there should be greater transparency about who is buying political ads online. The companies, he said, have "got to follow the law, and if the law needs to be changed to meet...21st century standards, let's have at it."
Other voices:
eBay founder Pierre Omidyar:"It is completely unacceptable that Facebook says it will not release the actual ads it showed to its users." ... "These are ads that violate federal law, that it published in violation of federal law, to unsuspecting members of the public." ... "Inconceivable why Facebook thinks it can continue to hide its dark ads from broader public view, now that some are obviously criminal."
ProPublica reporter Julia Angwin: "The only reason we know about this is a Facebook internal investigation. Is this the oversight we need for election advertising?"
BuzzFeed News White House reporter Adrian Carrasquillo: "Gotta admit. Didn't see this headline coming a decade ago when we were using Facebook to find the cute person in class."
https://www.axios.com/newsletters/axios-login-260585f1-35c0-4df6-9e06-95d4d10d4bf9.html?chunk=3#story3
Why T-Mobile is giving customers free Netflix
In general, T-Mobile is using its un-carrier moves to try to solve what it sees as the primary pain points in wireless service. At first blush, giving customers free Netflix seems nice, but not necessarily dealing with a problem other than the fact people would prefer not to pay for it.
Yes, but: Sievert told Axios that offering free Netflix is designed to give customers something they really want for free, in contrast to AT&T and Verizon, which he says are forcing customers pay for content they don't want.
"What we are really attacking is the idea of the egregious exploding bundle," Sievert said in an interview at the company's Bellevue, Wash., headquarters. Sievert noted the billions that AT&T spent on DirecTV and that Verizon spent on AOL and Yahoo as efforts to replicate the cable model.
"They are bringing those same pricing tactics to our part of the industry," he said.
CEO John Legere rolled in on a Segway scooter, echoing his excitement for the Netflix deal.
The other side: Verizon, which long eschewed unlimited service, now offers a number of options, albeit with some strings attached, including an offer of four lines for $160 — the same price as T-Mobile One. And while AT&T once required customers who wanted unlimited service to also sign up for home TV service, it dropped that requirement some months back. And customers of its high-end service get HBO for free as well.
https://www.axios.com/newsletters/axios-login-260585f1-35c0-4df6-9e06-95d4d10d4bf9.html?chunk=4#story4
The deep divide over undocumented immigrants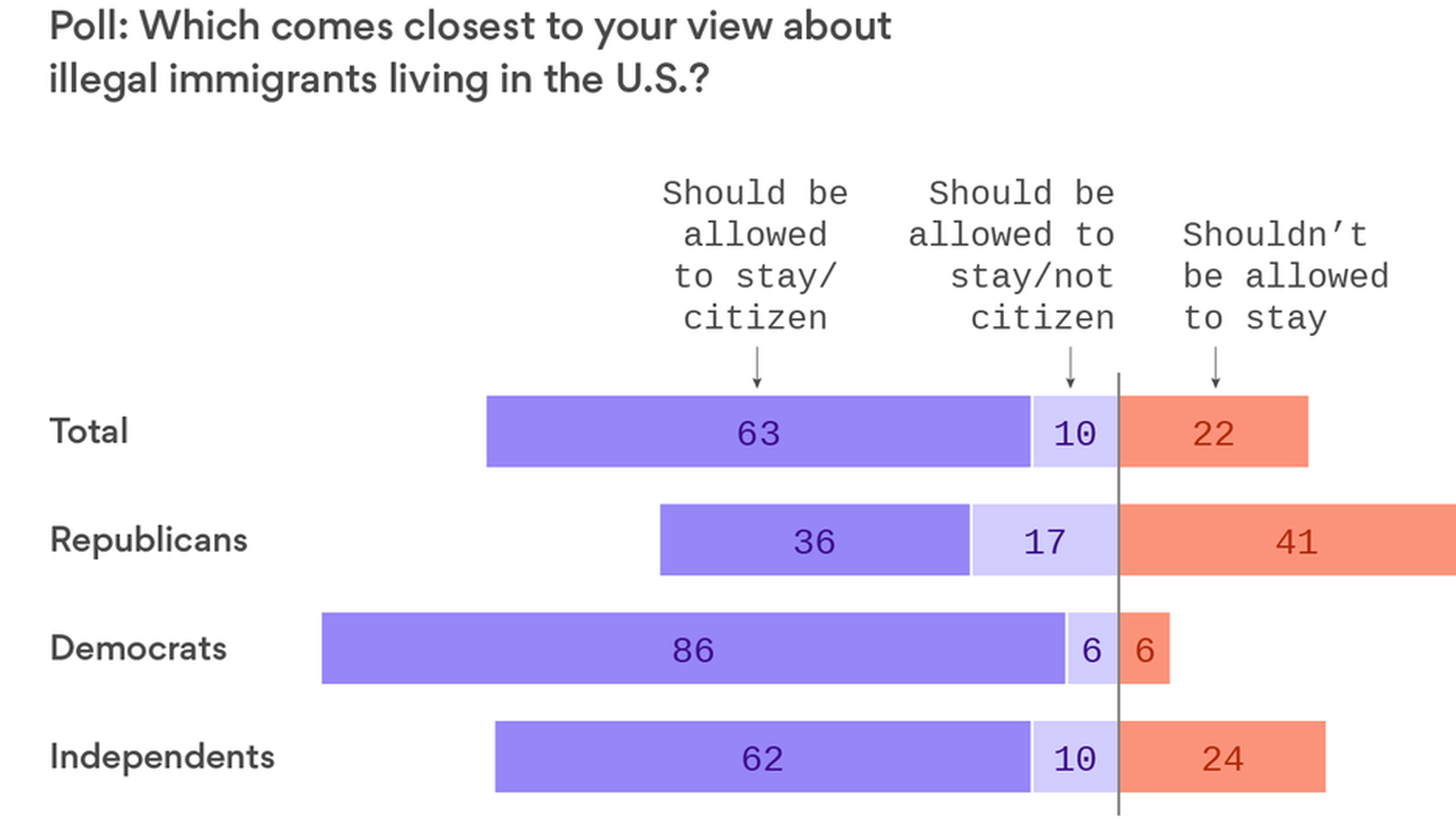 This poll, from Quinnipiac University last month, shows that Republicans and Democrats aren't just divided on what to do about undocumented immigrants. They live in different universes, with independents somewhere in the middle of the huge chasm. Axios' David Nather has more here.
Why it matters: Left-leaning tech industry execs have vocally opposed Trump's call for Congress to solve the "Dreamers" issue in six months. But the deep divide on how to deal with undocumented immigrants shows just how far Silicon Valley is from other parts of the country politically.
https://www.axios.com/newsletters/axios-login-260585f1-35c0-4df6-9e06-95d4d10d4bf9.html?chunk=5#story5
Take note
On tap: Mobile Future Forward takes place in Seattle...NLGJA: The LGBT Journalists Association is kicking off its annual gathering in Philadelphia.
Trading places: Former FTC chair Edith Ramirez is joining the Hogan Lovells law firm to head its antitrust practice...The Consumer Technology Association hired Jennifer Taylor as VP of U.S. jobs.
ICYMI: Western energy facilities were targeted by hackers, Axios' Shannon Vavra reports...A judge rules in favor of TechDirt in libel suit, Fortune writes...Square wants to be more like a bank and plans today to apply for an industrial loan license; SoFi has applied for similar status earlier this year...John Deere is spending $305 million to buy Bay Area machine learning startup Blue River Technology. (I'll have more on that deal tomorrow.)
https://www.axios.com/newsletters/axios-login-260585f1-35c0-4df6-9e06-95d4d10d4bf9.html?chunk=6#story6
After you Login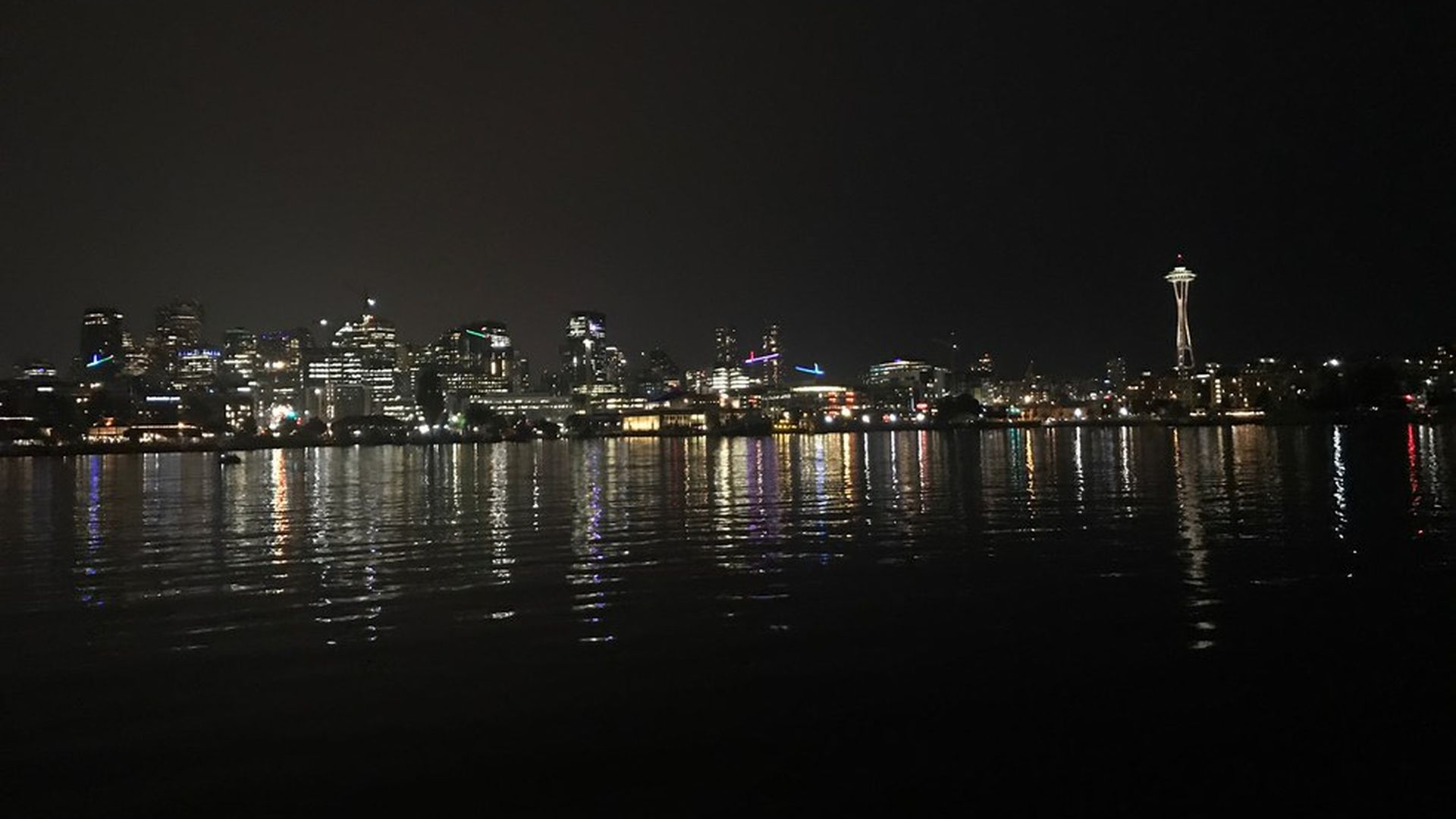 I mentioned yesterday that Seattle was raining ash, and it was. And it was super smoky today, even largely obscuring the sunset during a dinner cruise on Lake Washington. But the night skyline was quite pretty, so I thought I would share. And this is just what it looked like on my iPhone.