Axios is doing its first event in LA on June 14 and you (and your friends) are invited. Axios Science editor Alison Snyder will host one-on-one conversations with leading experts on artificial intelligence, brain-machine interfaces, virtual reality, and more. You can get more information and RSVP here.
https://www.axios.com/newsletters/axios-login-0d7e8e87-2eeb-4a06-a855-3b417c1421da.html?chunk=0#story0
GitHub funds Maven to teach computer skills to LGBT youth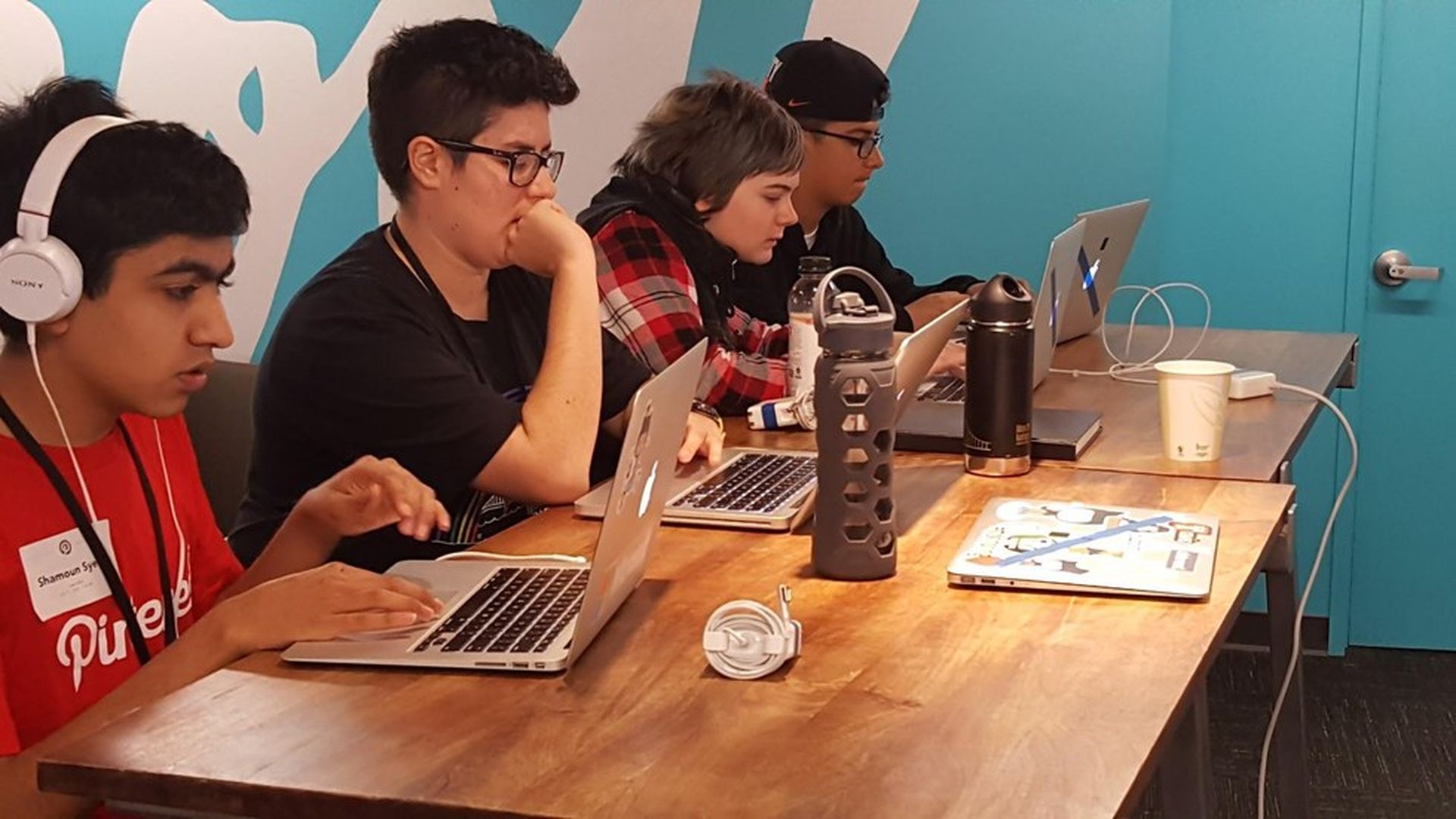 After years of working with LGBT tech group Maven, GitHub is writing the organization a big check. The open-source tech company has given the nonprofit a three-year, $100,000 grant to help Maven expand its work, which includes tech-oriented summer camps for LGBT youth.
Maven hopes to use the grant to scale its summer camps to more cities and to formalize its curriculum so that LGBT centers can run the programs on their own.
Other efforts: GitHub has taken on other LGBT projects, including signing an amicus brief in the Gavin Grimm case and supporting Refuge Restrooms, a crowdsourced map that helps identify safe, gender neutral restrooms.
Read more here.
https://www.axios.com/newsletters/axios-login-0d7e8e87-2eeb-4a06-a855-3b417c1421da.html?chunk=1#story1
States try to speed up 5G wireless network deployment
Virginia Gov. Terry McAuliffe is signing a bill this morning that aims to provide a uniform process for installing the new network equipment on places like lamp posts, utility poles, and buildings.
Why it matters: Permitting for new wireless facilities in municipalities can take a while, so a number of states are trying to streamline the process to encourage more rapid deployment of the networks, which require 10 to 100 times more antenna locations than 4G or 3G.
Florida, Texas, Minnesota, Arizona, Colorado, Indiana and Iowa passed similar bills this year.
Why states are happy: Two words — jobs and money.
Accenture projects that 5G wireless networks could create as many as 3 million jobs nationwide and boost GDP by nearly $500 billion over the next 7 years.
Telecom operators are expected to invest about $275 billion in building out 5G infrastructure.
Why some cities aren't so happy: Cities like having a say in where and how antennas are placed on public structures. Some state laws also cap the permit application and attachment fees, cutting into city revenues. Kim Hart has more here.
https://www.axios.com/newsletters/axios-login-0d7e8e87-2eeb-4a06-a855-3b417c1421da.html?chunk=2#story2
Today in "What did Uber do now?"...
Uber hired two law firms, fired 20 employees, sent several more to counseling and training, and yet, it apparently took a call from the press for the company to take action against an executive, who has taken questionable actions.
The news: Recode reported on Wednesday that Eric Alexander was fired shortly after the press started asking questions about him. According to Recode, there were reports that Alexander got ahold of the medical records of an Uber rider who was a rape victim in India in 2014 and shared them with CEO Travis Kalanick and his close lieutenant, Emil Michael. What's more, the three speculated that maybe the reported rape was all a ploy by Uber's rival, Ola.
Uber confirmed they fired Alexander but declined to comment on the allegations yesterday, according to various reports. However, the timing of Alexander's firing puts a spotlight on Uber's commitment to a zero tolerance policy.
Meanwhile: Arianna Huffington disclosed at a conference that Kalanick has recently taken to meditation, which is fine and dandy. Except, she also noted that at least once Kalanick did his meditation in Uber's lactation rooms.
Also: The Information reported Wednesday that Uber used an algorithm to optimize its initial compensation offers to new hires. The move helped the company cut costs and limit shareholder dilution, but also had the effect of reinforcing pay disparities among workers doing the same job, including a gender pay gap.
More shoes to drop: Uber's board is still mulling over former U.S. attorney general Eric Holder's report on former employee Susan Fowler's claims. Plus, the Financial Times called for Kalanick's ouster. That appears unlikely. But one thing is clear: With each day, it is increasingly difficult to justify maintaining the status quo.
https://www.axios.com/newsletters/axios-login-0d7e8e87-2eeb-4a06-a855-3b417c1421da.html?chunk=3#story3
Take note
On tap: While I suspect even many in Silicon Valley will be paying attention to former FBI director James Comey's testimony, there are a few other things happening in D.C. that have direct impact on the tech industry. The Senate Commerce Committee will hold a hearing on the nomination of David Redl to lead the National Telecommunications and Information Administration, while the Senate Judiciary Committee is also planning to vote on the nomination of Makan Delrahim to lead the Justice Department's antitrust division.
Trading places: Former State Department and NSC communications official Emily Horne is joining Twitter to lead policy comms.
ICYMI: MIT Technology Review looks at just when experts think that robots will be better than you at your job...Andy Rubin's Essential raised $300 million in its recent Series B financing, Bloomberg reported, valuing the company at nearly $1 billion.
https://www.axios.com/newsletters/axios-login-0d7e8e87-2eeb-4a06-a855-3b417c1421da.html?chunk=4#story4