Axios Latino
Welcome! Thanks for joining us today!
🎓 It's graduation season, and we want to hear more about the recent graduate you know. Send in a sentence about them with a photo to [email protected]
🇺🇸 It's also primary day in several states, so we're taking a close look at big races and at Latino candidates in today's newsletter.
Puede leer la versión en español aquí.
This newsletter, edited by Astrid Galván and Laurin-Whitney Gottbrath, is 1,704 words, a 6.5-minute read.
1 big thing: U.S. House race in Texas could set the tone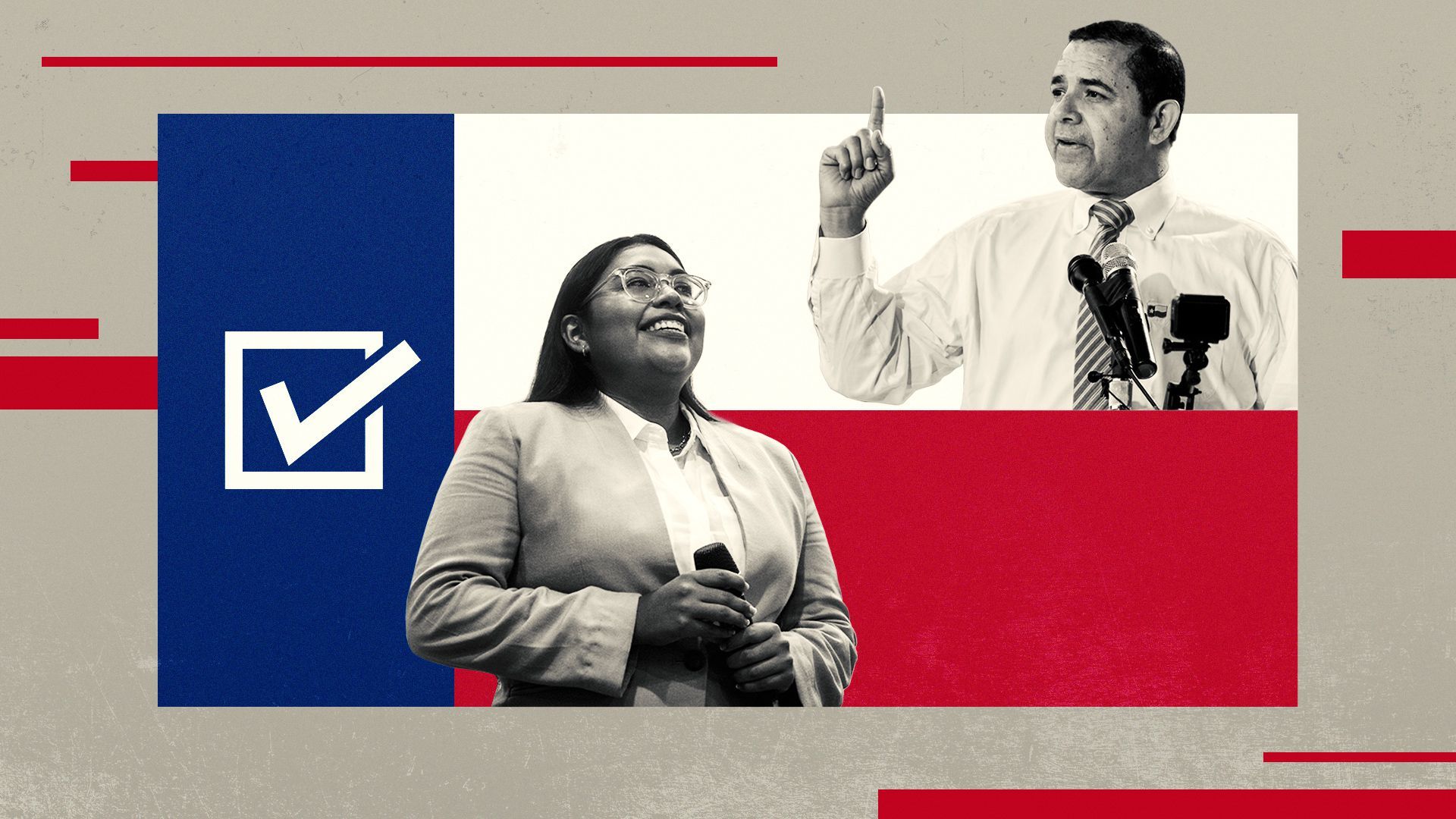 Today's congressional runoff between two South Texas Latino Democrats with opposing views on abortion could shape how their party fares in November, Astrid writes.
The big picture: Democrats bracing for a loss of the House majority in November are rallying voters nationally around fears the Supreme Court is about to overturn abortion rights — but in a general election, this message may not work as well in socially conservative districts with Democratic incumbents.
Details: Incumbent Henry Cuellar, a Catholic who opposes abortion, is in a tight race to keep his seat in Congress for a district that includes San Antonio and parts of the U.S.-Mexico border. Cuellar has the backing of party leaders, including Speaker Nancy Pelosi and House Majority Whip Jim Clyburn (D-S.C.).
His opponent, Jessica Cisneros, is an immigration lawyer and progressive who is backed by U.S. Sens. Bernie Sanders (I-Vt.) and Elizabeth Warren (D-Mass.)
Flashback: Cuellar beat Cisneros by just 2 percentage points — 1,005 votes — in a March primary for the South Texas seat, leading to a runoff.
Cisneros has zeroed in on abortion rights since the leak of the Supreme Court draft opinion overturning Roe v. Wade. She called on Democratic party leaders to drop their support for Cuellar over his anti-abortion rights stance.
Cuellar said that while he opposes abortion, he doesn't think there should be a total ban.
The intrigue: Latino voters in South Texas voted Republican in higher numbers in 2020. But Latinos also skew very young, and young people are much more likely to support abortion rights, according to the latest study from the Pew Research Center.
Between the lines: A Cisneros victory should prompt Democratic leaders to get behind more progressive candidates, Democratic strategist Chuck Rocha says.
But, but: Daniel Garza, founder and president of The LIBRE Initiative, which advocates smaller government, argues that South Texas "is trending more towards centrist policies and rejecting ultra-progressive ideas that are making it harder to find work, earn an honest living, cope with inflation, and provide for their families."
What they're saying: The Cuellar-Cisneros battle isn't just about the progressive wing of the party versus the conservative one, Rocha says.
"It's the party fighting with the people who run the party," Rocha said. "Our party is gonna change a lot in the next five years."
Share this story
2. Other Latinos to watch this election season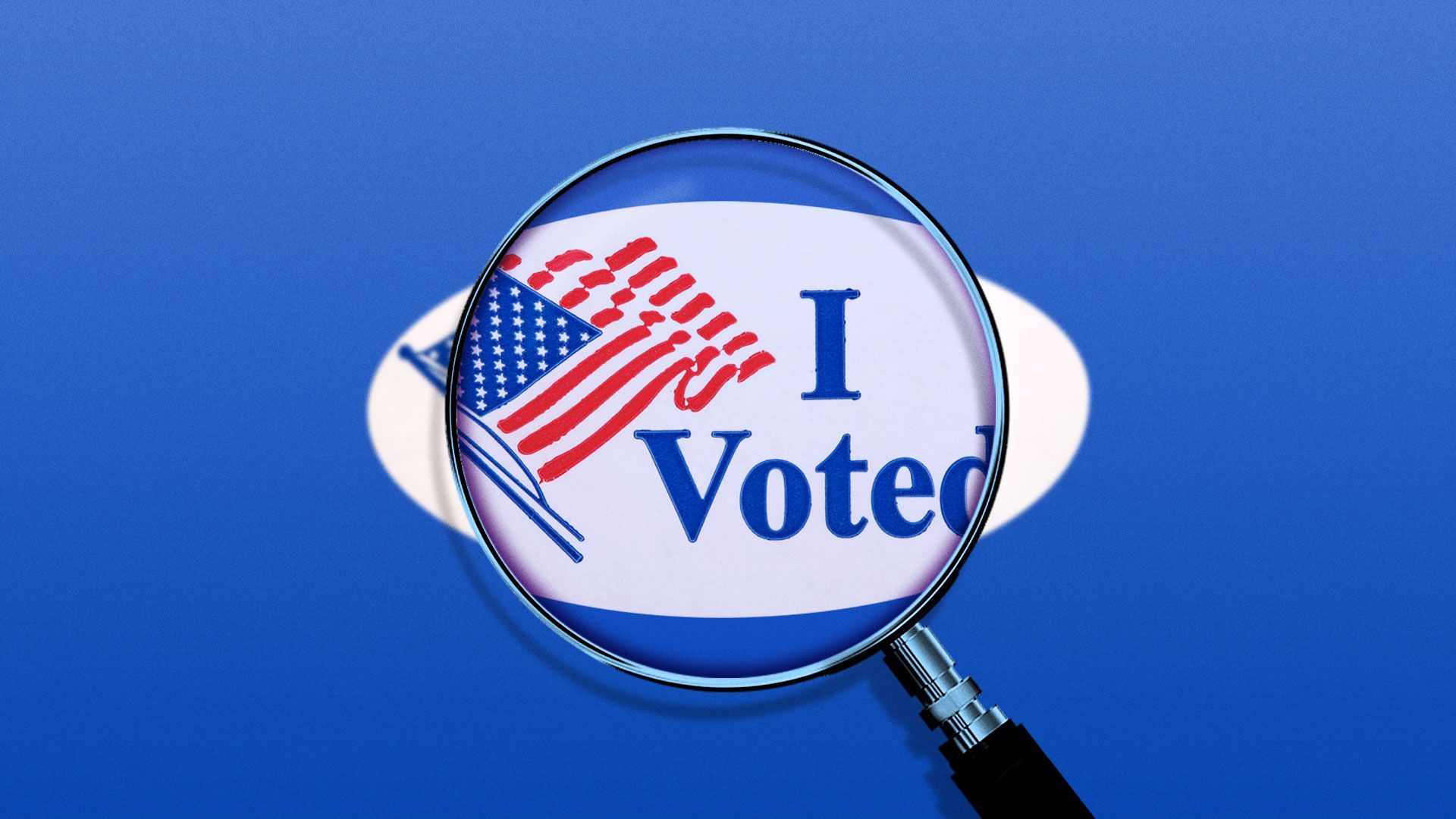 From the American Southwest to New England, Latino candidates are seeking to break barriers in statewide races and flip seats traditionally held by opposing parties, Russell writes.
Why it matters: If successful, the up-and-coming candidates could quickly become the faces of their parties and catapult themselves onto the national stage.
Who to watch: Zack Quintero, Democratic candidate for New Mexico state auditor, would be one of the nation's youngest statewide elected Hispanic officials at 31. He's running on an anti-corruption platform.
Monica De La Cruz, a Republican candidate for a U.S. House seat, is one of a trio of Latina GOP congressional hopefuls who could flip traditionally Democratic seats in South Texas. The others are Cassy Garcia and Mayra Flores.
Maxwell Alejandro Frost, an Afro Cuban Democrat and gun violence survivor, is hoping to thwart Republican Cuban American power in Florida and win a central Florida seat representing Orlando.
Puerto Rican-born Raúl Labrador, a Republican and former congressman, is seeking to become Idaho's attorney general.
The intrigue: Sonia Chang-Díaz, a former teacher and the first Latina and Asian American to serve in the Massachusetts Senate, is seeking the Democratic nomination for governor in Massachusetts.
Some Massachusetts cities, like Lawrence and Chelsea, are majority Latino.
Don't forget: New Mexico Republicans are attracting a record number of Hispanic candidates for state House seats.
New Mexico has the highest percentage of Hispanics of any state. It's also dominated by Democrats, who control the governor's office, legislature, two U.S. Senate seats and two of three House seats.
Read more.
3. Yes, but let's talk about who's gonna vote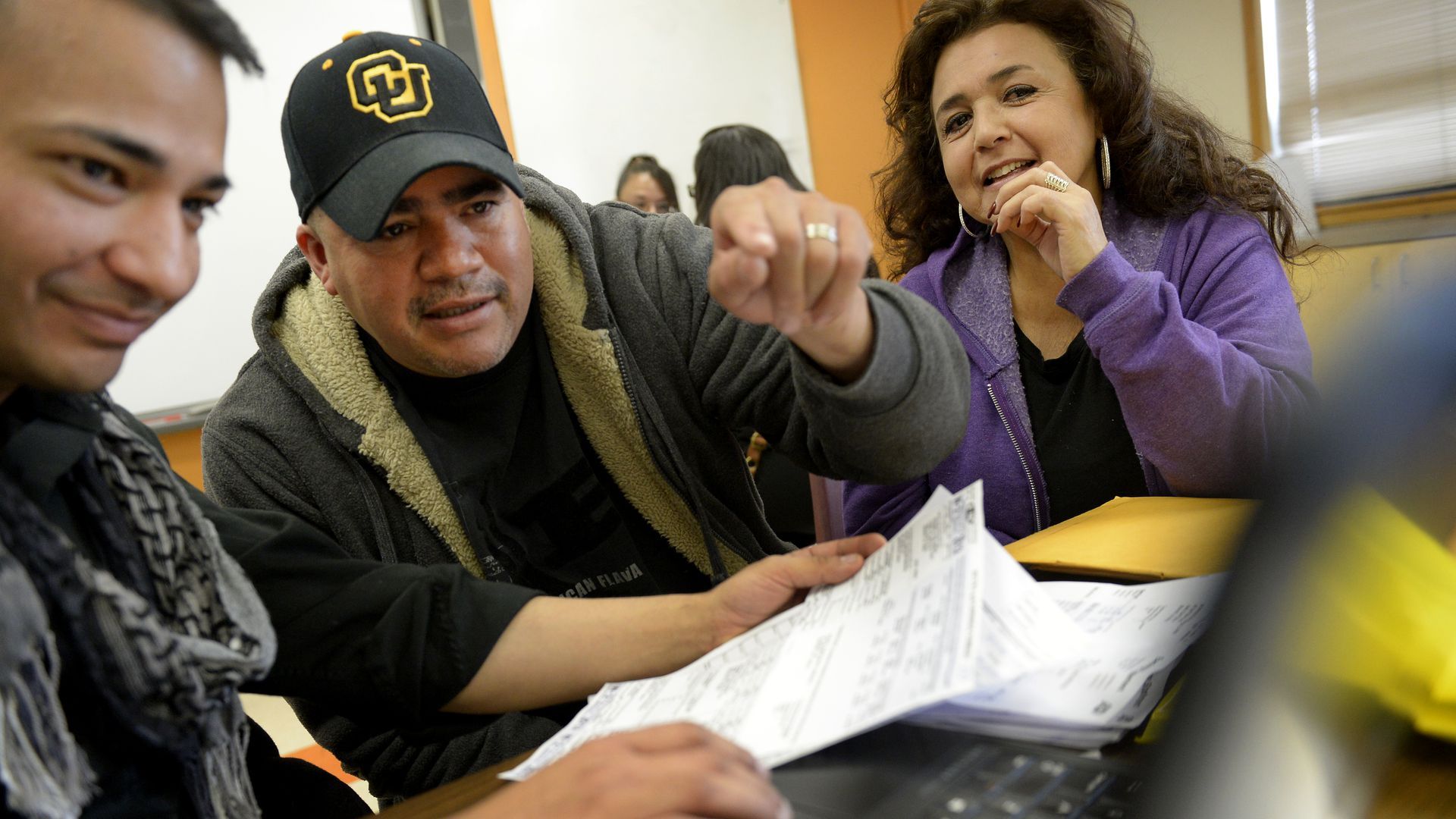 A study from Emerson College's nationwide initiative on Latinos found Colorado Hispanics saying they may not register to vote before November, citing discontent with both parties and the economy, Russell and Alexi McCammond write.
Why it matters: The new survey and focus groups show the challenges that Democrats and Republicans face long-term with one of the nation's fastest-growing voting blocs.
Details: The Emerson College project found that non-registered Latino voters in Colorado were split over whether their vote would make a difference, with 41% revealing they believe it won't change anything.
Young people 18-24 made up the highest share of those non-registered citizens who felt that way, indicating they could be the most challenging bloc for either party to persuade this fall.
Non-registered U.S. citizens were similarly split over whether they could be motivated to register and vote (40% said "if they were more informed") — but 39% said nothing could persuade them.
The big picture: These Hispanic residents in Colorado said that, while they don't have strong positive or negative feelings about either party, they feel more aligned with the Democrats on abortion, immigration and the economy.
But they expressed frustration with what they called the Democratic Party's unfulfilled promises and high costs of some of their proposed social programs.
What they're saying: "I mean, I don't want to" register to vote, a 22-year-old non-registered citizen said in one of Emerson College's focus groups. "It's not going to really change a whole lot, more of the change comes from the local level if you really want to change something."
Around 30.6 million Latinos were eligible to vote in 2020, according to a City University of New York study.
4. The future of Spanish-language newspapers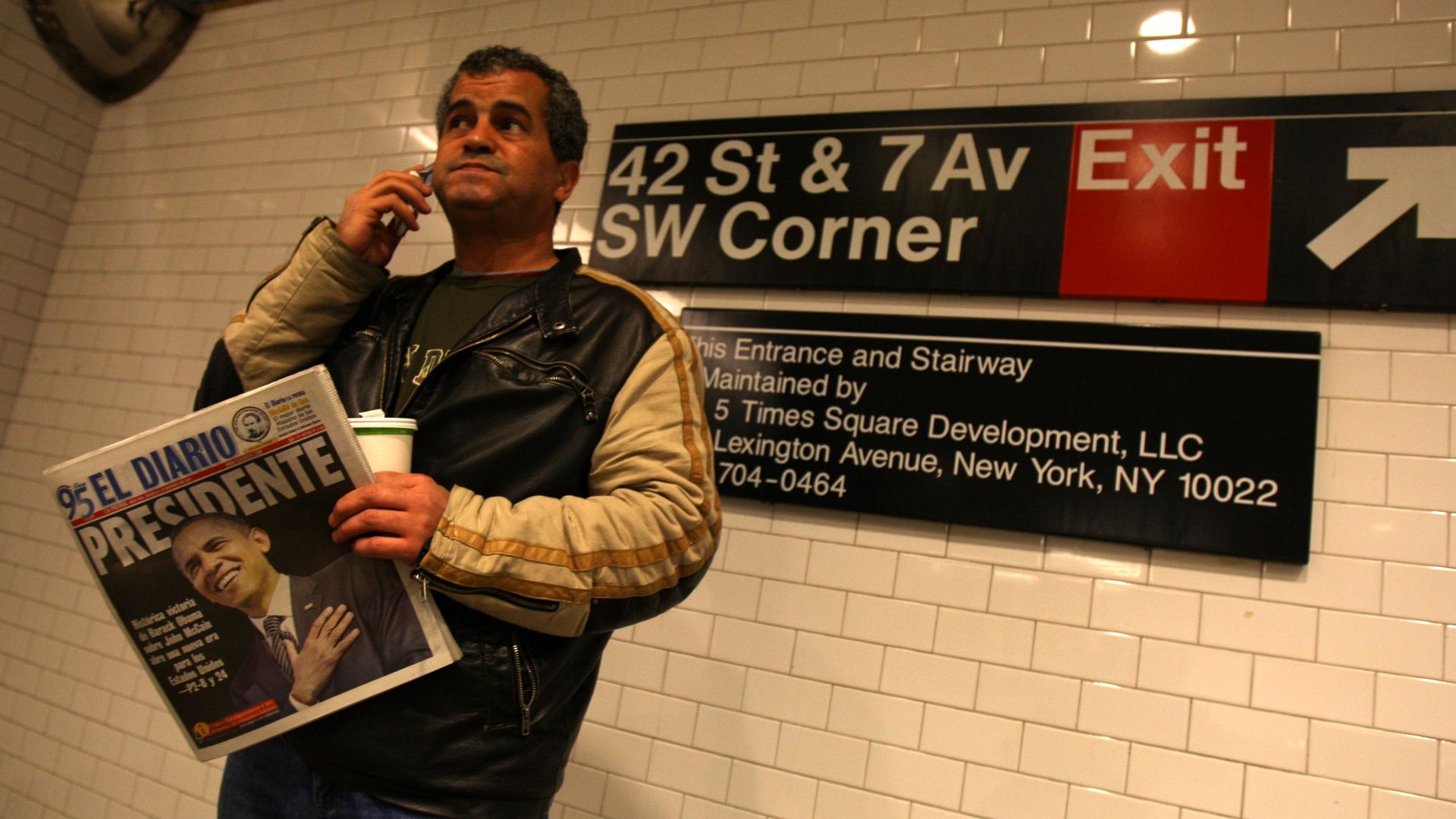 A startup backed by private equity has purchased some of the most influential Spanish-language newspapers in the U.S., Russell writes.
Why it matters: Spanish-language newspapers, like all print media, have been struggling with declining circulation and rising costs. A startup's investment in them heralds a new attempt to save these historic publications.
Driving the news: My Code announced this month it has acquired Spanish-language news company Impremedia, owners of La Opinión and El Diario, for an undisclosed amount.
La Opinión is the nation's No. 1 Spanish-language daily newspaper and is based in Los Angeles.
El Diario, the oldest Spanish-speaking daily in the United States, is based in New York.
In addition, My Code now owns La Raza in Chicago and La Opinión de la Bahía in San Francisco as part of the acquisition.
The Santa Monica, California-based My Code is now the owner of the most widely-read Spanish-language daily newspapers and digital media outlets in the nation.
My Code is an advertising network aimed at Hispanic, Black, Asian American and Pacific Islander consumers.
The big picture: Spanish-language newspapers have been decimated over the last decade because of rising print costs, consolidation and the rise of mobile news consumption.
Bilingual and Spanish-language newspapers from New Mexico to Chicago have closed despite long historic connections to those communities.
What they're saying: "With the ever-growing influence and impact of the U.S. Hispanic population, solutions to connect with and serve the community have never been more in demand," said Parker Morse, CEO and founder of My Code.
"By operating in close partnership with Impremedia's first-class leadership team, we will build a strong, vital, and even more sustainable next chapter for Hispanic media and marketing."
5. Stories we're watching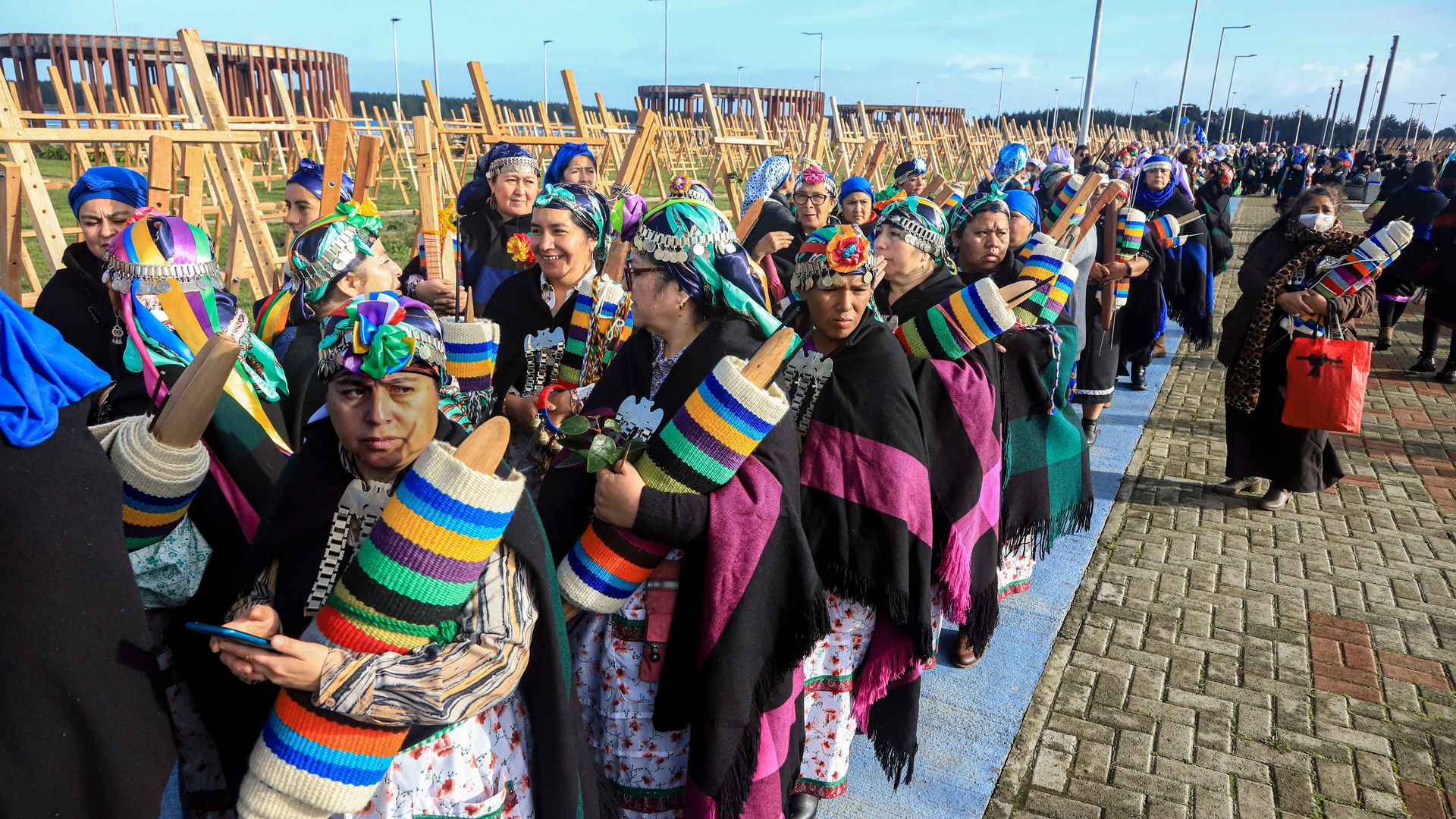 1. Chilean Mapuche women attempted to break a Guinness world record this weekend by hand-looming the longest tapestry in the world, measuring almost 3,000 feet.
Over 400 women from 87 communities worked on the tapestry using locally sourced wool and a traditional style of weaving called wixtal.
It's unclear when Guinness World Records will verify the results.
2. President Biden is considering inviting a Cuban representative to the Summit of the Americas, AP reports.
The overture would be a nod to Mexican president Andrés Manuel López Obrador, who threatened to boycott the June event in Los Angeles because Cuba, Nicaragua and Venezuela were left off the guest list.
Bolivia said it would follow Mexico's lead, while Guatemala said it will not be at the event over another disagreement with the White House related to the Guatemalan attorney general.
It's unclear whether Cuba would even accept the invitation. Nicaragua's government has said it would not go if invited.
6. Smile to go: 🚀 All the way to space
A Mexican engineer is set to become the first Latin American-born woman in space, Marina writes.
Details: Katya Echazarreta was chosen from a pool of over 7,000 people to join one of Blue Origin's private space flight missions as a citizen astronaut.
Echazarreta, 26, was born in Guadalajara and immigrated to the U.S. when she was 7 years old without knowing English.
Later, she had to put off college for a few years to help out her mom financially, but she managed to snag an internship at NASA's Jet Propulsion Lab while finishing up her undergraduate studies. She's now working on her master's degree.
What they're saying: "I dedicate all of this to my mom, to my country," Echazarreta told Noticias Telemundo.
She will be joined onboard by Brazilian Victor Correa Hespanha on Blue Origin's fifth manned space flight.
It was set to take off last Friday but was postponed. No new launch date has been set.
Flashback: Around 20 Latinos and Latin Americans have traveled beyond Earth's orbit — most notably Ellen Ochoa, the first Hispanic head of the Johnson Space Center, and Franklin Chang Díaz, a Costa Rica-born astronaut who holds the record for most spaceflights.
7. We all met in person!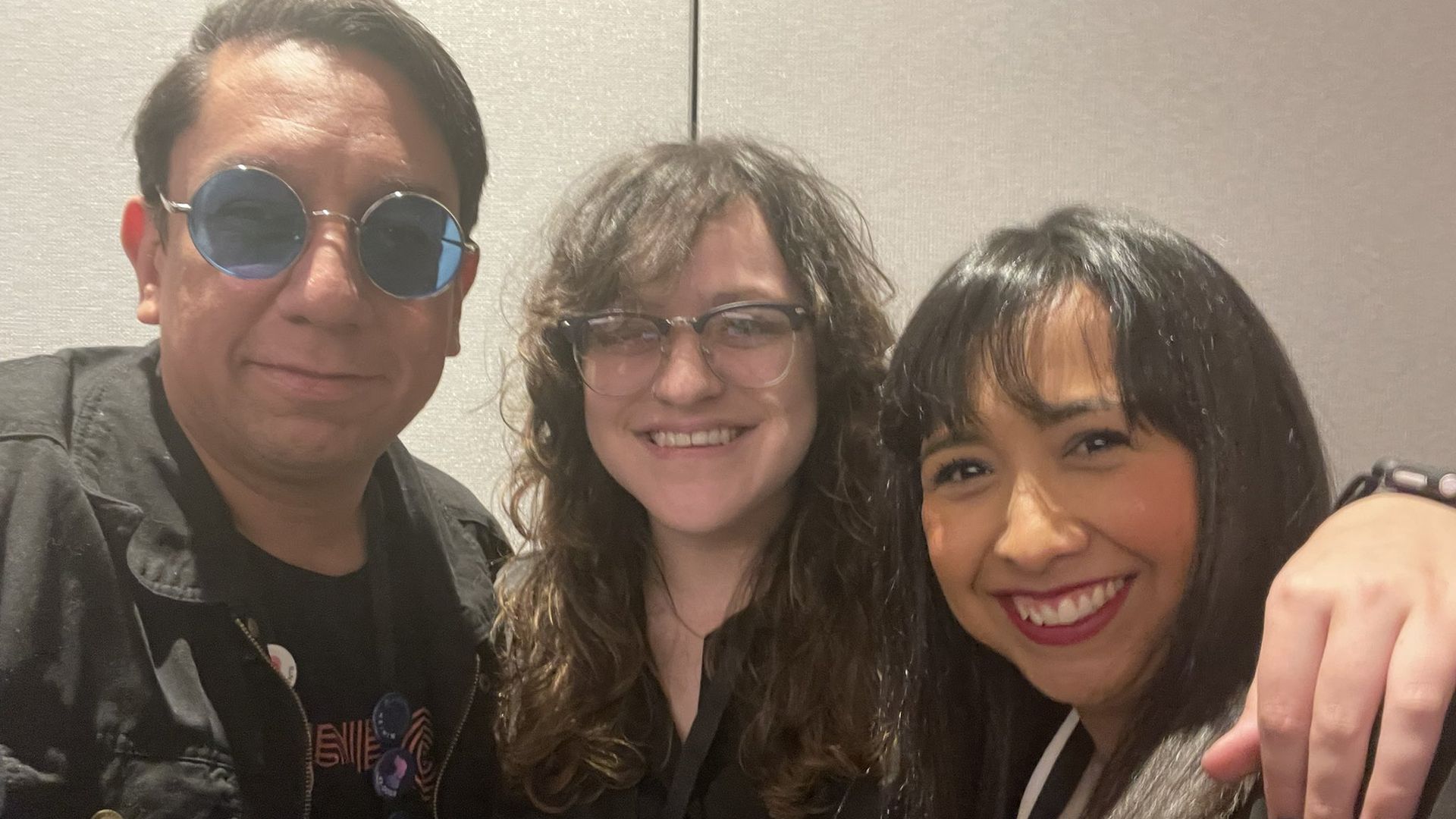 The Axios Latino team met in person for the first time during the Axios retreat last week. So. Many. Good. Times. (And now we know who does the best Shakira karaoke).