Axios Indianapolis
October 04, 2023
Hiya, Wednesday!
☀️ Today's weather: Partly sunny with a high near 87.
📱 Situational awareness: FEMA and the FCC will issue a nationwide emergency alert test today on all cell phones, wireless devices, radios and TVs at 2:20pm.
Today's newsletter is 857 words — a 3-minute read. Edited by Lindsey Erdody and copy edited by Bill Kole.
1 big thing: Make the most of leaf peepin' szn
Fall is here — whether it feels like it or not — and that means it's nearly peak leaf-peeping time in Indiana.
Why it matters: Your window to view the bright hues might be trickier to predict, as climate change impacts when leaves change — and how colorful they get.
Driving the news: Using historical weather reports, tree species info and user data, travel brand SmokyMountains.com put together 2023 foliage prediction maps of the U.S. Here is your leaf peeping calendar, according to SmokeyMountains.com:
Next week: Color change will be patchy in most of central and southern Indiana, including Indy.
Oct. 16: Northern Indiana will be nearing peak fall foliage, while the rest of the state will see partial color change.
Oct. 23: Indy will be nearing peak leaf peeping, while conditions should be perfect in northern Indiana.
Oct. 30: Fall foliage should be peaking across central and southern Indiana.
Between the lines: The green color in leaves comes from chlorophyll, the pigment that helps plants turn sunlight into energy via photosynthesis.
As nights get longer and there's less sunlight in the fall, leaves stop making chlorophyll.
The green color fades and the yellows, oranges, reds or purples become visible.
The best places to view fall foliage in Indiana, include:
2. Contentious convention center rankings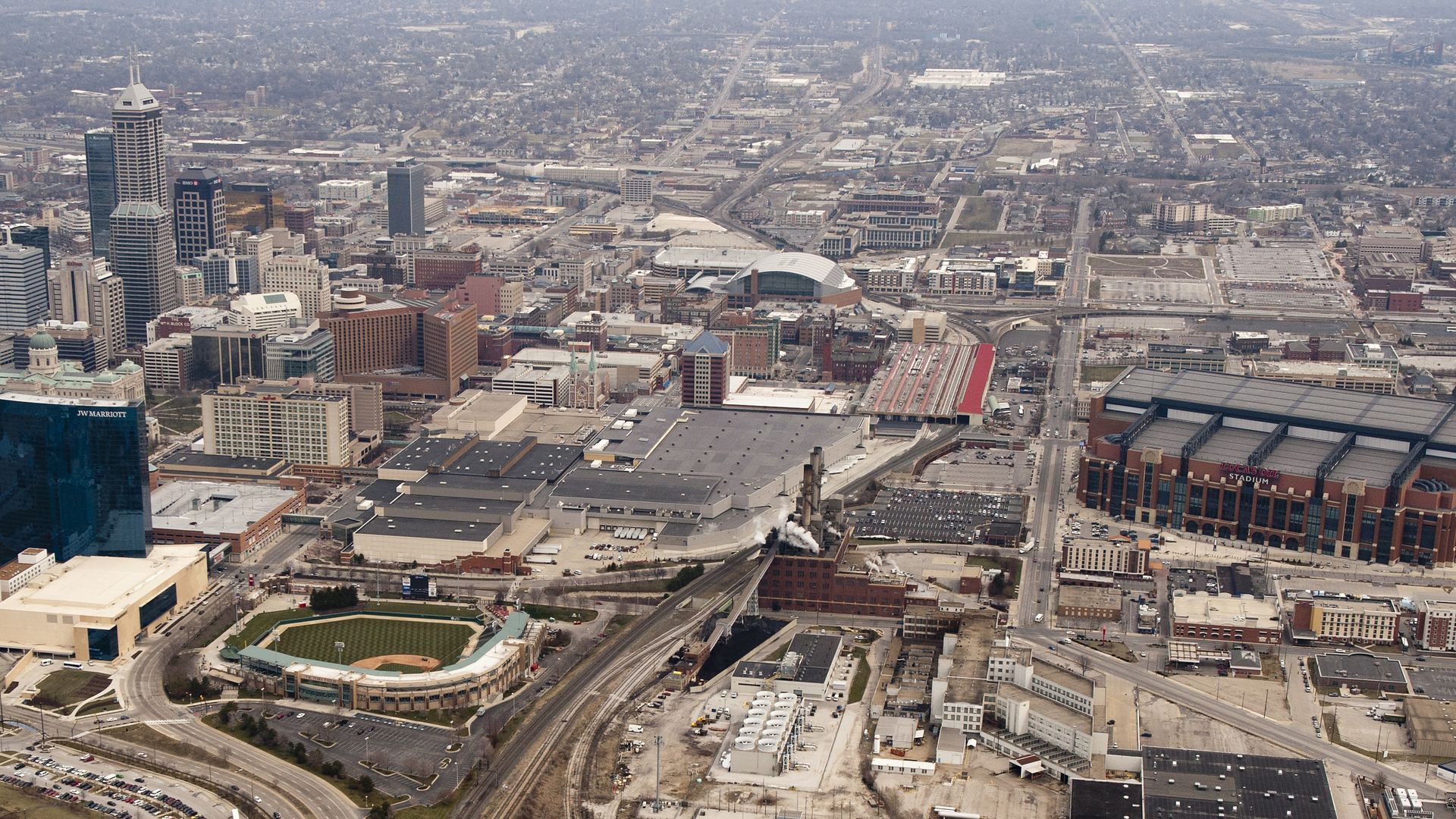 Maybe the Wall Street Journal just doesn't get Indianapolis.
Driving the news: In a new ranking of the 30 largest convention centers in the U.S. the Indiana Convention Center came in 16th.
Visit Indy, which pitches the city and convention center to event organizers, isn't pleased.
"We hospitably disagree with the Wall Street Journal assessment of the Indiana Convention Center," said Chris Gahl, executive vice president and chief marketing officer for Visit Indy.
Between the lines: The Journal's ranking considered 12 factors, including the quality of the space and amenities, and the vibrancy, weather and walkability of the area.
Indianapolis ranked in the bottom third of seven categories, including total exhibition space, meeting room space and walkability.
Our best score was fourth for meal price.
Yes, but: Gahl said the WSJ failed to account for the space inside Lucas Oil Stadium, which is included in the convention center package.
A tunnel under South Street connects the convention center to the stadium, so convention-goers can move between the two facilities without going outside.
Plus: Downtown Indy is pretty dang walkable.
💭 Our thought bubble: Did they even account for the skywalks and tunnels?
"We know we're a very walkable city," Gahl said. "And we have more hotel rooms connected to the convention center than any other in the nation."
The intrigue: One of the photos accompanying the WSJ article is of the 2023 Sweets and Snacks Expo, held at the ranking's No. 2 choice, Chicago's McCormick Place.
That was the event's final time in Chicago.
Organizers announced last year it would start a rotation between Indianapolis and Las Vegas in 2024, with two years at the Indiana Convention Center followed by one year at the Las Vegas Convention Center — No. 1 on the WSJ list — through 2032.
3. Pit stop: Your retirement news oasis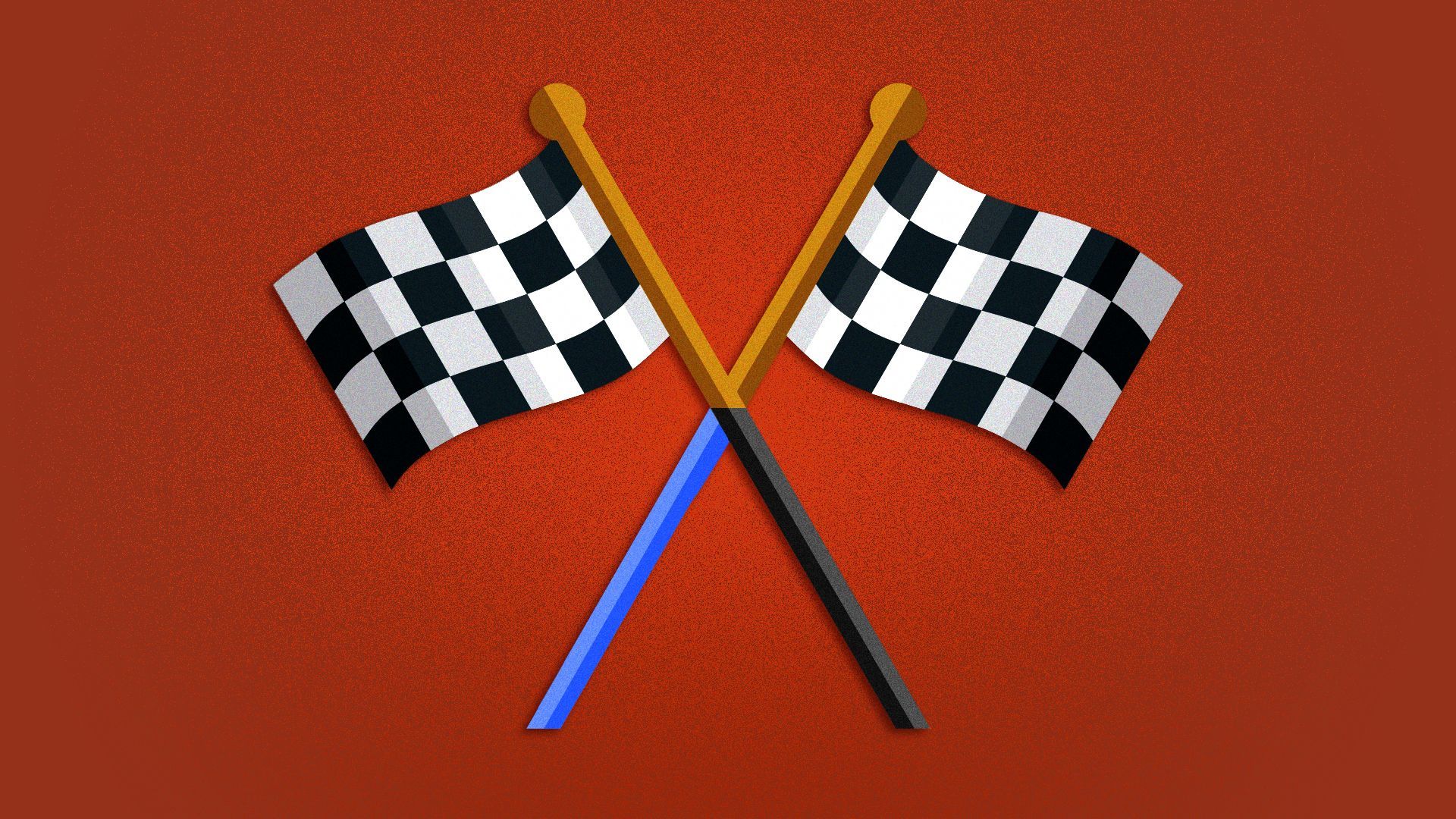 ⏰ State Rep. Jerry Torr, a Carmel Republican who led the creation of a Indiana's right-to-work law and brought the state along with the rest of the nation into Daylight Savings Time, will retire after nearly 30 years in office when his term ends next year. (IndyStar)
📺 TV news anchor Debby Knox is retiring from WTTV-TV (Channel 4) at the end of November. She came out of her first retirement to work for CBS4 in 2015 following a 33-year career at WISH-TV (Channel 8) that ended in 2013. (IBJ)
☑️ Know who's not retiring? U.S. Rep. Jim Baird, a Republican representing the 4th District, says he'll run for re-election next year, putting an end to rumors he intended to retire. (Indiana Capital Chronicle)
4. 🥶 1 reality check to go: Winter is coming
Fall just started but the first frost is right around the corner, friends.
Driving the news: The first freeze could come as early as next week for parts of central Indiana, according to the Midwestern Regional Climate Center.
The median first fall frost in parts of Boone and Hendricks counties occurs between Oct. 11-20.
In Marion County, it's usually the first week of November.
Yes, but: It's been unseasonably warm.
While cooler temps are on the way this weekend, odds are we'll see above-average temperatures throughout October, according to the National Weather Service.
The big picture: Median first fall frosts can be as early as July and as late as January.
Seneca, Oregon, had the earliest 32-degree frost on July 7.
Many Florida cities such as Jacksonville, Orlando and Fort Lauderdale don't see frost until Jan. 1.
Between the lines: The agriculture sector depends on these dates to protect crops and plants that are sensitive to weather patterns.
It can affect food sources for wildlife and change their habits.
Our picks:
🐶 Arika is wishing Butler Blue IV a speedy recovery after tearing the equivalent of a doggie ACL.
📚 James read several books while on parental leave, none better than "A Fever in the Heartland," which tells the story of how the Ku Klux Klan (quite literally) took over Indianapolis and much of the Midwest before an Irvington woman's actions brought down Grand Dragon D.C. Stephenson (also, embarrassingly, an Irvingtonian).
🎄 Lindsey is proud of herself for not looking at the holiday decorations that are already out at Costco.