Axios Houston
September 27, 2023
🐪 And now, Wednesday.
🌦️ Today's weather: High of 93° with a 20% chance of rain.
🛞 Sounds like: "Shut Up and Drive" by Rihanna.
Today's newsletter is 909 words — a 3.5-minute read.
1 big scoop: Cruise cars are testing without drivers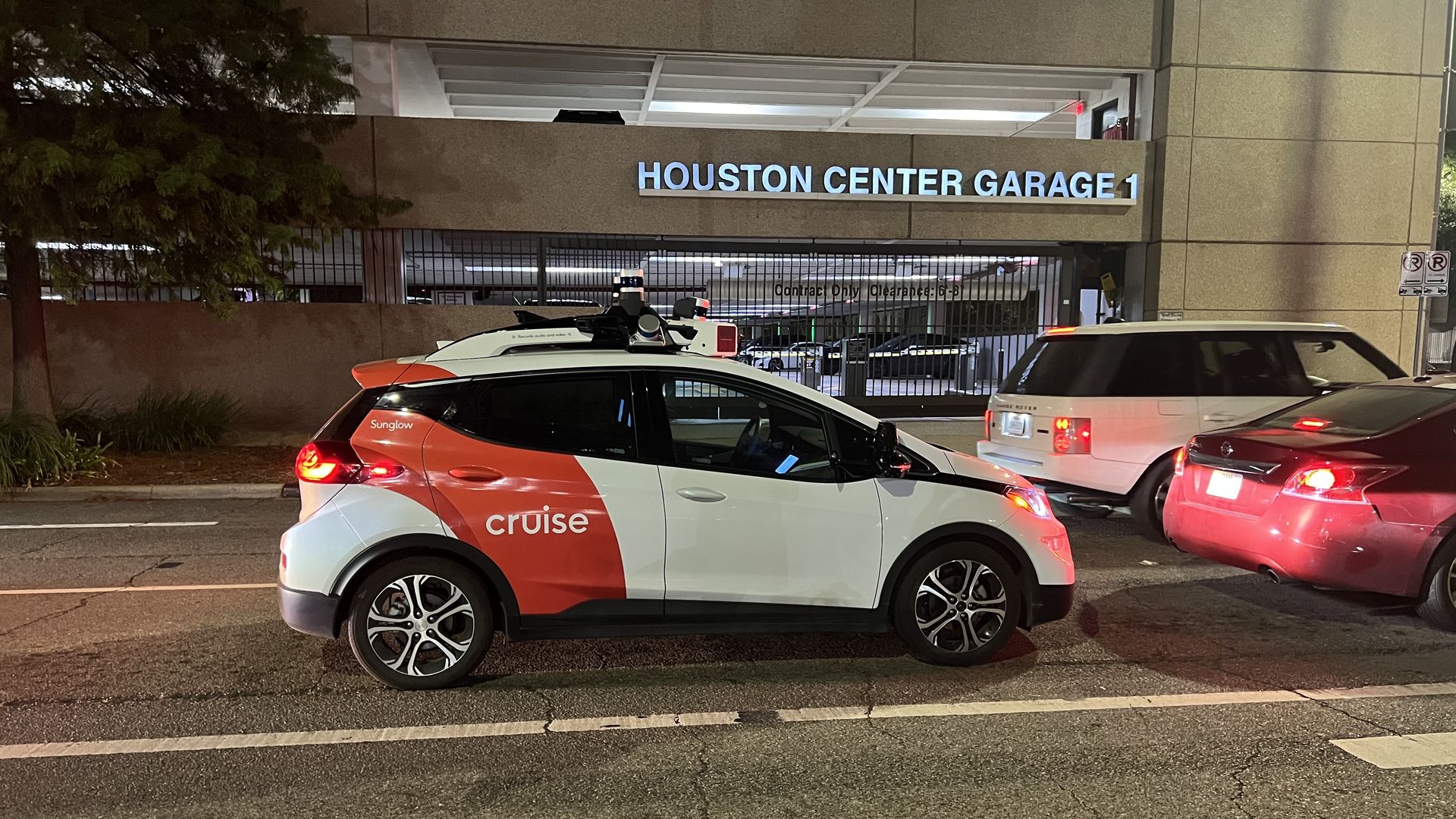 Cruise is testing autonomous vehicles without safety drivers in Houston ahead of a planned expansion into commercial nighttime service by the end of the year.
Driving the news: A spokesperson for the autonomous vehicle company confirmed to Axios yesterday it is offering driverless ride-hailing service to its employees and their friends and family, one of the final steps in its testing process before full commercial service.
The company had not previously publicly announced this driver-free phase of testing.
Why it matters: Like other cities with driverless Cruise vehicles, including Austin, Houston is already seeing traffic issues arise as a result.
For example: Several unoccupied Cruise vehicles disrupted traffic when they stopped at the Montrose Boulevard and Hawthorne Street intersection around 8pm Tuesday after a traffic light malfunctioned.
Houston police responded to the scene and directed traffic around the cars.
A witness told Axios that officers on the scene tried tapping on the Cruise car's window to get it to move, to no avail.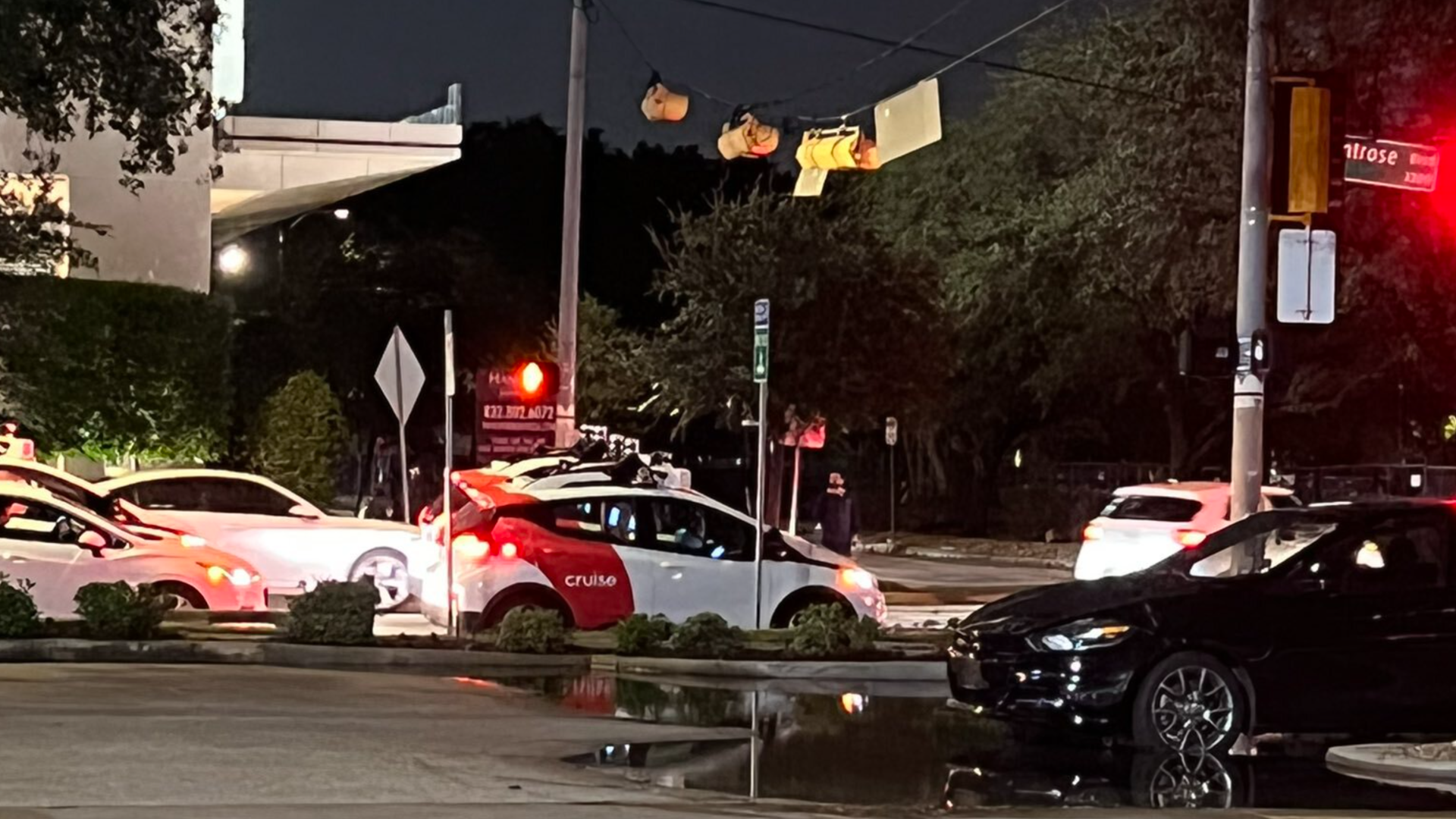 What they're saying: "Our vehicles were stopped at an intersection where the lights were not cycling and showed all red," Cruise told Axios in a statement.
"While some vehicles took a little time to safely navigate the intersection, all vehicles were able to clear the intersection autonomously. Safety is embedded in everything we do, and our vehicles are designed to adhere to traffic signals and follow rules of the road."
Catch up quick: The General Motors-owned company offers driverless ride-hailing services in several American cities, including Austin, Phoenix and San Francisco.
"I don't think this is much compared to the recent Austin incidents," Simon Newton, a neighbor who witnessed Tuesday's Montrose incident, tells Axios. "But not a good start."
In Austin, residents and first responders have reported a Cruise car rolling into a building, as well as vehicles bumping into parked cars and causing traffic delays.
2. 📉 Remote work falls
The Houston area has a below-average percentage of remote workers, according to U.S. Census Bureau data.
Driving the news: Last year, 13% of Houstonians worked from home, down from 15.6% in 2021.
The national average last year was 15%.
The intrigue: Houston had the smallest share of remote workers among the country's largest cities, including Dallas and Austin.
What's happening: Houston companies have been pushing workers back into offices, setting the standard for the return-to-office trend, the Wall Street Journal reported last year.
About 85% of businesses had employees at their desks or had plans to do so in 2022, per the newspaper.
Yes, but: The share of remote workers in Houston is still significantly higher than before 2019, when only about 5% of people worked remotely.
Zoom out: Every state has more remote workers now than in 2019, before the COVID-19 pandemic, Axios' Sam Baker and Simran Parwani report.
And even after two years, the trend line is barely moving, according to Census figures.
📬 Reader, if you're a remote worker, what are your favorite places to do so, aside from your sofa, of course.
Reply to this email and your response might be featured in an upcoming newsletter.
3. Bayou Buzz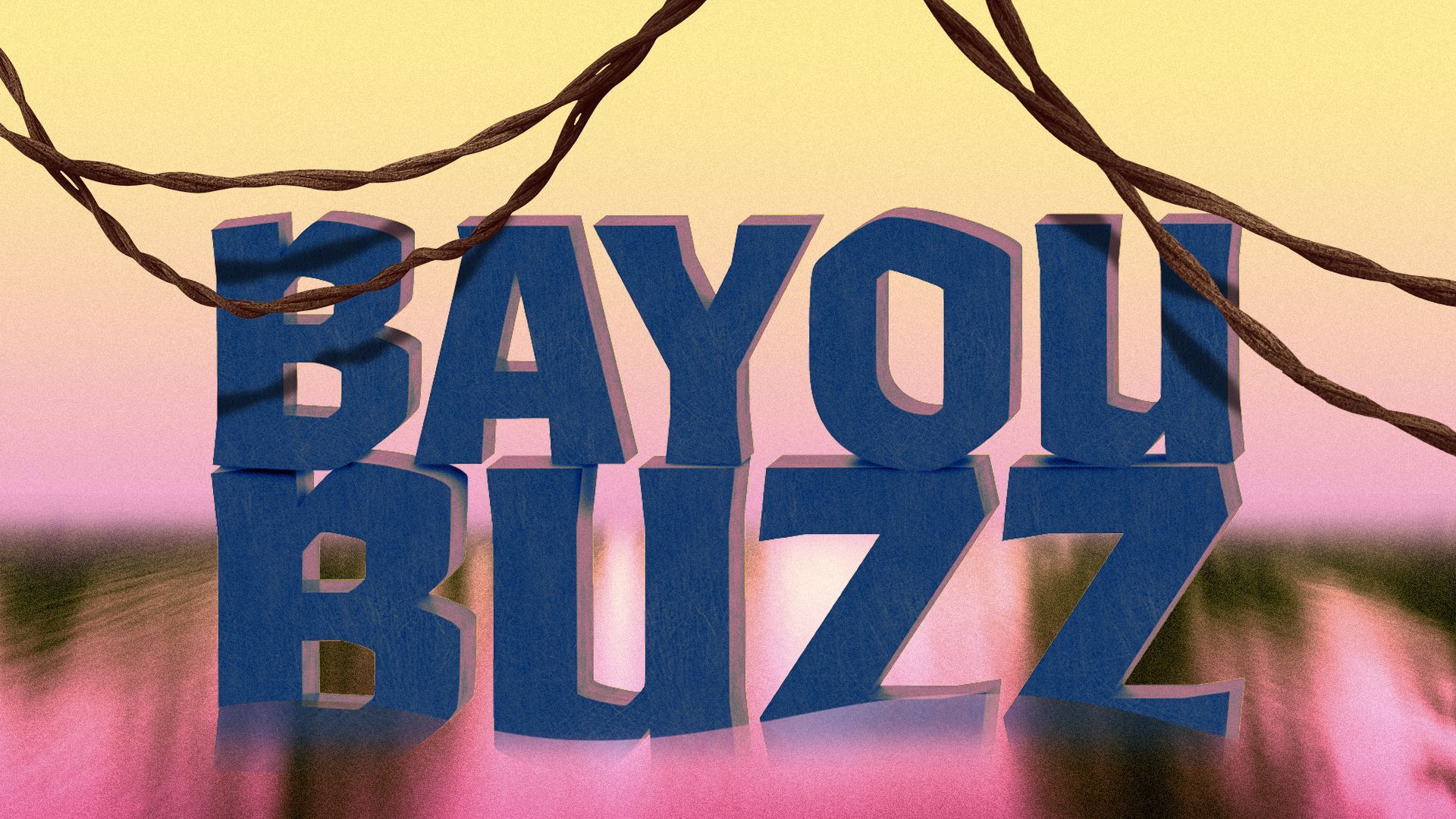 ⚖️ A federal judge in Houston temporarily blocked a new state law that would have effectively banned some public drag shows. (Texas Tribune)
💻 A candidate for Fort Bend County Commissioners Court is calling out racist and defamatory comments made on his campaign's Facebook page. (Houston Chronicle)
🌊 Harris County is home to 14 FEMA "disaster resilience zones," more than any other county in the country. The zones help determine where federal disaster mitigation funds go. (Kinder Institute for Urban Research)
🌡 Houston ISD schools reported more than 1,600 issues with air conditioning systems during the first weeks of school. (Houston Landing)
4. 📚 The Banned Wagon is stopping by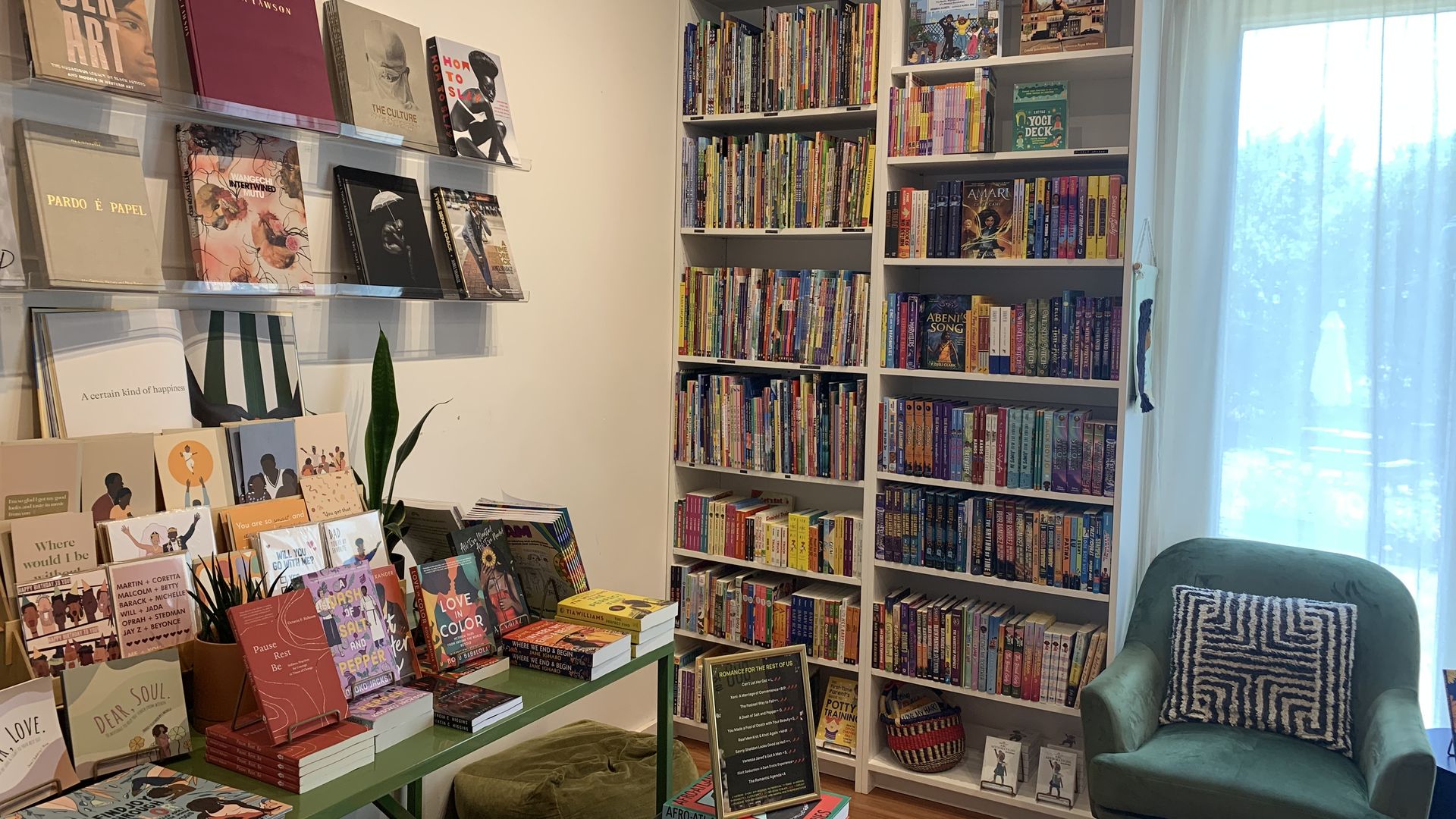 The Banned Wagon is coming to Houston to give out free copies of banned books.
What's happening: Penguin Random House — in partnership with the Freedom to Read Foundation, PEN America, the Free Little Library and local bookstores — is road-tripping through the South to hand out banned books in affected states.
Why it matters: Texas continues to lead the nation in the number of attempts to restrict or ban books, per preliminary 2023 data from the American Library Association.
Details: The Banned Wagon is making a stop at Kindred Stories, a Black-owned bookstore in the Third Ward, on Saturday, Oct. 7 during Banned Books Week.
The wagon will hand out 12 frequently banned books, including Toni Morrison's "The Bluest Eye," which was the most-challenged book in Texas in 2022.
The book focuses on an African American girl growing up after the Depression who is seen as "ugly" due to her dark skin.
Reality check: Most of the bans are happening in the state's suburbs, like Conroe and Katy.
The latest: Katy ISD has banned 14 more books this school year — including several elementary school titles — after adding "nudity" to the definition of inappropriate material.
This week, the district board amended the policy to clarify that only "explicit frontal nudity" is grounds for a book's removal, the Houston Chronicle reports.
It is unclear if the revised policy will bring back previously banned books.
Thanks to Emma Hurt for editing and Khalid Adad and Yasmeen Altaji for copy editing this newsletter.
📖 Shafaq is still reading "Soil" by Camille Dungy, which she bought during her most recent visit to Kindred Stories.
🥎 Jay is glad the rain didn't postpone his Monday-night softball game, which his team — the Silly Geese — promptly lost.