March 04, 2019
Good morning, my recent trip to Australia was a rich reporting environment, with my latest column laying out the big picture of why the country and its upcoming election matters to the rest of the world.
I'll share that, and then Ben Geman will get you up to speed on the rest of today's news.
1 big thing: Global stakes of Australia's choice
SYDNEY, Australia — This country is at a crossroads with its energy future: one that aggressively moves toward cleaner resources in response to climate change, versus one that holds onto fossil fuels far longer.
Why it matters: Australia is the poster child, but the entire world faces similar choices, albeit not quite as stark as Oz. Fossil-fuel exports are booming here while large swaths of its population are enduring the wrath of extreme weather — which scientists say is getting worse as global temperatures rise.
Driving the news: Australia is facing a federal election this spring that offers voters a stark contrast on climate change and energy, and the world a window into two very different futures.
"A lot of people think this will be the climate action election, that unless politicians are supportive of action on climate change, that they are less likely to be elected," said Kerryn Phelps, an independent Parliament member, in an interview in the nation's capital of Canberra.
In a nod to that sentiment, the current leadership, whose views generally align with that of President Trump and U.S. Republicans, just the past week proposed a series of policies that Prime Minister Scott Morrison says will help address climate change.
The initiatives are far less ambitious than the ones being pushed by the opposing parties, which resemble more closely with those of U.S. Democrats.
Here's a snapshot of how central energy and climate change are in Australia:
Australia is the world's largest exporter of coal by value (Indonesia is largest by tons).
It's the world's largest exporter of liquefied natural gas.
It's home to the world's biggest battery installation, at a wind farm in South Australia.
The country is grappling with a two-pronged electricity crisis with spiking prices and sporadic blackouts. While wind and solar face criticism for causing these problems, there are other, bigger factors.
The country's hottest summer ever was just recorded.
A record "catastrophic" wildfire season plagued parts of the nation.
A recent Brookings Institution report found that Australia is poised to be worse off if the world acts on the ambitions of the 2015 Paris Climate Agreement to drastically reduce greenhouse gas emissions.
Australia's current dependence on fossil-fuel exports would decline if other nations acted as aggressively as the Paris deal proposes.
That's a big if, though, considering most countries are on a far slower path to cleaner fuels.
The disagreement here in Oz is over how fast this transition could occur.
Go deeper: Read the whole column.
2. Breaking: Hickenlooper jumps into 2020 race
John Hickenlooper, Colorado's Democratic governor from 2011 to 2019, launched his 2020 presidential campaign today.
Why it matters: Hickenlooper's entry brings a more pro-development voice on oil-and-gas as much of the field is courting the left by embracing the Green New Deal and focusing on climate change.
What they're saying: Hickenlooper seeks to cast himself as a problem-solver in his campaign launch video, which barely grazes energy.
"We brought environmentalists and oil-and-gas companies to the table to create the toughest methane emissions laws in the country," he said.
Per the Denver Post, ""Hickenlooper has said he supports the idea of the Green New Deal but has stopped short of embracing any specific portion of the resolution in Congress."
But, but, but: Amy notes that Hickenlooper presided over large, fracking-driven increases in oil-and-gas production in Colorado.
That has made Hickenlooper, who once worked as a geologist in the oil industry, a target for environmentalists.
What we're watching: Via Amy, his success or failure will help to test how far left the party has moved on energy and the environment.
Go deeper:
3. Tesla sets Model Y unveiling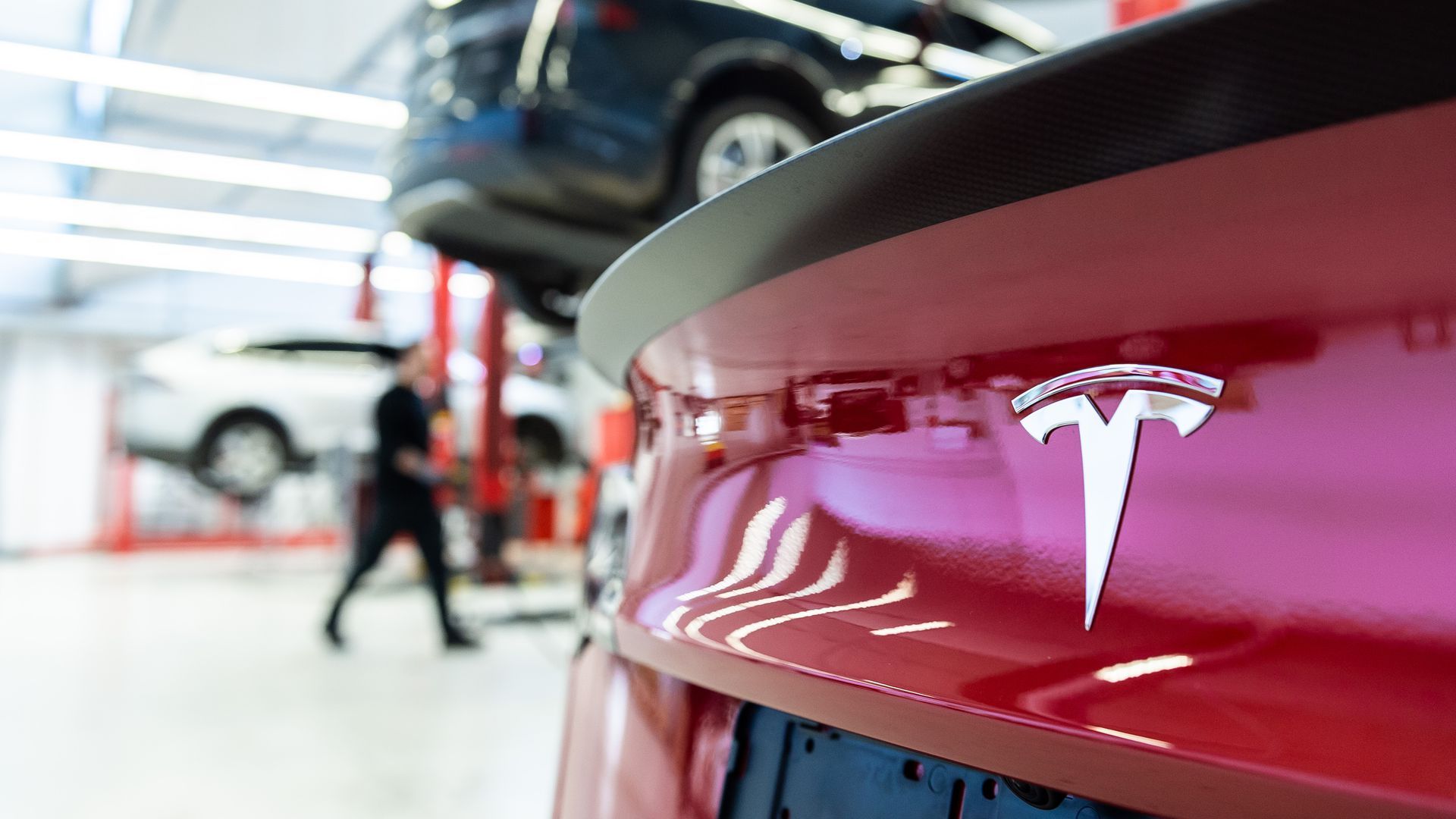 Tesla CEO Elon Musk tweeted Sunday that the company will unveil its Model Y crossover SUV on March 14 at L.A. Design Studio, and that it would "cost about 10% more [than the Model 3] & have slightly less range for same battery."
The big picture: The announcement comes less than a week after Tesla said its long-awaited $35,000 Model 3 is available to order online. Musk said detailed specifications, price points and test rides will be available at the unveiling.
Why it matters: Axios' Joann Muller says the Model Y would enter one of the most competitive segments in the market — compact crossover utilities.
Musk implausibly aims to build one million copies at a yet-to-be-announced factory. That's more than Ford's wildly popular F-Series pickup, which isn't likely to be dethroned as America's best-selling vehicle anytime soon.
But the excitement over Tesla's next model could help distract attention from the company's profit struggles.
Go deeper: How Tesla lost its minotaur soul
* * *
Speaking of electric vehicles, Reuters reports: "Germany's car industry is to invest nearly 60 billion euros ($68 billion) over the next three years on electric cars and automated driving, the head of the VDA car industry association said ahead of the Geneva motor show."
4. A K Street divide
A Financial Times story this morning explores how the refining industry's main trade group opposes carbon tax proposals that are backed by some large members including Exxon and BP.
Why it matters: The story on the posture of American Fuel & Petrochemical Manufacturers highlights a policy divide within the industry.
Some big companies are supporting a plan promoted by the nonprofit Climate Leadership Council (CLC) that would: impose a carbon tax, return revenues to the public, phase out many carbon regulations, and shield companies from some legal claims.
But, but, but: "Chet Thompson of American Fuel & Petrochemical Manufacturers said a carbon tax would be 'bad public policy' that raised prices at the pump. He called it 'fanciful' to describe such a tax as revenue-neutral," FT reports.
Our thought bubble: The FT piece is a reminder that Shell, which also backs the CLC plan, is reviewing its trade group memberships to ensure they don't "undermine its support for the objectives of the Paris Agreement on climate change."
5. Big this week: Exxon, Chevron, Congress
Capitol Hill: This week's suite of hearings include...
Climate change: The Senate Energy and Natural Resources Committee gathers Tuesday to discuss "the electricity sector in a changing climate."
Offshore drilling: A House Natural Resources subcommittee meets Wednesday to examine offshore drilling policy. The hearing arrives as the Interior Department is preparing plans to open Atlantic Coast and Arctic waters to leasing in coming years.
Energy efficiency: A House Energy and Commerce subcommittee meets Thursday for a session on Energy Department appliance efficiency standards.
Big Oil: The U.S.-based multinationals Exxon and Chevron will hold their annual presentations for investors and analysts this week.
6. Latest in climate polling
The share of U.S. adults who believe the GOP's position on climate change is outside the mainstream is higher than it was 4 years ago, according to an NBC/Wall Street Journal poll released over the weekend.
Why it matters: The results arrive as the 2020 election cycle is gathering steam and the Trump administration is moving ahead with efforts to dismantle Obama-era climate policies.
By the numbers:
On the Republican party position: 63% of all respondents believe the GOP position is outside the mainstream, up from 54% who held that view when the pollsters asked the same question in October of 2015. 29% say it's in the mainstream and 7% weren't sure.
On the Democratic party position: 35% of respondents said the Democratic position is outside the mainstream, 56% said it's in the mainstream and 8% weren't sure.
The big picture: "The question was intended to record general perceptions rather than views of individual proposals, such as the Green New Deal for addressing climate change proposed by several Democratic lawmakers," the WSJ reports.
"Opinions could change as each party converges on detailed positions during the presidential campaign or congressional session," per WSJ.