Good morning! A quick note for readers in the Washington, D.C. region: Please join Axios Energy Reporter Amy Harder this Monday for a conversation on energy policies and priorities under President Trump.
Check out her speaker lineup and RSVP here. Ok let's head for the weekend . . .
https://www.axios.com/newsletters/axios-generate-ee3af03b-b21f-4442-b875-815fc8f0daaf.html?chunk=0#story0
Breaking last night: New FERC chief pumps the brakes
https://www.axios.com/newsletters/axios-generate-ee3af03b-b21f-4442-b875-815fc8f0daaf.html?chunk=1#story1
One interesting chart: U.S. LNG growth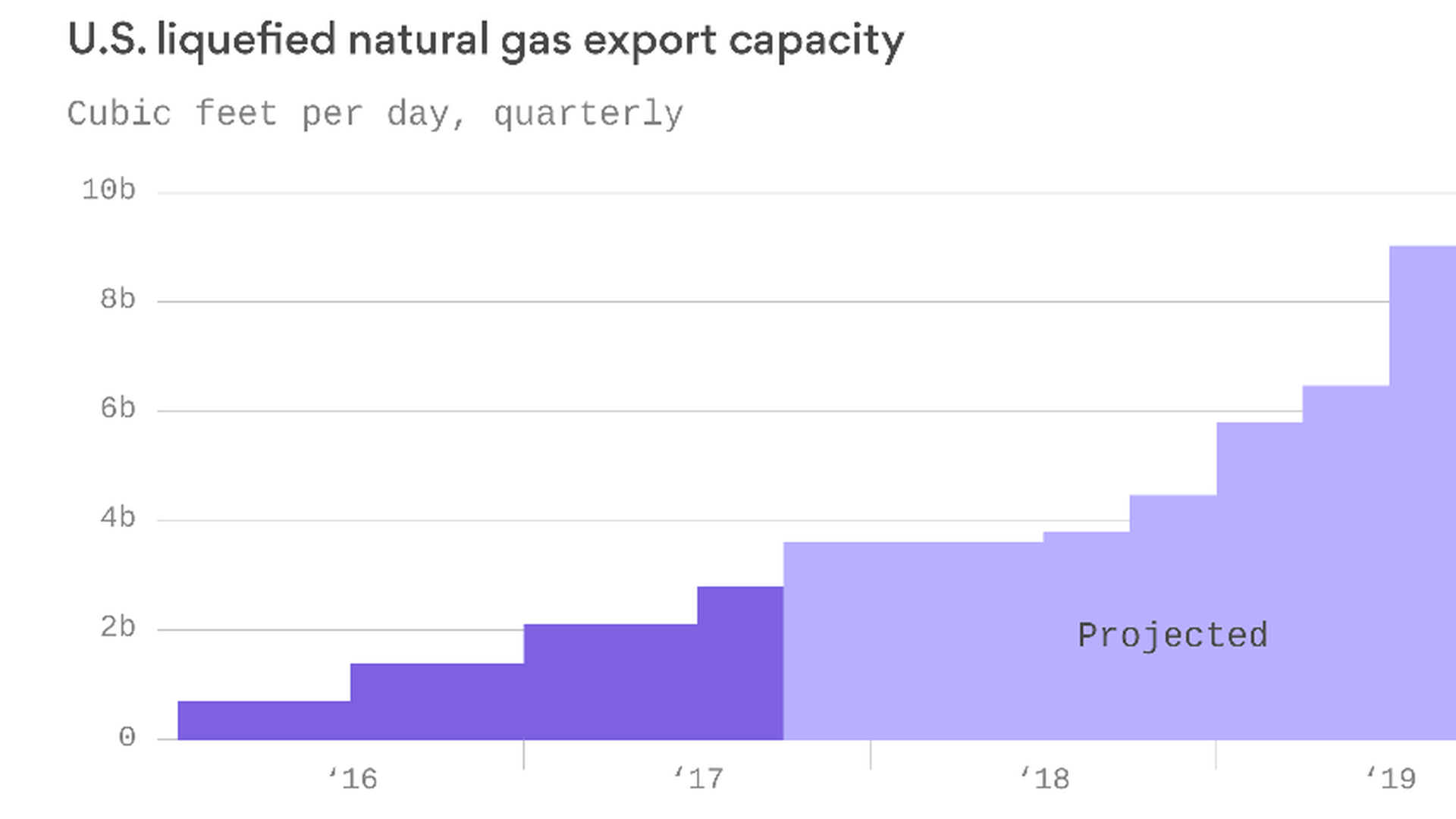 State of the market: The Energy Information Administration is out with a helpful primer on the growth of U.S liquefied natural gas export infrastructure, and when various projects are expected to come online.
Why it matters: The sharp growth is one result of the fracking-enabled production surge that's helping to transform the U.S into a prominent LNG exporter, in addition to already boosting the share of natural gas in U.S. power generation at coal's expense.
Go deeper: Yesterday the Houston Chronicle published a detailed feature about the growth of U.S. LNG projects, concluding that the U.S. is at a "tipping point."
They note: "The Energy Department projects that LNG production capacity will quadruple by the end of 2019, making the nation the largest source of LNG after Qatar and Australia. The International Energy Agency predicts the U.S. could vault to first within a decade."
https://www.axios.com/newsletters/axios-generate-ee3af03b-b21f-4442-b875-815fc8f0daaf.html?chunk=2#story2
Climate takeaways from EPA chief's grilling
On the record: EPA Administrator Scott Pruitt's approach to a climate change rule came into sharper focus yesterday during his first appearance before Congress since his confirmation.
Some takeaways from the hearing before a House Energy and Commerce Committee panel:
Pruitt said he would propose a regulation to replace the Clean Power Plan, the sweeping 2015 rule — which was frozen by the Supreme Court — to cut carbon emissions from coal-fired power plants nationwide. Pruitt's EPA began the formal process of withdrawing the Obama-era mandate weeks ago.
Why it matters: His brief comment about a replacement appears to be the first time Pruitt has flatly committed to such a step, which EPA has previously said was under consideration. Any replacement rule is expected to be substantially less far-reaching than the Clean Power Plan. He's essentially siding with business interests that argue it's better to have some kind of power plant rules in place.
Elsewhere, Pruitt criticized the process that led to EPA's 2009 "endangerment finding" that greenhouse gases are a threat to humans. The finding provides a key legal foundation for climate regulations.
Yes, but: What's more important than the criticism is that Pruitt offered absolutely no commitment to revisit the finding during yesterday's discussion, despite pressure from some conservative groups. He did, however, say that he plans to move ahead as soon as January with a "red team, blue team" debate on climate science.
The big picture: Put it together and it's clear that Pruitt remains keen to question the underlying scientific consensus on human-induced climate change. But he's steering clear—at least for now—of the nuclear option of launching a high-profile, legally perilous effort to nullify EPA's overall authority to regulate carbon.
https://www.axios.com/newsletters/axios-generate-ee3af03b-b21f-4442-b875-815fc8f0daaf.html?chunk=3#story3
Good listens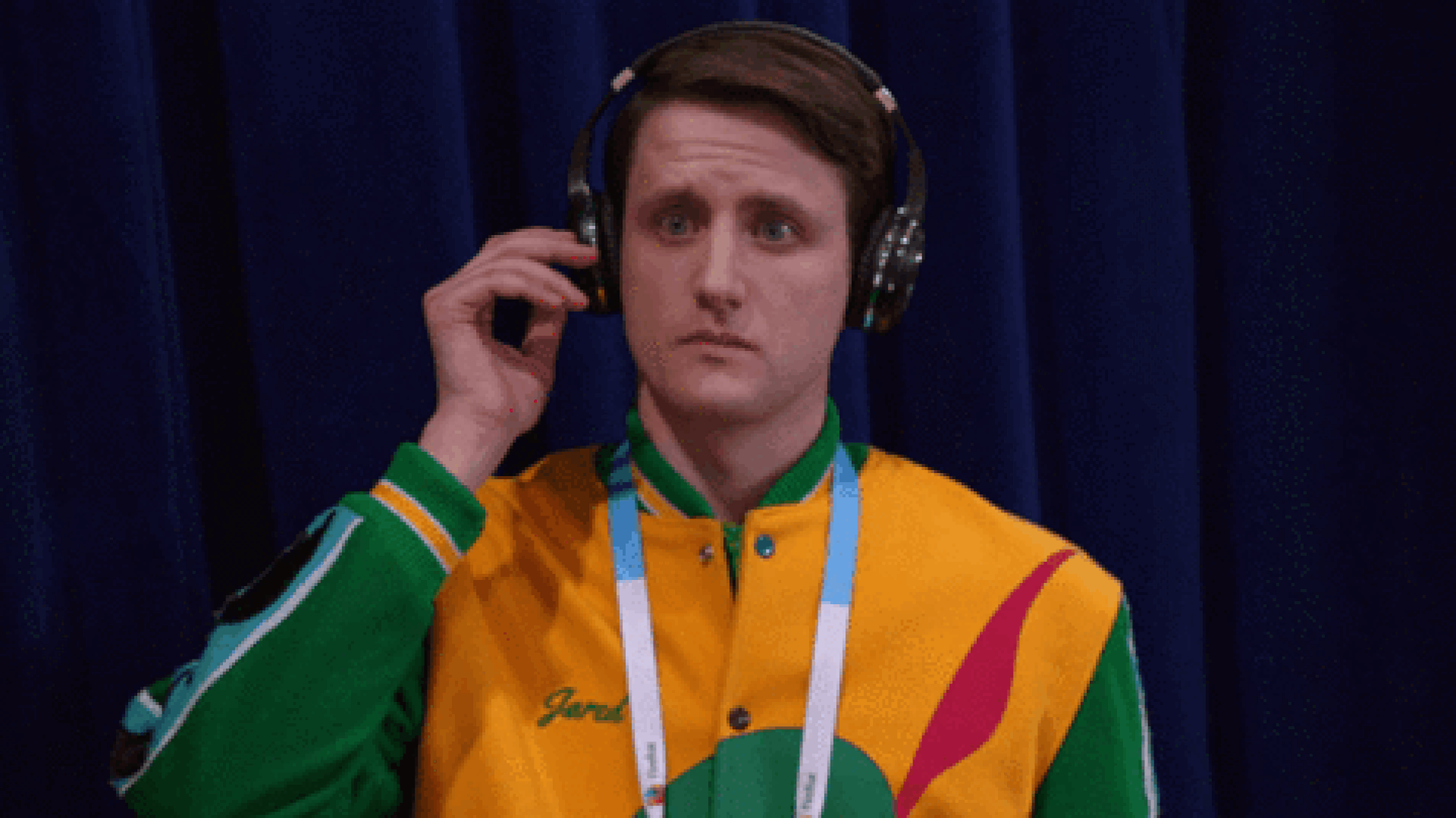 On the record: The latest episode of Off the Charts — a podcast from the University of Chicago's Energy Policy Institute — is a wide-ranging interview with former Energy Secretary Ernest Moniz.
Takeaways:
Backing conservative carbon plan (sort of): Moniz largely endorses the climate plan backed by a group of GOP elder statesmen including James Baker and Hank Paulson that would basically price carbon (a tax starting at $40/ton), return the revenues to the public and cut climate regulations.
It's hardly a full-throated cheer, but Moniz casts it as the art of what's conceivably able to get political traction at some point. "Something like, for example, the so-called conservatives proposal are the kinds of things we have to do, because it has kind of got something for everybody," Moniz said, later adding: "That's a package that to me could work. Maybe it's not exactly the right package, but that's where we have to start thinking."
Elsewhere, he lays out why holding the global temperature rise to two degrees celsius above preindustrial levels will be tough, but also warns that this difficulty achieving that metric should not be discouraging . . .
"You hope it doesn't discourage us from the perspective that it is important to do as well as we can, and we have to do a lot better than the trajectory that we would be on without making strong efforts," he said.
"Maybe it gets us to 2 degrees, maybe it doesn't. But 3 degrees is a lot better than 6 degrees, et cetera, and so I just think we have to push," Moniz adds.
* * *
And here's a few more recent energy-themed podcasts worth your time . . .
Electricity: The new episode of Greentech Media's Interchange podcast explores whether there's emerging common ground between renewables backers and free-market advocates on market structure, and how Texas fits into the picture.
Transportation: The latest episode of the "Exchanges at Goldman Sachs" podcast is an interesting discussion about the future of ride-sharing, vehicle autonomy and electrification.
Sanctions: The Energy 360 podcast from the Center for Strategic and International Studies dives into sanctions policy—touching on Iran, Russia and more—with Liz Rosenberg. She's a former Treasury Department adviser who now runs the Energy, Economics and Security Program at the Center for a New American Security.
The view from Google: The new offering from CleanCapital's Experts Only podcast is a chat with Kate Brandt, the top sustainability executive at Google.
https://www.axios.com/newsletters/axios-generate-ee3af03b-b21f-4442-b875-815fc8f0daaf.html?chunk=4#story4
Congress and policy news
Next steps on biofuels: President Trump and top administration officials met with a group of GOP senators yesterday to discuss their concerns about the impact of the Renewable Fuel Standard on independent refiners.
According to multiple sources and press accounts . . .
Trump urged them to work with midwestern, pro-ethanol senators to find common ground. "The president wants to see action fairly quickly," one source familiar with the meeting said.
The source said that one idea in play is some kind of deal that would limit the cost to refiners of credits, called Renewable Identification Numbers, they purchase to comply with the RFS. This would be paired with development of ethanol infrastructure. Bloomberg has more on that here.
E&E News, citing senators' post-meeting comments, reported that EPA could weigh administrative moves to ease the credit costs. Multiple sources confirmed to Axios that this idea surfaced at the meeting.
ANWR battle: Democrats are using the low revenues from Wednesday's Interior Department sale of leases in the National Petroleum Reserve-Alaska (which we looked at here) as a political weapon against the GOP effort to allow drilling in the Arctic National Wildlife Refuge.
Around a billion dollars in projected ANWR leasing revenue is baked into the GOP tax code overhaul. But in a letter yesterday to the Congressional Budget Office, top Democrats on the House Natural Resources Committee ask CBO to revisit the projection based on yesterday's NPR-A sale.
https://www.axios.com/newsletters/axios-generate-ee3af03b-b21f-4442-b875-815fc8f0daaf.html?chunk=5#story5
One fun thing: Electric beer trucks
Beer run: Anheuser-Busch has ordered 40 of the electric semi-trucks that Tesla hopes to bring into production in 2019.
"Integrating the Tesla semi-trucks into the brewer's distribution network will help Anheuser-Busch achieve its commitment to reduce its operational carbon footprint by 30 percent by 2025, the equivalent of removing nearly 500,000 cars from the road globally each year," the company said in an announcement yesterday.
One level deeper: James Sembrot, the beer giant's senior director of logistics strategy, tells the Wall Street Journal that it's not clear yet whether the company will buy the trucks or lease them, and that it could also ask one of its carriers to purchase or lease the vehicles.
"We put the reservations down so we can prioritize our place in line," he tells the paper. "We don't know who the carrier is going to be in two to three years when these things are actually produced."
Flashback: My Axios colleague Steve LeVine wrote about Tesla's truck rollout here and explores the battery technology that Tesla may be using here.