https://www.axios.com/newsletters/axios-generate-313ceef4-a1b3-426e-a922-c6297cf7ad07.html?chunk=0#story0
Behind today's White House biofuels meeting
President Trump and multiple Cabinet-level officials will meet with a group of GOP senators who say that the federal biofuels blending mandate called the Renewable Fuel Standard is harming refiners in their states. Trump's Environmental Protection Agency recently declined to soften the RFS.
Lawmakers from Texas, Louisiana, Pennsylvania and elsewhere say a key concern is the cost of credits, called renewable identification numbers, that the petroleum industry uses to help comply with the RFS.
Why it matters: The midday meeting signals how the decade-old RFS has created fierce, politically fraught policy battles between lawmakers allied with the refining industry and a separate group carrying the mantle of midwestern farming and biofuels interests.
Who is huddling with Trump: According to the White House, expected attendees include economic adviser Gary Cohn, EPA Administrator Scott Pruitt, Agriculture Secretary Sonny Perdue, Deputy Energy Secretary Dan Brouillette, and White House legislative affairs chief Marc Short.
The senators expected are: Ted Cruz, John Cornyn, John Barrasso, Pat Toomey, Bill Cassidy, Mike Enzi, Jeff Flake, Jim Inhofe, John Kennedy, James Lankford, and Mike Lee.
https://www.axios.com/newsletters/axios-generate-313ceef4-a1b3-426e-a922-c6297cf7ad07.html?chunk=1#story1
Oil-and-gas market news
Arctic: The Interior Department's sale of leases in the National Petroleum Reserve-Alaska drew just $1.16 million in high bids, which were submitted together by ConocoPhillips and Anadarko, according to results unveiled yesterday. Via Reuters, the bids covered about 80,000 acres out of the 10 million acres offered in the sale.
Be smart: Argus Media's Chris Knight, via Twitter, notes that the modest bidding will "almost certainly be used as a counterargument" to the idea that leasing in the Arctic National Wildlife Refuge will bring $1 billion in federal revenues.
Why that matters: Republicans are including prospective revenues from opening the ANWR in their tax overhaul legislation.
Shale, part 1: The Wall Street Journal has a detailed, behind-the-scenes look at investor angst that the U.S. shale production surge is failing to produce financial returns.
One takeaway: "Thirty companies produce about 70% of U.S. shale oil, according to energy consulting firm Wood Mackenzie. If shareholders could prod most into focusing on profitable drilling, it might also have the side benefit of achieving what the Organization of the Petroleum Exporting Countries, the global oil cartel, couldn't accomplish — getting shale companies to help shrink oil supplies and boost prices," the story states.
Shale, part 2: Chevron, the U.S.-based global oil-and-gas giant, yesterday announced plans for $18.3 billion in capital spending next year, the latest in a string of yearly budget cuts. But that includes $4.3 billion for U.S. shale projects, largely focused on the Permian Basin, which the Financial Times notes is a boost over current spending.
"We're fully funding our advantaged Permian Basin position and dedicating approximately three-quarters of our spend to projects that are expected to realize cash flow within two years," outgoing CEO John Watson said in a statement yesterday.
LNG: Bloomberg reports that "U.S. natural gas exports could find buyers in the oil-rich Persian Gulf as countries there look to meet surging demand." The article says Energy Secretary Rick Perry and United Arab Emirates Energy Minister Suhail Al Mazrouei discussed the topic at a joint appearance on Wednesday in Abu Dhabi.
https://www.axios.com/newsletters/axios-generate-313ceef4-a1b3-426e-a922-c6297cf7ad07.html?chunk=2#story2
On our radar today: EPA chief in hotseat and FERC at full strength
EPA chief: EPA administrator Scott Pruitt will make his first public appearance on Capitol Hill since his February confirmation. He'll testify about EPA's mission before a House Energy and Commerce subcommittee.
One thing to watch: Look for Democrats to use the hearing to attack Pruitt's decisions to pare back a suite of Obama-era rules and pin him down on his skepticism of the dominant scientific views on climate science.
FERC shift: According to multiple press reports, incoming Federal Energy Regulatory Commission chairman Kevin McIntyre will be sworn in today.
Why it matters: The arrival saps the power and profile of current Chairman Neil Chatterjee as he's pushing for a interim "lifeline" for at-risk coal and nuclear plants.
Chatterjee wants FERC to implement the as-yet-undefined idea while the independent commission weighs Perry's proposal to boost compensation for coal and nuclear plants in certain wholesale markets based on their (disputed) role in ensuring grid resilience and reliability.
https://www.axios.com/newsletters/axios-generate-313ceef4-a1b3-426e-a922-c6297cf7ad07.html?chunk=3#story3
One interesting chart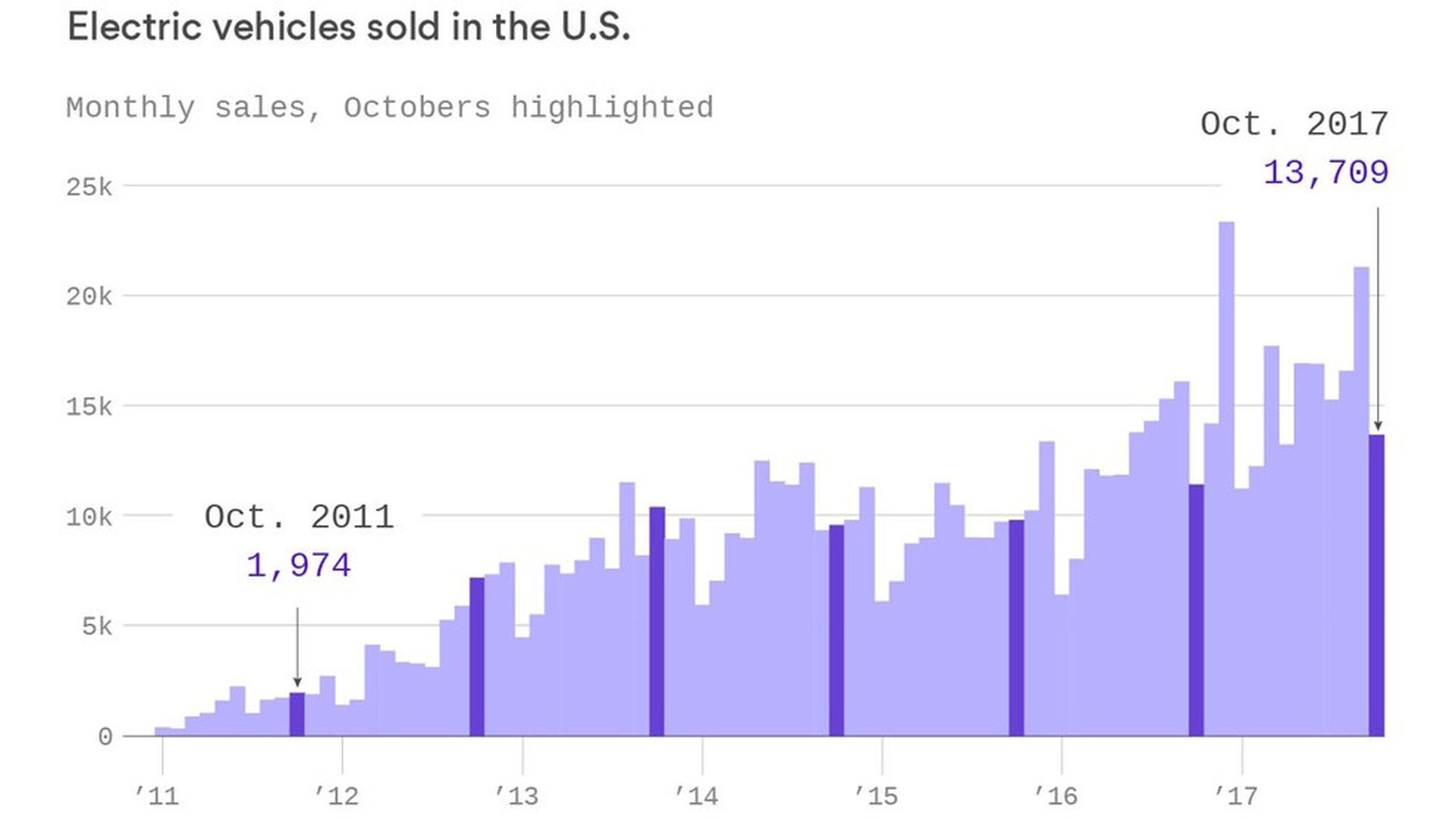 Growing: The chart above, distilled from a new report on the electric vehicle market by Securing America's Future Energy, shows the year-over-year growth of EVs and plug-in hybrids in the U.S.
From their market snapshot: "Demand for EVs has continued to rise in 2017, setting new records for purchases and vehicle model availability. Although six models currently account for nearly two-thirds of sales, consumers have a fuller range of choices with 37 models available, thanks to marked declines in battery technology costs and enhanced range."
https://www.axios.com/newsletters/axios-generate-313ceef4-a1b3-426e-a922-c6297cf7ad07.html?chunk=4#story4
Latest in power: GE layoffs, solar hearing, storage growth
GE woes: The conglomerate's power division said today that it's cutting 12,000 jobs. "GE Power said the cuts 'are driven by challenges in the power market world-wide' and cited softening markets like coal and gas," the Wall Street Journal reports.
Coal: "Coal CEO Robert Murray warns that if the Senate version of tax reform is enacted by President Trump he'll be destroying thousands of coal mining jobs in the process," CNN reports in a piece about the bill's Alternative Minimum Tax provisions and other elements.
Latest in storage: Bloomberg summarizes the latest market snapshot from GTM Research and the Energy Storage Association: "U.S. energy-storage capacity surged 46 percent in the third quarter, mainly due to a single big project in Texas, the biggest source of wind power."
Solar: Greentech Media has a recap of yesterday's public hearing before a panel convened by the Office of the U.S. Trade Representative on potential import penalties on solar panel equipment.
"Members of the panel showed particular interest in a proposal by the Solar Energy Industries Association (SEIA) to implement an import license fee system for crystalline silicon PV (CSPV) panels instead of tariffs," their piece notes.
https://www.axios.com/newsletters/axios-generate-313ceef4-a1b3-426e-a922-c6297cf7ad07.html?chunk=5#story5
First look: Mapping carbon capture projects
My Axios colleague Amy Harder reports...
The centrist think tank Third Way is publishing today a new map and database its creators say is the most comprehensive yet tracking all types of projects working to capture carbon emissions.
Why it matters: The United Nations' scientific body concluded in its most recent assessment of climate science in 2014 that if this technology isn't widely deployed, it would be 138% more expensive to keep global temperatures below a roughly 2-degree Celsius rise over the next century.
Gritty details: The database identified more than 100 projects, with just over half of them in the U.S., and most aren't about coal but other industrial processes, like cement and steel. It also includes the couple of projects around the world that capture carbon emissions from the air, not at the onset from facilities like power or industrial plants, which is more common.
https://www.axios.com/newsletters/axios-generate-313ceef4-a1b3-426e-a922-c6297cf7ad07.html?chunk=6#story6
More climate news and notes
Warm: "The year-to-date U.S. average temperature was the third warmest on record at 56.4°F, 2.6°F above average. Only January–November of 2012 and 2016 were warmer," the National Oceanic and Atmospheric Administration said in its latest monthly climate update yesterday.
Compare notes: The World Resources Institute is out with a report that compares various analyses of how White House moves to unwind Obama-era climate programs will affect the trajectory of U.S. greenhouse gas emissions in the years ahead.
Bottom line: The policy changes mean the U.S. won't reach its initial pledge in the Paris climate deal to cut emissions by 26%–28% from 2005 levels by 2025. Implementing all the Obama policies would have brought the U.S. closer, though more steps would have been needed.
Science: Via the Washington Post, "The climate change simulations that best capture current planetary conditions are also the ones that predict the most dire levels of human-driven warming, according to a statistical study released in the journal Nature Wednesday."