Happy Friday from Houston and thank you for reading Generate during our maiden week. Did you know the Axios newsletter family is about to welcome a new member? Our tech newsletter Login launches Monday and it'll have must-read stuff. You can easily sign-up here. It has been an interesting 24 hours on the energy beat, so let's unpack a few things . . .
https://www.axios.com/newsletters/axios-generate-e5e41852-135c-4d4c-b660-92306901825f.html?chunk=0#story0
Scott Pruitt's big day spoiled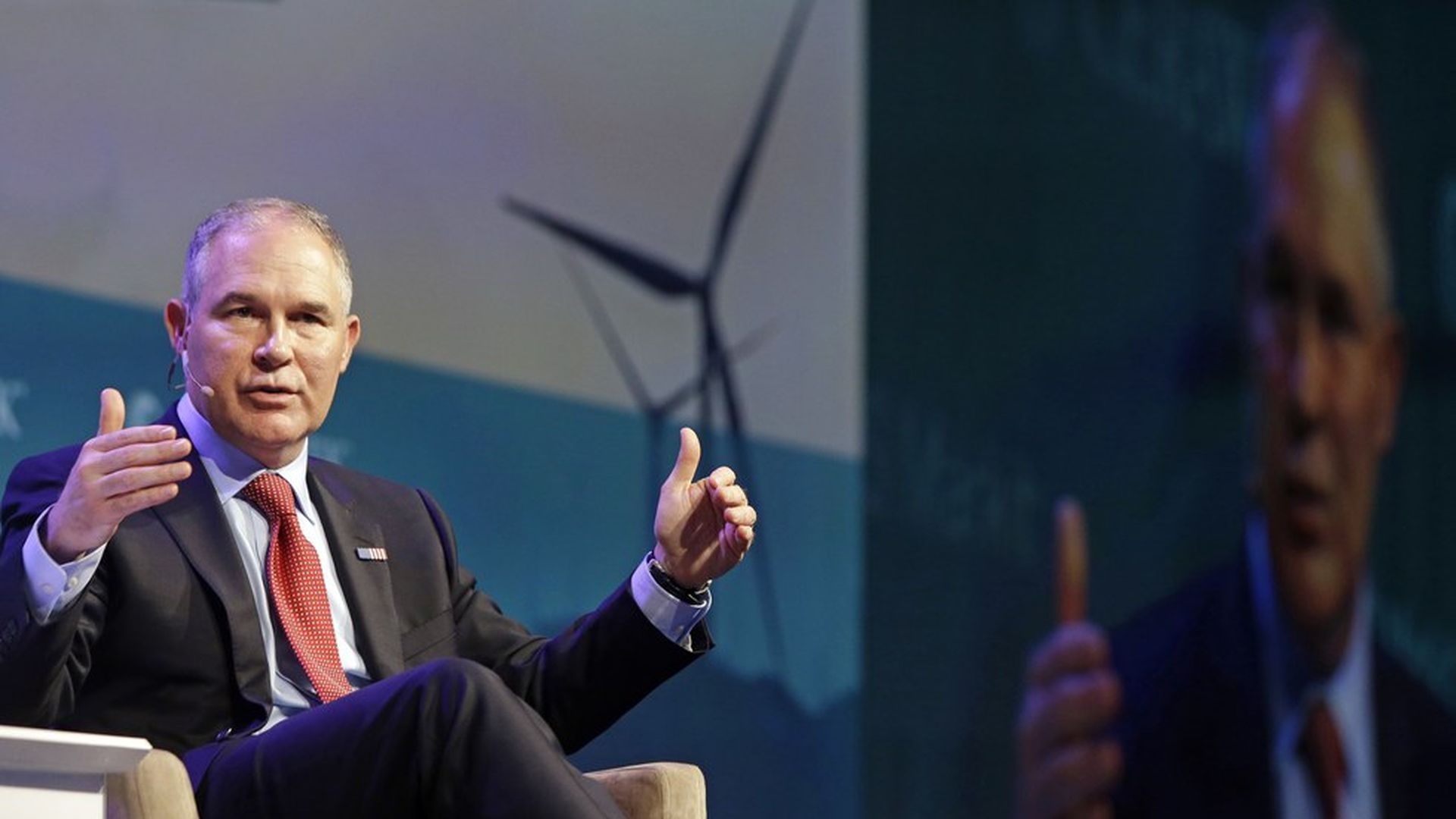 The question facing EPA now is whether there's lasting fallout after Administrator Scott Pruitt's trip to CERAWeek didn't go quite as planned. By now you've probably seen that he broke sharply with the scientific community by disagreeing that carbon dioxide is a primary global warming driver. So what does it all mean?
The comments gave activists and Democrats political ammunition, and they fired away all day. That won't change. "It will definitely become part of what we see next on CPP," one environmental advocate tells me, referring to the Clean Power Plan carbon regulations that Pruitt hopes to scuttle. Another advocate predicted the comment could somehow surface in legal battles over climate policy. EPA sought to downplay the comment as simply a reiteration of what Pruitt has said before.
The dust Pruitt kicked up (which made it all the way to the White House briefing) distracted from his remarks to CERAWeek. Pruitt told the audience that his EPA would provide clarity to the regulatory process that was missing under Obama; would not exceed the authority that Congress has provided in environmental laws; and vowed respect for state-level oversight policy. "We can be both pro-growth, pro-jobs and pro-environment," he said, but the earlier carbon remarks on CNBC got far more press attention than his speech.
"He gave a great speech right there. I think I'd like to see you all write about that," EPA spokesman John Konkus urged reporters after we unsuccessfully sought comments from Pruitt after he walked offstage.
What's next: Pruitt's comments are certain to feature in the debate over Trump's climate plans. The White House is slated to issue an executive order soon to begin the lengthy process of rescinding carbon emissions rules for power plants. And Pruitt is also reportedly planning to revisit strict mileage standards for cars and light trucks that are another pillar of Obama's climate push. But as one industry lobbyist emailed: Pruitt didn't give opponents any more ammo than they could have already found elsewhere.
https://www.axios.com/newsletters/axios-generate-e5e41852-135c-4d4c-b660-92306901825f.html?chunk=1#story1
Four things with a solar powerhouse
Axios sat down with Tom Werner, CEO of solar energy giant SunPower, for a chat about his company and industry's path through federal policy in the Trump era. By the way, he'll be in Washington talking with lawmakers next week as part of a delegation representing the Silicon Valley Leadership Group.
Optimism about DOE: "[Energy Secretary] Rick Perry did a heck of a lot of renewables in Texas, so he knows the upside of renewables. He has a really good sense of the economics."
Border problems: Count his company among those wary of the proposed border adjustment tax. "We would probably need to reconfigure our supply chain some, and so we would have to respond to it, and not because we wanted to."
Military markets: SunPower has repeatedly worked with the military on solar power projects for bases, and he's confident that the Defense Department will not back away from its efforts to obtain more energy from renewable sources. "I'm actually optimistic it will go the other way and go up. Military spending is going up."
Tax credits: Werner and others in the green energy industry are bullish that tax reform won't eliminate the five-year extension of solar tax credits enacted in late 2015. "The fact that the investment tax credit has a sunset on it already I think makes it less of a target."
https://www.axios.com/newsletters/axios-generate-e5e41852-135c-4d4c-b660-92306901825f.html?chunk=2#story2
Trudeau's against border tax, in favor of oil sands
Here are the highlights from Canadian Prime Minister Justin Trudeau's speech last night:
He attacked the border adjustment tax: Trudeau offered a warning about imposing new trade restrictions. "Anything that creates impediments at the border, extra tariffs or new taxes is something we are concerned with," he said, warning of harm to the Canadian and U.S. economies. He made clear that he opposes the border adjustment tax idea specifically, and then urged the audience: "You can applaud against the border adjustment tax." They did.
He talked up oil sands and the environment.
Trudeau backs the Keystone XL and other export pipelines to help bring Alberta's massive oil sands resources to market (even as some oil majors
turn away
from the carbon-heavy fuels). "No country would find 173 billion barrels of oil in the ground and just leave them there," he said. "The resource will be developed. Our job is to ensure that this is done responsibly, safely, and sustainably." But Trudeau also spent plenty of time talking up his climate change initiatives, which include carbon pricing.
https://www.axios.com/newsletters/axios-generate-e5e41852-135c-4d4c-b660-92306901825f.html?chunk=3#story3
A Trump Paris option emerges
The White House has been struggling to figure out its stance on the Paris climate change accord, and now Politico is out with news on one of the options they're kicking around. The U.S., in essence, could partially bail on Paris without actually leaving.
A plan under discussion would be to stay in the accord while scaling back the U.S. commitment to cut greenhouse gas emissions by 26-28 percent by 2025 compared to 2005 levels. White House international energy adviser George David Banks talked about the idea Thursday in a meeting with fossil fuel industry officials, according to the story.
https://www.axios.com/newsletters/axios-generate-e5e41852-135c-4d4c-b660-92306901825f.html?chunk=4#story4
What's worrying Shell's CEO
A speech by Royal Dutch Shell CEO Ben van Beurden yesterday veered into grim territory. I wrote about it in the Axios stream, but in case you missed it, he warned of a dangerous disconnect between his industry and the public. "I do think trust has been eroded to the point where it starts to become a serious issue for our long term future," he said onstage at the conference.
Van Beurden touted the company's work on low-carbon energy and push for carbon taxes, but emphasized that the transition of the global energy system that's now dominated by fossil fuels is a decades-long endeavor, while the public's in a different place. "Societal acceptance of the energy system as we have it is just disappearing," he said, adding Shell needs an "almost activist" approach itself on engaging with the public and policymakers on energy transition. Key quote:
"It is very hard to get discussion in the right spot, and I think partly we are to blame for that ourselves, because we have allowed the discussion to drift into a weird place, and it is very difficult now to get it back to a more rational place, and rational discussion I don't think matters any more in this. It is emotional, choices and attitudes that people have are an integral part of their lifestyle and not anymore driven by what is common sense, what you can expect from a company like us."
https://www.axios.com/newsletters/axios-generate-e5e41852-135c-4d4c-b660-92306901825f.html?chunk=5#story5
A big find in the biggest state
The big Spanish oil company Repsol says it has discovered as much as 1.2 billion barrels of oil on Alaska's North Slope, calling it the biggest onshore conventional oil find in the U.S. in three decades.
Why it matters:
The Financial Times
puts it well
: "The discovery promises to help breathe fresh life into Alaska's North Slope oilfields where production has been in decline for three decades. ConocoPhillips also announced a big find there in January, which raised hopes of a new wave of development."