Axios Generate
December 12, 2017
Good morning and welcome back!
Your Generate host is slightly under the weather and sluggish, but what better way to rebound than learning today marks the 40th anniversary of Abba: The Album. Let's do this . . .
ExxonMobil yields on climate risk disclosure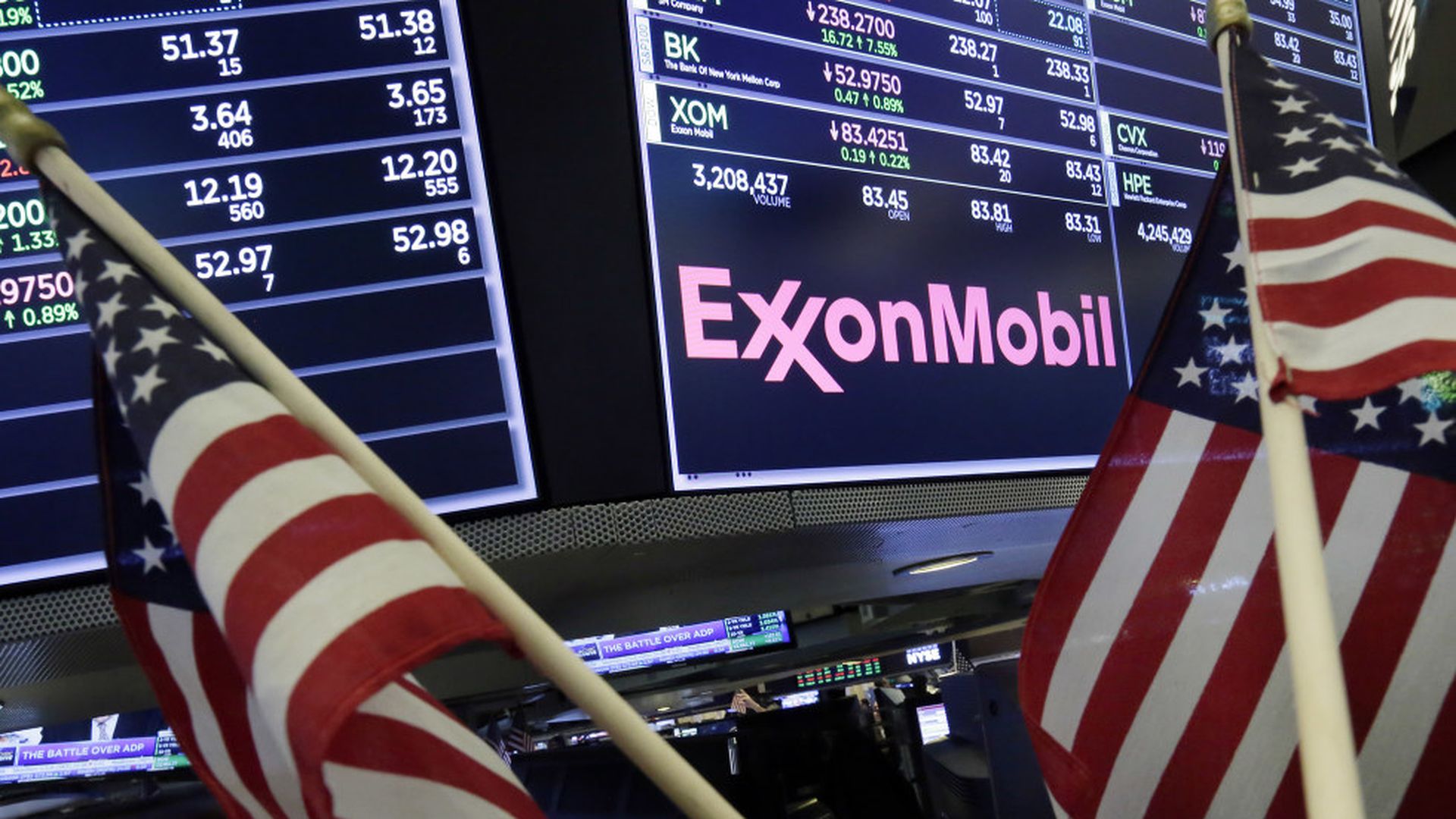 Following pressure earlier this year from investors, ExxonMobil says it will soon issue more detailed analyses of how climate change will affect the multinational oil-and-gas giant's business in the long term.
"These enhancements will include energy demand sensitivities, implications of two degree Celsius scenarios, and positioning for a lower-carbon future," the company said in a Securities and Exchange Commission filing late Monday.
Flashback: ExxonMobil faced pressure earlier this year from investors, including New York State's pension fund. Major financial players including BlackRock and Vanguard also supported a successful shareholder resolution calling for the analysis. ExxonMobil had previously opposed the proposal.
Why it matters: The Financial Times notes that it's the "biggest success so far" for investors pushing corporations on climate change.
Yes, but: Andrew Logan, who works on oil for the sustainable investment group Ceres, says that on the one hand, "shareholders have won a major victory" by forcing ExxonMobil to "seriously reckon with the potential risks of a low-carbon transition."
On the other hand: "Of course, the company could go about the analysis requested by the shareholder proposal in a way that illuminates the risks for investors, or it could choose to do so in a way that obscures. We will know early in the new year which path the company has chosen," Logan added.
The company did not respond to requests for comment on Monday evening.
Go deeper: Over the summer, my colleague Amy Harder looked closely at shareholder climate disclosure activism and increasing support for climate disclosure from major investors like BlackRock.
Investors applying pressure for more info on climate risks
ExxonMobil is not the only one in the hot seat...
New pressure: There is a new five-year initiative, called Climate Action 100+, which is led by investors to engage with the world's largest corporate greenhouse gas (GHG) emitters. The initiative aims to improve governance on climate change, curb emissions and strengthen climate-related financial disclosures.
"More than 200 institutional investors with $26 trillion in assets under management said on Tuesday they would step up pressure on the world's biggest corporate greenhouse gas emitters to combat climate change," Reuters reports.
New support: A Michael Bloomberg-led initiative that pushes corporations — including fossil-fuel companies — to boost the disclosure of climate-related risks to financial regulators worldwide is gaining new backers.
On Tuesday at the One Planet Summit in France, the Task Force on Climate-related Financial Disclosures (TCFD) said the number of backers is up to 237 companies with a combined market capitalization of over $6.3 trillion. The full list is here.
According to the TCFD, companies that made their commitment to implementing the standards public today include: Daimler, Statoil JPMorgan Chase, Fidelity Investments, and Vanguard.
Latest in oil
North Sea: The closure of the Forties Pipeline System, which carries North Sea oil, is moving prices upward this morning. The system is closed to repair a crack.
"Oil prices rose and the global benchmark hit its highest level since 2015 Monday after the owner of a major European pipeline said it is shutting the system down for a period of weeks," the Wall Street Journal reports.
East coast: Bloomberg reports that the Interior Department is on the cusp of releasing a new offshore oil-and-gas leasing plan that would include acreage off the East Coast, which the Obama administration kept off-limits.
Arctic: Your Generate host also expects Interior's 2019–2024 plan to include new Arctic offshore sales, which also was blocked under the Obama administration. Bloomberg's piece said the plan could come as soon as this week. Some sources last night said the plan appeared on track for release today, but may have been been pushed back. Stay tuned....
Why it matters: The Trump administration's plan will be a sharp break with Obama's access restrictions. But getting from a draft proposal to a final leasing plan to actual lease sales will be a years-long process.
The level of industry interest in actually developing those regions also will depend on a series of factors including oil-price projections and the regulatory climate, which President Trump is making more permissive but a subsequent White House could change.
Barents Sea: This new podcast from the consultancy Wood Mackenzie unpacks Statoil's decision to push ahead with a multi-billion dollar investment in developing the big Castberg field in the Barents Sea.
It's a big deal for Statoil, according to the analysts, who note it's expected to provide 10% of the company's output by 2025.
Development of the project will create infrastructure that leads to production from other discoveries in the region.
World Bank Group to drop financing of upstream oil and gas projects
Breaking Tuesday: The World Bank Group, which is family of five international institutions that offer leveraged loans to developing countries, announced at the One Planet Summit in France that it will no longer finance upstream oil-and-gas projects after 2019.
In a statement Tuesday, the group said it's part of an effort to "transform its own operations in recognition of a rapidly changing world."
Why it matters: Upstream oil-and-gas is already just a very small percentage of the group's portfolio, but the move nonetheless signals another step by prominent multilateral organizations to help countries move away from fossil fuels.
Caveat: Some lending could still occur in "exceptional circumstances," such as for natural gas projects in the poorest countries where there's a "clear benefit" in terms of energy access for the poor, and where it "fits within the countries' Paris Agreement commitments."
Trump and Macron an ocean apart on climate
View from Paris: On the eve of the One Planet Summit he is hosting in Paris today with the World Bank and UN, French President Emmanuel Macron told CBS News that Trump's move to abandon the Paris climate deal was a mistake, but one that has "counter-momentum" in favor of curbing emissions.
Trump's move was "a deep wakeup call for the private sectors and some of us to say, 'Wow, so we have to react.' If we decide not to move and not change our way to produce, to invest, to behave, we will be responsible for billions of victims," Macron said.
The event, to which Trump was not invited, features a range of new commitments and pledges, including the announcement made by the World Bank Group mentioned above.
View from Washington: But the E&E News reports that the White House plans to promote U.S. coal exports and more efficient use of coal in other countries reliant on the fuel. White House international energy aide George David Banks is leading the "Clean Coal Alliance," which also includes natural gas exports, E&E News says.
Quick take: The move highlights the contradictory nature of the White House posture on climate — what my colleague Amy Harder calls "Trump's conflicting climate agenda" in this column.
One interesting chart: states and emissions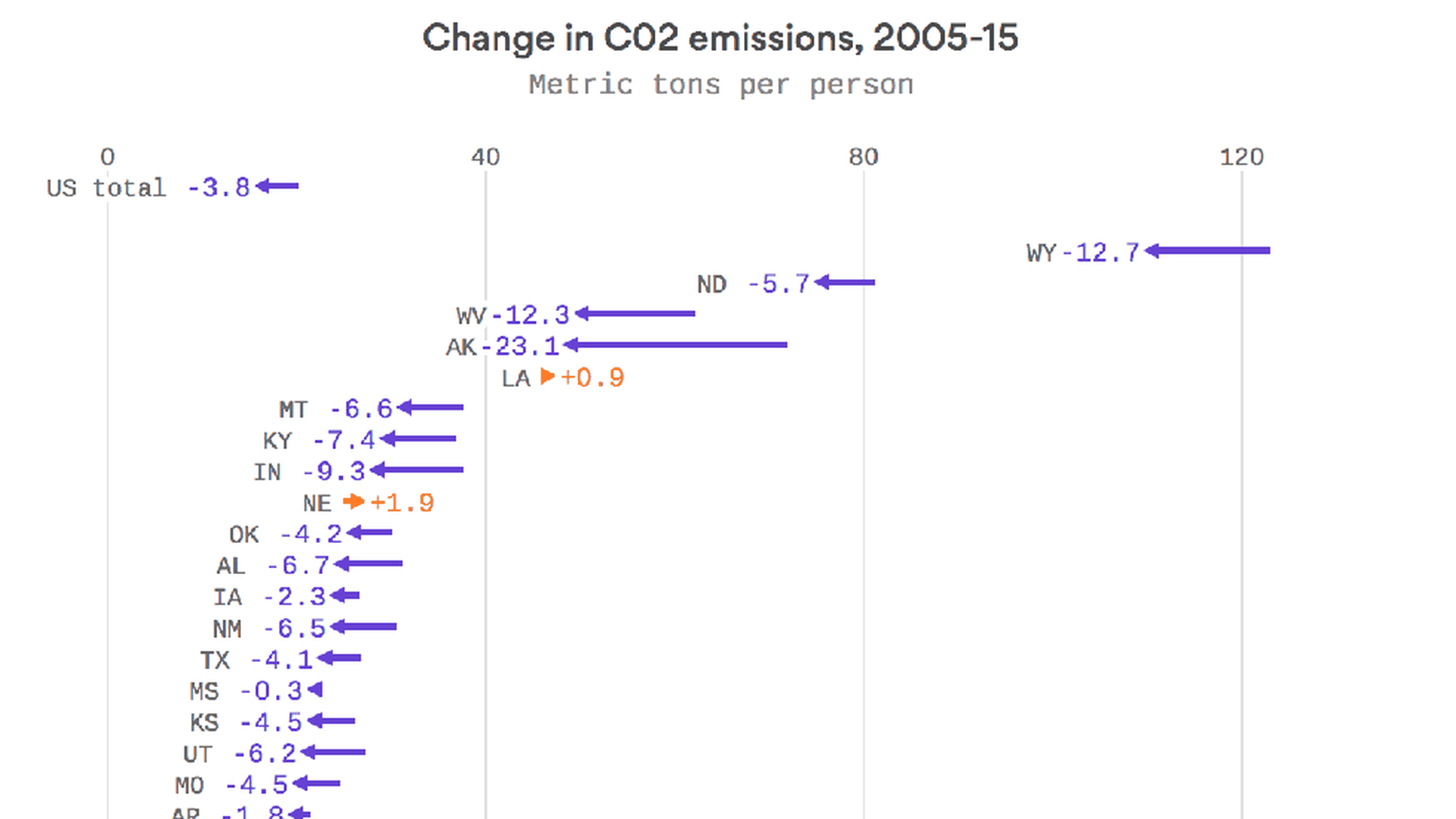 A new Energy Information Administration report provides a state-by-state breakdown of U.S. carbon dioxide emissions and their movement over a decade. The chart above tracks those changes for the 20 largest per-capita emitting states – showing a downward trend overall in CO2 emissions.
"On a per capita basis, energy-related CO2 emissions decreased in 49 states (including the District of Columbia) and increased in 2 states (Louisiana and Nebraska) between 2005 and 2015," EIA notes in a summary of newly released data for 2015.
Big picture: U.S. emissions have generally been heading downward for around a dozen years, thanks to displacement of coal by natural gas and renewables in power markets, greater efficiency and other factors.
On my screen: FERC, coal communities, EVs
ICYMI: At an event hosted by Axios, Federal Energy Regulatory Commission member Neil Chatterjee downplayed his goal of throwing a near-term "lifeline" to struggling coal and nuclear power plants during a conversation with Amy.
Chatterjee said he was still looking corral support for some kind of interim aid, but emphasized that his "first priority" was a longer term analysis of grid resilience. We've got more from the event here.
Coal's future: In a new post at UC-Berkeley's Energy Institute at Haas, economist Meredith Fowlie looks north to Alberta for perspective on how the U.S. can aid the transition for coal communities and workers as the fuel is increasingly displaced in power markets.
Electric vehicles: Via The Detroit Free Press, General Motors CEO Mary Barra warns against a provision in the House version of tax legislation that would end consumer credits for buying electric cars.
"Repealing that credit will have an impact because it changes the equation that determines whether people want an electric vehicle," she says.