Good Monday morning, our thoughts are with those hit by Hurricane Irma — and everyone continuing to recover after Harvey.
My latest Harder Line column offers a layman's guide — and relatable analogy — to explain the connection between climate change and extreme weather. I also have a scoop at the end about how a federally paid scientist is going to analyze climate's impact on these latest two hurricanes and maybe the wildfires hitting the western United States.
After teasing the top of my column, I'll hand things back to Ben to get you up on the latest energy news.
https://www.axios.com/newsletters/axios-generate-deb5c505-0ae3-4d86-965f-194eab4aff1e.html?chunk=0#story0
Climate change is like diabetes for the planet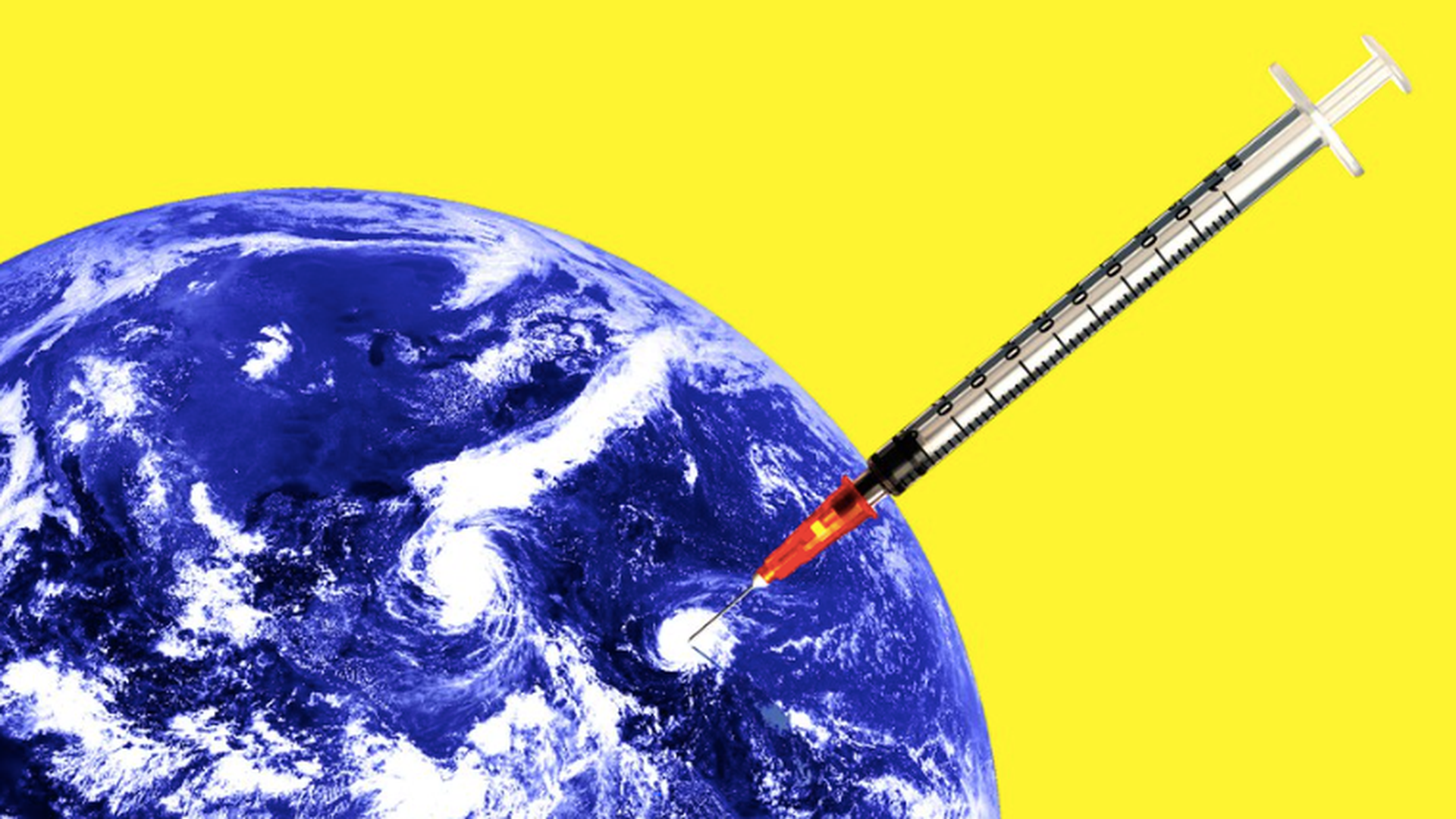 There's a lot of talk lately about how climate change is affecting the hurricanes and the wildfires hitting the U.S. right now. The simple answer: Climate change doesn't cause extreme weather events. It can make them worse, and many scientists are saying that's a factor in these events.
My thought bubble: That makes climate change like diabetes for the planet.
People with diabetes should make sure their blood sugar levels don't get too high or too low. Diabetes can make other health conditions worse, especially when left unchecked.
Most world leaders are seeking to reduce greenhouse gases from fossil-fuel production and other human activity. Climate change can make naturally occurring things worse, like droughts and heatwaves. Established science predicts risks will grow the longer we leave carbon emissions unchecked.
The bottom line: Climate change is not a problem we can solve, full stop, like diabetes isn't completely curable. However, we can mitigate its impact by simultaneously cutting carbon emissions and adapting to a warmer planet.
Click here to read the rest of the column in the Axios stream.
https://www.axios.com/newsletters/axios-generate-deb5c505-0ae3-4d86-965f-194eab4aff1e.html?chunk=1#story1
Irma's energy effect
Please keep an eye on the Axios stream today for news about Hurricane Irma. Here's a quick rundown of some of energy impact:
Power: "The storm left more than 5.7 million customers without power and littered the state with downed trees, downed power lines and standing water," CNN reported Monday morning, citing information from Gov. Rick Scott's office.
Roughly 58% of the state's power customers have lost electricity, ABC notes. You can check on power losses in specific counties and by utility here.
Full power restoration is expected to take weeks.
Petroleum: A Goldman Sachs research note Monday morning points out that Irma will dent oil demand, but not production and processing, given the relative absence of petroleum infrastructure in its path.
They estimate that Irma and Harvey combined will cut around 600,000 barrels per day of crude demand in the U.S. this month. Reuters looks here are how oil traders are responding to the news.
Climate: The New York Times looks at the politics of hurricanes and global warming. For scientists, the influence of global warming on the impact of hurricanes is a logical conversation...
"But in Washington, where science is increasingly political, the fact that oceans and atmosphere are warming and that the heat is propelling storms into superstorms has become as sensitive as talking about gun control in the wake of a mass shooting," the NYT story notes.
Interesting discussion: The mass evacuations in Florida prompted Bloomberg New Energy Finance transportation expert Colin McKerracher to pose this question on Twitter:
"Honest question to those who think almost everybody will switch to mobility as a service by 2030: How will an evacuation of 6.5m ppl work?"
Check out the whole discussion here.
https://www.axios.com/newsletters/axios-generate-deb5c505-0ae3-4d86-965f-194eab4aff1e.html?chunk=2#story2
On our radar, part 1: carbon capture push in Congress
Carbon capture: Backers of more aggressive federal support for commercialization of projects to trap and store carbon emissions from coal-fired power will look for momentum this week.
What's happening: On Wednesday, the Senate Environment and Public Works (EPW) Committee will hold a hearing on the topic, while a day later the Center for Climate and Energy Solutions will hold a symposium on the topic with four senators, industry officials, and other experts.
One major focus will be building support for bipartisan legislation that would expand federal tax credits for carbon capture and storage (and use in enhanced oil recovery) and make the incentive more valuable. Across Capitol Hill, GOP Rep. Mike Conaway is circulating a letter seeking cosponsors for a House companion bill.
The tax bill isn't technically before EPW (the Finance Committee has jurisdiction). But the Senate hearing will explore other ways to speed up deployment of carbon capture technologies that are in the wheelhouse of EPW, which oversees a suite of environmental laws that govern the topic, such as the National Environmental Policy Act
One issue in particular that's slated to come up is the need for pipeline infrastructure to expand enhanced oil recovery using CO2, a GOP aide said.
https://www.axios.com/newsletters/axios-generate-deb5c505-0ae3-4d86-965f-194eab4aff1e.html?chunk=3#story3
On our radar, part 2: climate, FERC, Korea, oil report
A few other things to watch this week on and off Capitol Hill...
House climate tussle: When the chamber renews debate on a big spending package this week, keep an eye on a couple of looming amendment votes. Still on tap are two GOP proposals that would thwart funds for EPA methane emissions rules and would block use of Obama-era estimates of the so-called social cost of carbon, a metric that helps regulators tally the benefits of avoided emissions.
Why it matters: While the amendments are largely symbolic, a key question is whether there could be more signals that a small but growing number of GOP lawmakers are willing to buck their party's mainstream on climate issues.
FERC member on the record: A House Energy and Commerce subcommittee will gather tomorrow for a hearing on power grid reliability. Neil Chatterjee, a new GOP member of the Federal Energy Regulatory Commission, will be making his first appearance before lawmakers since winning Senate confirmation.
Why it matters: Chatterjee got lots of attention when he told FERC's in-house podcast last month that existing coal and nuclear power plants "need to be properly compensated to recognize the value they provide to the system." Now observers will be looking for signs of how those comments could be translated into policy specifics at FERC.
(UPDATE: This hearing was canceled due to Hurricane Irma's impact on the House schedule and members' availability.)
North Korean sanctions: The United Nations today holds a hearing on further sanctions on North Korea, that will likely pit the U.S. — which is pushing hard for a vote to cut off Kim Jong Un's lifeline of oil, most of which comes from neighboring China — against China and Russia, which are worried further sanctions will not work and will make North Korea collapse, Bloomberg reports.
Oil markets: On Wednesday the International Energy Agency will release its closely watched monthly oil market report. It's expected to address the impact of Hurricane Harvey. The report is also a monthly checkup of how IEA analysts view the progress of efforts by OPEC and Russia to ease the global supply glut.
https://www.axios.com/newsletters/axios-generate-deb5c505-0ae3-4d86-965f-194eab4aff1e.html?chunk=4#story4
Big in EVs: China, Uber, Tesla
All eyes on China: News broke over the weekend that Chinese officials are crafting a plan to eventually end sales of gasoline and diesel-powered cars.
The Associated Press, citing Chinese state media, reported yesterday: "The reports gave no possible target date, but Beijing is stepping up pressure on automakers to accelerate development of electrics."
Why it matters: China is the world's largest auto market. And the announcement, while vague, follows moves in a number of countries to create a horizon for the phase out of fossil-fuel vehicles. Most recently, the U.K. and France both announced over the summer that they would phase out sales in 2040.
What to watch: How the spate of announcements will affect the next round of long-term global forecasts for EV penetration by major energy companies and analysts — and what impact that has on global crude demand. Recent projections have already been showing increased estimates for EV growth, but EVs remain a tiny portion of the global market.
Immediate impact: Reuters reports from Shanghai that Chinese companies in the EV space — including the Warren Buffet-backed BYD Co Ltd. — saw their shares surge in trading Monday on the heels of the news about an eventual phaseout of internal combustion cars.
A couple of other notes on electrics...
Uber: In case you missed it, the company pledged Friday that by the end of 2019, every car available via UberX in London will be hybrid or fully electric.
"We're starting in the capital but aim to meet the same standard — 100% hybrid or fully electric cars on uberX with no diesels on the app — across the U.K. by the end of 2022," the company said.
Fortune has more on the pledge here.
Tesla: The company remotely extended the battery range of vehicles for free to help owners in Florida with their hurricane evacuations. "The update temporarily unlocked the full battery potential for 75-kilowatt-hour Model S sedans and Model X SUVs, adding another 30 to 40 miles to their range," MarketWatch reports.
https://www.axios.com/newsletters/axios-generate-deb5c505-0ae3-4d86-965f-194eab4aff1e.html?chunk=5#story5
Solar is growing but faces headwinds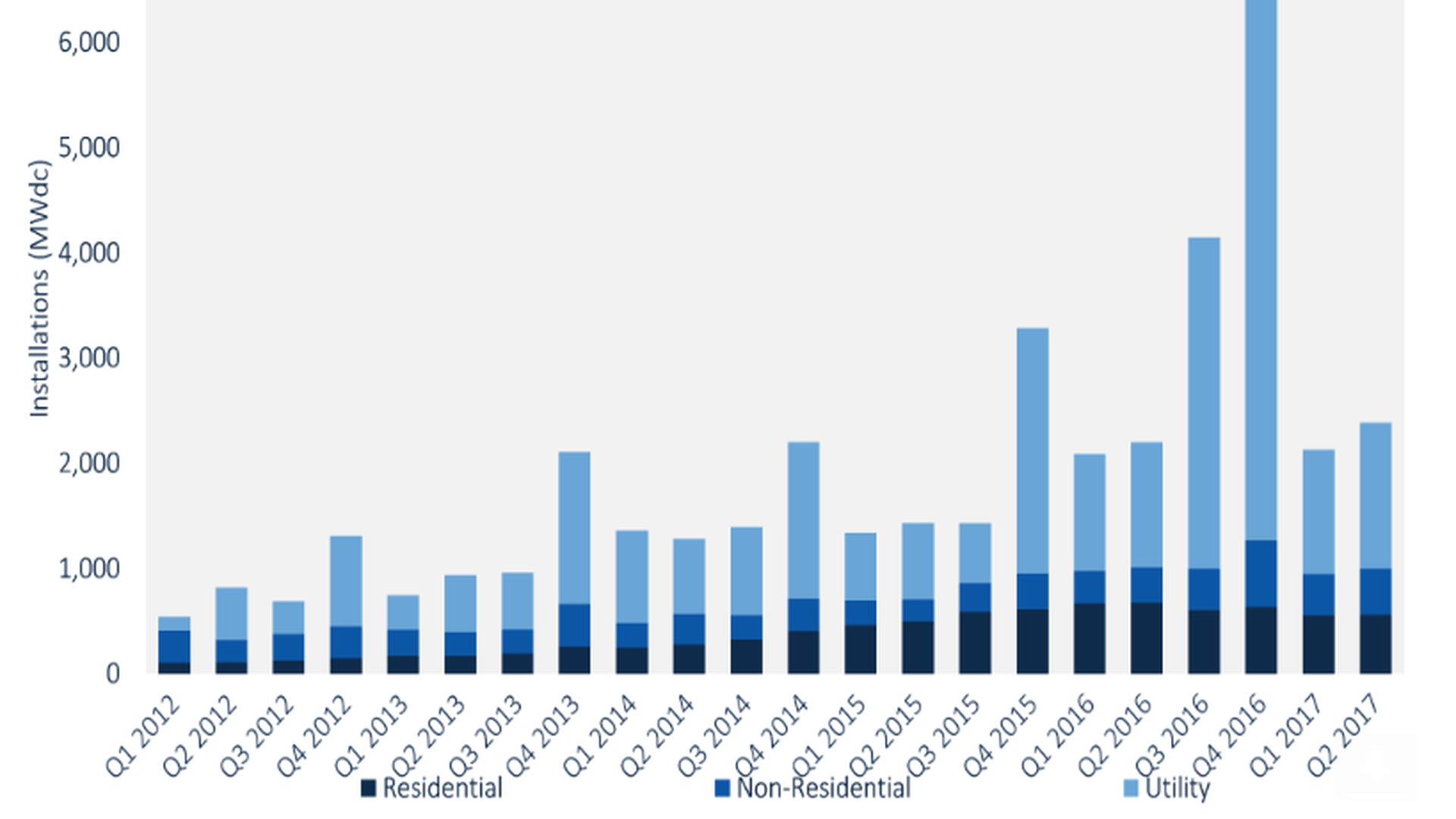 State of the ship: The Solar Energy Industries Association, the sector's main trade group, and GTM Research are out with their latest quarterly snapshot of U.S. solar photovoltaic installations and trends. A few toplines...
The second quarter saw 2.39 gigawatts worth of solar capacity additions, making it the largest Q2 total ever (see the quarterly installations chart above).
Yes, but: The residential rooftop market is slowing. That portion of that total additions — 563 megawatts — is 17% lower than the same three-month stretch a year earlier.
"Slowdown in residential solar is largely a function of national installers scaling back operations in major state markets as they prioritize profitability over growth," said Austin Perea, an analyst with GTM Research.
Predictions: Overall, the groups forecast addition of 12.4 gigawatts in 2017, a decline from the record 14.76 gigawatts added last year.
Nonetheless, GTM Research and SEIA predict that U.S. installed solar capacity will triple over the next five years — but also warn that new import penalties on solar equipment that the White House may impose would result in a "substantial downward revision" in that prediction.
Trend they flagged: Utilities are increasingly buying and building solar based on cost-competitiveness alone, according to the industry group. They said so-called voluntary procurement, as opposed to projects driven by policy and regulatory mandates, accounted for 59% of such procurement through the first half of the year.
https://www.axios.com/newsletters/axios-generate-deb5c505-0ae3-4d86-965f-194eab4aff1e.html?chunk=6#story6
Clinton's coal flashback
Coal regrets: A snippet buried in this NYT piece on Hillary Clinton's upcoming book caught my eye. Clinton believes her biggest gaffe of the campaign was saying in Ohio that, "We're going to put a lot of coal miners and coal companies out of business."
But the NYT adds:
"Mrs. Clinton insisted that the line was taken out of context, but said Mr. Obama had fed the narrative of Democratic hostility toward coal miners by announcing a plan that set state-by-state targets for carbon emissions reductions, and a framework for meeting them, at the White House, next to the head of the Environmental Protection Agency."