Axios Generate
May 23, 2017
Good morning and welcome back to Generate. A quick reminder that the weekly Axios science newsletter has launched and it's a great read. You can sign up for Axios Science and all of our free newsletters here. Ok let's dive in . . .
Paris hopes and dreams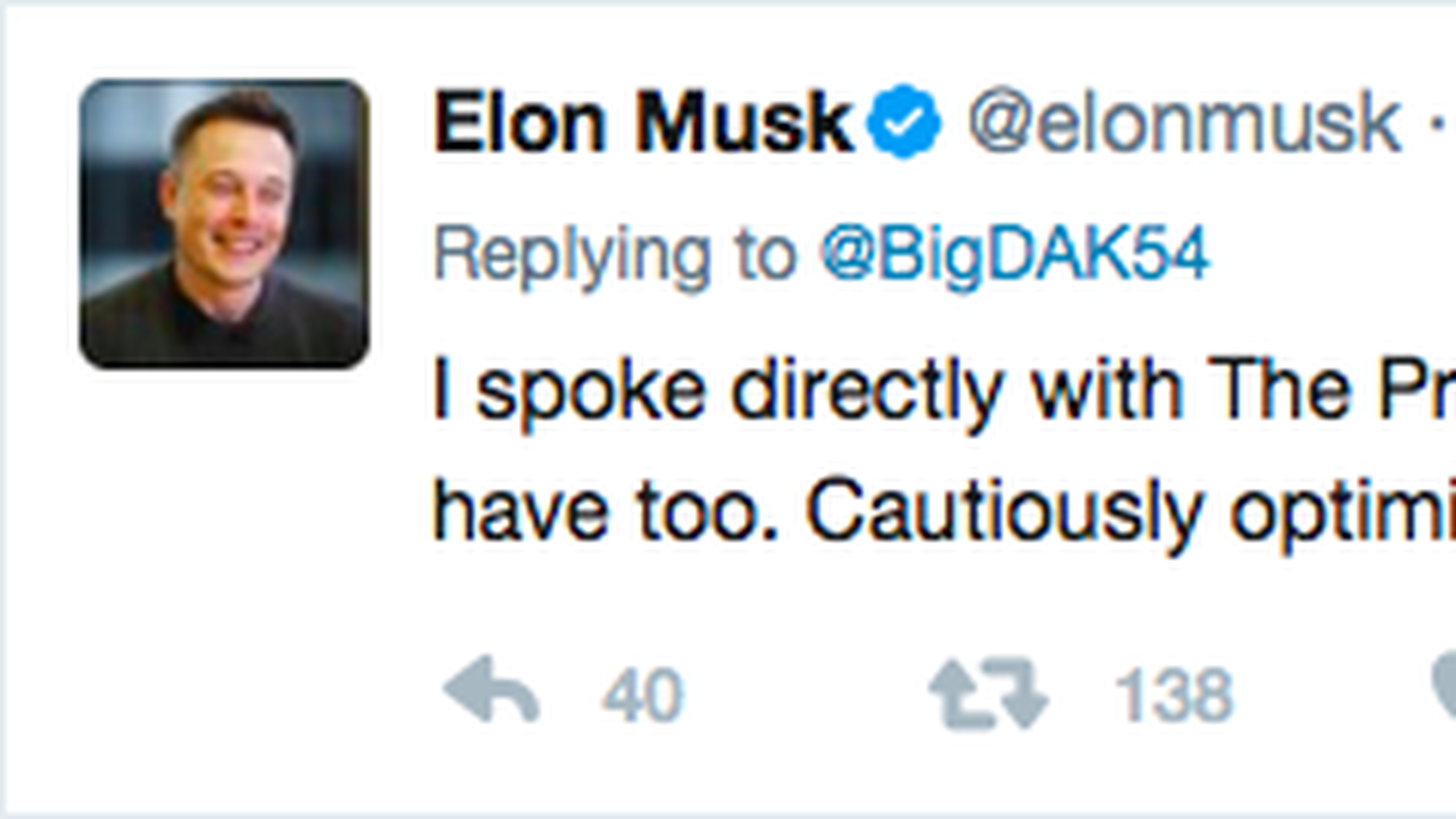 Two prominent figures in the climate and energy world say they're hopeful about the odds of President Trump deciding to stay in the Paris climate accord.
There's last night's tweet (above) from Tesla CEO Elon Musk, who is among Trump's industry advisers. Meanwhile, the Guardian reports that former VP Al Gore said in Cannes that he believes there's an "excellent chance that he will surprise many by deciding to stay in the Paris agreement."
Wait, what? I'm just seeing this Bloomberg story, which quotes Germany's environment minister predicting Trump will announce his decision at the G-7 meeting in Sicily late this week.
The whole thing has been a moving target for a while, but the most recent word from the White House was that a decision would come after the summit. White House aides could not be reached this morning by your Generate host.
Why it matters: European leaders are expected to make the pro-Paris case to Trump during his visit to the continent over the next few days.
Tea leaves: As climate advocates are on pins and needles, one veteran of global climate diplomacy offered a "glass half full" observation. It's that Trump is traveling with several top officials believed to support staying in the pact, including Jared Kushner, while anti-Paris adviser Steve Bannon has returned to Washington.
Trump's energy budget: Slash, drill, sell
Driving the news: My Axios colleagues have an informative and visually interesting look at the fiscal year 2018 budget plan that the White House is sending to Congress today.
Obligatory "to be sure" comment: White House budget proposals are messaging documents that, at best, lay down a marker for talks with Congress. Without further ado, here's some of the energy and environment portions...
Sell: The plan would raise an estimated $16.6 billion over a decade by selling half the oil in the nation's Strategic Petroleum Reserve, which currently holds 688 million barrels.
Congress has been willing to use the SPR as a cash machine in recent years, but this would be a far larger drawdown.
Drill: Trump is reviving long-stymied efforts to open the Arctic National Wildlife Refuge in Alaska to oil development, but that request to Congress will generate massive opposition from Democrats and environmentalists.
Slash: Trump's budget seeks to cut the Environmental Protection Agency's budget by nearly a third, and would also reduce spending by the Energy and Interior departments.
End: The plan aims to raise roughly $3.6 billion over 10 years by tossing out a 2006 law which provides Gulf Coast states a cut of the royalties from oil-and-gas production in federal waters off their shores. Won't happen.
Go deeper:
Bloomberg has a more detailed look at the energy proposals
here
. And Reuters
points out
that Trump's push to sell SPR oil "counters OPEC's efforts to control supply in order to boost prices."
Good listen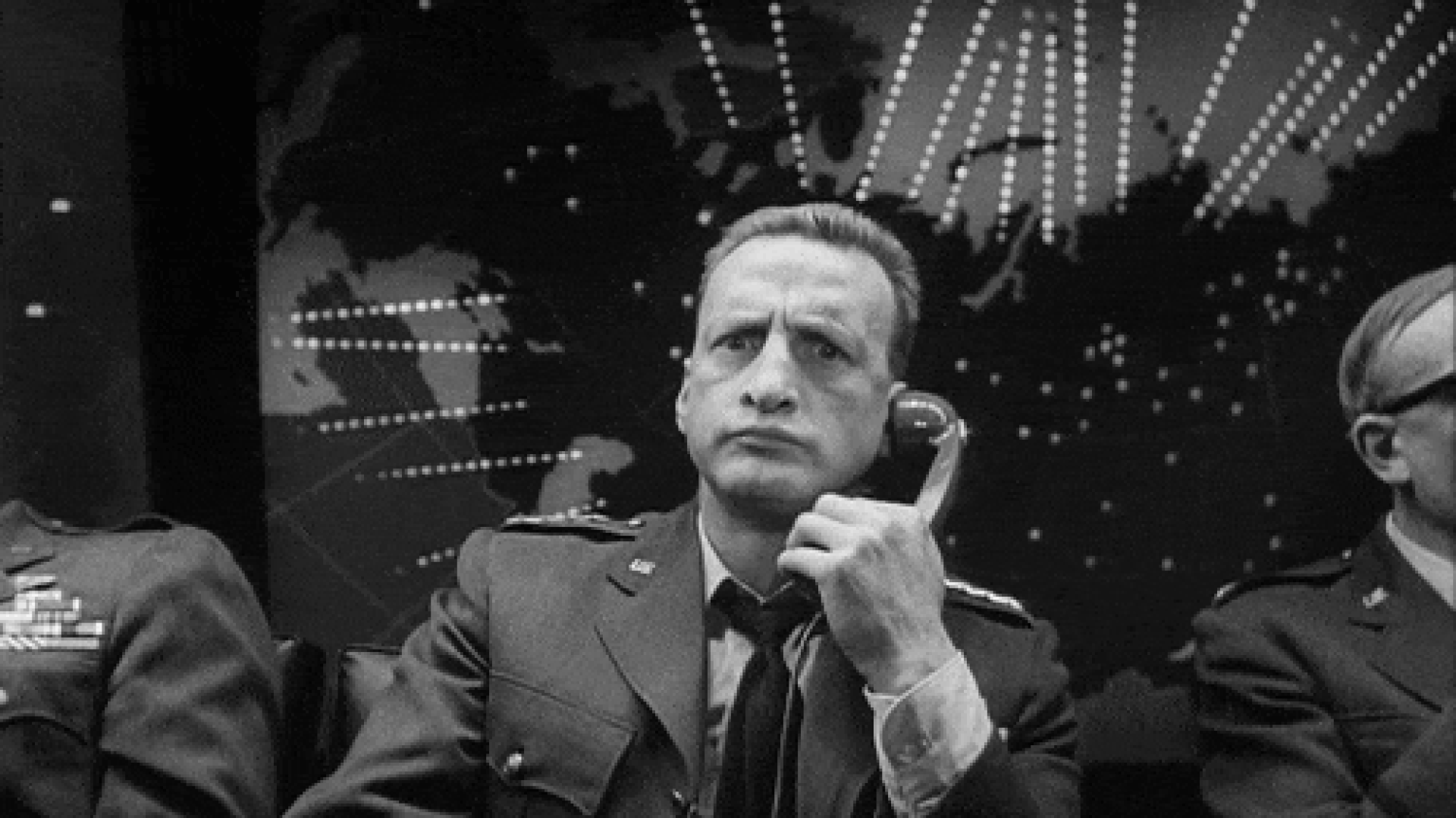 The latest Columbia Energy Exchange podcast has a wide-ranging chat about global energy with analyst Christof Rühl, head of research at the Abu Dhabi Investment Authority and BP's former chief economist. But if you don't have 34 minutes, here's a couple takeaways
Crude oil: He splits with some experts who believe low prices have have stymied new investment enough to create big risks of a supply crunch in just a few years.
"These forecasts that there is a big gap because of lack of investment when oil prices fell … seem to be not very realistic if you talk to private industry. If you look at their production growth forecasts, there doesn't seem to be a big shortfall coming in the next two to three years."
Energy transition: Rühl is very pessimistic about renewables growing fast enough to help put the world on an emissions path that holds the rise in global temperatures below 2 degrees celsius.
While there's lots of focus on technological improvements helping to boost the supply of wind, solar and others, he notes that over the last decade, tech advances have been a far bigger boon to oil and gas as shale has been unlocked.
"Strictly speaking and fairly compared, new technologies have generated twice as much energy in oil and gas as they have in renewables, and that is not a very good sign," he said. "People assume new technologies just benefit renewables. It's not true."
From Amy's notebook: What wind execs want from Trump
My Axios colleague Amy Harder, who is in California at the American Wind Energy Association's annual conference, writes about what she is hearing from wind power executives. Take it away...
Wind executives gathered in Anaheim for the sector's annual conference are hoping the Trump administration will speed up what they characterized as a slow permitting process under former President Obama.
Why it matters: President Trump hasn't said anything nice about the renewable industry generally, and the rhetoric from his cabinet members hasn't been favorable either. The focus on permitting is one sign of how the industry is repositioning itself in the wake of Trump's election after eight years of Obama, whose policies mostly supported the industries with the exception of federal permitting.
What we're hearing: "We're hopeful the new administration will help coordinate federal agencies better and shorten the time frames for getting the kind of regulatory approvals we need, just like any other big infrastructure whether it's oil, gas or big transmission lines," said Jeff Grybowski, CEO of Deepwater Wind, the company with the first offshore wind farm in the U.S. That farm, located off the coast of Rhode Island, took eight years to work its way through the permitting processes and went into operation last year.
Read more here.
How fracking could smooth oil markets
A new National Bureau of Economic Research paper about crude supply and demand concludes that a big expansion of the share of global oil produced via hydraulic fracturing would reduce the volatility of prices.
The characteristics of fracking-enabled production — notably the ability to economically adjust production levels and the relatively short time to bring projects online — can smooth out the rough ride, the authors say.
"Since fracking firms are more nimble, they respond rapidly to shocks, moderating the equilibrium price increase and making it less profitable for conventional firms to change their investment and extraction rates," notes the paper from researchers at Northwestern University and the Institute for International Economic Studies in Sweden.
To be sure:
While the paper predicts that fracking's rise will eventually make prices much less volatile, it models a world in which the technique that unlocks shale oil enables a much larger share of global production than today's totals.
On my screen: OPEC deal, Trump's nominees, climate
Offshore drilling: The New Orleans Times-Picayune has a look at Scott Angelle, the Louisiana regulator that Trump has tapped to lead the Interior Department's Bureau of Safety and Environmental Enforcement.
BSEE emerged from the reorganization of federal offshore drilling oversight after the BP Deepwater Horizon catastrophe in 2010.
Nuclear: The Hill reports on the White House announcement of nominees to the Nuclear Regulatory Commission.
OPEC: Saudi Arabia's energy minister said the stage is set for the cartel to continue its production-cutting agreement for nine months, now that Iraq has agreed to the plan, the Associated Press reports.
Climate change:
The New York Times
examines
California Gov. Jerry Brown's moves on carbon emissions at a time when the White House is abandoning Obama-era initiatives. The state is "emerging as the nation's de facto negotiator with the world on the environment," the paper notes.
The Dallas Fed's crystal ball
The head of the Federal Reserve Bank of Dallas, which closely tracks the oil and gas industry, offered a few predictions and observations in a broad essay about the economy. Among Robert S. Kaplan's comments...
A "fragile equilibrium" has arrived in global oil supply and demand.
Assuming OPEC and non-OPEC producers extend their production-cuts, he predicts oil prices to stay between the mid-$40s and mid-$50s per barrel for the balance of 2017.
Those prices support increased investment in shale production by oil exploration and production companies in the bank's jurisdiction. With continued tech improvements, the roaring Permian Basin production has room to grow "substantially" in coming years.
In his words:
"We expect that major oil companies, in the near term, may continue to avoid large long-lived capital projects and will, instead, focus their capital spending on more flexible and shorter life-cycle shale opportunities in the U.S."