Axios Generate
September 05, 2019
Good morning. Today's Smart Brevity count: 1,224 words, < 5 minutes.
At this moment 30 years ago, Soul II Soul was atop the Billboard dance charts (and would later reach #4 in the Hot 100) with today's classic intro tune...
1 big thing: Lessons from Dems' climate talkathon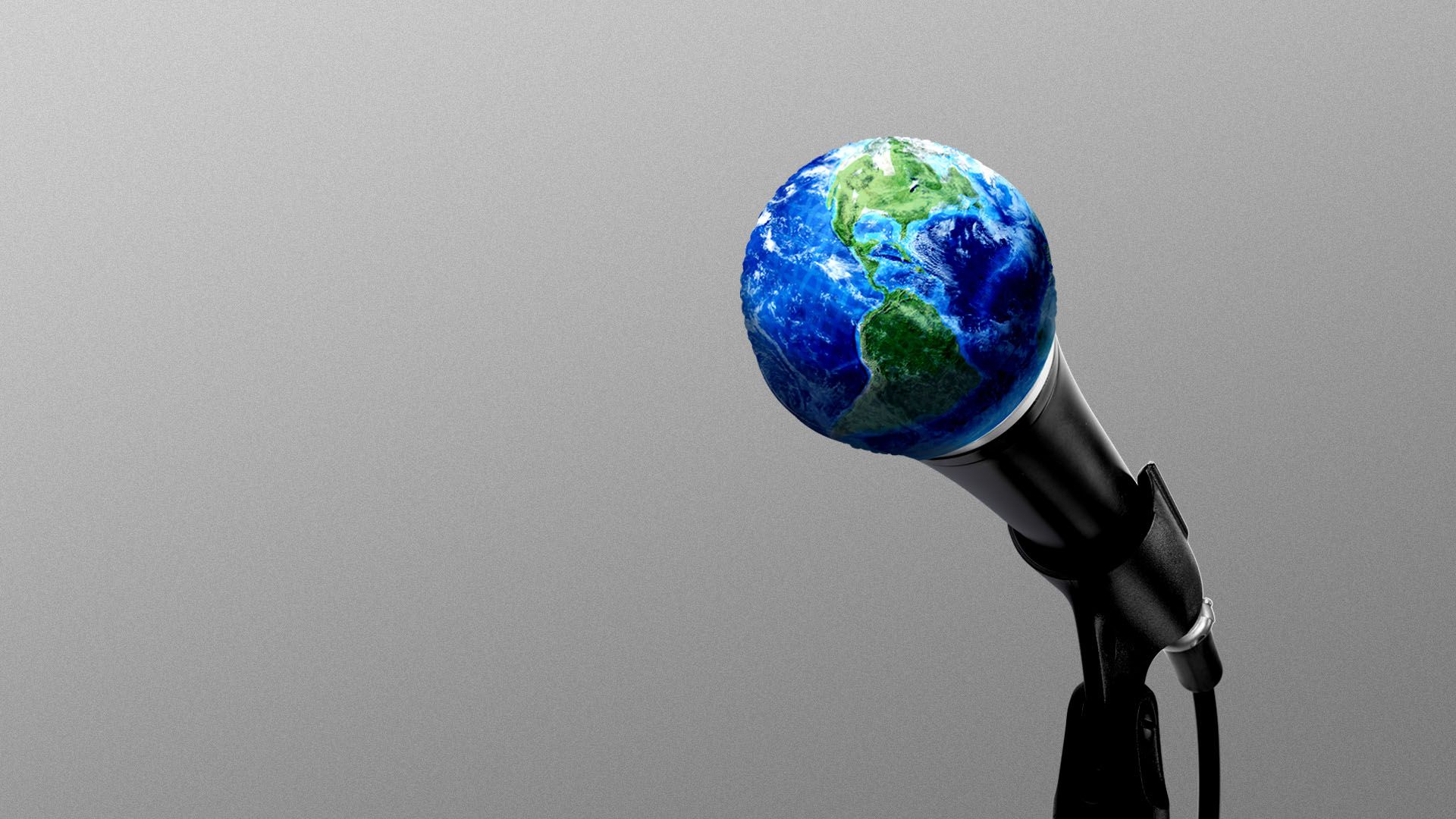 Whew! Democratic White House hopefuls talked about climate change for roughly 7 hours last night in the CNN town hall.
Here are a few takeaways...
1. The whole landscape has shifted. The first question to frontrunner Joe Biden was about whether his plan for achieving net-zero emissions by 2050 is too weak. That would be a heavy lift! But the center of gravity on the left has moved in recent years.
2. Kamala Harris made news, when the senator said Senate Democrats should kill filibuster rules if Republicans didn't work with her on a sweeping climate bill. The California senator had previously been more equivocal.
Why it matters: Big climate legislation faces immense hurdles even if Democrats regain a narrow Senate majority thanks to the 60 votes needed to move bills.
3. Elizabeth Warren also broke news, when she announced support for a carbon tax as part her much wider plan (although with no real detail). The senator had previously signaled interest in carbon pricing in vague terms.
Warren also added clarity to her stance on nuclear power. She opposes building new nuclear plants and called for "weaning ourselves off nuclear energy" too.
4. Joe Biden was put on the defensive. He faced on-air questions about a fundraiser he plans to attend Thursday hosted by Andrew Goldman, co-founder of the natural gas company Western LNG.
Biden is among many candidates who signed a pledge not to take money from fossil fuel executives.
Biden said Goldman's not listed as an executive in SEC filings. And the campaign said he's not involved in day-to-day operations, which CNN's Anderson Cooper noted on-air too.
But the episode won't help Biden among liberal activists already wary of his campaign and climate posture.
The big picture: There are real differences in some of their positions. Underneath the vows from all the candidates to act aggressively, the event laid bare divides over topics like...
Nuclear power: "People who think we can get there without nuclear being part of the blend just aren't looking at the facts," Sen. Cory Booker noted at one point.
Fracking and natural gas: Some candidates backed a ban on fracking. Harris said there's "no question I'm in favor" of one. But Sen. Amy Klobuchar didn't go nearly that far, nor did Julián Castro.
Carbon pricing: Differences on methods were on display, with Warren endorsing a tax and Beto O'Rourke last night coming out in favor of a cap-and-trade system. Specifics were in short supply overall.
Go deeper:
Bonus: More takeaways from climate gab-fest
Warren vs. Sanders: One divide that caught my eye was Warren pushing back against Sen. Bernie Sanders' pr0posal to expand the network of federally owned utilities and orient them around renewables.
"I'm perfectly willing to take on giant corporations," she said in touting her plan for zero-emissions power by 2035, but added: "If somebody wants to make a profit from building better solar panels and generating better battery storage, I'm not opposed to that."
Why it matters: They're battling for support on the left, and the moment distilled Warren's push for overhauling markets to bolster public benefit compared to Sanders' desire for democratic socialism.
Jay Inslee's campaign lives on. Several candidates — Warren, Castro, Harris and Klobuchar — approvingly name-checked Inslee's ideas.
More on Biden: The former VP seemed most engaged and comfortable when drawing on his foreign policy roots.
He repeatedly returned to how he'd work with other nations, pledging to quickly convene signatories to the Paris climate deal for a meeting to "up the ante."
But, but, but: Biden did nothing to gain ground with the left. Beyond the fundraiser flap, he was equivocal and vague on a question over whether he'd seek to ban fossil fuel exports, saying "everything is incremental" — probably one of the last words the left wants to hear right now.
The big picture: I thought the questions were decent overall. And the event captured the vast dimension of the problem.
It went way beyond coal and cars to touch on farming, industry, human migration, adaptation, deforestation, trade, the food system, racial and economic justice dimensions of climate, and much, much more.
2. Coal's decline hits railroads
No matter what President Trump says, coal in America isn't coming back. And its decline is hitting another big industry — trains, Axios' Amy Harder reports.
Driving the news: Power companies' demand for coal is likely to drop by more than 50% in 11 years, according to a report by the rating agency Moody's.
In turn, revenue from transporting that coal around the country via trains is expected to drop $5 billion by 2030, or 5.5% of the railroad industry's 2018 revenue.
Where it stands: Because of the industry's outsized dependence on coal, the fossil fuel's decline is hitting railroads especially hard. Coal makes up 13% of total freight volume, which is the largest single freight commodity moved by rail.
4 railway companies, led by CSX and Burlington Northern Santa Fe (BNSF), get more than 10% of their revenue from coal and are thus most at risk for revenue hits.
CSX gets nearly 20% of its revenue from coal, while BNSF gets nearly 17%.
Moody's says credit effects for U.S. railroad companies "are likely manageable if the [coal] decline remains gradual."
3. Bill Gates and Big Oil like this energy startup
The smart buildings startup 75F Inc. has raised $18 million in Series A funding from backers including the Bill Gates-led Breakthrough Energy Ventures and the Oil & Gas Climate Initiative's VC arm.
Why it matters: Commercial buildings are a significant source of carbon emissions, so tech that helps make them more efficient is important from a climate standpoint.
It's the first time OGCI, a coalition of many of the world's largest oil-and-gas companies, has invested in the buildings space.
How it works: "75F offers a vertically-integrated smart building solution that includes wireless sensors, equipment controllers and cloud-based software delivering predictive, proactive building automation right out-of-the-box," yesterday's announcement states.
The big picture: Per Fast Company, "The company has calculated that if its technology was deployed nationally, it would save an equivalent amount of emissions as closing 90 coal plants or saving 827 million barrels of oil."
4. Big Oil eyes more shale pickups
Officials with ExxonMobil and Chevron "left the door open for more acquisitions" in the Permian basin, Reuters reports from a Barclays conference in New York yesterday.
Why it matters: The world's biggest oil companies have been expanding their footprint in the region that was once largely the domain of independent players.
Bloomberg puts it like this: "A bloodbath in energy stocks is creating a rich opportunity for Big Oil to dominate America's hottest shale play."
5. Fleeing disasters in autonomous EVs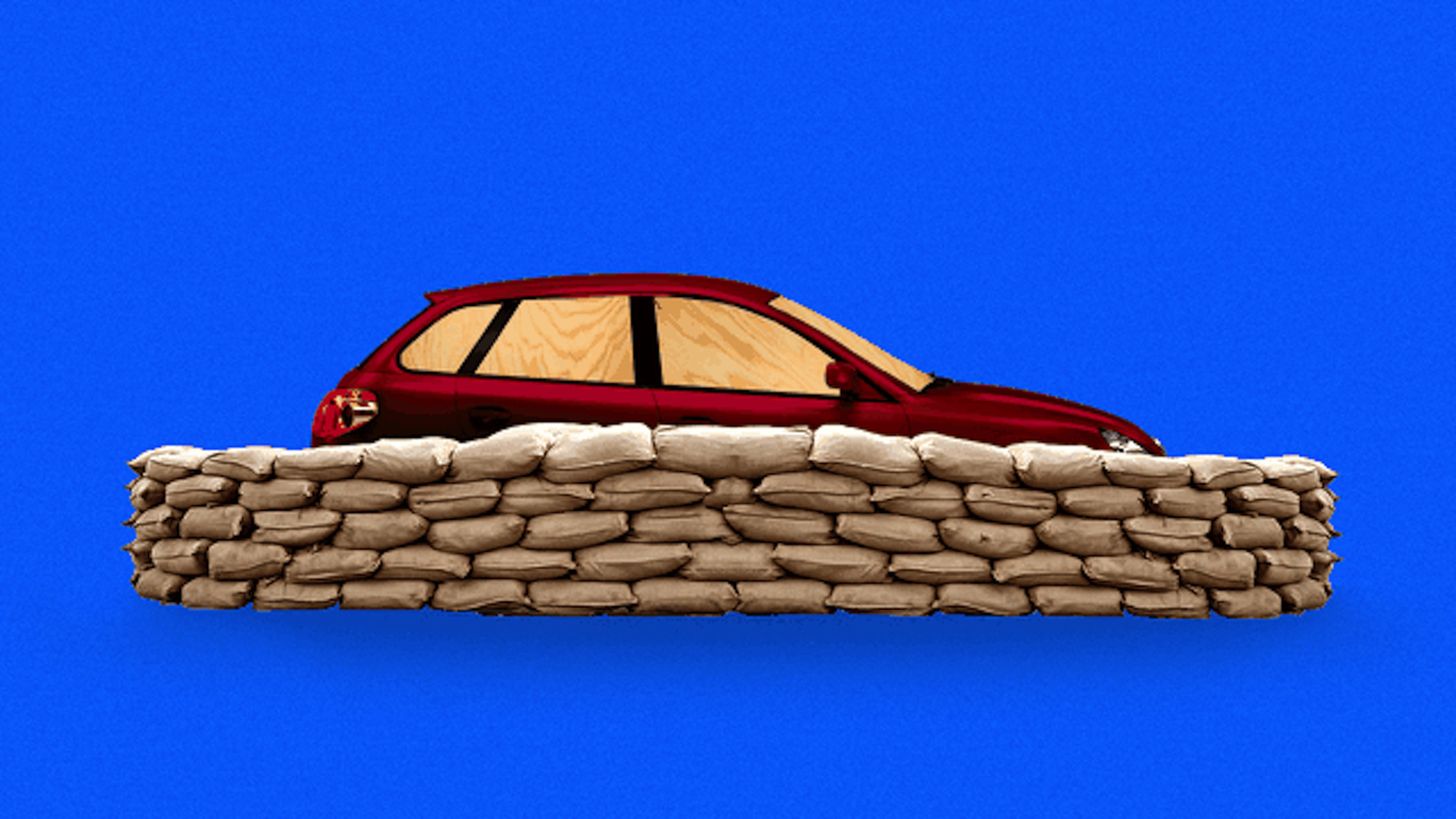 Electrified autonomous vehicles could eventually help people in disaster-prone areas like Florida find safer ground, but dangerous speed bumps could lurk along the way, Axios' Joann Muller and Kim Hart report.
Why it matters: Roughly 1.5 million Floridians moved inland when Hurricane Dorian was menacing the coast, providing a reminder of the need for mobility when powerful storms are near.
The big picture: AVs might help make evacuations more efficient, former Florida emergency management chief Bryan Koon, now with the disaster consulting firm IEM, wrote in a 2018 blog post.
Platoons of connected AVs could shuttle groups of people at a time to safe destinations, reducing cars on the road and enabling faster travel.
But, but, but: The shift from personal car ownership to shared mobility, and from gasoline engines to electric cars, will be a slow transition that could actually make mass evacuations more difficult over the next couple of decades, Koon tells Axios.
As EVs proliferate, the number of gas stations will fall and the number of charging stations will rise. But during the changeover "there could be a chance that we don't have enough of either" to handle a large-scale evacuation, he says.