Axios Generate
August 25, 2021
🎉 Happy midweek readers! Today's Smart Brevity count is 1,426 words, 5.5 minutes.
📊 Data point of the day: $1.4 billion, the amount shipping giant Maersk is spending on eight vessels that can run on "carbon neutral methanol." Go deeper
🛢️ Situational awareness: "The Biden administration said on Tuesday it would take steps to restart the federal oil and gas leasing program in the next week and plans to hold a Gulf of Mexico auction as soon as October." (Reuters)
😢 Yesterday brought the sad news that Rolling Stones drummer Charlie Watts died at 80, so we honor his talent with today's intro tune...
1 big thing: No green recovery as coal power grows
Global carbon dioxide emissions from the power sector have surged past pre-pandemic levels to reach new highs, a new report examining trends during the first half of 2021 finds, Andrew writes.
Why it matters: The new report from Ember, a London-based environmental think tank, shows that the energy transition needed to limit the severity and pace of global warming is not happening rapidly enough.
The economic recovery is being powered largely by carbon-intensive coal in many countries, particularly in Asia. While clean energy is gaining ground worldwide, its growth is too slow compared to the deep, immediate emissions cuts required to meet the Paris Agreement's temperature targets.
The big picture: Global power sector emissions bounced back strongly from lows seen during the first half of 2020 to a level about 5% higher than the first half of 2019, the report finds.
The data shows that while 57% of the growth in electricity demand came from wind and solar power, a large fraction — 43% — has been met by firing up carbon-intensive coal power plants, especially in China, Bangladesh, Mongolia and Vietnam.
No single country out of the 63 nations analysts examined has achieved a "green recovery" for the electricity sector, which features higher electricity demand and lower emissions.
Context: When compared to the International Energy Agency's roadmap for bringing global emissions to net zero by 2050, power sector emissions would have to decline by 57% by 2030 while energy demand grows by 50%.
Most of the emissions cuts prior to 2030 in the IEA's modeling would come from ending coal power, the Ember report notes, bluntly stating: "Coal power is rising when it needs to be rapidly falling."
China, for example, had a 14% increase in electricity demand compared to 2019. A large addition of clean energy couldn't keep pace with such a sharp uptick, with more than two-thirds of the increase in demand met with coal power.
Threat level: By the end of the year, power sector carbon dioxide emissions could be even higher, given that such emissions were 7% higher in June 2021 compared to the same month in 2019, Ember found.
What they're saying: "We need to go hell for leather on the electricity sector and we're nowhere close at the moment," Dave Jones, Ember's global lead, told Axios in an interview.
Bonus: Renewables rise but so does coal
One key finding from Ember's report is that clean energy technologies, such as solar and wind, are reaching new milestones — surpassing 10% of global electricity generation for the first time and beating out stagnant nuclear power, Andrew writes.
Yes, but: This growth rate is not on course to catch up with fossil fuels and cut emissions at a pace that would meet the Paris target of 1.5°C (2.7°F), especially given the rebound in coal electricity generation during the first half of 2021.
2. Schumer: Budget plan is key to U.S. Paris pledge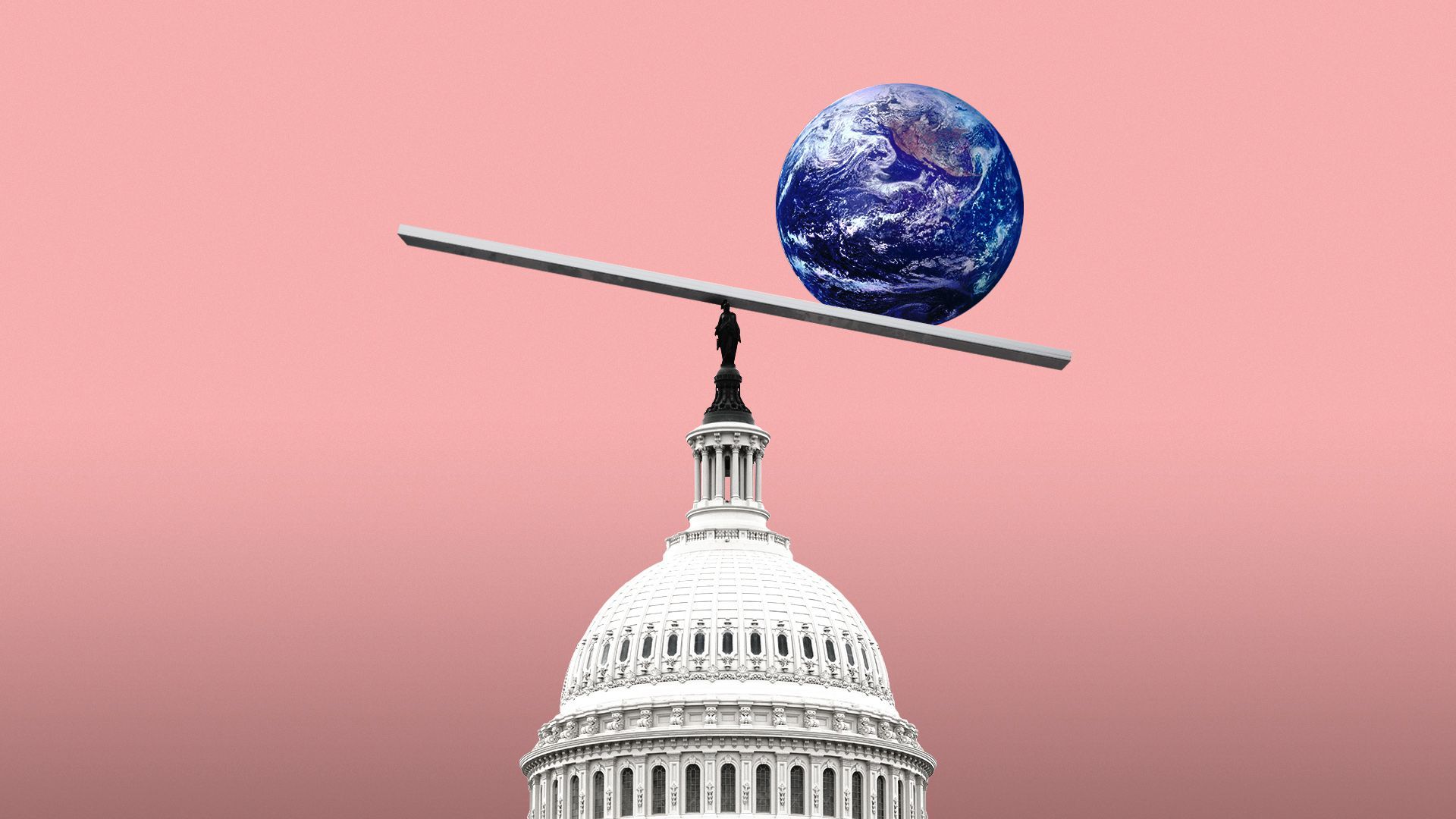 Democrats' spending and tax plan and the bipartisan infrastructure package would together cut greenhouse gas emissions almost enough to meet the U.S. pledge under the Paris Agreement, Senate Majority Leader Chuck Schumer said, Ben writes.
Driving the news: Schumer, in a new letter to Senate colleagues, said his office's analysis of the two proposals shows they would put the U.S. on track to cut emissions around 45% below 2005 levels by 2030.
Add in planned executive policies and state-level efforts, and the U.S. will reach its pledge in April under the Paris Agreement of a 50% cut by 2030.
Why it matters: The letter lays bare the high stakes of the proposed $3.5 trillion, Democrats-only budget reconciliation plan, which accounts for most of the emissions cuts in Schumer's analysis, and the bipartisan package.
It's a clear acknowledgment that the Biden administration's ability to make good on the formal emissions pledge rests heavily on steering major new investments and policies through Congress.
That has global repercussions. If Biden officials can show the U.S. pledge isn't a paper tiger, it boosts the chances of successful outcomes at a critical United Nations climate summit this fall.
The big picture: The letter comes as Democrats and the White House are trying the politically tricky maneuver of moving two major and related packages on parallel tracks.
How it works: The emissions projections are based on a review of "best available data from a wide range of organizations that specialize in policy analysis," the letter states.
Per the letter and a short summary of the analysis, about 42% of the total emissions cuts through 2030 would come from two pillars of the reconciliation plan.
One is a new system of payments to help utilities greatly speed up deployment of zero-carbon power, combined with fees for companies that don't hit their targets.
The other is a package of new and expanded tax credits for various kinds of clean energy projects.
3. A carbon removal deal worth watching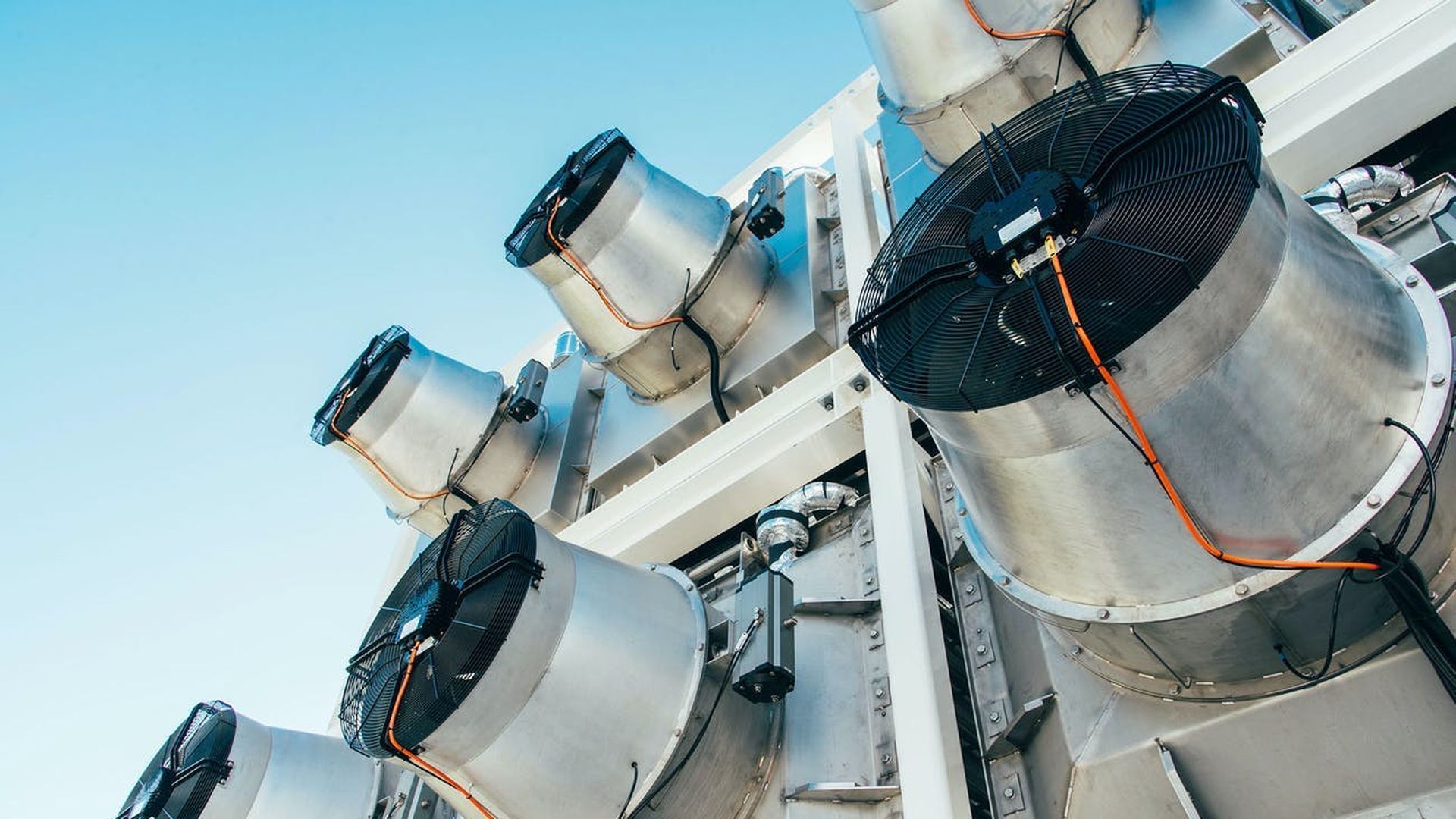 Swiss Re, the giant reinsurance and risk management firm, signed a 10-year, $10 million deal with Climeworks to utilize direct air capture technology, Andrew writes
Why it matters: Swiss Re, which is aiming for net-zero emissions in its operations by 2030, is touting this as the first and largest long-term purchase agreement of its kind.
The two also agreed to a strategic partnership that includes generating risk management knowledge and risk transfer tools. They will also explore future investment and finance opportunities.
Context: Direct air capture is a technology viewed as a potential way for the world to transition to negative emissions in the latter half of the century, but it is not yet widely available at scale.
4. Exxon plans to start producing renewable diesel
Exxon this morning unveiled plans for producing renewable diesel fuel at a new complex located at an existing Canadian refinery, Ben writes.
Driving the news: The oil giant is eyeing production of 20,000 barrels per day starting in 2024 via Imperial Oil, a firm majority-owned by Exxon.
The project at Imperial's Strathcona complex would use local crops, and hydrogen produced with natural gas combined with carbon capture, a process called "blue hydrogen," Exxon said.
What they're saying: Ian Carr, who heads Exxon's fuels and lubricants arm, said Canada's proposed low-carbon fuel policies "incentivize the development of lower-emission fuels that can make meaningful contributions to the hard-to-decarbonize sectors of the economy."
What we're watching: Whether it goes forward, and Exxon's other biofuels plans.
CEO Darren Woods, on Exxon's Q2 earnings call, said it is "advancing a number of options to produce low-emissions biofuels" via new projects, re-tooling existing refinery units and other steps.
The big picture: Exxon, under pressure from investors and activists, has vowed to expand its climate plans.
The company says it sees opportunities in carbon capture, hydrogen and biofuels.
The green bona fides of the Canadian renewable diesel plan will face scrutiny, however. A much-discussed new paper covered in the New York Times concludes blue hydrogen isn't climate-friendly.
But multiple analysts argued the study rests on overly pessimistic assumptions.
5. First look: The growing push for a green Fed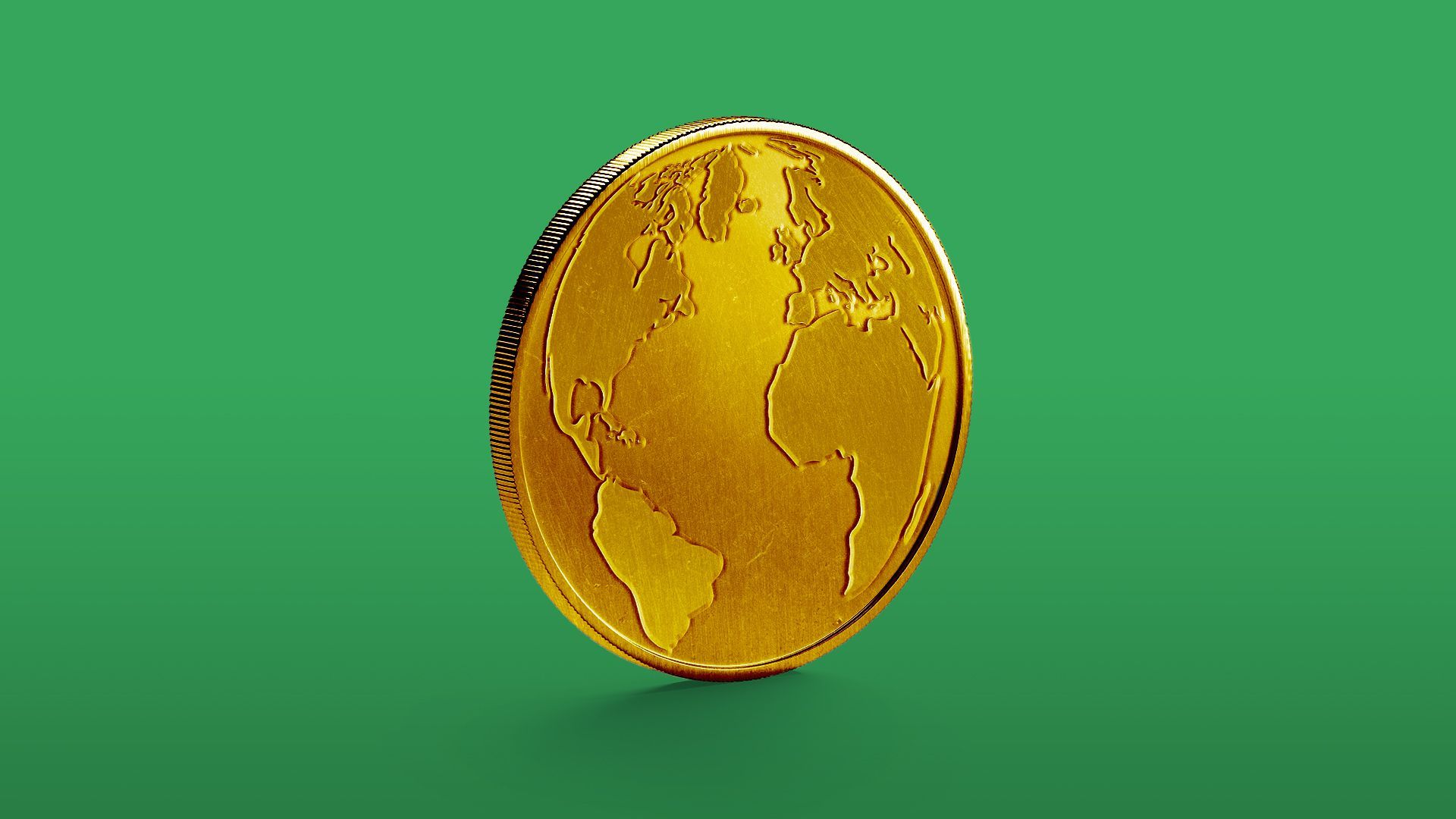 An environmental group with ties to the White House is pressing the Biden administration to emphasize climate change as it considers nominees to the Federal Reserve, Ben writes.
Driving the news: Evergreen Action, in a new memo shared with Axios, lays out five actions it wants from the Fed, including:
Imposing "limits on the amount of greenhouse gas pollution that banks can finance through their lending and investment portfolios."
"Stress tests" of banks to determine their readiness for climate-related shocks, something the Fed has not yet fully embraced.
Why it matters: The memo comes as President Biden is deciding whether to renominate Jerome Powell for another term as Fed chairman. Randal Quarles' term as the Fed's vice chair for supervision ends in mid-October.
Our thought bubble, via Axios Business Editor Kate Marino: Markets like consistency and Powell would provide that. Treasury Secretary Janet Yellen has reportedly told the White House she supports a second term for Powell, which would increase his odds of keeping the job.
But progressive Democrats have pressured Biden for an appointment that would take a more proactive approach to regulate banks.
What's next: Evergreen intends to share the report with administration officials and Capitol Hill offices to "ensure that the Fed's responsibility to confront climate risk is prioritized," the group said.
6. Two VC things: Google and SoftBank
Renewables: "LevelTen Energy, a Seattle startup that helps companies buy renewable energy online, has raised $35 million in a new round of funding from investors that include the venture capital firm NGP Energy Technology Partners and Google." (Seattle Times)
Energy storage: "Energy Vault, a developer of utility-scale battery storage technology backed by SoftBank Group Corp and the venture arm of Saudi Aramco, has raised $100 million in a funding round, its chief executive told Reuters on Tuesday." (Reuters)