Axios Generate
April 11, 2018
Happy Wednesday!
Lots of auto stuff in today's edition, so let's drive (sorry) back to 1999, when TLC topped the charts this week with this fantastic song . . .
Goldman Sachs vs. Elon Musk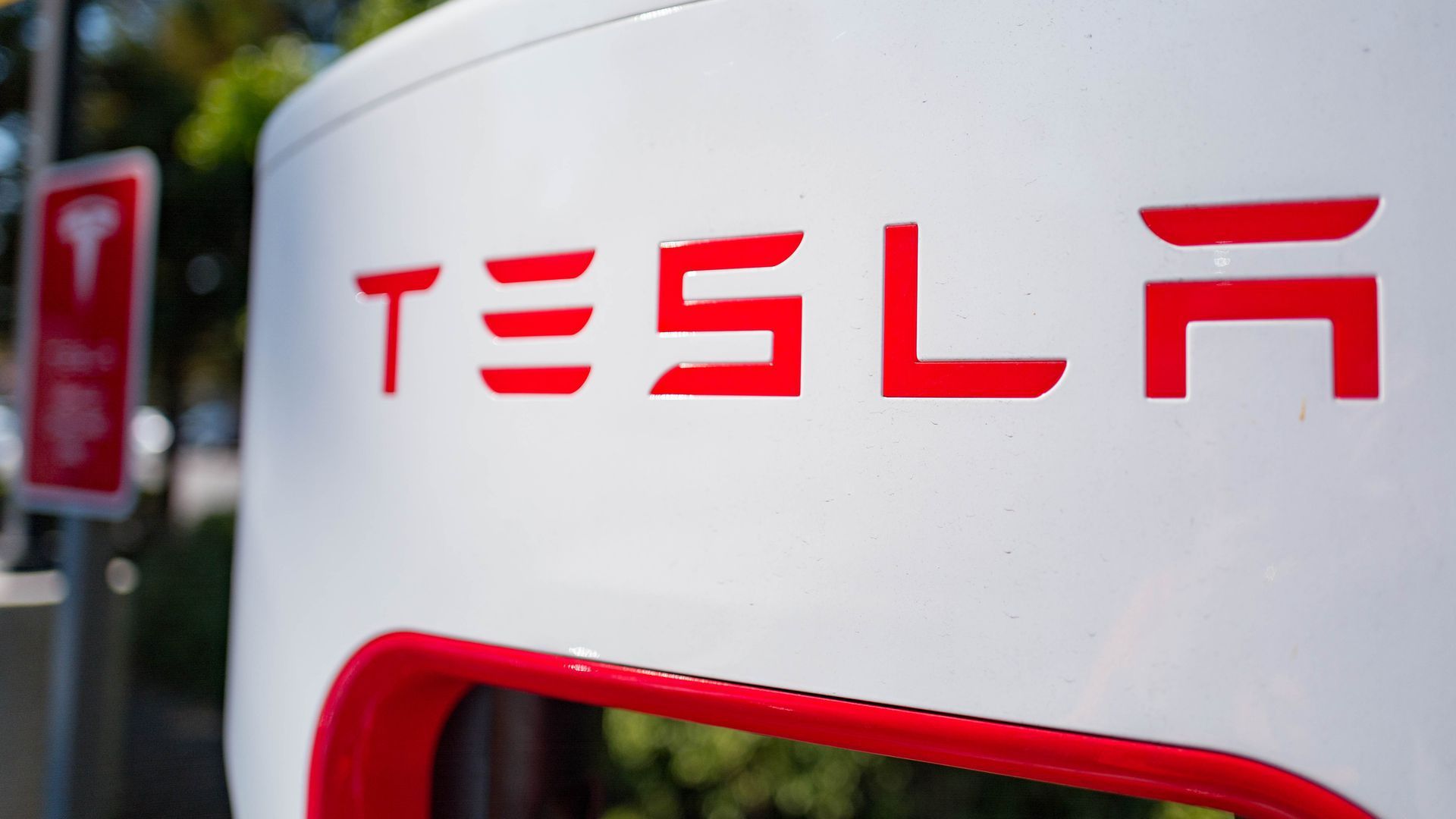 Storm clouds: A Goldman Sachs note yesterday suggested that Tesla is not equipped to meet its upcoming targets for production of the mass-market Model 3.
The analysis led by Goldman's David Tamberrino also sees erosion of the stock price that regained momentum last week when Tesla reported its latest production and delivery data.
But, but, but: Tesla CEO Elon Musk appeared to challenge the report, tweeting "place your bets" in response to a posting about Goldman's analysis. (H/t to this CNBC piece that flagged the tweet.) A spokesman for Tesla declined further comment last night.
Why it matters: The Goldman analysis paints a daunting picture of headwinds the Silicon Valley automaker faces as it tries to scale up production of the car that is key to the company's long-term future.
Tesla hopes to reach production of 5,000 Model 3s per week by mid-year after reporting that it made over 2,000 during the final week of the first quarter. But the Goldman note states: "[W]e believe the sustainable production rate for 2Q18 is most likely below the 2,000 vehicle mark the company achieved in the final week of the quarter."
More: Read the full story in the Axios stream.
Quick take: Your Generate host doesn't know whether Goldman analysts are on target. But there's a wide spectrum of views on Tesla even among experts. This underscores how the 15-year-old company's ability to make its cars more than a niche product remains a big question mark.
The electric stakes of Volkswagen's shakeup
ICYMI: Volkswagen is set to replace its CEO Matthias Müller, who took the reins after the "dieselgate" emissions scandal broke in 2015, with senior VW executive Herbert Diess, according to The Wall Street Journal and other outlets.
Why it matters: VW is the world's largest automaker and has been moving aggressively into vehicle electrification, including last month's announcement of plans to expand electric vehicle production capacity to 16 factories over the next 5 years.
What's next: "I don't anticipate a significant change in Volkswagen's strategy on electrification of their fleet," Rebecca Lindland, an executive analyst with Kelley Blue Book, tells Axios.
There are both regulatory and legal reasons behind this, she says, noting it's a key strategy for meeting emissions and fuel economy regulations worldwide.
And in the U.S., VW is undertaking a multi-billion dollar EV charging infrastructure effort nationwide. It's part of the wider U.S. settlement of the scandal over its use of software in large numbers of diesel vehicles that enabled evasion of pollution rules.
Go deeper: Read the full story here and check out these stories too:
The New York York Times notes that Diess has led VW's push into EVs.
This Financial Times piece last year encapsulates' Diess' bullishness on VW's ability to become a major player, with comments like: "Anything Tesla can do, we can surpass," and the goal of VW's whole electric fleet "is to be profitable from the very beginning."
Petro news and notes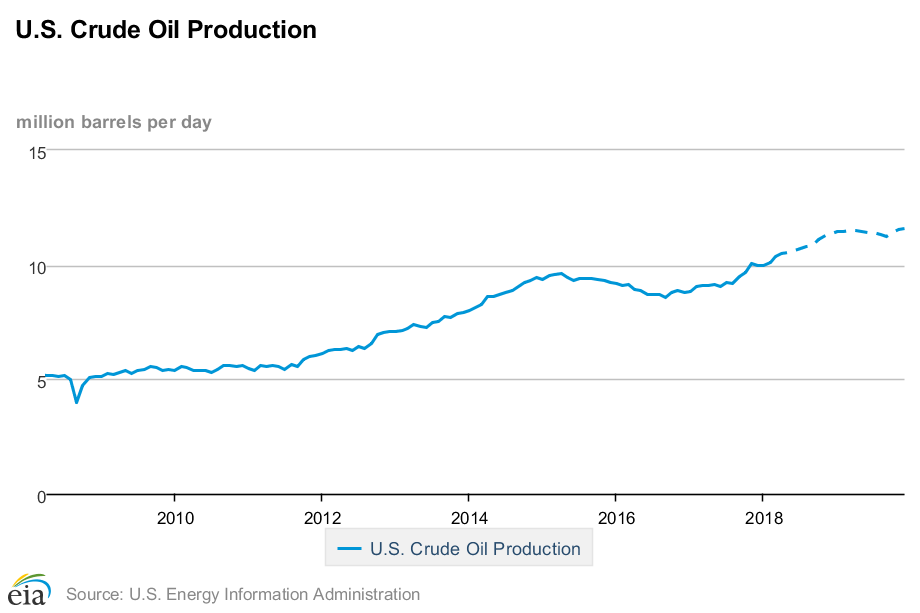 Latest forecast: The Energy Information Administration yesterday boosted its forecast for average 2019 U.S. crude oil production to 11.4 million barrels per day, which is 100,000 barrels higher than the forecast in the prior version of the monthly Short-Term Energy Outlook.
State of the market: Per Reuters, "Oil held near its highest in nearly three years on Wednesday, supported by political tension in the Middle East, although evidence of rising U.S. crude supply acted as a counterbalance."
OPEC: S&P Global Platts reports from a major energy conference in India that despite recent price increases, Saudi energy minister Khalid al-Falih batted aside the idea of an early end to the output-limiting deal that's slated to run through 2018.
Deals: Via MarketWatch, oil majors Total and Statoil together acquired new Gulf of Mexico assets through Cobalt International Energy's bankruptcy auction.
Oil sands: Bloomberg looks at how Alberta's oil sands producers can get their product to market now that Kinder Morgan's Trans Mountain pipeline plan has stalled.
"Without it, producers are left with two main alternatives: Transcanada Corp.'s Keystone XL pipeline and Enbridge Inc.'s Line 3 expansion to Superior, Wisconsin. Neither is a silver bullet for Canada's growing supply glut," the story notes.
It says that producers will have to "get creative" and lays out various options around rail, other pipelines, and even turning bitumen into solid pellets "so it can be transported via ordinary rail cars and shipped on vessels."
Chart of the day: Electric buses can compete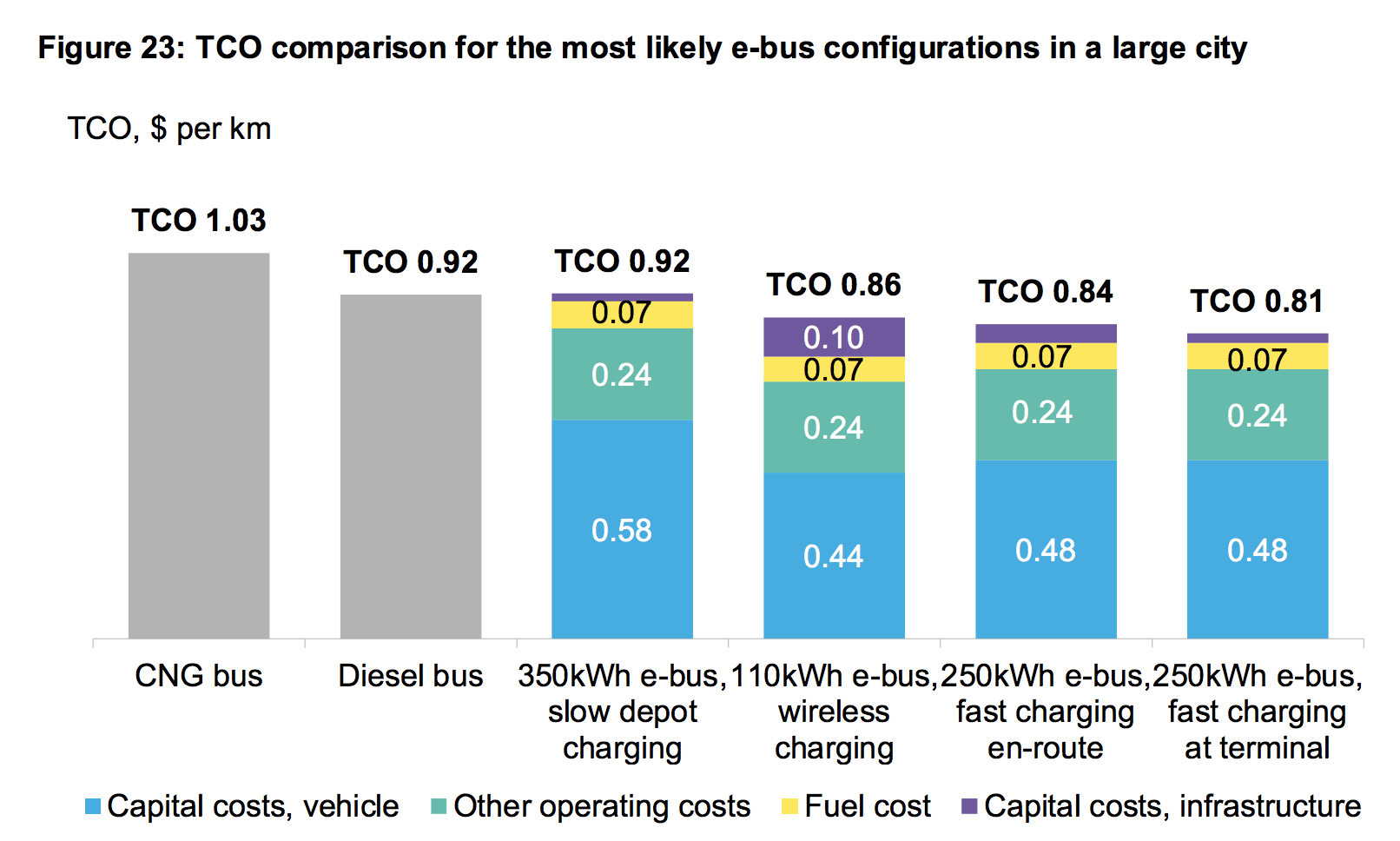 Electric economics: A newly published analysis finds that despite higher upfront costs than diesel buses, electric buses' lifetime ownership costs are already competitive and or even cheaper in some cases, notably big cities where high usage expands their fuel cost advantage.
Check out the chart above: It's from the section of the report on total cost of ownership (TCO) scenarios.
To be sure: The comparisons of total costs depend on a range of variables and are sensitive to diesel prices. For instance, the chart above is based on diesel at $2.50 per gallon, electricity prices of 10 cents per kilowatt hour, and vehicles traveling around 80,000 kilometers annually.
Getting closer: "Our analysis of battery cost curves indicates that electric buses will reach unsubsidized upfront cost parity with diesel buses by around 2030," states the report released yesterday by Bloomberg New Energy Finance (BNEF) and the Financing Sustainable Cities Initiative.
Even today, to help with the upfront cost barrier, "new business models are emerging, involving around battery leasing, joint procurement and bus sharing."
Coal exec on Big Oil: "They're prostitutes"
My Axios colleague Amy Harder reports from New York...
Bob Murray, CEO of coal producer Murray Energy, likened global oil and gas companies to "prostitutes," arguing they sell whatever it takes in global markets.
Why it matters: The eyebrow-raising comment reflects the combative nature of Murray — who is close to President Trump — in the face of coal's increasingly weak position compared with natural gas and renewable energy in the U.S.
"They're international corporations. They sell their products around the world. And it's expedient for them to latch onto to whatever it takes in whatever countries to sell whatever their selling. They're prostitutes. They are latching onto policies of other countries to sell things in world markets."
— Murray, on the sidelines of a BNEF event
One level deeper: Murray named ExxonMobil, BP and Shell as companies that fit the "prostitute" mold. Unlike Murray's company, which he privately owns, these publicly traded traded oil and gas companies are among corporations facing increasing pressure from investors to more readily acknowledge the risks climate change and carbon regulations pose to their bottom lines. BP and Shell are also investing more in renewable energy.
Go deeper: Amy's got more in the Axios stream, and the Washington Examiner looks at Murray's push for federal help to save at-risk coal-fired power plants.
Note: Amy is also speaking this morning at an adjacent conference hosted by The Hawthorn Club, a women's global energy group.
More energy highlights from New York
Here's two more things that caught Amy's attention at the BNEF summit in New York...
California is open to "minor adjustments" to fuel-efficiency rules. That's what Mary Nichols, chairwoman of California Air Resources Board, said onstage Tuesday about the negotiations that are kicking into high gear among her agency, the Trump administration and automakers about rewriting former President Obama's fuel-efficiency standards.
One example of this, Nichols said, is that automakers shouldn't be responsible for the greenhouse gas emissions associated with charging an EV as the Obama-era rules do.
"I don't think that was a great idea. I didn't think it was at the time. If we can fix that now, that'd be a good thing."
Coal producer Murray Energy is running out of options to ask the Trump administration for help. But CEO Murray also says the company's not going bankrupt.
"The options are becoming fewer," acknowledged Murray, who nonetheless says if the Energy Department doesn't approve an emergency order keeping open economically struggling coal and nuclear plants open, "people are going to die in the dark."
He also said there's no plan for his company to go bankrupt, "and no track to go there." He said they're coming up with a plan to export its coal and offset losses there from coal power plants shutting down.
Latest in the Scott Pruitt saga
Removed: Per Politico, "EPA removed a career staffer Tuesday who approved an internal report that undermined [EPA] Administrator Scott Pruitt's claims that he needed around-the-clock bodyguards and other expensive security protection."
Yes, but: An EPA official said the action "was based on a recommendation by the Office of Administration and Resources Management," and added: "I am not aware of any connection between the personnel matter and the document mentioned in media reports."
Disputed: Per the Associated Press, "Confidential security assessments in the Environmental Protection Agency show no evidence of specific, credible, physical threats against Administrator Scott Pruitt, despite claims that an 'unprecedented' number of death threats justify his outsized security spending, according to a review by Senate Democrats."
On the scene: Via ABC News, "The Republican chairman of the powerful House Oversight Committee has dispatched staff to the Environmental Protection Agency to review records of embattled administrator Scott Pruitt's first class travel and security expenses."
One cool thing: Rise of "Black Panther"
Ranked: Axios data visualization wiz Chris Canipe made the chart above showing how "Black Panther," Marvel's juggernaut superhero film, made its way into the 3 highest-grossing films of all time in North America over the weekend.