Axios Generate
June 15, 2017
Good morning! Here's some time-sensitive info: the next edition of the cool Axios Science weekly newsletter drops later today. It's an accessible, vital weekly report from the frontiers of medicine, space, neuroscience, physics and more. You can sign up here to make sure it arrives in your inbox. Back to energy: Your tips and feedback are always welcome at [email protected]. Let's dive in . . .
Renewables: on the march, but it's a long trail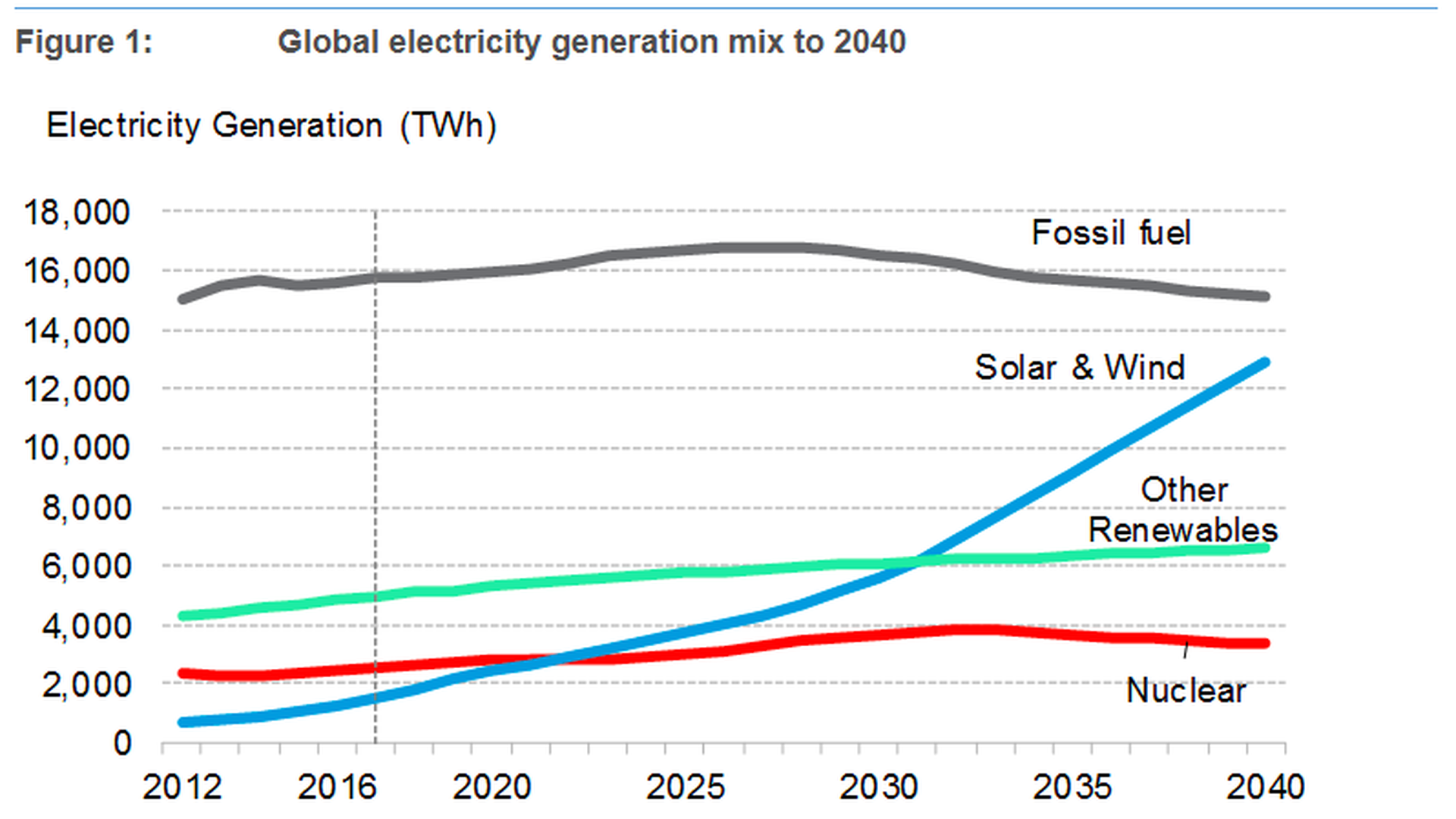 Driving the news: Wind and solar energy will account for over a third of the world's power generation by 2040, up from just 5% today, according to just-released projections from Bloomberg New Energy Finance.
More from their latest long-term forecast (which you can find here at 8 a.m.)...
They project that $7.4 trillion will be invested in new renewable facilities by 2040, which is almost three-fourths of total spending on new power generation.
Worldwide carbon dioxide emissions are 4% lower in 2040 than 2016 (an improvement over last year's BNEF forecast, which predicted emissions would be 6% higher).
There's plenty of room for the cost of renewables — already plummeting — to drop much further. BNEF sees offshore wind costs falling 71% by 2040 and solar PV falling 66%.
To be sure: The CO2 emissions trajectory that BNEF forecasts is "not nearly enough" to prevent global temperatures from rising more than 2 degrees Celsius above pre-industrial levels (the aspirational ceiling in global climate negotiations).
"A further $5.3 trillion investment in 3.9 [terawatts] of zero-carbon capacity would be consistent with keeping the planet on a 2-degrees-C trajectory," BNEF said.
The Paris accord's impact on Beijing
Good listen: The most recent podcast of The President's Inbox, from the Council on Foreign Relations, is a sharp but wide-ranging conversation about the politics and substance of President Trump's decision to bail on the Paris climate accord.
Some points about China: Veteran energy analyst Michael Levi, who is a former Obama aide now with ClearView Energy Partners, says:
"At some level the United States . . . has made the bar so low for China to claim that mantle of leadership that it can now look, to the rest of the world, as a leader without really stepping up its game."
"At a minimum, what we should have wanted was to put China in a position where it had to step up its game a lot further to get that mantle. Now...if Chinese leadership wants to, it can continue to do roughly what it's doing and it will still get the global diplomatic benefit of being able to tell others that it is doing more than the United States."
Context: Levi (and others) note that China's steps on low-carbon energy are largely driven by forces other than climate, such as domestic pressure over terrible air pollution — he argues that China's greenhouse gas pledges do not represent "really hard choices."
Plus: Regardless of the Paris pact, China already dominates growth in renewables, moving past the U.S. to become the world's largest producer of renewable power, accounting for 40% of global growth last year, according to BP's big annual energy data and trends report.
Yes, but: Deep into this MIT Technology Review interview with Apple's Tim Cook, there's a somewhat rosier view of the idea that the Paris deal is pushing China beyond what the country would be doing anyway.
"We are putting a huge two-gigawatt solar facility in China, and they've been incredibly receptive to it. We feel that one of the things that has increased the receptivity was the Paris agreement," the Apple CEO notes. "They've decided they are going to make a significant reduction in carbon."
A U.S. snapshot: Renewables break 10% barrier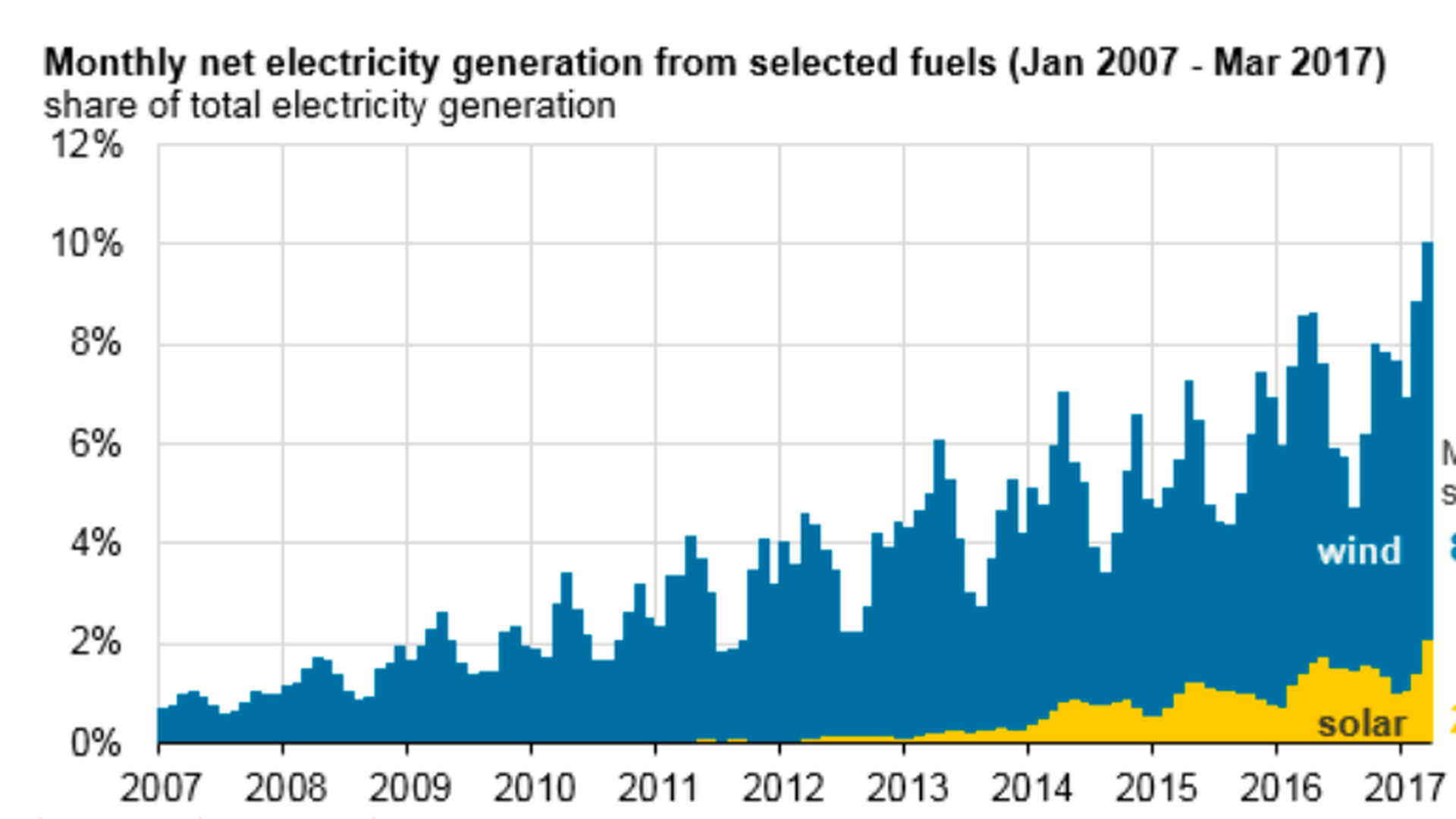 Break out the champagne — Wind and solar power exceeded 10% of U.S. power generation for the first time in March, the Energy Information Administration said in a brief report. Plus, wind and solar provided at least 20% of the power in seven states last year (led by Iowa at 37%).
Cabinet notes
Hotseat: EPA administrator Scott Pruitt will discuss the White House budget proposal, which would cut EPA spending by roughly a third, before a House Appropriations Committee panel at 11 a.m.
It will be webcast here.
Out of the hotseat: Secretary of State Rex Tillerson testified at four hearings on Tuesday and Wednesday (I wrote a bit about Tuesday's appearances here). Yesterday he explained why he was among the officials who unsuccessfully urged Trump to stay in the Paris climate deal.
"My view as a diplomat is it's an opportunity for engagement, and I take every opportunity for engagement that I can. This is an issue that is very important to many of our allies," Tillerson said in an exchange with Democrat Dina Titus in the House Foreign Affairs Committee.
He suggested that it's not, however, especially relevant to actual U.S. emissions, which have been generally falling for a decade. The country has done an "extraordinary job" without "heavy-handed regulation," Tillerson said.
"Just because we walked away from targets that were set under Paris is in no way indicative of our intent to walk away from that continued improvement. I think Americans, businesses, private and public enterprises have no intention of changing that commitment."
Thought bubble: It's hard to overstate the many effects of the fracking boom.
Politically, displacement of coal by lower-carbon gas in power markets gives Trump's team running room to argue that the U.S. is succeeding outside of Paris, even as analysts say Trump's regulatory rollbacks will likely mean the U.S. will not meet the steeper cuts former President Obama had pledged over the next decade.
Oil markets and policy
Markets: Oil prices slipped to nearly their lowest levels in six months on Thursday morning, "under pressure from high global inventories and doubts about OPEC's ability to implement agreed production cuts," according to Reuters.
MarketWatch has more on what's spooking traders: "Compounding the woes was the unexpected increase in gasoline stocks, surprising many traders and analysts who expected much of the excess gasoline to be mopped up during the U.S. summer driving season."
Aramco IPO: The Wall Street Journal reports on a hiccup en route to the massive planned IPO by Saudi Aramco, the kingdom's state oil giant:
"A divide between Saudi Arabia's ruling family and executives of the kingdom's oil company over where to list its shares is slowing the march toward a planned 2018 initial public offering."
Pipelines: A federal judge ruled Wednesday that the Trump administration must conduct more environmental analysis of the controversial Dakota Access pipeline, but did not order a halt to oil flowing through the completed project pending further hearings, the Washington Post reports.
Methane: Platts reports on moves by the Interior Department and EPA to delay industry's obligation to comply with a pair of Obama-era rules aimed at limiting emissions of the potent greenhouse gas methane from oil-and-gas operations.
Oil sands: A major Canadian industry group has raised its long-term projections for the nation's oil output for the first time in several years, largely due to oil sands development, Reuters reports.
One cute thing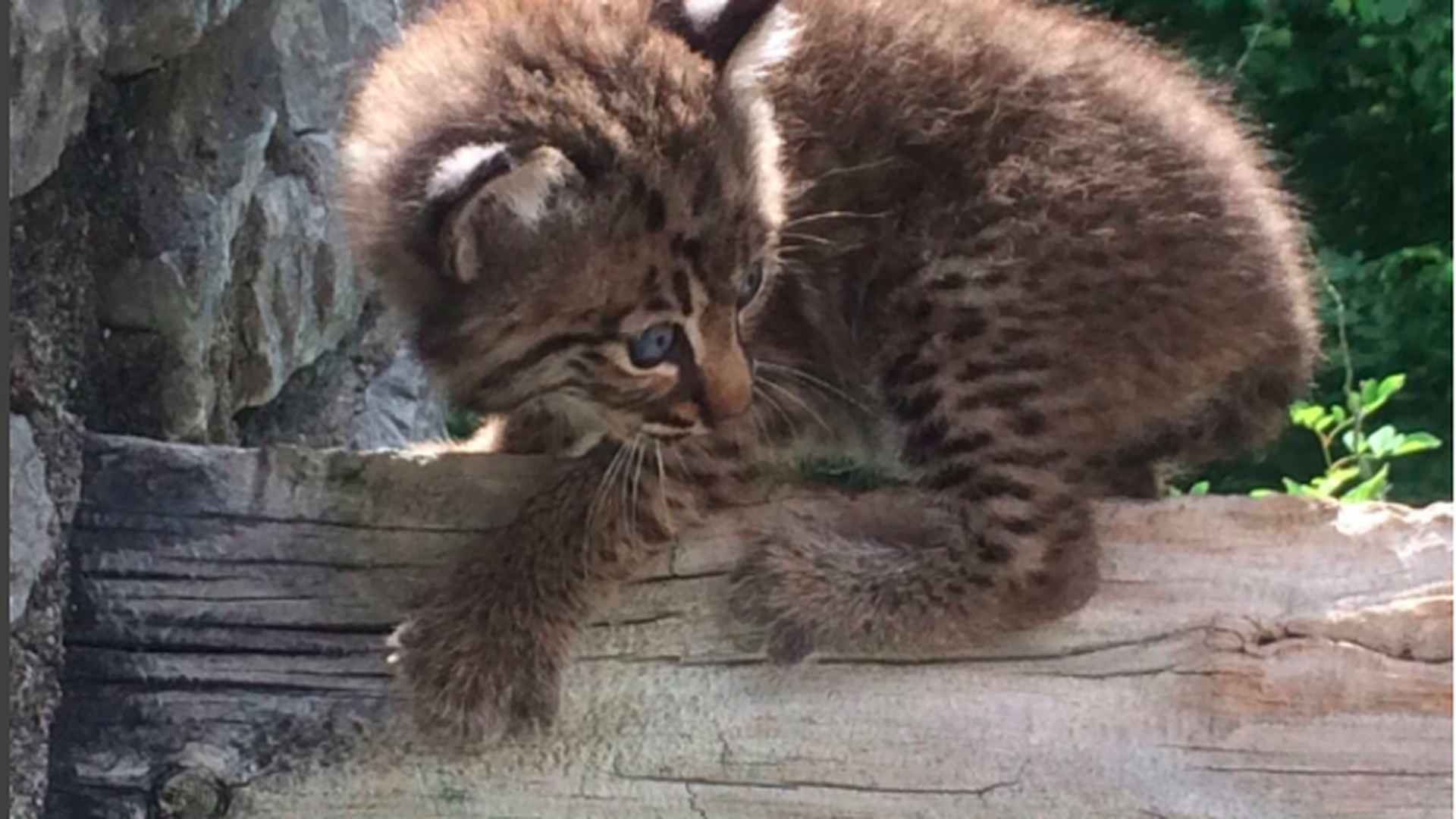 Via the Interior Department's Instagram feed, this photo of a bobcat kitten at the Big Oaks National Wildlife Refuge fits the bill.
While I'm at it, this Smithsonian site has some truly stunning wildlife images.