Axios Generate
August 10, 2022
🐪 Oh wow, Wednesday already. Today's newsletter, edited by Mickey Meece, has a Smart Brevity count of 1,207 words, 5 minutes. 
⛽ The average national gas price fell under $4 per gallon for the first time since March, per GasBuddy (or is about to, per AAA). Go deeper.
🎶 At this moment in 1976, George Benson was #1 on the Billboard album charts with "Breezin'," which provides today's intro tune...
1 big thing: Investors like the climate deal
The early verdicts have arrived: Investors are confident the Democrats' climate deal will translate into expanded real-world deployment of low-carbon energy, Ben writes.
Driving the news: The movement of exchange-traded funds and individual companies in several segments of the energy sector tell a similar story.
Or check out the chart above. The Climate Tech Index from the VC firm Energy Impact Partners tallies a basket of companies' performance against the wider market (though it's not an investment vehicle).
It's a nice snapshot because, as we noted when it launched, the index is both wide-ranging and combines new market entrants and more established players.
Zoom in: The Invesco Solar ETF is up 16% since the deal emerged in late July and passed the Senate over the weekend, while the iShares Global Clean Energy ETF is up 14%.
Companies like EVgo (charging), Sunrun (solar), and Orsted (wind), to name just a few, have all seen gains since the surprise revival of the bill that's heavy on expanded and extended tax breaks.
Yes, but: If the bill passes, a lot needs to happen before it translates into a deployment surge, given workforce challenges, project siting hurdles and more.
And the bill is unlikely to end volatility in the clean energy sector, where companies are grappling with input cost fluctuations and other variables.
"Republicans are expected to take back control of Congress this fall, so it's important to remember that policy uncertainty contributes to their volatility and that's unlikely to change over the next few years," DataTrek Research's Jessica Rabe tells Bloomberg.
What they're saying: The CEO of wind turbine maker Vestas said this morning that the bill is "very supportive of renewable energy in the United States over the next ten years," should it pass the House, which is expected to take up the bill on Friday, per Reuters.
A recent note from Goldman Sachs analysts said the legislation is bullish for utilities "as the wind, solar and storage tax credits would reduce the costs of building new renewables in the U.S."
On solar specifically, the bill's announcement was a "welcome surprise for investors who by that point had become less confident on climate-related policy support being passed this year," Goldman's note states.
🎧 Ben chatted about the big climate bill on the "Axios Today" podcast.
2. Projecting electric car sales is getting trickier
The Capitol Hill energy deal creates headwinds and tailwinds for the growing adoption of electric cars in the U.S. — and analysts are just starting to grapple with the complexities, Ben writes.
Driving the news: The legislation greatly expands EV purchase subsidies but also ties them to strict sourcing requirements for battery materials.
The big picture: "The incentives will undoubtedly boost EV adoption and help consumers who have been priced out of purchasing an EV to date," Rystad analyst James Ley said in a note.
The firm finds that the expanded credits and recent EV announcements from automakers "significantly increase" the chances that U.S. sales follow the "high case" in the chart above.
Yes, but: Susan Zou, another Rystad analyst, notes the bill signals an effort to cut battery supply chain reliance on China, but adds that automakers will face challenges to comply with the minerals, processing and component rules.
Price limits on vehicles eligible for credits will also exclude many models and, as Axios' Nathan Bomey reports, EV sticker prices are climbing.
Ford announced Tuesday that it's raising the price of the F-150 Lightning electric pickup by about $6,000 to $8,500, depending on the model, to a starting price of about $47,000 to $97,000.
The announcement follows recent EV price increases by several other brands, including Tesla, Rivian, Lucid and GMC. Go deeper.
What's next: In the near term, there's a potential dearth of eligible cars. Now I'll turn things over to Axios' Joann Muller, who reports...
If you're thinking of buying an electric car anytime soon, you'd better place your order before President Biden signs the Democrats' big climate, tax and health care package into law — which could happen as soon as this weekend.
3. Drought hits EU, U.K. amid another heat wave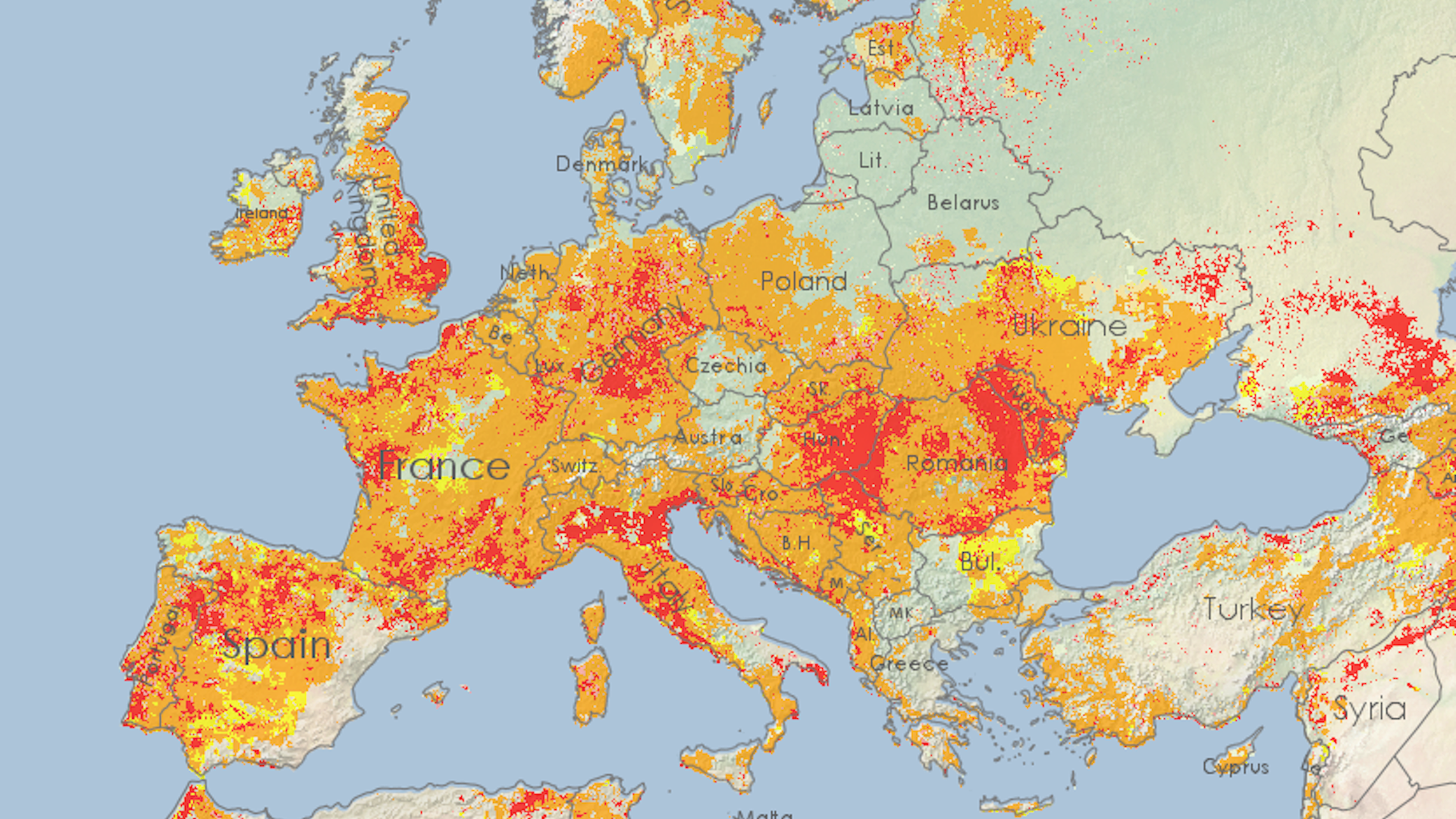 Drought conditions are affecting about 60% of the EU and the U.K., exacerbated by climate-change-driven record heat across Europe this summer, Andrew and Axios' Rebecca Falconer write.
Threat level: The summer's fourth major heat wave will send temperatures above 100°F in Spain, Portugal and parts of France through the end of the week, with amber warnings for extreme heat in effect through Sunday for southeastern England.
London is forecast to see temperatures of 90°F (33°C) or above for four straight days starting Thursday.
The extreme heat will worsen the drought by drying out soils further, and extremely high wildfire danger is also present from the UK to Portugal.
Countries including France, Spain, Italy and the Netherlands are facing water shortages and riverbeds are drying out across Europe.
Dry conditions are severely affecting energy production, agriculture and river transportation.
Context: Climate change raised the odds of and increased the severity of the previous European heat wave, and is likely a key driver of this event as well. This heat event will eventually affect most of Western Europe and Scandinavia.
4. A big EV buy and more energy tech notes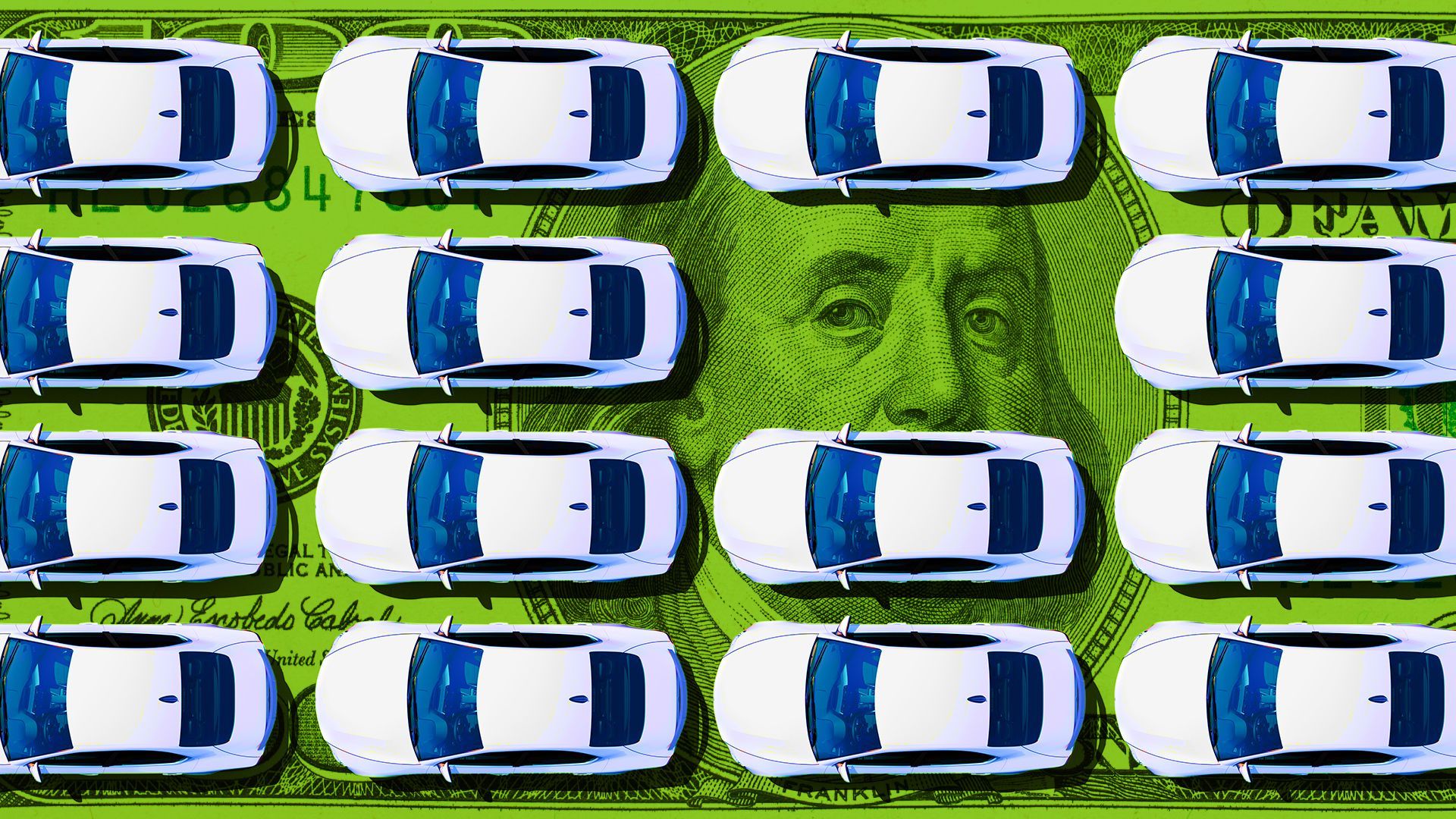 Autonomy, an electric vehicle "subscription" service, is ordering $1.2 billion worth of EVs from 17 automakers as the startup expands beyond its current Tesla-only offerings, Ben writes.
Why it matters: It's a big order! The 23,000 vehicle plan — which spans models from Ford, GM, Tesla, BMW, Rivian, Canoo, VW and more — represents 1.2% of all projected U.S. EV production through the end of 2023, the company said.
Quick take: It underscores how the market growth of EVs will follow a different path than the standard dealer sales and leasing system that dominates conventional car buying.
And a couple of other tech items on our radar...
⚡WiTricity, a Watertown, Massachusetts-based wireless EV charging startup, raised $63 million in an all-equity funding round led by Siemens AG, reports Megan Hernbroth of Axios Pro Climate Deals. (Subscribe and you won't regret it).
The company has spent the bulk of its time filing for and acquiring patents for wireless charging technology and has made inroads in the European market.
⚛️ Dow, the chemicals and materials giant, has signed a letter of intent with X-energy to deploy a small modular reactor at one of Dow's facilities on the U.S. Gulf Coast.
Dow is also taking a minority stake in the startup, one of several looking to deploy small-scale reactors.
5. Ford's new solar power push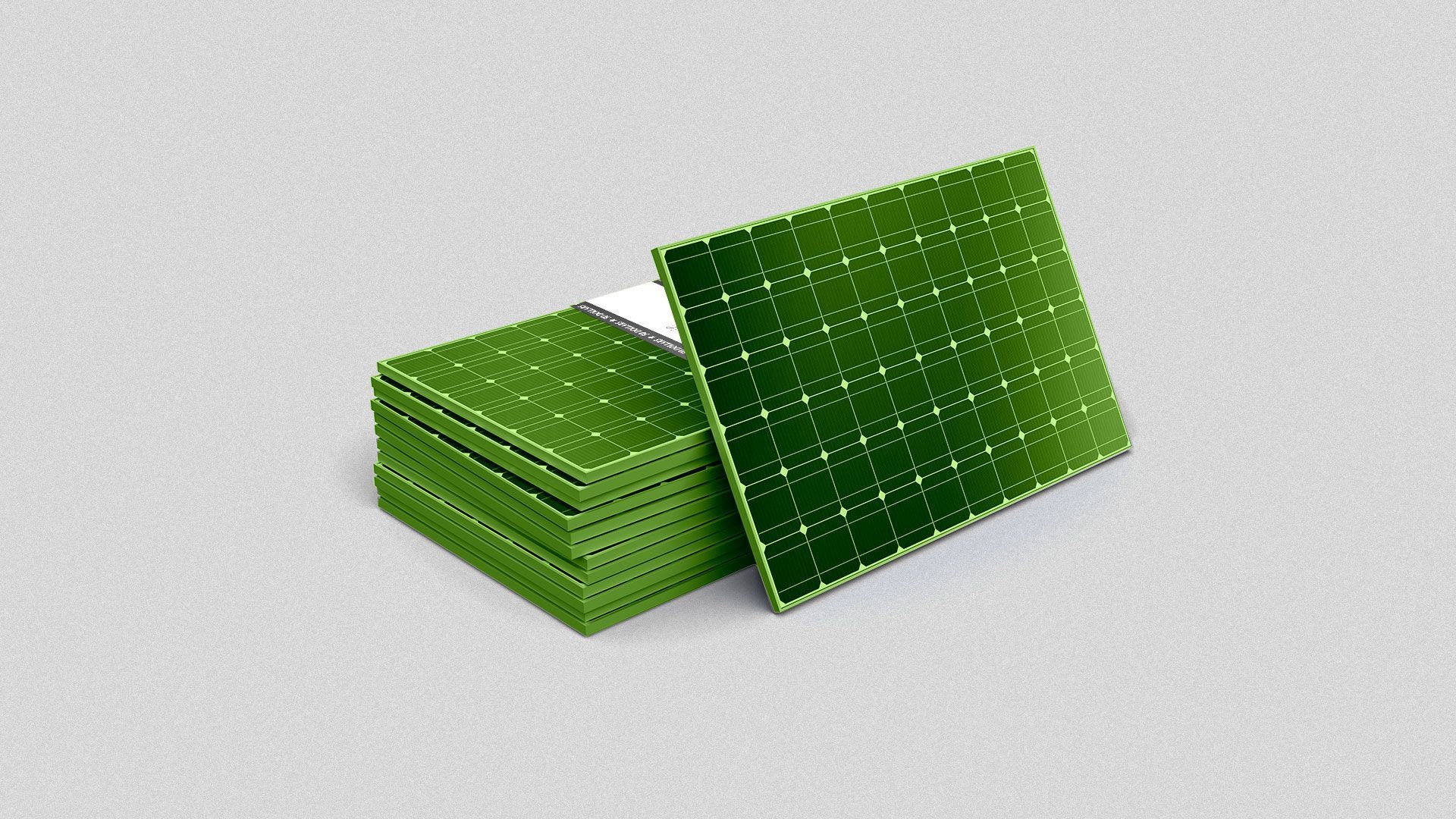 Ford Motor Co. this morning unveiled a deal with Michigan-based power company DTE Energy to purchase a lot of new solar electricity, Ben writes.
Driving the news: "As part of the new agreement announced today, DTE will add 650 megawatts of new solar energy capacity in Michigan for Ford by 2025," the announcement states.
Why it matters: Ford calls it the "largest renewable energy purchase ever made in the U.S. from a utility," citing data from the research firm BloombergNEF.
Ford and DTE said this agreement alone will increase the amount of installed solar power capacity in Michigan by 70%.
The automaker said the added zero-carbon electrons mean Ford will be buying enough clean energy annually in Michigan to power all its vehicle production there by 2025.
📬 Did a friend send you this newsletter? Welcome, please sign up. Thanks for reading and we'll see you back here tomorrow.