Axios Generate
October 01, 2019
Good morning. Today's Smart Brevity count: 1,001 words, < 4 minutes.
And happy belated birthday to the late Marc Bolan of T. Rex, who plays us into today's edition...
1 big thing: Aramco revs up IPO sales pitch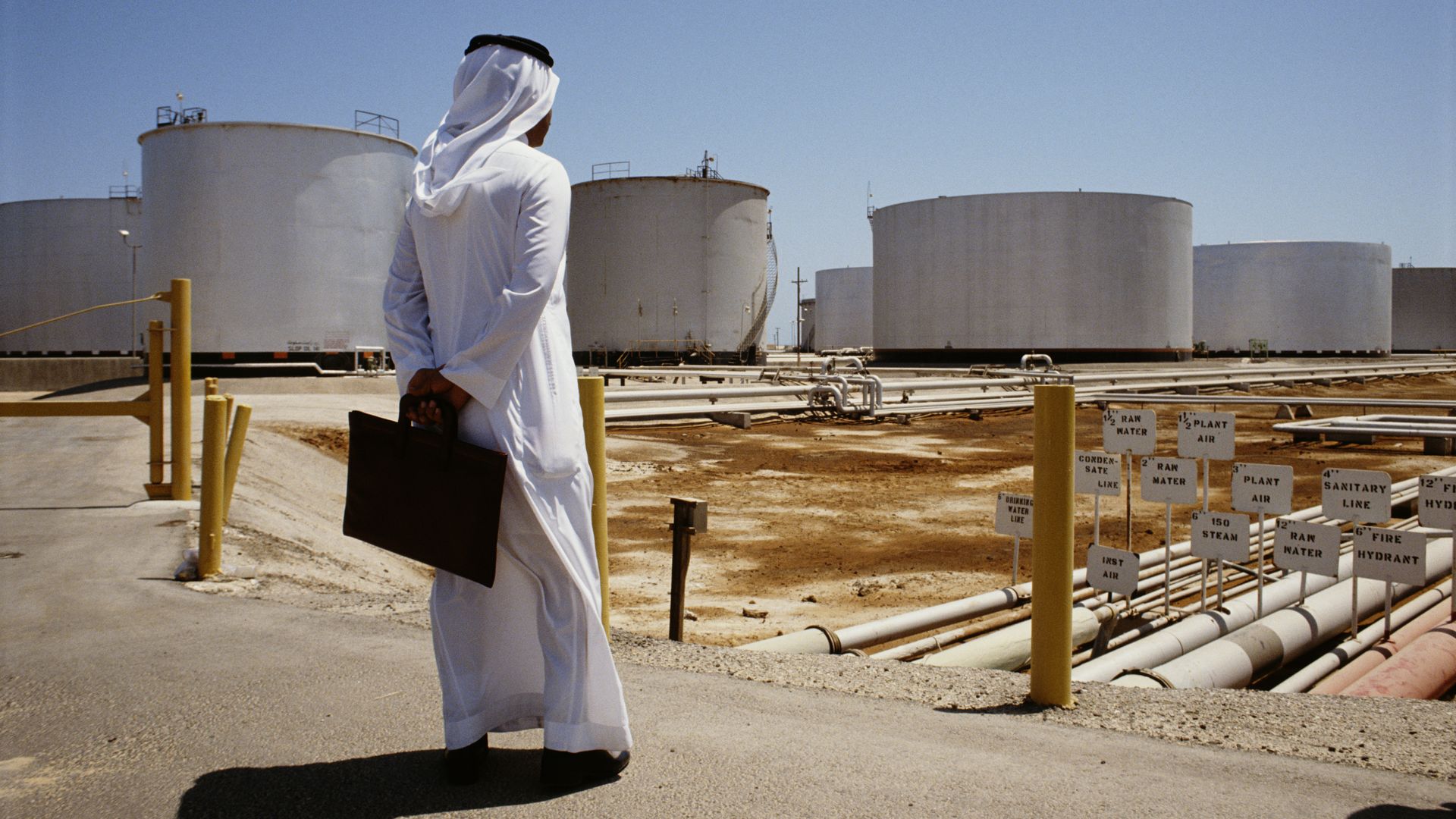 Saudi Arabia's efforts to boost interest in the IPO of state oil giant Aramco are moving into higher gear.
Driving the news: The company posted a new "corporate overview" yesterday that pledges a $75 billion dividend in 2020 and for several years ahead.
It appears to be aimed at reassuring potential investors that they would benefit, as opposed to just the Saudi government, which would remain the dominant shareholder.
Aramco pledges that through 2024, if dividends fall below $75 billion, payments to outside shareholders are "intended" to be prioritized "so that they receive their pro-rata share of a $75 [billion] equivalent dividend."
In addition, Bloomberg reports that Aramco has "approached Asian state oil producers including Malaysia's Petroliam Nasional Bhd. and China's Sinopec Group about potential cornerstone investments" in the IPO.
Why it matters: Saudi officials hope the planned IPO will generate a mammoth inflow of cash to fund the kingdom's economic diversification.
But last month's attacks against a huge Aramco processing facility and oilfield highlighted its vulnerabilities too.
And the kingdom is expected to struggle to reach their hoped-for $2 trillion valuation — a level that would bring in $100 billion in what's eventually planned to be a 5% float.
What they're saying: "This dividend discussion appears to be structured so as to remove any doubt over where investors stand relative to the government, which will remain the majority shareholder," BCA Research's Bob Ryan tells Axios in an email.
But, but, but: The new presentation doesn't say outside investors would be guaranteed to benefit in a system where Aramco first and foremost bankrolls the Saudi government.
The intrigue: The document also amends the royalty rates. Starting in January, they would be 15% for Brent crude prices up to $70 per barrel, jumping to 45% when prices are between $70 and $100, and 80% for higher prices.
Per Bloomberg, that's lower than the current rate for prices below $70, though the new peak is higher.
"The company is laying out a royalty scheme that would appear to be competitive with other such schemes in states that are competing for foreign direct investment," Ryan says.
2. Visualizing (one reason) why cutting oil demand is hard
I'm kind of a fanboy of the "fact of the week" from the Energy Department's Vehicle Technologies Office, and this week's version is a nice example.
The big picture: It pulls data on 2 key categories of medium- and heavy-duty trucks to illustrate what prolific fuel users they are.
As the chart above shows, in 2017 they consumed over one-fourth of the fuel used on U.S. roads despite being just 4.5% of the vehicles.
"Combination" trucks alone — that is, tractor trailers — accounted for 17% of that consumption.
Why it matters: It's hardly just the U.S. where heavy trucking is a massive source of fuel consumption.
Globally, trucking — as well as petrochemicals, shipping and aviation — explains why multiple projections of global oil demand see growth (or at least no decline) through 2040 or later.
What they're saying: The International Energy Agency's central long-term scenario shows oil demand is several million barrels per day higher in 2040, even though use in passenger cars peaks in the mid-2020s.
All of that growth is expected to come from developing economies.
3. New player in 2020 energy and climate battles
A new nonprofit with anonymous donors called the Empowerment Alliance has arrived to fight the Green New Deal and defend natural gas, Politico first reported yesterday.
Where it stands: Per Politico and E&E News, 2 longtime GOP political hands are playing key roles: Terry Holt, a founding partner with the PR firm HDMK, and Jim Nathanson, the new group's executive director.
It's a sign of the intensity of battles over climate policy and the future of natural gas.
4. Catch up fast: LNG, wind, FERC
LNG: Via S&P Global Platts, U.S.-based Sempra LNG has entered into a memorandum of understanding to supply gas to China Three Gorges Corp.
Why it matters: "The agreement between Sempra LNG and CTG marks the first US-China LNG agreement in 12 months, following retaliatory tariffs first imposed by the Chinese Ministry of Commerce on US imports on September 24, 2018," they report.
Offshore wind: Via Greentech Media, "GE has won another huge deal for its 12-megawatt Haliade-X offshore turbine, this time for the 3.6-gigawatt Dogger Bank trio of projects in the U.K."
Why it matters: The story notes that it's slated to be the world's largest offshore wind project when it comes online in phases in 2023–2025.
FERC: The White House said last night that President Trump plans to nominate James Danly for an open GOP seat on the Federal Energy Regulatory Commission. He's currently FERC's general counsel. Bloomberg has more.
5. BP CEO reportedly eyes the exit
BP CEO Bob Dudley is preparing to leave the oil-and-gas giant within roughly a year, which would end a decade-long run at the helm, according to Sky News and Reuters.
Why it matters: The plan, if true, is part of a wider changing of the guard at some of the world's largest oil companies.
ExxonMobil CEO Darren Woods took over from Rex Tillerson in 2017 after he left for what would be a short tenure as secretary of state.
Mike Wirth became CEO of Chevron in 2018, replacing John Watson.
Where it stands: Sky News reported Saturday that Dudley is preparing to leave "within about 12 months," while Reuters noted Monday that he's "drawing up plans" to step down next year.
BP did not confirm that the 64-year-old Dudley is preparing to step down. A spokesperson tells Axios, "We don't comment on speculation."
The big picture: Dudley became CEO months after the fatal 2010 Gulf of Mexico blowout and massive spill of over 3 million barrels that wreaked havoc on BP's finances and reputation.
A big part of his tenure has focused on steering the company through the years of aftermath, including sale of tens of billions of dollars of assets.
BP has paid over $65 billion in costs for cleanup, settlements, penalties, restoration efforts and more.
Dudley has also overseen repositioning of the company in other ways, including...
Recently boosting its position in U.S. shale with the $10.5 billion purchase of BHP's assets in 2018, and August's announcement that BP is exiting Alaska after a decades-long run as a huge player in the state.
Expanding BP's moves to diversify into other energy sources, although oil-and-gas are still the overwhelming majority of its business.