Axios Generate
February 16, 2023
🥞 Good morning! Today's newsletter has a Smart Brevity count of 1,131 words, 4.5 minutes.
📬 Did a friend send you this newsletter? Welcome, please sign up.
🎶 At this moment in 1986, Sade with #1 on Billboard's album chart with "Promise," which provides today's intro tune...
1 big thing: What's next for the World Bank on climate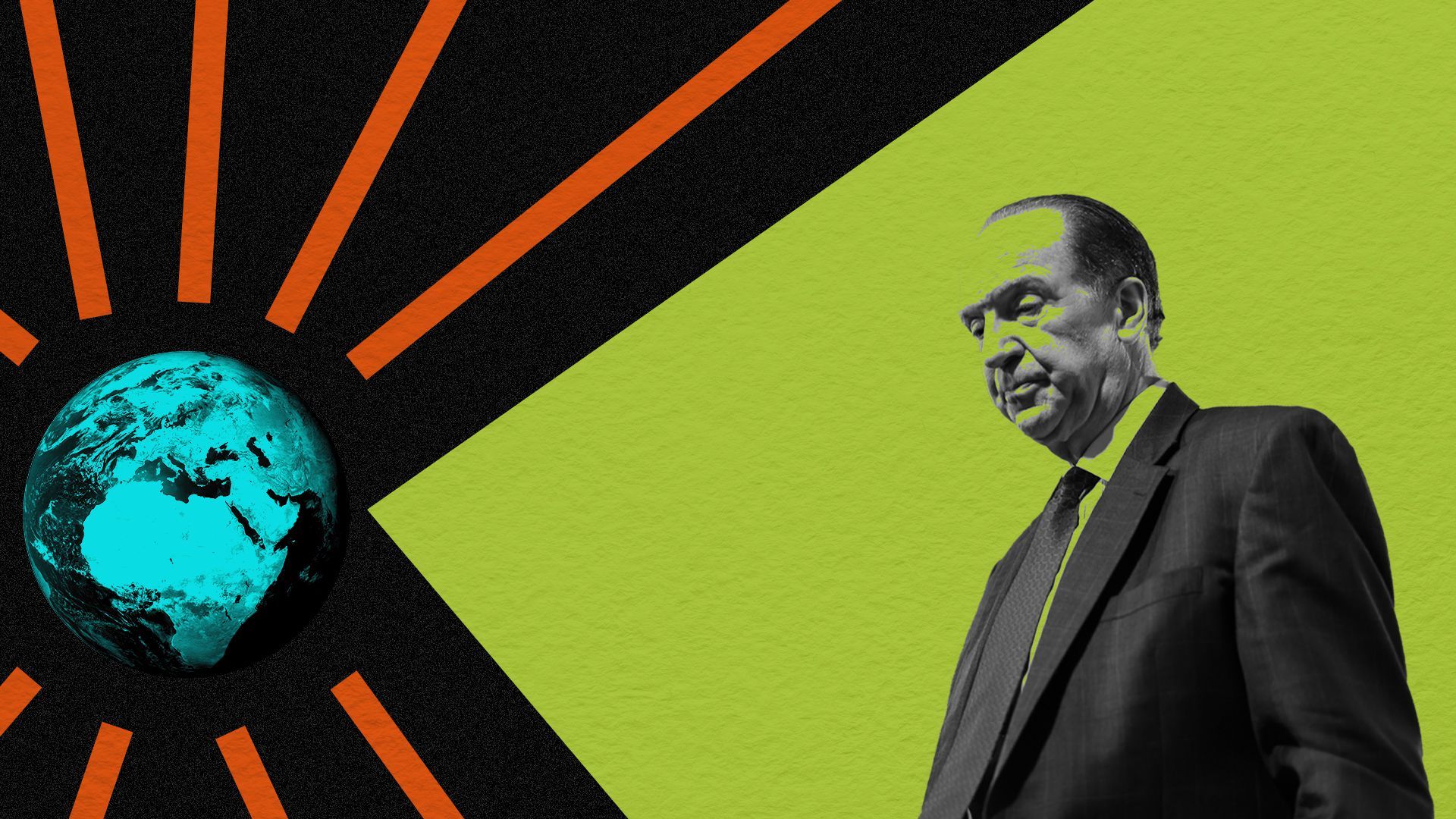 The early exit of World Bank Group head David Malpass brings pressure from the White House and beyond for the bank to make climate change a central focus under his successor, Ben and Axios' Hans Nichols report.
Why it matters: The bank and other multilateral development institutions are key sources of finance and expertise to help poor nations cut emissions and adapt to unavoidable harms.
🏃🏽‍♀️Catch up fast: Malpass, who was then-President Donald Trump's 2019 pick, said yesterday he will leave by June 30, well before his term expires.
What's next: President Biden plans to move quickly on a replacement, and the bank will be under careful scrutiny from activists.
What we're watching: Treasury Secretary Janet Yellen last fall called for development banks to further evolve beyond traditional country-based lending models.
Zoom in: Barbados Prime Minister Mia Mottley, a high-profile voice for climate-vulnerable nations, used last year's UN climate summit and other forums to promote a major overhaul of development finance.
🖼️ The big picture: The World Bank Group's total climate finance grew to a record $31.7 billion in fiscal 2022, a 19% rise from the prior year and up from roughly $11 billion in 2016, bank officials say.
Andrew Freedman contributed.
2. New clues about worrisome Antarctic glacier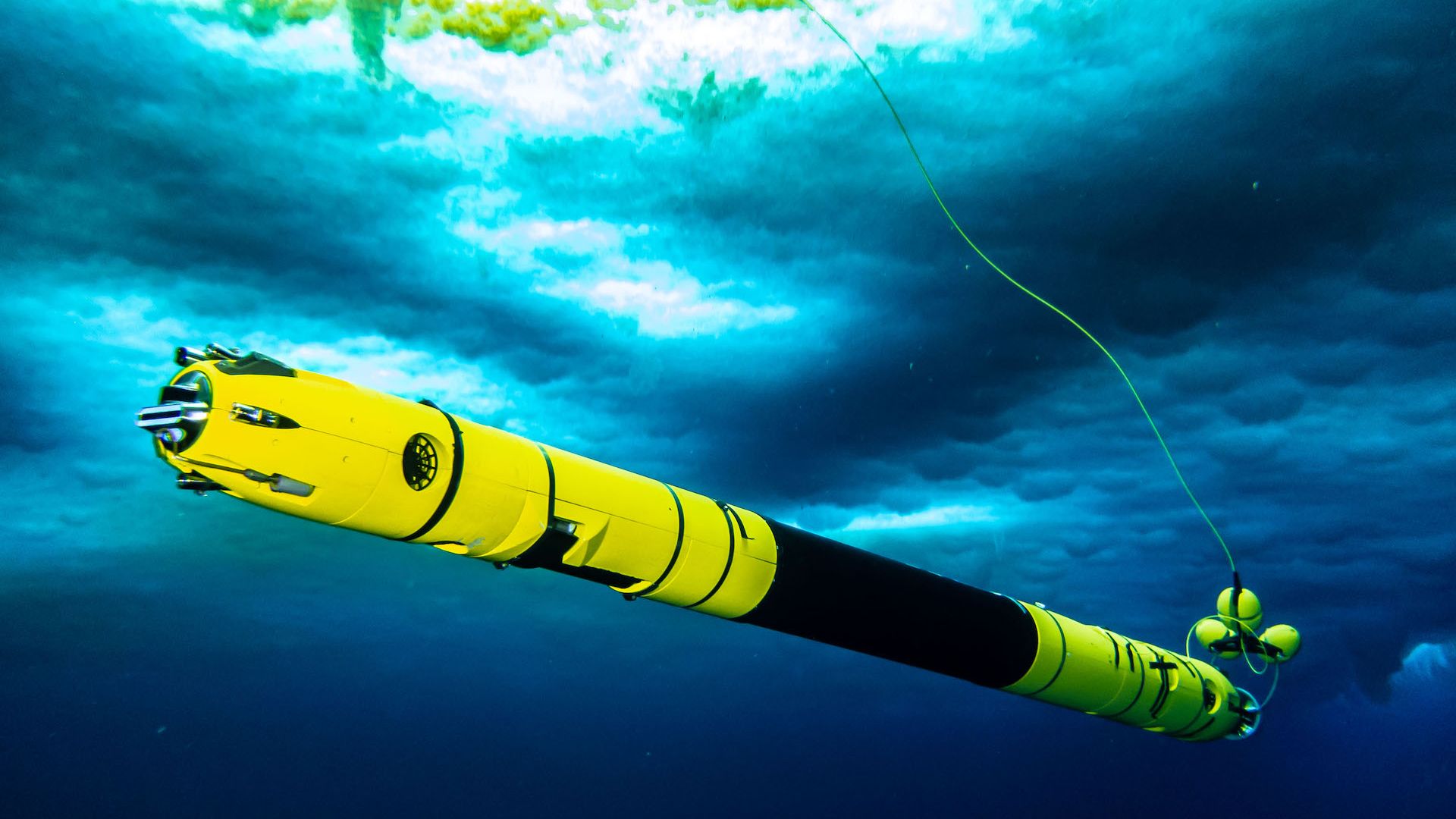 Two new studies provide tantalizing clues about what is causing the Thwaites Glacier, West Antarctica's largest, to rapidly retreat, Andrew writes.
Why it matters: Thwaites tops the list of glaciers that keep polar scientists up at night (its nickname is the "Doomsday Glacier"). If it were to disintegrate into the ocean, the ice it holds back could raise global sea levels up to 10 feet.
Zoom in: Scientists focused on investigating the glacier's grounding zone, which is where the ice meets the sea and becomes a floating ice shelf.
Thwaites is unique: As one travels inland from the grounding line, the ice rests on bedrock that dips below sea level.
This makes this region especially susceptible to extensive and potentially rapid melting.
What they found: One of the studies, published in Nature, found that water that is well above freezing is located near the grounding zone, but the warmest water is not reaching the base of the ice.
Nonetheless, the glacier is receding quickly here, suggesting Thwaites is especially sensitive to even modest amounts of warming.
"This means we should be worried, very worried for the other places where the melt [rates are] high and the retreat is high. The system is very sensitive to the ocean, more than we thought," study co-author Eric Rignot of UC Irvine told Axios via email.
3. The Middle East ripple effects of isolating Russia
The shakeup of Russian crude oil flows since the invasion of Ukraine has big implications for Middle Eastern producers, per new commentary via Columbia University's energy think tank, Ben writes.
The big picture: The region's exporters have "gained overall from the Russia shock, mainly in the form of higher prices," write Robin Mills and Ahmed Mehdi, fellows with the Center on Global Energy Policy.
Yes, but: Russia's declining shipments to Europe and increased flows to Asia are also creating commercial and strategic challenges for Middle Eastern states, such as:
Current contracts with Asian refiners provide initial protection from competition with Russia, but longer term, "the Middle East has to consider how much it is willing to be displaced from core Asian growth markets into shrinking European markets."
Also, "the disappearance of Russia's main grade, Urals, from Europe creates a puzzle for Middle Eastern exporters as to how to price their European sales."
4. Europe's gas jeopardy isn't going away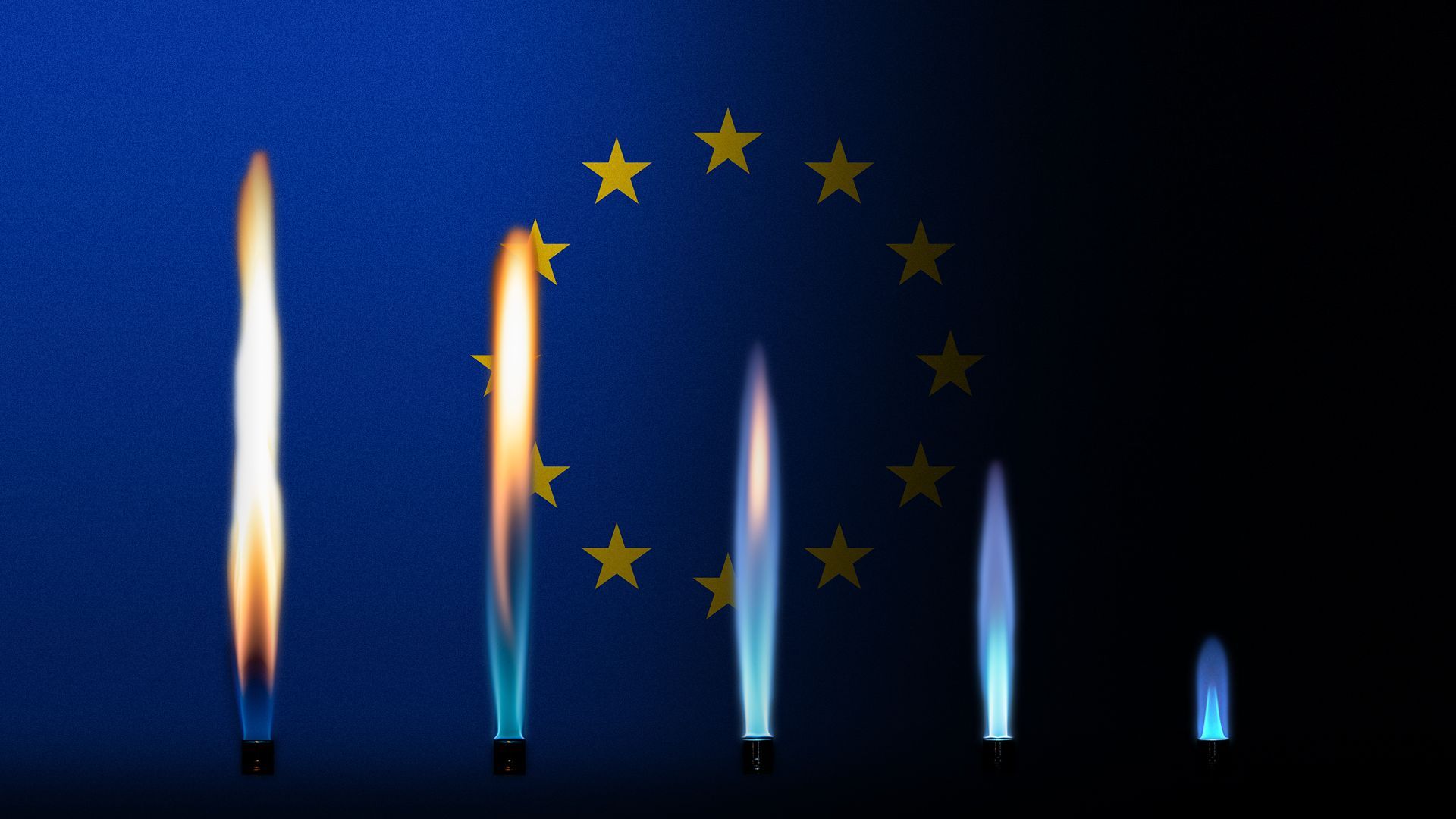 Europe's gas crisis has eased but the continent remains on the knife's edge amid overlapping risks in the tight global market, the International Energy Agency warns, Ben writes.
🗞️Driving the news: An IEA analysis takes stock of the 2023 gas market and forces that could bring a supply gap in Europe as Russian flows dwindle.
Why it matters: A return to record 2022 prices would again hobble EU economies and industries and hurt residents.
The big picture: IEA sees global demand largely flat this year, with upticks in Asia but declines in Europe amid rising renewables and nuclear generation.
Yes, but: Risks to that "base case" could upset the fragile balance in Europe.
China's LNG demand could grow more than expected.
Russian piped gas supplies cease entirely.
Unplanned outages (remember Freeport?) could cut LNG supplies.
Colder-than-expected temperatures heading into next winter.
⚠️ Threat level: Europe's better footing — which stems from a mix of policy and lucky weather — should not be a "distraction," IEA said.
They laud EU initiatives to date, but call for more.
Recommendations include greater conservation efforts by European nations outside the EU, and more infrastructure upgrades to handle non-Russian supplies.
5. The EV charging news burst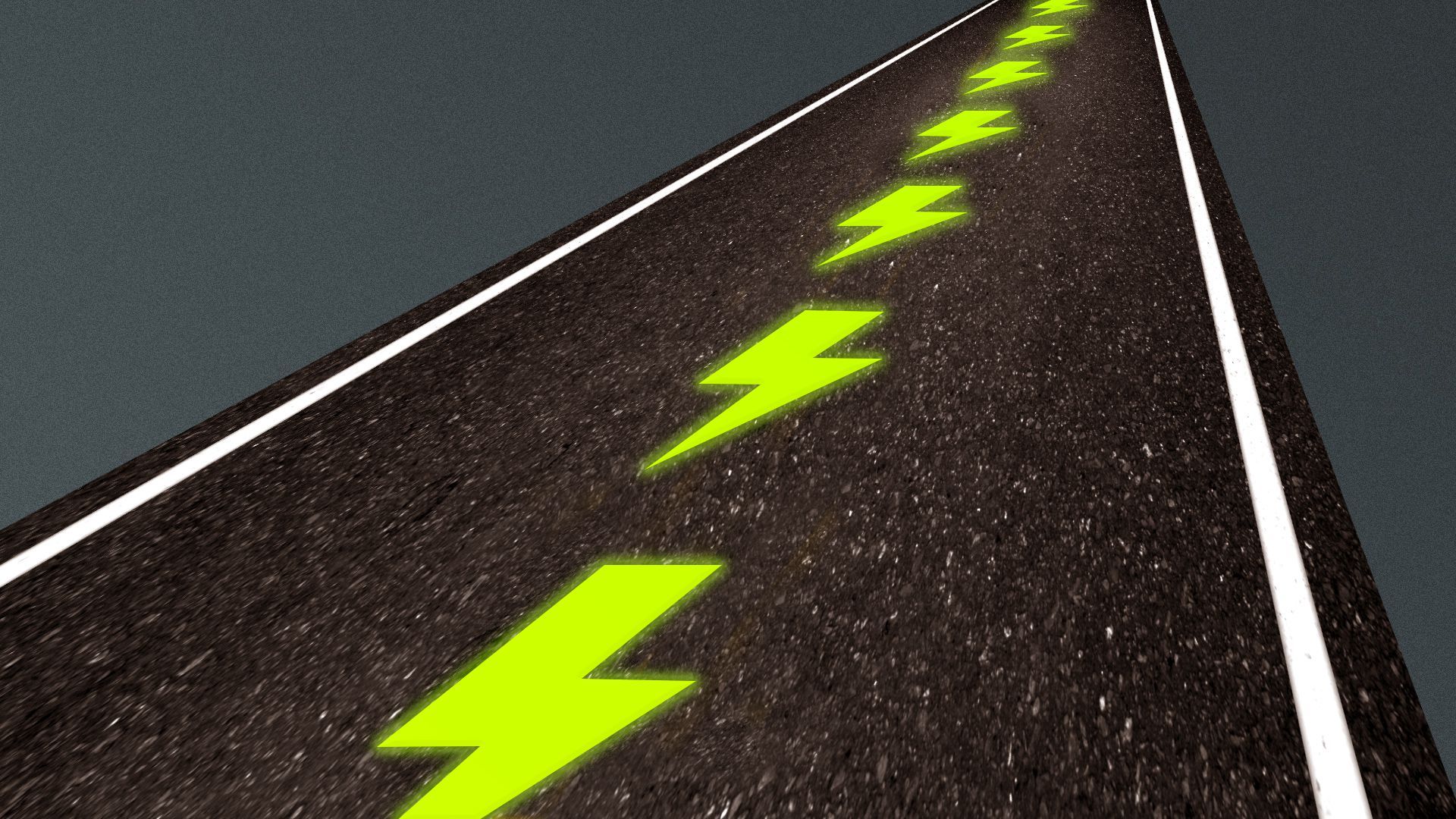 News that Tesla will open part of its charging network to drivers of other brands wasn't the only big charging news this week.
Catch up fast: Axios' Joann Muller went deeper on the Tesla news but also other White House and corporate announcements yesterday.
There's BP's plan to invest $1 billion in chargers by 2030. There are also the new Biden administration requirements that chargers built with billions of federal dollars are made in the U.S.
That's good news for manufacturers like Tritium, Siemens, ABB, Wallbox and Freewire, among others, which are expanding domestic production, she reports.
6. 🛢️Quoted
"Saudi Aramco could never do anything but paint a bright future for oil consumption — but its revealed preference is more cautious."
—
Bloomberg columnist David Fickling
His detailed piece argues the state oil giant's investment plans reveal a less bullish view of future oil demand than its public-facing claims.
🙏 Thanks to Nick Aspinwall and David Nather for edits to today's newsletter.