Good morning and welcome back. There's a lot happening so let's just get to it . . .
https://www.axios.com/newsletters/axios-generate-bc21be32-fa01-4d52-b61c-ab771c29d807.html?chunk=0#story0
Irma, Harvey and energy
Please keep an eye on the Axios stream for the latest on Hurricane Irma as it heads for Florida. A few things that caught my eye...
Scary: My Axios colleague Lazaro Gamio compiled the imagery above of what the monstrous Irma storm looks like from space. You can see Hurricane Katia in the Gulf of Mexico and Hurricanes Irma and Jose in the Atlantic.
Power loss from Irma: Roughly 1 million customers are without power in Puerto Rico, according to the Energy Department, which also tallies other losses.
"As of 11:00 AM EDT Thursday, U.S. Virgin Island Water and Power Authority (WAPA) reported that all customers on the islands of St. Thomas (19,581 customers) and St. John (2,893) are without power," their latest update states.
Florida braces for impact: Florida Power & Light announced Thursday that it's shutting down two nuclear power plants ahead of the storm's impact, via CNN. The Palm Beach Post, meanwhile, looks at the broader potential effect on the state's electricity:
"The storm has the potential to be the biggest disaster in FPL's, and Florida's history. Hurricane Wilma in 2005 was the hurricane that to date resulted in the highest number of FPL customers without power — 3.2 million," the paper reports.
Disastrous synergy: This big NYT overview piece on Irma includes a look at how a fuel system snarled by Harvey is affecting preparations for Irma in Florida. Via the NYT:
"A shortage of gasoline and bottled water, always a headache in the days before hurricanes, grew more acute in the wake of Hurricane Harvey, as the production of Houston oil refineries shrank and fuel and water were diverted to Texas."
"Pump lines in South Florida sprawled for blocks as fleeing residents sucked up what gas they could, and some drivers chased after tankers they had spied on the roads."
Harvey impact on OPEC: The latest S&P Global Platts OPEC Outlook podcast looks at how Harvey could affect the production-limiting agreement by OPEC and allied producers — notably Russia — that's aimed at taming the global crude oil glut.
Platts' Herman Wang points out that refineries and ports going offline are a new challenge to OPEC's efforts to curb inventories, which had been gaining traction of late. "All those positive vibes from the summer may come quickly crashing down, like finding out you're the subject of a dis track from an angry Taylor Swift," he notes.
Heavy: The rainfall from Hurricane Harvey may have caused Houston to sink by about 2 centimeters, according to geophysicist Chris Milliner, a postdoctoral fellow at NASA's Jet Propulsion Laboratory, as reported by my Axios colleague Shannon Vavra.
Chemical aftermath: "A group of seven first responders is suing Arkema, Inc. for $1 million, alleging they suffered 'serious bodily injuries' last week from a release of toxic chemicals during a series of explosions at the company's plant in Crosby, Texas, roughly 25 miles northeast of downtown Houston," the Wall Street Journal reports.
https://www.axios.com/newsletters/axios-generate-bc21be32-fa01-4d52-b61c-ab771c29d807.html?chunk=1#story1
Amy's notebook: Trump seen likely to issue solar tariffs
My Axios colleague Amy Harder chatted with a government source and others about what happens if, as many expect, the U.S. International Trade Commission finds that foreign imports of solar cells and modules are hurting domestic manufacturers.
The verdict: Tariffs are likely. "I would place the odds of the president agreeing to some type of remedy at 90%," a Trump administration official familiar with the issue said.
More predictions: "I think [President Trump] will impose tariffs on imported solar panels," said David Goldwyn, a former Obama-era State Department official, at an event hosted Thursday by the Atlantic Council. "The President wants a tariff. All he wants to use is a hammer and solar is the nail."
Other experts on the panel, including Jeff Schott, a senior fellow at the Peterson Institute for International Economics, agreed with Goldwyn's take.
Why it matters: The two financially struggling manufacturers behind the petition say import penalties on cheap equipment from foreign producers is needed to level the playing field for U.S. producers.
Yes, but: The wider solar energy industry and a number of allied businesses, joined by free-market advocates, are opposing the petition. They say it will raise prices enough to wreak havoc on the economics of solar power projects and slow the sectors's growth.
Read Amy's full story in the Axios stream.
https://www.axios.com/newsletters/axios-generate-bc21be32-fa01-4d52-b61c-ab771c29d807.html?chunk=2#story2
Oil industry notes: Aramco, TransCanada
Two pieces about the massive planned IPO of state oil giant Saudi Aramco caught my eye...
London calling: "Two senior British lawmakers are questioning plans by London's financial regulator to change listing rules that would make it easier for Saudi Aramco to go public in London, in what may become the world's largest initial public offering," Bloomberg reports.
Thought bubble: Controversy in London could further strengthen the hand of forces that want New York to be the principal listing venue. We looked at the topic here.
The $2 trillion question: Reuters has an in-depth look at the kingdom's claims, disputed by a number of analysts, that Saudi Aramco should be valued at $2 trillion. Their piece cautions that a lot is unknown until they open their books ahead of the planned 2018 IPO, but surmises this much...
"[A] simple calculation using globally accepted ratios for Aramco's peers — enterprise value versus core earnings (EV/EBITDA) — shows the Saudi firm has to report EBITDA in the region of $130 billion to achieve a $2 trillion valuation," they report. That, Reuters notes, would be a first, adding that no firm in any industry has ever reported that metric above $100 billion.
***
Oil sands news from Canada: "TransCanada Corp. is seeking to halt a federal review of its $15.7-billion Energy East pipeline, raising the possibility the project could get scrapped in a move that would spare Prime Minister Justin Trudeau from having to make a politically charged decision on the project's fate," The Globe and Mail reports.
The project would bring 1.1 million barrels per day from Alberta's oil sands to the Atlantic Coast. But their story notes that it has become "less critical" now that the Trump White House has revived hopes for the Keystone XL pipeline to the U.S. that the Obama administration rejected on climate grounds.
https://www.axios.com/newsletters/axios-generate-bc21be32-fa01-4d52-b61c-ab771c29d807.html?chunk=3#story3
Capitol Hill updates: Climate, PURPA, FERC
Rebuffing Trump: Two Senate Appropriations Committee Republicans — Susan Collins and Lamar Alexander — joined Democrats in voting to restore $10 million in State Department funding for key United Nations climate change organizations.
Why it matters: The committee's vote in favor of Democratic Sen. Jeff Merkley's amendment puts the Senate at odds with the White House budget request and House legislation that does not fund the United Nations Framework Convention on Climate Change and the Intergovernmental Panel on Climate Change (the UN's climate science body).
Democratic Sen. Joe Manchin opposed the amendment, which passed 16-14. The Hill has more here.
PURPA reign: A research note from ClearView Energy Partners concludes that Congress is unlikely to alter the Public Utility Regulatory Policies Act anytime soon, putting the odds of action this year at less than 10%. That's their forecast after watching a House Energy and Commerce subcommittee hearing Wednesday which, they say, showed a lack of consensus on how to alter the decades-old statute.
"We consider its best prospects for enactment to be in the context of a broad energy or energy and infrastructure package that we don't expect to see action on until 2018," the consulting and analysis firm said.
Why it matters: The law has been helpful to renewable electricity developers who, as ClearView notes, "have relied on PURPA's mandatory purchase requirements to pry open opportunities for long-term contracts from utilities."
Looking forward: Next Tuesday the Energy Subcommittee will hold a hearing on power sector reliability, and witnesses include new Neil Chatterjee, a newly minted member of the Federal Energy Regulatory Commission in what will be his first appearance before Congress as a commissioner.
Speaking of FERC: Two more nominees, including chairman-in-waiting Kevin McIntyre, appeared before the Senate Energy and Natural Resources Committee yesterday. I didn't catch the hearing, but Utility Dive editor Gavin Bade's Twitter feed offers a good rundown.
Bill Gates on ARPA-E: The tech pioneer and green energy investor is out with a new blog post touting the successes of the Energy Department's Advanced Research Projects Agency-Energy, which funds R&D into cutting edge technology.
Why it matters now: The White House is trying to kill off ARPA-E. The House DOE spending bill for fiscal 2018 zeroes out funding, but the Senate version provides $330 million. Also, newly introduced House legislation to reauthorize the program through 2022 has received a handful of GOP co-sponsors thus far.
https://www.axios.com/newsletters/axios-generate-bc21be32-fa01-4d52-b61c-ab771c29d807.html?chunk=4#story4
Wildfires: the climate link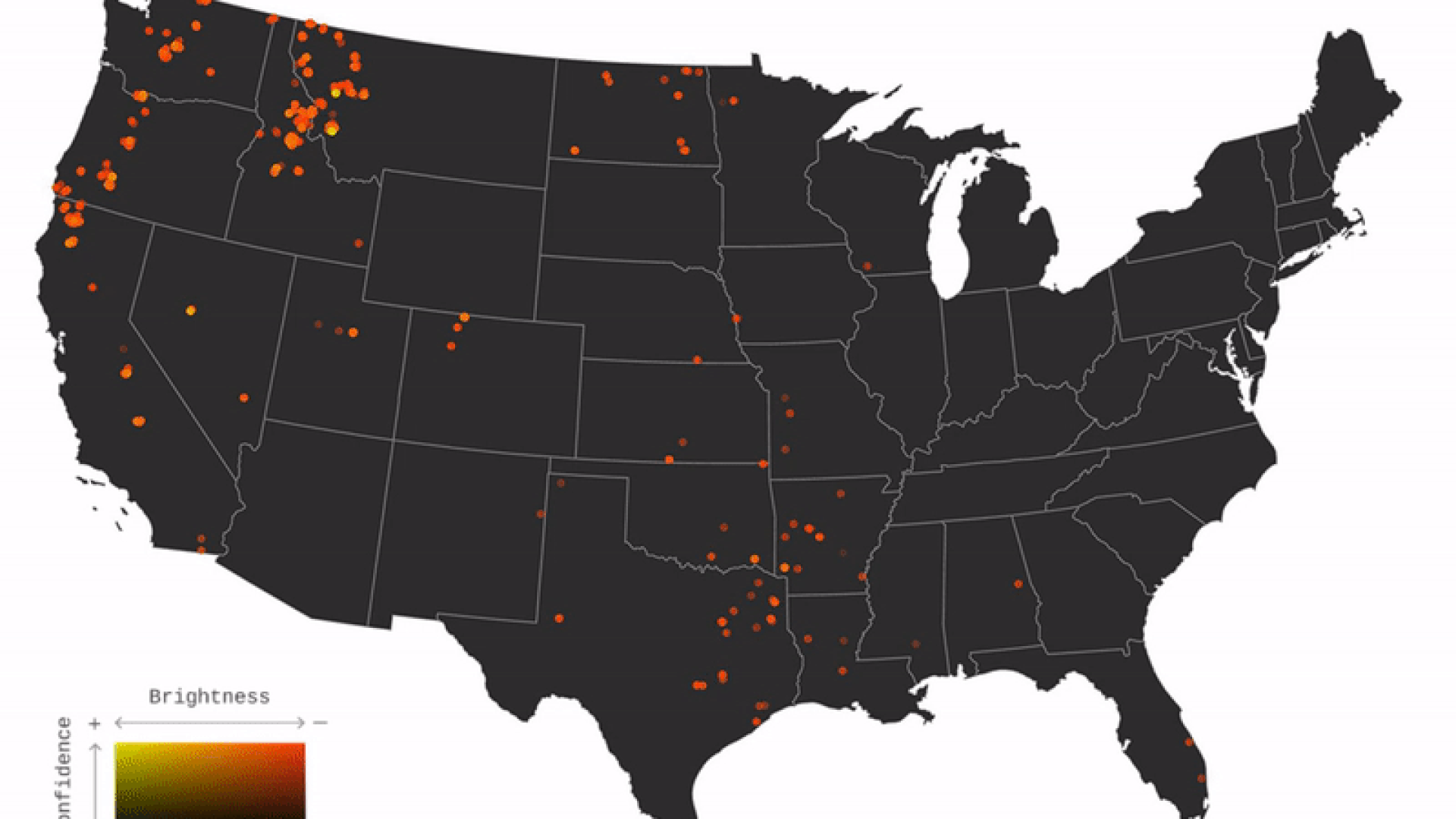 My Axios colleagues Erin Ross and Lazaro Gamio have a detailed piece in the Axios stream that looks at the scope and challenges of this damaging western wildfire season (including the nifty visual above).
Why it matters: One section of the story might be of particular interest to Generate readers. John Abatzoglou, who researches fires at the University of Idaho, talked to Erin about whether there's a connection to climate change.
Climate change is one of the factors, he said. "We've seen a trend for the last 50 years of hotter, dryer summers in the West. Climate change is playing a role in enabling these fires to occur over a broader portion of a fire season, burning under more extreme conditions," Abatzoglou said.
***
Wet (in places), hot American summer: Speaking of U.S. weather conditions, the NOAA reported Thursday that June-August in the contiguous U.S. was the 15th warmest summer in 123 years of modern record-keeping at 1.3°F above average.
It was also the 16th wettest in that period. The massive rainfall from Hurricane Harvey helped lead the wettest August in Texas history. Another notable feature was record average warmth this summer in big swaths of California and some other western regions.