Axios Generate
February 01, 2023
🚀 Off we go into February! There's a lot happening, but today's newsletter still has a Smart Brevity count of 1,236 words, 5 minutes.
🎶 This week in 1972, soul great Al Green released the album "Let's Stay Together," which provides today's intro tune...
1 big thing: Exxon's climate pitch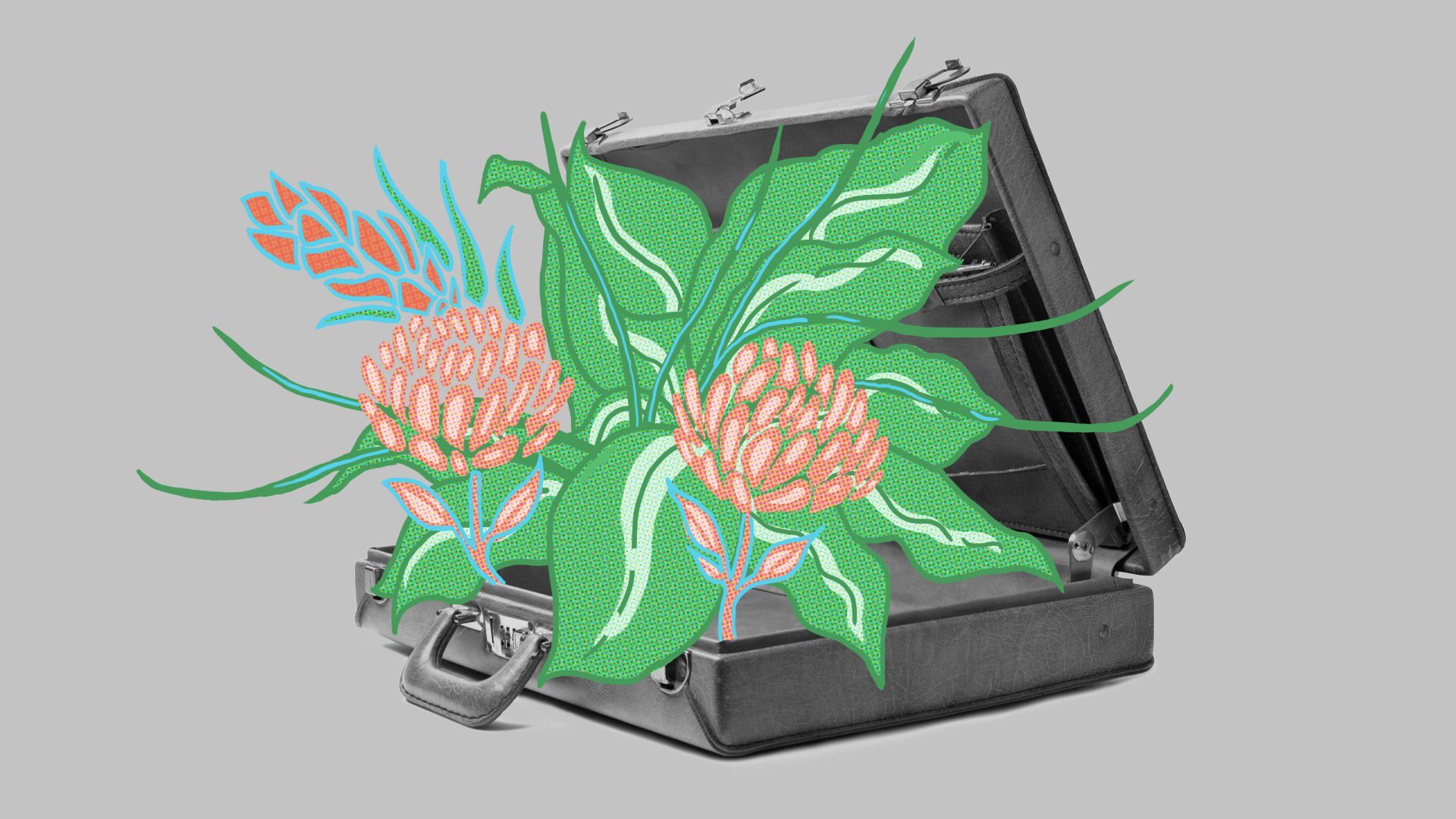 Call it an irony of energy transition: Oil giants that produce planet-warming fuels say their size makes them best equipped to launch projects that help tame emissions, Ben writes.
Driving the news: The latest exec to deliver this message is Exxon boss Darren Woods, who yesterday touted the company's long-term business plans around hydrogen, carbon capture and lower emissions fuels.
"I think we're very well positioned there. This is not a game for startups," he told analysts when touting the business case for Exxon's "low carbon solutions" unit.
"These are large scale projects that require the kind of project expertise that we have, require the kind of size and balance sheet capacity that we have, require the technology and operating experience that we have," Woods said on their Q4 earnings call.
He reiterated Exxon's plan to invest $17 billion through 2027, with returns greater than 10%.
Catch up fast: If that line about the startups sounds familiar, it is!
"If you believe that the energy transition is going to be solved by startups or companies that have yet to be invented, then I would say dream on," then-Shell CEO Ben van Beurden told Axios' Hope King in 2021.
Yes, but: Low-carbon investments remain a small share of the majors' spending.
And while European giants are increasingly moving into mainstream renewable power, big projects around carbon storage and hydrogen produced with climate-friendly methods are further behind.
What they're saying: Andrew Logan, an oil expert with sustainable investment advocacy group Ceres, said scale can be an edge — but it's hardly destiny.
"If Darren Woods were correct across the board, Toyota today would be the world's leading EV company, rather than an also-ran," he said via email.
And who knows if Exxon's making the right bets. "Woods may find that Exxon wins the battle but loses the war, dominating carbon capture projects even as innovation in other low-carbon energy sources undercuts the need for those... projects in the first place."
Zoom in: Exxon's various plans include:
Producing hydrogen with carbon capture at its Baytown, Texas complex around 2027-2028.
A deal with CF Industries to trap and store emissions from a Louisiana ammonia plant beginning mid-decade.
A broad concept with a suite of corporate giants for developing a Houston-area carbon capture and storage "hub."
2. Al Gore-backed fund stakes ABB's charging plan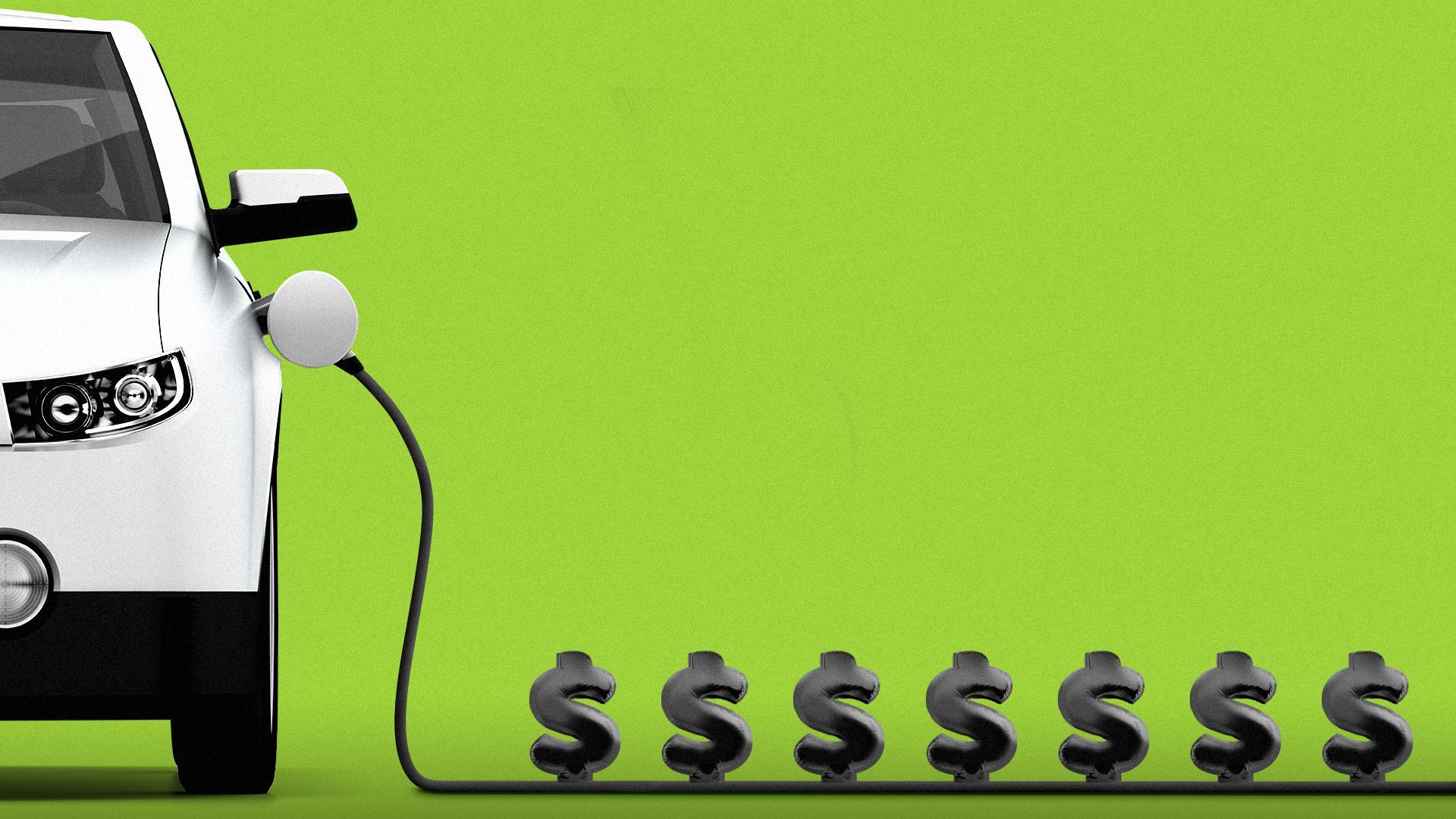 The EV charging company ABB E-mobility this morning said it raised $350 million in pre-IPO funding from heavyweight investors, Ben writes.
Driving the news: The four minority investors include Just Climate, a new fund unveiled last year by the Al Gore-founded Generation Investment Management.
Others are private equity giant General Atlantic's BeyondNetZero fund, Singapore's sovereign wealth fund, and Porsche. Together, they obtained a 12% stake in ABB E-mobility.
What we're watching: Just Climate this morning unveiled two other investments, the first time it has disclosed specifics since its rollout last year.
One is in H2 Green Steel, a Swedish firm with tech to replace coal in steelmaking with "green" hydrogen — that is, hydrogen made with renewable energy. It's part of their $283 million Series B equity funding round announced in October.
The other is fellow Swedish firm Meva Energy, which per the announcement provides "gasification technology to generate renewable energy for manufacturing sectors."
Just Climate did not disclose the investment amounts.
💰💰💰 Speaking of tech finance, the U.S. battery startup Our Next Energy closed a $300 million Series B capital raise led by Fifth Wall and Franklin Templeton. TechCrunch has more
3. 🏃🏽‍♀️Catch up fast on policy: Europe and Alaska
🇪🇺 The European Commission just unveiled its "Green Deal Industrial Plan" as it looks to compete with subsidies for climate tech manufacturing in the U.S. and elsewhere, Ben writes.
Driving the news: It includes proposals for streamlining project approvals, faster access to financing and new aid, skills training, bolstering access to critical minerals, and more.
🛢️Biden officials plan to endorse ConocoPhillips' Willow drilling project in Alaska but scale it back, the New York Times reports.
4. The fallout from GM's big lithium deal
Let's spend more time with something we only grazed yesterday: GM's $650 million equity investment in Lithium Americas Corp. to support development of the Thacker Pass mine in Nevada, Ben writes.
Driving the news: Lithium America's share price jumped nearly 15% on the news of what the companies call the "largest-ever investment by an automaker to produce battery raw materials."
Why it matters: Automakers are competing intensely to secure raw materials needed for EV expansion plans.
In the U.S., they're also looking to meet sourcing requirements for vehicles eligible for consumer tax subsidies.
What we're watching: Auto giants are already working with mining companies to secure supplies, and we'll also be watching for more equity investments.
Simon Moores, CEO of Benchmark Mineral Intelligence, tells CNBC that automakers are realizing the need for ownership or controlling stakes in raw materials sources.
"It's the only way you're going to have the edge and guarantee you can make EVs over the next 20 years," the analyst said.
5. United's push for cleaner jet fuel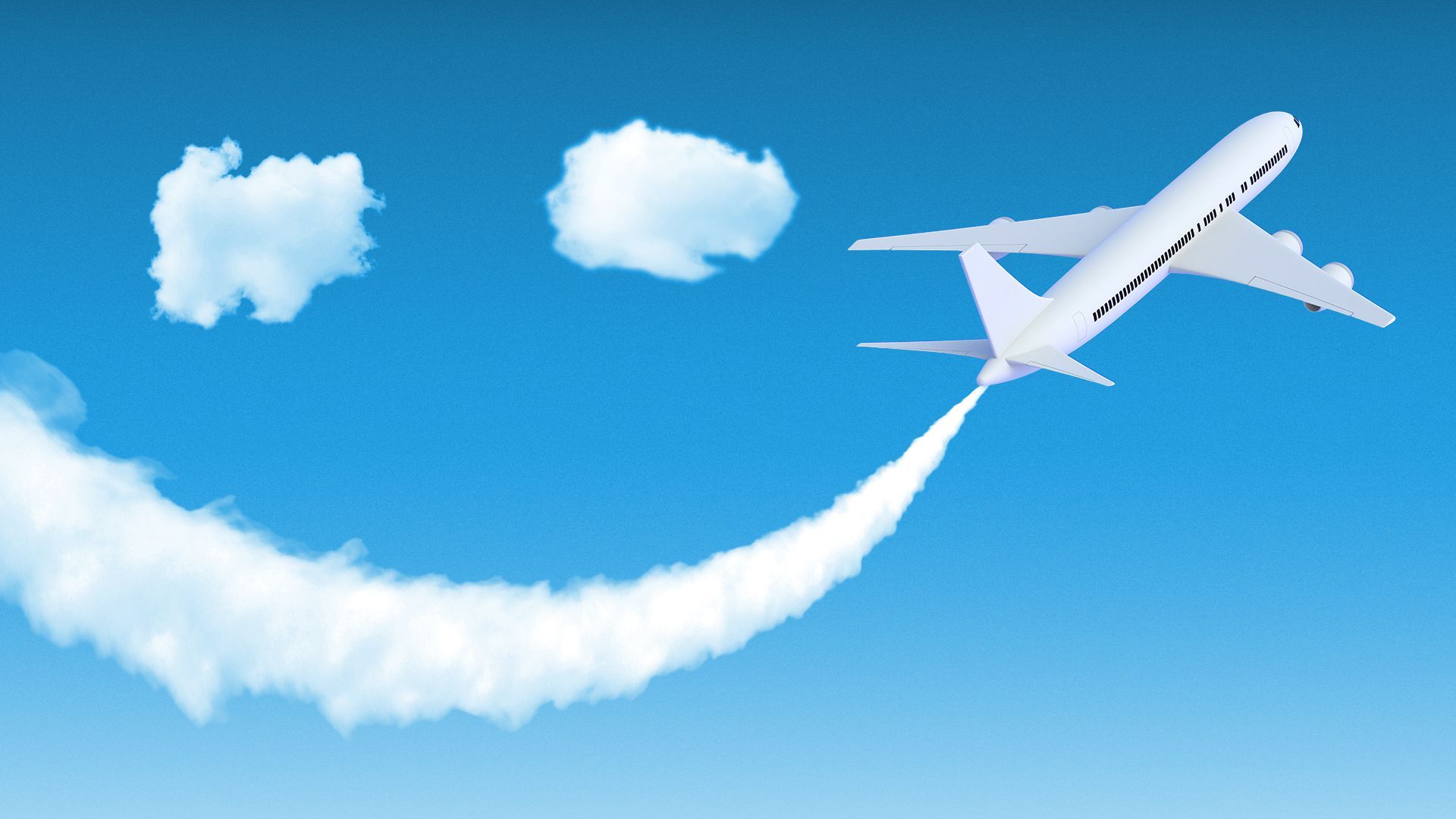 United Airlines is staking a new joint venture to make ethanol-derived jet fuels that produce far less CO2 than oil-based products, Ben writes.
Why it matters: Current battery tech isn't ready to power big planes, and eventual hydrogen deployment is also unclear. So there's growing interest in sustainable fuels from non-oil sources.
Driving the news: United is teaming up with ethanol producer Green Plains and the infrastructure company Tallgrass in a JV called Blue Blade Energy.
Together, they're initially investing up to a combined $50 million. The plan is to develop the tech and, if it works, build a pilot plant by 2024 and launch commercial scale operations in 2028.
Fuels produced through the JV would qualify for tax incentives in the new climate law for clean aviation fuels, the companies said.
Zoom in: They have a deal to provide United with 135 million gallons annually and up to 2.7 billion total.
It could provide enough fuel to power over 50,000 annual flights between United hubs in Chicago and Denver, the announcement states.
This particular ethanol-based tech was first developed at the Energy Department's Pacific Northwest National Laboratory and has 85% less lifecycle emissions than traditional fuel, they said.
It "has the capability to work with any alcohol-based feedstock as its fuel source."
The big picture: The JV is the latest in a growing number of climate-related investments by United and other airline giants, ranging from electric aviation startups to other clean fuel efforts.
Bonus: Aviation's long emissions ascent
The long global rise in air travel (albeit interrupted by COVID) is a key reason why there's so much interest in climate-friendly flight, Ben writes.
The big picture: Aviation currently accounts for about 3% of global CO2 emissions, but it's growing.
6. One tech thing: Detecting CO2 from orbit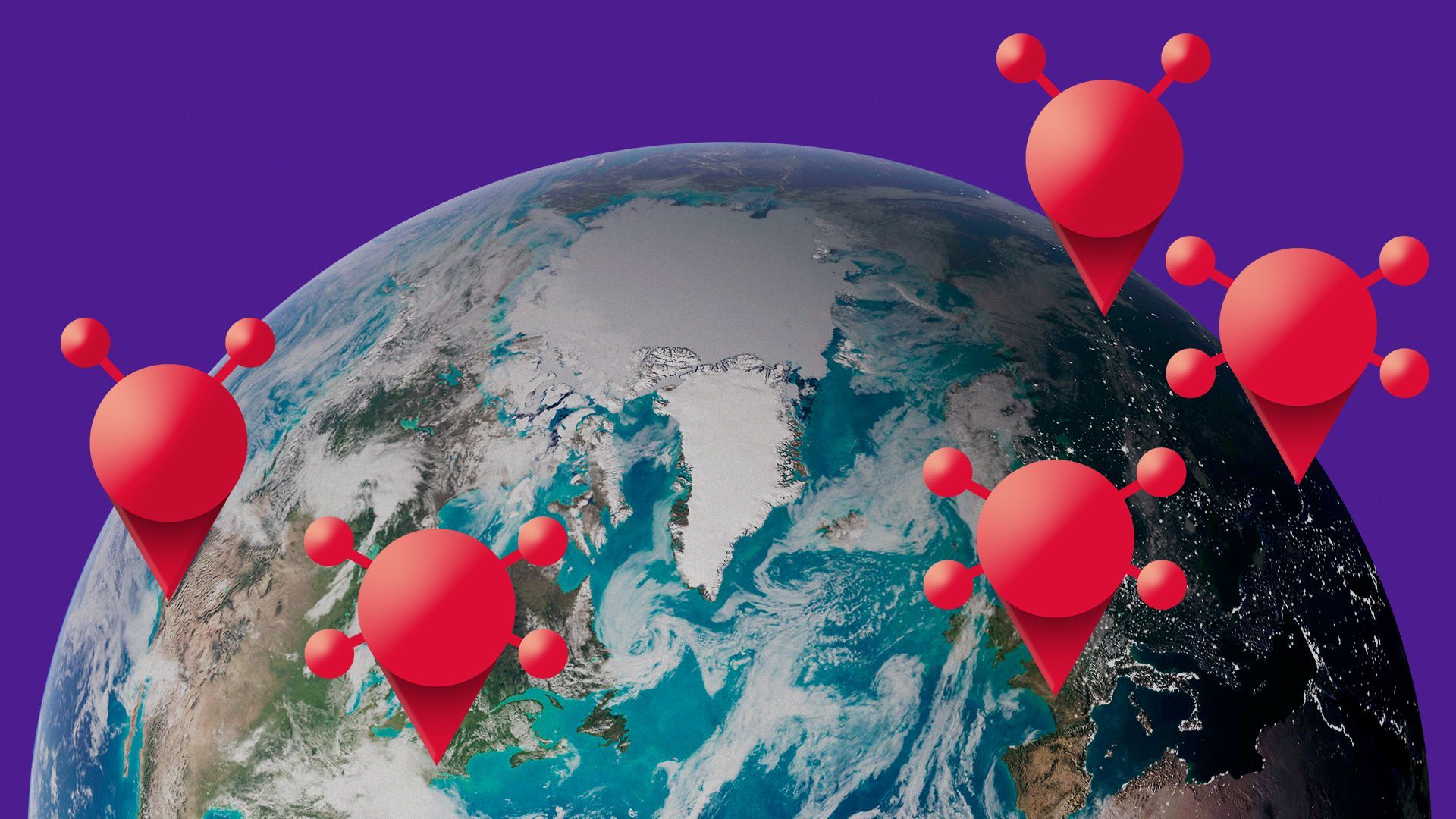 The first commercial satellite dedicated to detecting carbon dioxide emissions is expected to launch later this year, GHGSat said, Axios' Miriam Kramer and Andrew write.
Why it matters: By using independent satellites to pinpoint emissions from orbit, satellite data can be used to "name and shame" polluters.
Driving the news: GHGSat has six satellites in orbit today, but that constellation is mostly focused on detecting methane.
The new satellite, GHGSat-C10, is designed specifically to monitor carbon dioxide.
Other, public satellites are able to detect CO2, but their resolution isn't as high as GHGSat-C10, which can pinpoint emissions down to the facility level, the company said Tuesday.
Quick take: It's part of a wave of new space-based emissions tracking tools that could enable the enforcement of voluntary pledges under the Paris Agreement.
📬 Did a friend send you this newsletter? Welcome, please sign up.
🙏 Thanks to Nick Aspinwall and David Nather for edits to today's newsletter.